If you are sitting there and wondering what you could do this weekend or on your next day off, why not take a day trip to Morocco?
Believe it or not, Spain isn't that far from Morocco. So, crossing the Mediterranean and spending a few hours experiencing a new culture in their country isn't a bad way to spend an afternoon.
But, if you are unsure how to do it or where to go, this guide will provide you with all the information you need to plan a day trip from Spain to Morocco. From full package day trips to do-it-yourself ways of visiting, this guide will explain how to get from Spain to Morocco.
Don't forget this guide on what to wear in Morocco, so you aren't caught short with unexpected weather.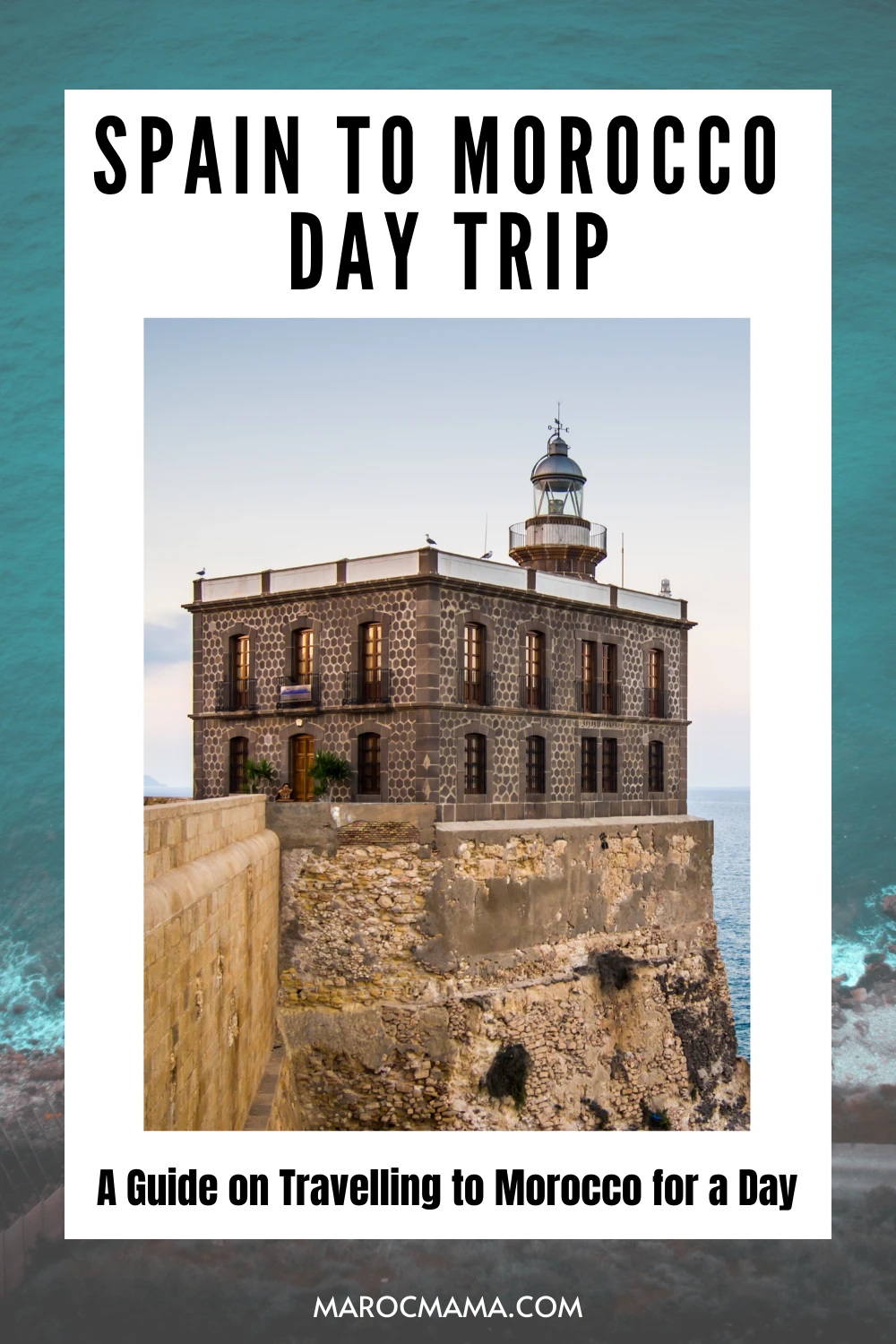 Spain to Morocco – Is it Possible?
You might be curious about how to get from Spain to Morocco. At its closest point in the Strait of Gibraltar, Spain and Morocco are only 14.3 kilometers apart from each other. On a clear day, you can even see each of the countries from opposite sides of the strait. Tangier is the natural entry point for visitors from Europe.
These two countries have also been a crossing point for the Paris Dakar rally on a number of occasions. They crossed on a ferry from Spain to Morocco, where the European stages ended and the African stages to the finish line in Dakar began.
There are a number of ferries operating from Malaga, Tarifa and Algeciras to Melilla, Nador, Tangier and Ceuta. So, there are a number of options available to you. Just remember, to watch the time as depending on the time of year, Morocco and Spain can be an hour apart.
Individuals from a long list of countries don't require a visa to enter Morocco, only a valid passport. But it is worth taking 2 minutes to make sure that your country is on that list.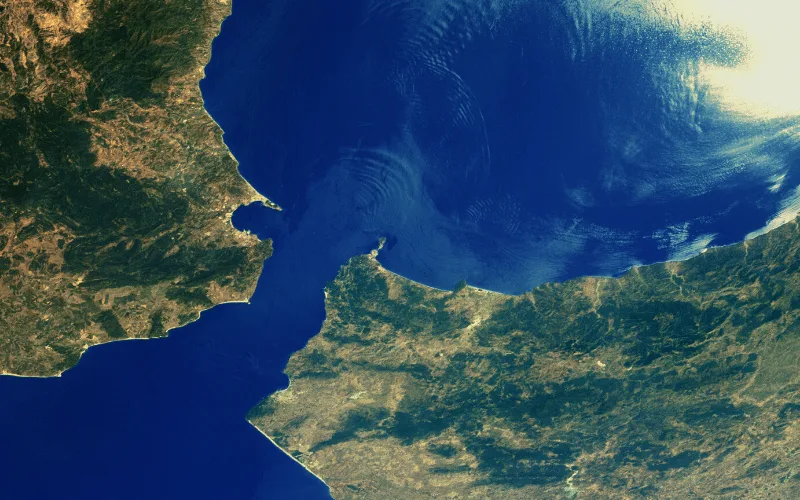 Day Trip to Morocco from Spain
If you are wanting a fully planned day trip from Spain to Morocco, taking a tour with a company that will arrange everything for you is your best option. There are many different tours that run between the countries and you can book in advance. Of course, you can also just take the ferry and figure things out for yourself. So just how can you travel from Spain to Morocco?
Costa del Sol to Tangier Day Trip
This day trip tour takes you on a ferry to Morocco across the Strait of Gibraltar where you can enjoy incredible ocean views. You will arrive at a new world of sights and exotic scents in Tangier, Tetouan or Asilah.
You can stroll through the busy souks and purchase some tokens to remember your trip and take home to your family. Then jump on a bus for a full panoramic bus tour of Tangier and enjoy a traditional Moroccan lunch at one of the local restaurants.

All of this and you will have a personal tour guide to show you all the special spots and answer any questions you may have.
Travel to Tangier by Ferry from Costa del Sol
There's another day trip on a ferry from Spain to Tangier available but this tour is different. This day trip to Tangier from Spain will have you spending more of your time amongst the crowds and walking around Tangier.
You will leave from Tarifa and take the fast ferry across the Strait of Gibraltar and arrive in Tangier around an hour later. The day then starts with a walking tour of a little souk where you can partake in some snacks and buy some spices. A stop at the jewelers street where you will receive a full explanation of the Moroccan wedding ritual follows.
Ever seen a snake charmer in real life? Well, you will be on this tour before enjoying some lunch and heading on a seafront bus tour. You stop at Cape Spartel, where you can witness the Atlantic Ocean and Mediterranean sea mix their waters while sipping on mint tea.
Then it's riding some camels and taking a drive back to the port to catch the ferry from Tangier to Spain. It's worth taking a reusable water bottle with you to keep hydrated as it is a long day in the sun.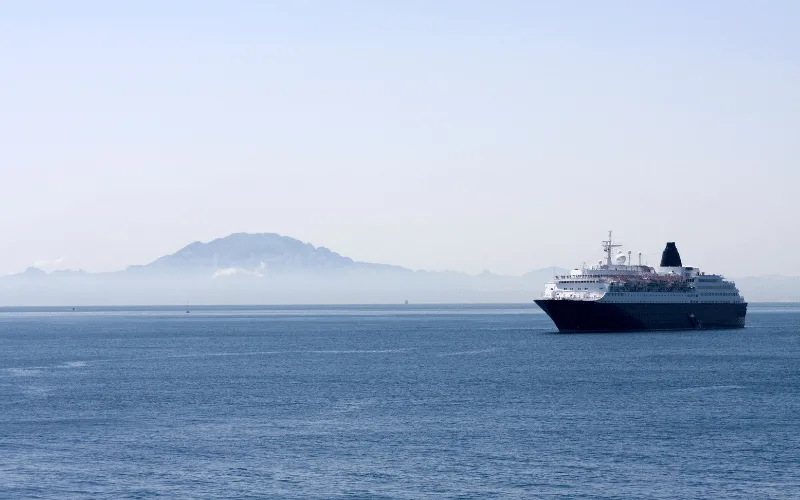 How to Get to Morocco from Spain
If you are wanting more of a self-planned adventure where you have more freedom to do what you want, there are options for you to get to Morocco. From taking the ferry to various flights or even going from Gibraltar to Morocco, you can tailor a trip to your desires.
This is the most common and easiest way to get to Morocco from Spain. There are currently two regular routes run by two companies, Inter Shipping and FRS, that cross the strait. They operate out of the two ports of Algeciras and Tarifa in Spain with both arriving at different ports in Tangier. A Spain to Morocco ferry is the easiest and cheapest option.
The Algeciras ferry arrives in Tangier-Med port, around 50 kilometers away from the city, and takes 90 minutes. This is the perfect ferry if you're taking your own car on a road trip and want to see some of the Moroccan countryside. The Tarifa ferry arrives in the Tanger Ville Port, in the city of Tangier itself, and only takes 60 minutes.
When you arrive, why not take this walking tour of Tangier as part of your day trip. You can experience some of the history of the city but still, have the freedom of the rest of the day to explore as you wish.
There are other ways to travel to Morocco from Spain by boat, they are less direct though. These are perfect for those who want their day out to include a little more adventure. A ferry from Gibraltar to Tangier is also available but only makes the trip once a week on a Sunday afternoon.
Specific Routes Between Spain and Morocco
What about Ceuta to Morocco?
Ceuta is a Spanish city situated on the mainland of Morocco and is only 75 kilometers from Tangier. A ferry from Algeciras runs to Ceuta where you can then enter Morocco through the Tarajal border crossing. This is still an international border crossing so be prepared for that with your passports.

This beautiful little Spanish city is just as enticing as the rest of Morocco. Have a look at this visitors guide to Ceuta if you want something to do while waiting for your ferry.
Is Melilla to Morocco Possible?
Melilla is the other of the two Spanish cities on mainland Morocco, Ceuta being the other. This small town is only 12.3 square kilometers and shares a border with Morocco.
A ferry operates from Malaga to Melilla where you will then enter Morocco through the Beni Ensar border crossing. There are also ferries that will take you from Almeria and Motril to Melilla.
There are three roads that connect Melilla to Morocco but all require clearance through border checkpoints.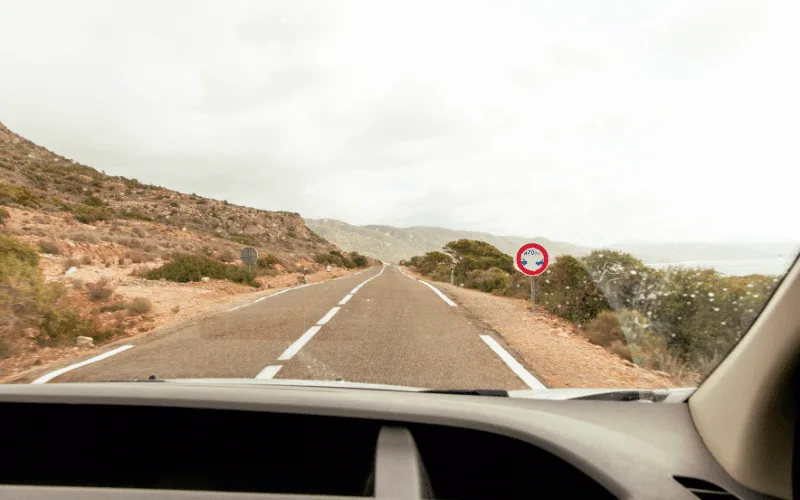 Can you Drive Yourself to Morocco?
If you're up for a road trip, you can drive yourself to Morocco. This will also give you the freedom to drive around Morocco and explore at your own pace, wherever you want to go.

To get to Morocco in a car, you will have to drive to one of the ferry ports and catch the ferry across with your car onboard. Now, this is where things get a little harder upon arrival. Even though you should be able to go in easily with your passport, it is a different story with your car.
You will need to prove to the Moroccan authorities that you aren't planning to sell the vehicle in Morocco, so there is a list of documents that you will need. Apart from your passport and driver's license, you will need insurance for your vehicle for driving in Morocco.
The vehicle's registration and roadworthy papers are also needed and will need to be shown to the customs officials. After they're satisfied, they will provide you with a form that you need to keep on your as you will need it to leave the country. The passport holder who is linked to the vehicle is not allowed to leave the country without the vehicle.
It seems like an intense process, but everything generally runs smoothly. Just make sure all your documents are on hand and you will breeze through it. Then you're free to drive and explore Morocco as you wish.
Are Flights available?
There are numerous flights available from Spain to Morocco. From the southern cities, there are flights available direct from Malaga to Tangier and to Marrakech. From Seville, you can reach Marrakech. These are on low-cost carrier Ryanair and are typically inexpensive and short flights. There is the added hassle of arriving early at the airports and going through that process. Plus, don't forget those pesky baggage restrictions and you will miss out on the experience of crossing the Strait of Gibraltar on a more relaxing ferry.
A Day Trip to Morocco, is it Worth it?
Morocco is a beautiful country, sitting at Europe's doorstep. Taking a pre-planned trip is the best way to explore this country if you want a structured tour. But, there are other ways for those who want a little more freedom to roam the streets of Tangier, take in the sights and sounds. If you're thinking of including Morocco in your plans make sure to choose a travel insurance that has coverage for both countries.
From ferries to flights and even taking your own car, you can pick how to explore Morocco however you wish. It is a place where you can escape the hustle of everyday life and have a change of scenery for a day when you're bored of exploring Europe.
---