There are numerous chicken and rice dishes found throughout the Middle East and many are just slightly different from each other making it hard to tell them apart. But, they certainly are unique and special. Sometimes it's the cooking technique, other times the spice combination or way of serving it.
If you're looking for easy Arabic recipes than some of these combination rice and meat dishes are your best bet. Add a salad and you've got a meal!
Chicken Mandi uses a special spice blend called hawaij as well as a special cooking technique. The meat in this dish is cooked inside a tandoor or clay oven – sometimes buried underground – which imparts a smoky flavor. The recipe has several steps and is usually made for special occasions like weddings or Eid celebrations.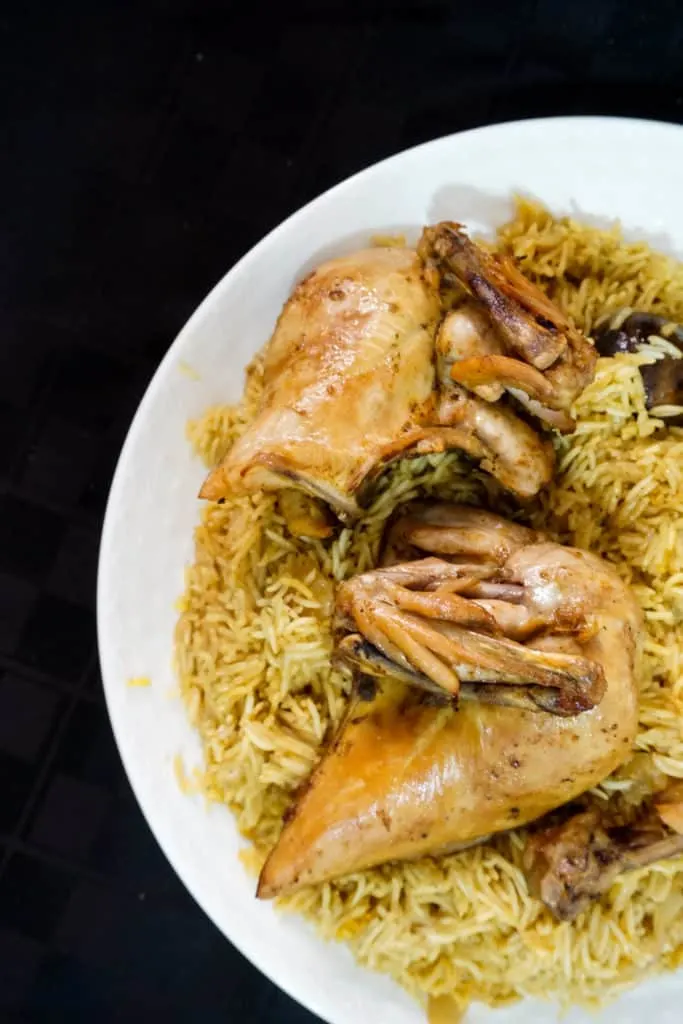 Where is Chicken Mandi from?
Traditionally mandi is found in Yemen, specifically the city of Hadhramaut. It can also be found in the south of Saudi Arabia. Today you will find mandi on the menu in many Middle Eastern countries like Egypt, Turkey and India. I actually ate it first at a restaurant in Dubai.
How do you make Chicken Mandi at home?
Now the problem if you want to make it at home is, who has a clay oven to bake the meat in? And how do you prepare such a meal when you're limited to a standard kitchen?
The good news – I got you covered!
With a few little tricks and the inclusion of a special flavoring you can get that smoky goodness! Most of my recipes on MarocMama have been adapted for your average, standard North American kitchen and this one is no different.
I am sure that if I had a Yemeni grandma she would make this recipe 100x better than me but since I don't I'll settle for this recipe.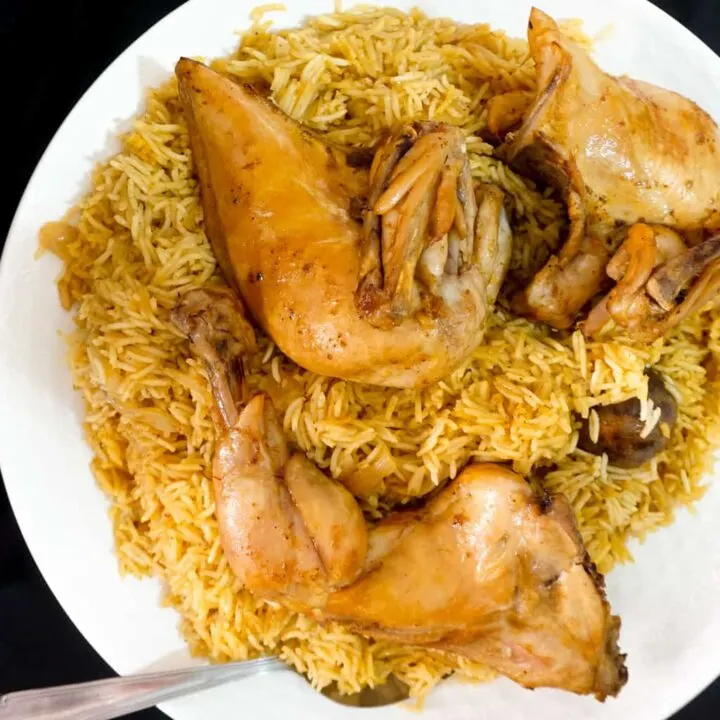 Yield:

8 servings
Yemeni Chicken Mandi Recipe
Total Time:
1 hour
40 minutes
Chicken Mandi is a delicious dish from Yemen. It does require a little bit of time but most of the cooking is hands off when using a few helpful tips.
Ingredients
Mandi Spice Mix Ingredients
1 Tbsp coriander seeds
1 Tbsp cumin
1 tsp cardamom powder
1 tsp black pepper
1 tsp salt
5 cloves
1 tsp cinnamon
1 tsp ginger powder
pinch of saffron threads
1 tsp turmeric powder
1 - 3 tsp chipotle pepper powder
Ingredients for the Rest of the Dish
1 chicken cut into pieces skin on or off (your choice)
2 onions chopped
1/2 cup tomato puree
1 Tbsp garlic paste
2 Tbsp oil
3 Tbsp butter
2 cups jasmine or basmati rice
juice of 1 lemon
1 dried lime (lomi)
Mandi spice mixture
water
1 tsp liquid smoke
Instructions
Preparing the Spice Mixture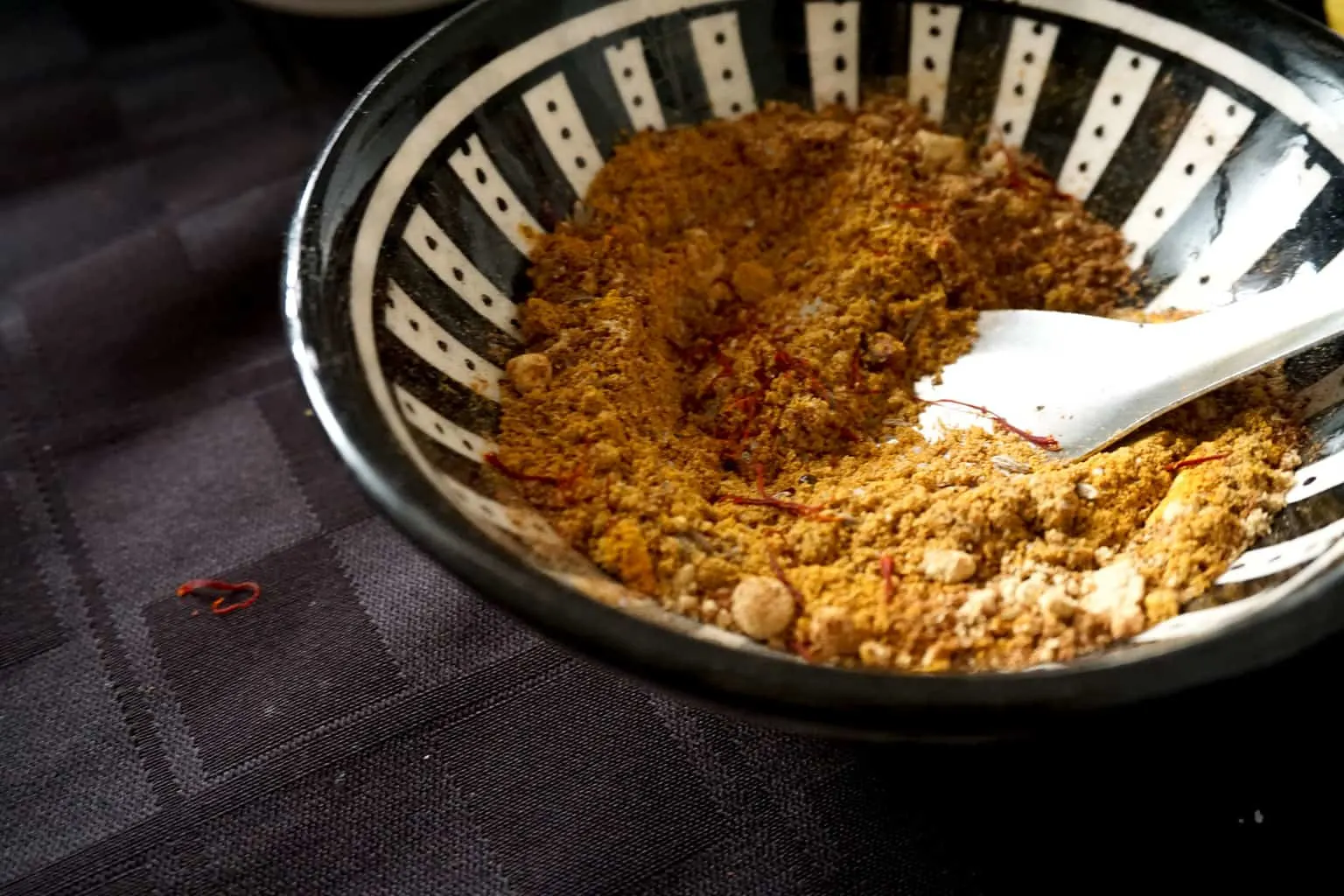 You can also buy this spice mix but it can be hard to find.
Some recipes use whole spices, with roasting and grinding. In this recipe I'm saving time and using what you likely have in your spice cabinet already. Simply mix all of the listed spices together. You can adjust some for your tastes; for example reduce the cinnamon, add more or less pepper.
Marinade the Chicken
Mix together 2 Tbsp of the spice mixture with the juice of a lemon and 2 Tbsp olive oil. Then add in the chicken and coat completely. Allow to marinate at least 30 minutes but the longer the better (overnight is great!)
Cooking the Mandi Dish
I used a heavy bottom Dutch oven for this dish and highly recommend you do the same.
Heat the oil in the bottom of the pan and add the chopped onions. Cook for 2-3 minutes until the onions soften.
Then add the garlic paste and tomato puree along with 2 more Tbsp of the Mandi spice mixture. Mix well and let cook down for about 5 minutes.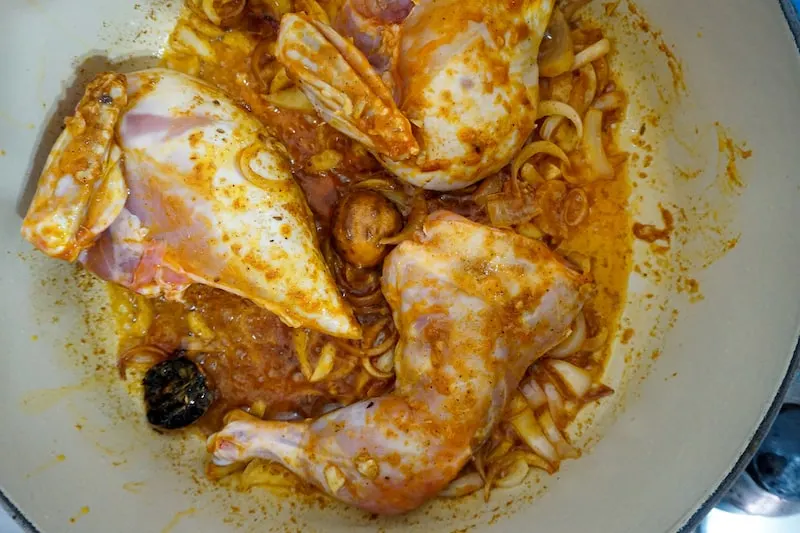 Add the pieces of chicken and sear on all sides. Before covering to cook add the lomi and enough water to cover the chicken. Cover the pot and turn the heat down to low.
Leave to cook approximately 20 minutes depending on the cuts of meat used and size. Check that they are cooked through and remove from the pot.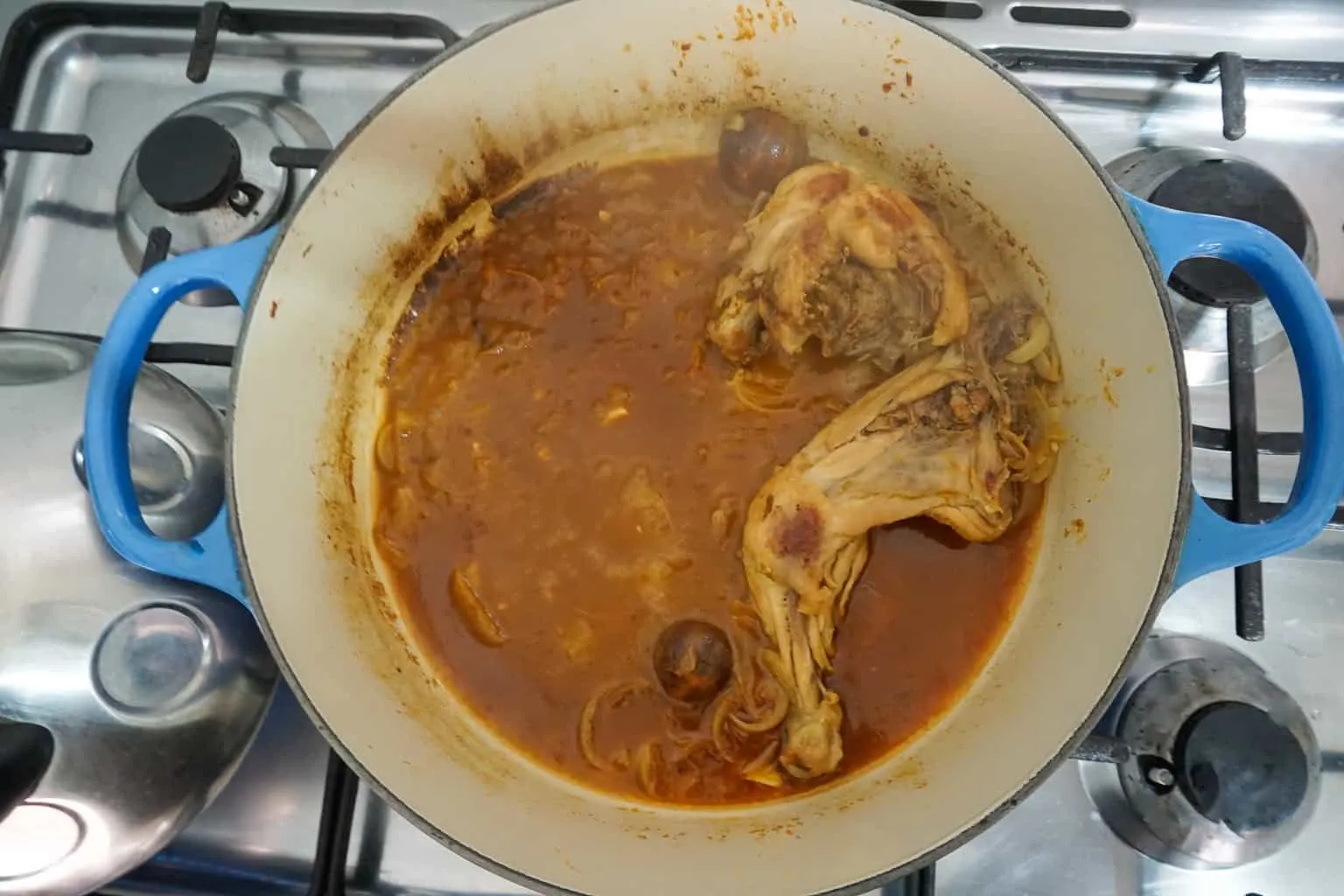 Place on a baking sheet for the final step.
Cooking the Rice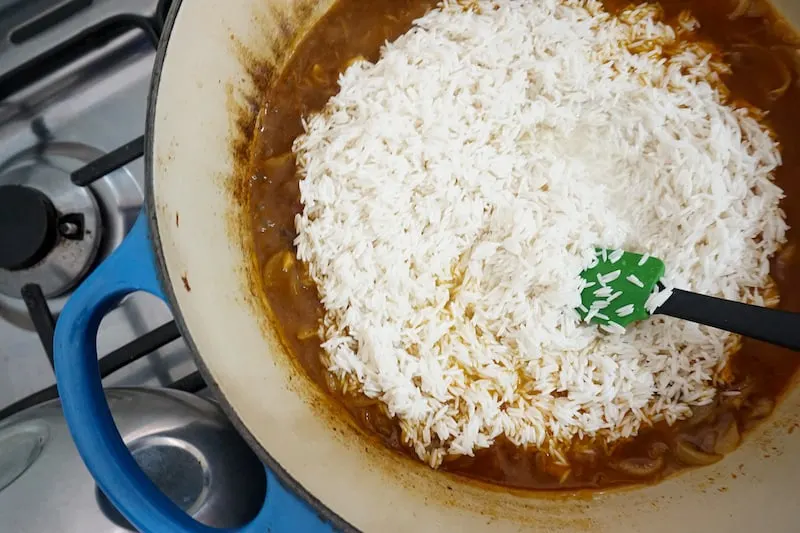 You will have broth remaining and that's good! Rinse your rice well and drain. Add to the broth along with additional water so that there is about 1 inch of water above the rice.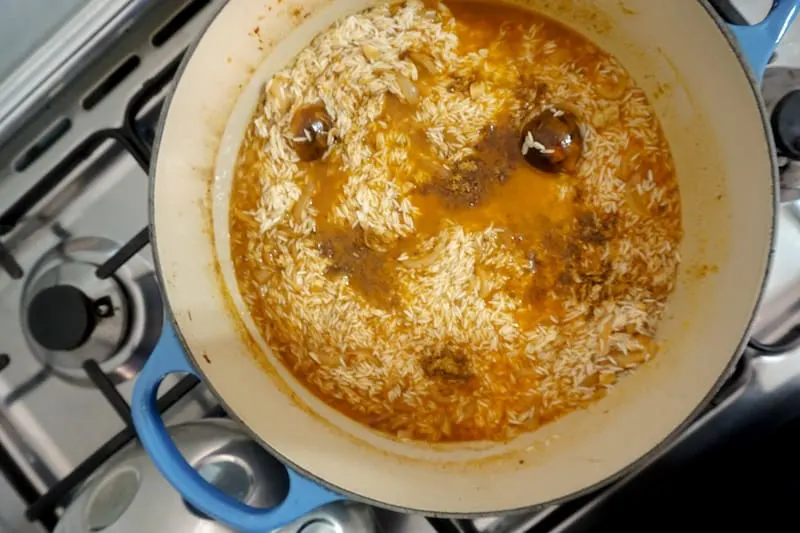 Turn the heat to low/medium and cook until you can see small indentations in the rice.
Turn off the heat, place a hand towel/kitchen towel over the pot and put the lid back on. Leave it alone for 15 minutes while you finish the chicken.
Finishing the Chicken
Turn your oven to broil.
In a bowl mix together the butter (ideally softened) with liquid smoke. Rub this all over the chicken.
Place the chicken into the preheated oven and watch carefully. You want the surface of the chicken to be a dark brown, caramel color. But be careful it doesn't burn!
Once it achieves this look remove it from the oven.
Serving Chicken Mandi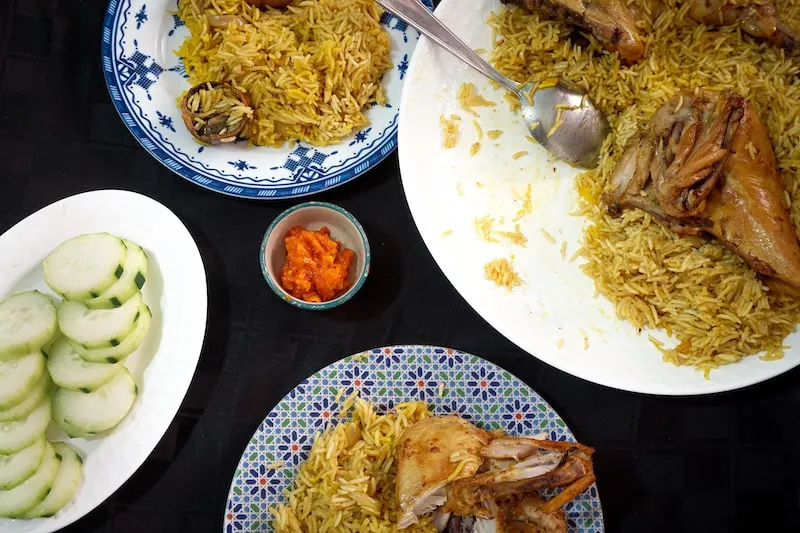 Transfer the rice to a large serving platter and place chicken on top. You can garnish with parsley or toasted almonds or pine nuts if desired to add texture.
This might be eaten communal style but feel free to use a large serving spoon and portion out the dish!
Serve with some added hot sauce, yogurt, and salad to round out your meal.
Notes
What makes this dish unique is that the meat usually has a smoky flavor. You can replicate this as well by grilling the chicken for the final stage.
Recommended Products
As an Amazon Associate and member of other affiliate programs, I earn from qualifying purchases.
Looking for more chicken and rice recipes?
Try these!