Eid al Adha comes on the 10th day of the 12th lunar month of the Islamic calendar and start after the completion of the Hajj (pilgrimage in Saudi Arabia). The tradition comes from the story of Abraham's sacrifice. Abraham was asked by God to sacrifice his son Ishmael as an act of obedience. Instead God replaced Ishmael with a ram after seeing how obedient Abraham was.
Every year Muslim families commemorate this by sacrificing a ram. The meat is then distributed; 1/3 for the family, 1/3 for friends or other family members and 1/3 for charity. There are many more smaller details about the activities of the day, but the major events are attending Eid prayers and making the sacrifice of the animal.
Early in the morning we wake up and get dressed in nice clothing. My boys are wearing traditional Moroccan djalabbas. Each country has their own traditional clothing but wearing new and/or nice clothes is part of the celebration.





Eid breakfast is usually something simple but not something that you would make everyday. Some meals are very elaborate and some are simple. Ours was simple due to time constraints. I made batbout the night before with several different toppings. My favorite dish for Eid is Hrbil but it takes a little more time to prepare. We went to the mosque for Eid Prayers and then to a friend's farm for the sheep.



Normally we would have had a big dinner Tuesday night after the days activities we had to postpone that until Wednesday. Tuesday night I made the spice mix and rubbed it into a cleaned lamb leg. I let this marinade over night and then put in a low 250F oven for about 6 hours.





This dish is called Mechoui and is incredibly delicious. A friend of ours that came over to celebrate with us was certain she didn't like lamb. She loved this! I did alter the original recipe and used this spice mix;
I served this with two salads on the side.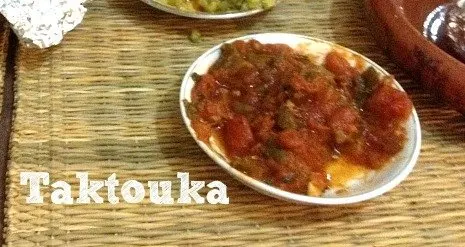 Taktouka; Green Pepper and Tomato Salad and Moroccan Carrot Salad


Although not as ambitious or overly creative as some celebration meals it was satisfying and everyone enjoyed it. This might become our new traditional dinner due to its simplicity and great results!!
Eid is different all over the world and when we're in Morocco our celebrations are often very different than they are in the US. What do your celebrations look like?