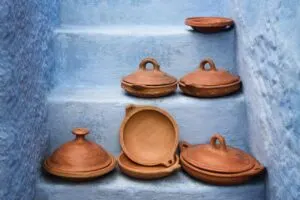 I'm on Tajine #3….the two others that I have, have cracked bottoms. Not cracked so bad that I can't use them to serve but I can't actually cook in them. So this year I got a new tajine from Morocco. It's bigger, and a little different shape from the other two. It's also unglazed. I swore that this time I would not crack it. I would take care of preparing it before I actually cooked in it. If you're thinking of picking up a tajine in Morocco or purchasing one in the United States make sure that you find out if it's ready to be cooked in, or if it needs to be primed.

The process isn't hard, it does take time and space. Depending on how the tajine was made will impact how it needs to be prepared. This is an unglazed clay tajine from southern Morocco. A glazed tajine from Northern Morocco may have a different way to prime. Always ask! This technique however is a safe bet if you're unsure how to prepare yours.
First the bottom of the tajine needed to be rubbed down with a good douse of olive oil, making sure to rub it all over and into the lip where the cone sits. Then I added warm water. Allow to sit for at least 24 hours. Mine ended up sitting for 2 days (hey I'm trying not to crack a third one!) I allowed it to then dry out.
Lastly fill with salt water and place into a cold oven. Turn heat on to 250F and leave for 30 minutes. At this point it should be good to cook in. It's always best to use at low temperatures for longer periods of time. If using on a stovetop that is electric make sure to have a heat diffuser and don't place directly onto the coils.