If you're looking for a vegetarian salad that is full of flavors and taste, this Mediterranean Fennel Salad needs to be on your radar. Not only is it super simple to make but the bright colors and ingredients make this a salad recipe that you can't pass up.
The fennel is the perfect ingredient for adding a hearty flavor to this sweet and citrus salad. Everyone in the house loves this simple salad recipe, even the kids!
It's one easy Moroccan salad that I know will never go to waste. Anytime we're wanting to increase our vegetable intake without compromising the flavor, this is one of the first recipes that we turn to every single time.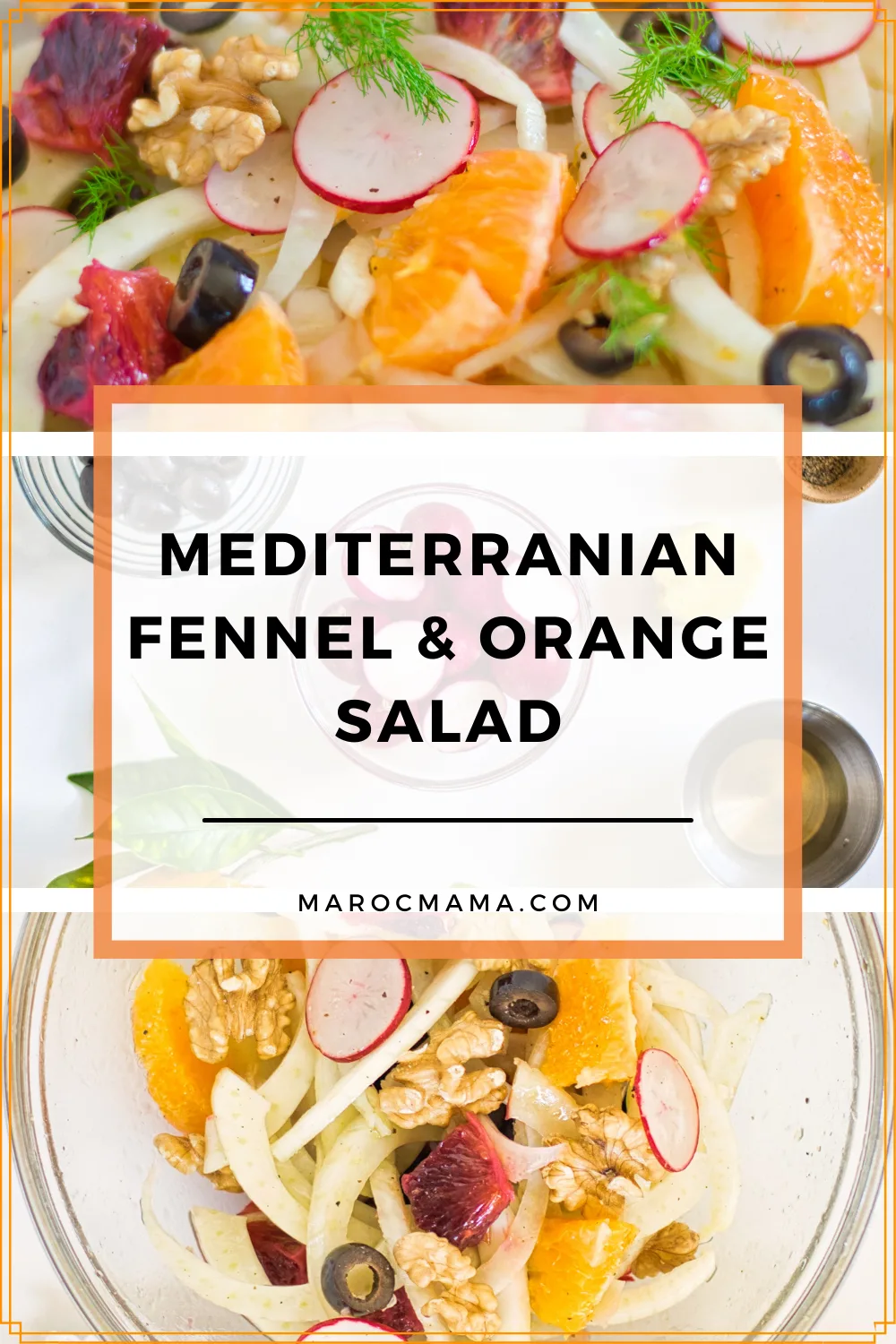 Why is fennel used in a salad?
Fennel has a really cool texture and taste. Some people say that it has the flavoring of licorice but not quite as strong of that taste. This makes it really flavorful and fun to pair with other added ingredients.
The other big reason that fennel is so good is that it has such a nice crispy crunch. This makes for a very light and refreshing salad taste and texture.
Can you prepare this fennel and orange salad ahead of time?
You bet! You can whip this up the day before or even a few hours ahead of time as well. It actually might end up giving it a bit more flavor and taste, too!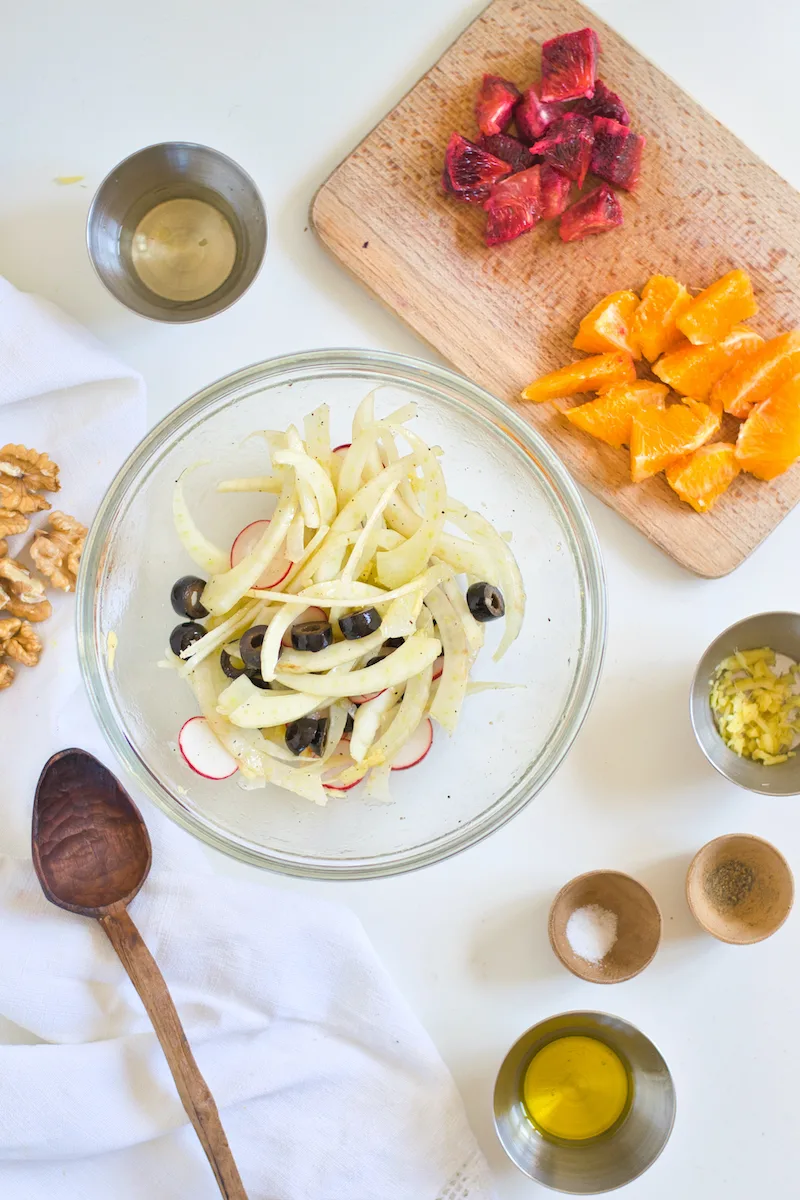 Fun Topping Ideas for this Simple Moroccan Salad Recipe
If you're a fan of toppings, add them! This recipe is loaded with taste and texture already but a few extra fun toppings are always welcome!
Some simple toppings ideas could be:
Sunflower Seeds
Shredded almonds
Raisins
Craisins
Diced apples
And those are just a few! You can easily add any toppings that you'd like to this simple salad recipe and change up the flavor and taste each and every time.
Have fun making up this simple fennel salad recipe. It's crunchy, light, and so very delicious!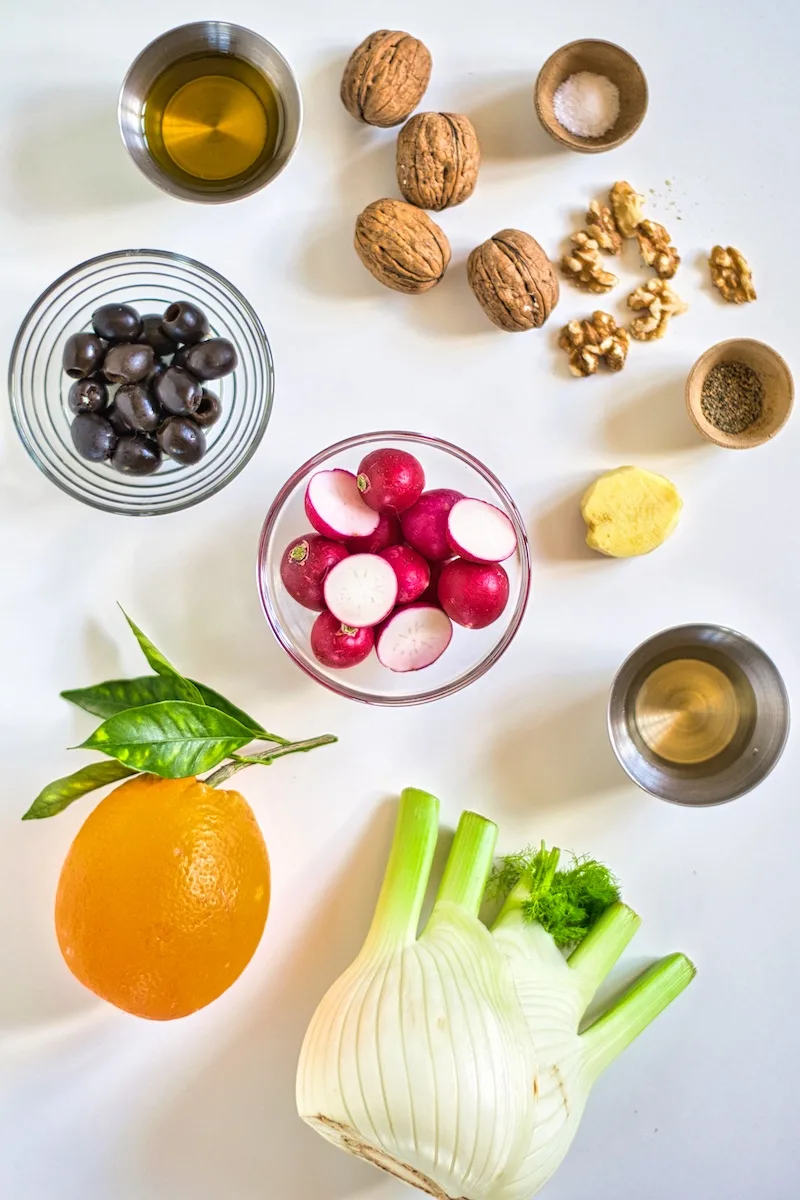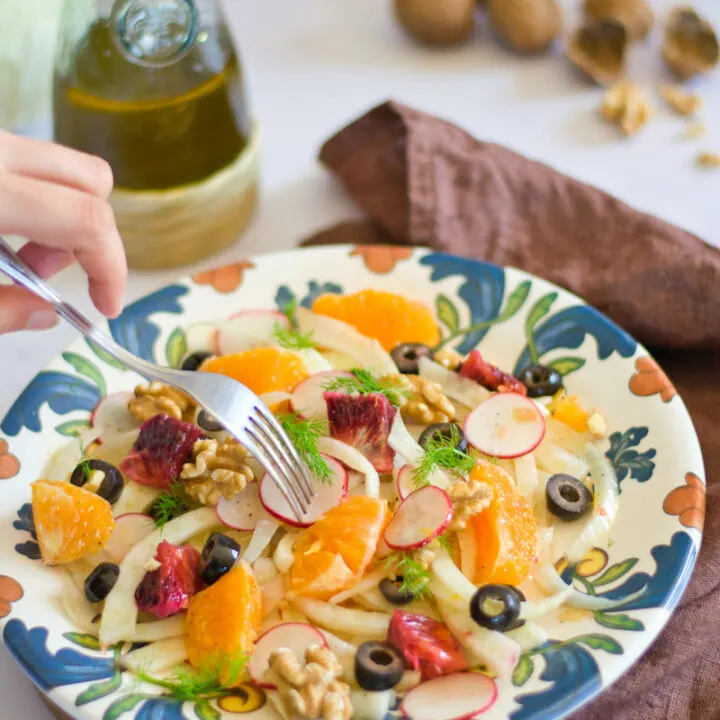 Yield:

4 servings
Mediterranean Fennel & Orange Salad
This fresh salad is a take on the traditional Moroccan fennel salad. It's bursting with Mediterranean/Moroccan flavors.
Ingredients
2 bulbs fennel
3 radishes
1 regular orange
1 blood orange
Fresh ginger
Black olives
handful of walnuts
2 Tbsp white wine vinegar
4 Tbsp olive oil
salt and papper to taste
Instructions
Vinaigrette:
In a bowl add the olive oil, white wine vinegar, chopped ginger, salt, and pepper. Whisk with a spoon to combine the ingredients and set aside
Radish :
Firstly, wash and dry the radish and with the help of a mandolin or knife make some thin slices.
Oranges:
Take your oranges and cut both ends making it flat. Then, we will cut in half making two wheels. Chop off the skin making sure you are also removing the white bitter skin. Finally, you cut the wedges carefully to avoid them falling apart.
Fennel:
Proceed by washing and drying the fennel. Place it on a cutting board and remove the stems and green beards with a clean cut. Also, deprive it of the base center and the hardest and most woody outer leaves. Then cut the very thin julienne heart with the help of a mandolin or a knife.
Olives:
Take the black olives and slice them making small wheels (if you prefer you can leave the olives as they are)

Assemble the Salad :
In a large salad bowl add the vinaigrette with the fennel, radish, and olives. With the help of a wooden spoon gently toss to combine the ingredient. For last, add the oranges and walnuts on the top, Very gently stir just a few times. Your fennel and orange salad are now ready to be brought to the table.
TIPS
Serve the fennel and orange salad as is ready. Once seasoned, the fennel tends to blacken quickly and lose crunchiness.
STORAGE
Serve your freshly prepared fennel and orange salad. If you have leftovers you can keep them in the refrigerator in an airtight container for a maximum of 2 days.