Every time my stepdad comes to visit in Morocco (or we're going to visit them) he asks for one thing; a bag of dried apricots. Before we lived here I don't think I'd ever eaten a dry apricot in my life but there were quite a few things that were new to me. Now, they're one of my favorite go to snacks.
Dry apricots are the star of these scones and if you're like me you won't skip on the icing. While I made these larger, you can easily make them bite size too.
This incredibly delicious apricot scones recipe is lovely for all sorts of occasions. They are the best fluffy homemade scones with dried apricots, slivered almonds, almond extract, and cinnamon are drizzled in a sweet cinnamon icing. They are the perfect dessert to serve at a brunch, baby shower, or really any event!
Can I Use Different Fruit?
Yes, you can switch out the scones for any fruits that you enjoy. Strawberries, blueberries, apples, peaches, or raspberries would all be lovely options. If you opt for a fruit other than apricots, apples, or peaches, you should switch the almond extract for vanilla so the flavors go well together.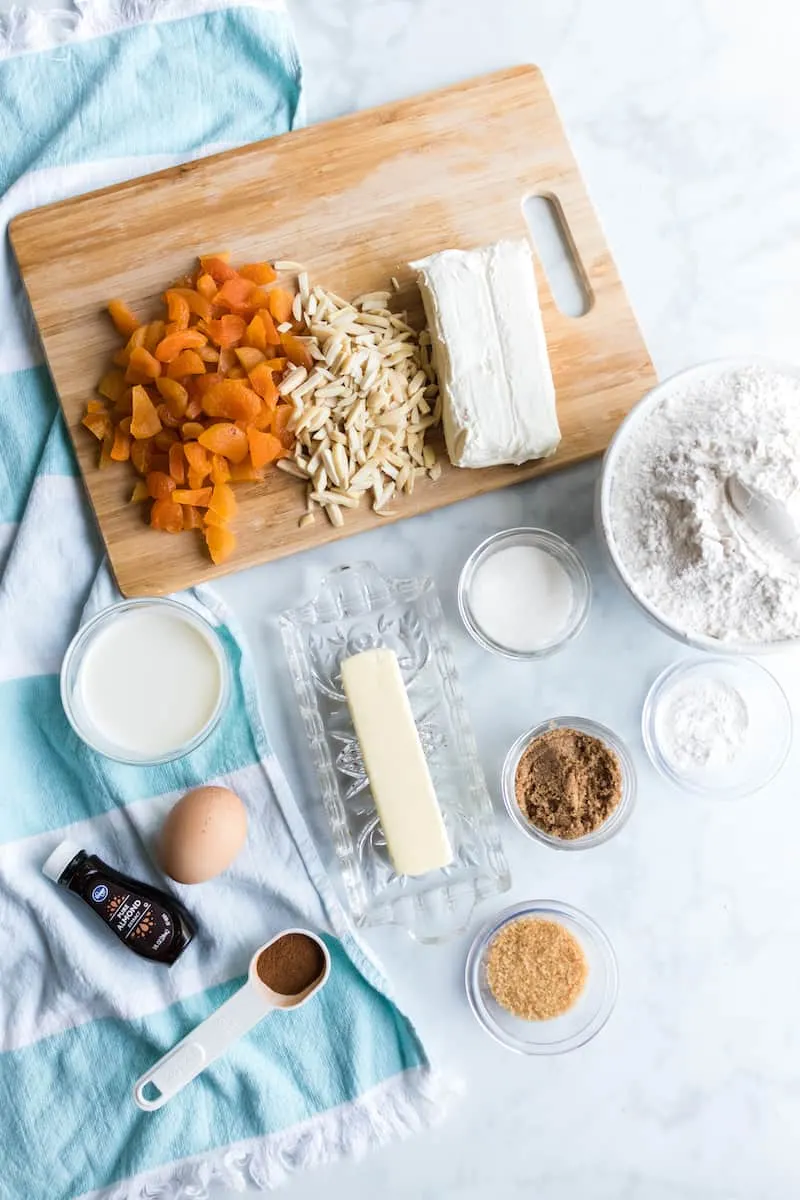 How Do I Store Homemade Scones?
Place all the scones in a storage container with a lid that fits snug. Keep them on the counter or in the fridge. They will last 3-4 days and can be made in advance. This is perfect if you are planning an event!
If you are planning to make the scones for breakfast or tea, you can also mix the dough in advance, wrap it in a ball with plastic wrap and store in the fridge overnight.
You can freeze the scones for up to 2 months as long as you keep them in an airtight container or bag. I would suggest if you want to freeze these you do so without the icing. When you thaw and reheat the scones make the icing fresh to drizzle on.
Do I Have To Use Almond Extract?
No, if you aren't a fan of almond extract, it also tastes lovely if you use vanilla extract instead. Feel free to try it both ways and see what you like best.
Can I Use Different Kinds Of Nuts?
Yes, pecans, walnuts, and hazelnuts all taste great with the combination of ingredients. Chop up whatever kind of nuts you like and fold them into the batter. Save some to sprinkle on top as a garnish too.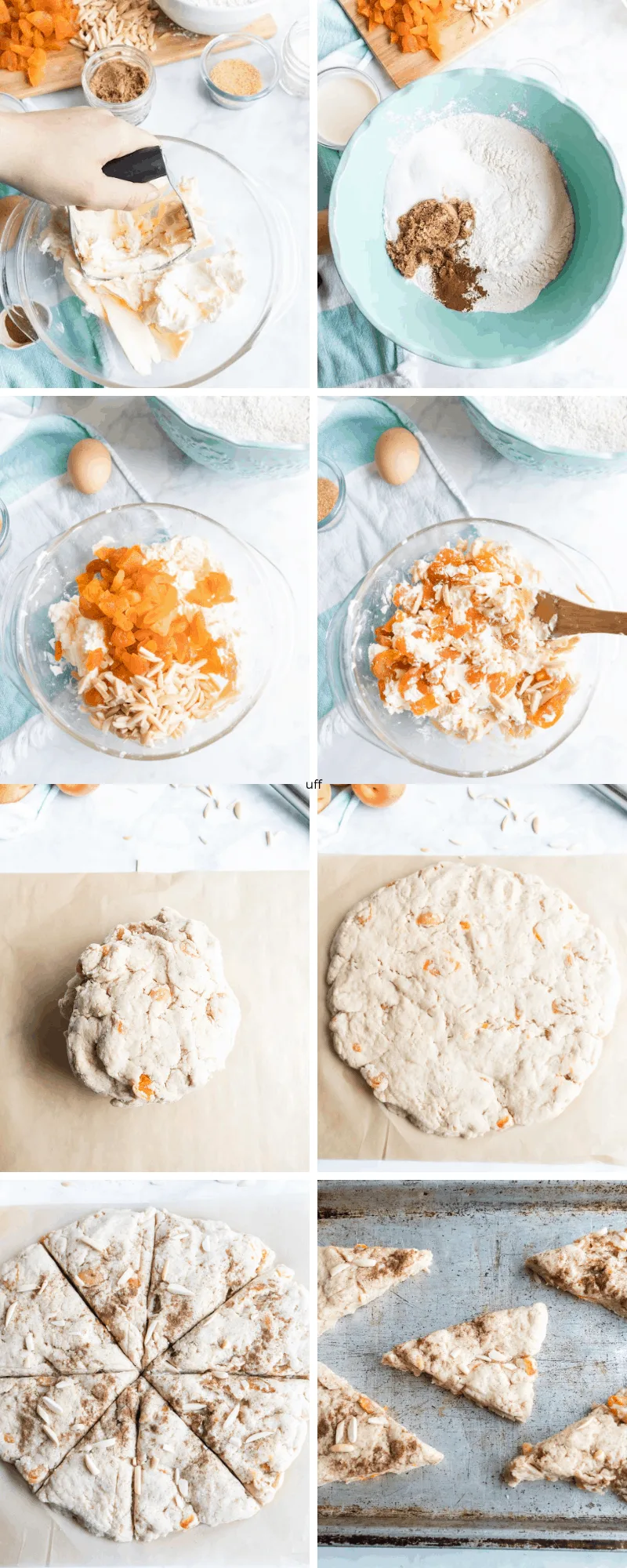 Yield:

10 scones
Easy Cinnamon Apricot Scone Recipe
Scones are an easy to make breakfast or brunch pastry that everyone loves. This recipe incorporates some Moroccan flavors and comes together in a snap.
Ingredients
3 cups of flour (all-purpose)
¼ cup packed brown sugar
¼ cup granulated white sugar
2 teaspoons baking powder
1 teaspoon cinnamon
8oz of cream cheese
½ teaspoon salt
8 Tbsp unsalted butter
1 cup chopped dried apricots
1 egg
2 teaspoons almond extract
½ cup of half and half, milk, or heavy whipping cream (you may need to add more if needed)
½ slivered almonds
Icing Ingredients
1 teaspoon pure vanilla extract
1 - 2 teaspoons cinnamon
2 tablespoons heavy cream, milk, or half and half
1 cup powdered sugar
Optional Topping Ideas
Slivered Almonds
Cinnamon
Turbinado Sugar
Instructions
Preheat the oven to 375 degrees F. Combine the flour, cinnamon, brown sugar, white sugar, and salt in a large bowl, set aside.
Mix the milk (of your choice), egg, and almond extract in a small bowl using a whisk, set aside.
Combine the butter and softened cream cheese together. Use a fork, wooden spoon, or pastry blender to mix. Once thoroughly combined, use a spatula and fold in the apricots and slivered almonds.
Add the butter mixture and milk mixture to the flour. Add a little bit at a time and mix with your hands until a soft dough forms. You may need to add a little bit more milk so it properly sticks together.
Once you have a dough that sticks together, place it in a piece of parchment paper. Using your hands to knead it and form the dough into a large circle. Use a pastry cutter to cut triangles into the dough.
Sprinkle scones with almonds, turbinado sugar, and cinnamon if desired.
Place the pieces of dough onto 2 large baking sheets so they aren't touching. Bake for 15-18 minutes or until the dough is cooked all the way through and you can insert a toothpick that comes out dry.
Let the scones cool on the pan until you are ready to ice them.
While the scones are baking, prepare the icing. Mix together the cinnamon, vanilla, milk, and powdered sugar in a small bowl with a whisk or fork. You can add more milk as necessary to make it the right consistency for drizzling.
Drizzle all over the apricot scones and serve warm.