I asked my friend Brenda to write as my dating experience is over a decade old. Both she and I wrestled with how to talk about this topic but I knew I wanted to. Why? Because I get emails ALL THE TIME asking questions specific to dating a Moroccan or dating in Morocco. It's controversial for sure, and I want to point out that no two experiences, no two people, and no two experiences are the same.
I'll be honest. I've been pretty anxious for a while about tackling the topic of dating in Morocco as a blog post. For starters, as a non-Moroccan, non-Muslim, non-Arab/Berber woman, I doubted how "qualified" I could be on the subject. Dating itself in Morocco, between Moroccans themselves and between Moroccans and foreigners can feel (and be a reality for a good chunk of people) taboo.
There are so many factors and circumstances that make up the dating world in and out of Morocco. As a currently engaged Hispanic-American woman engaged to a Muslim-Arab Moroccan man both in our 20's, I figured I should at least share some light our experiences dating and make these "taboos" stop sounding so scary.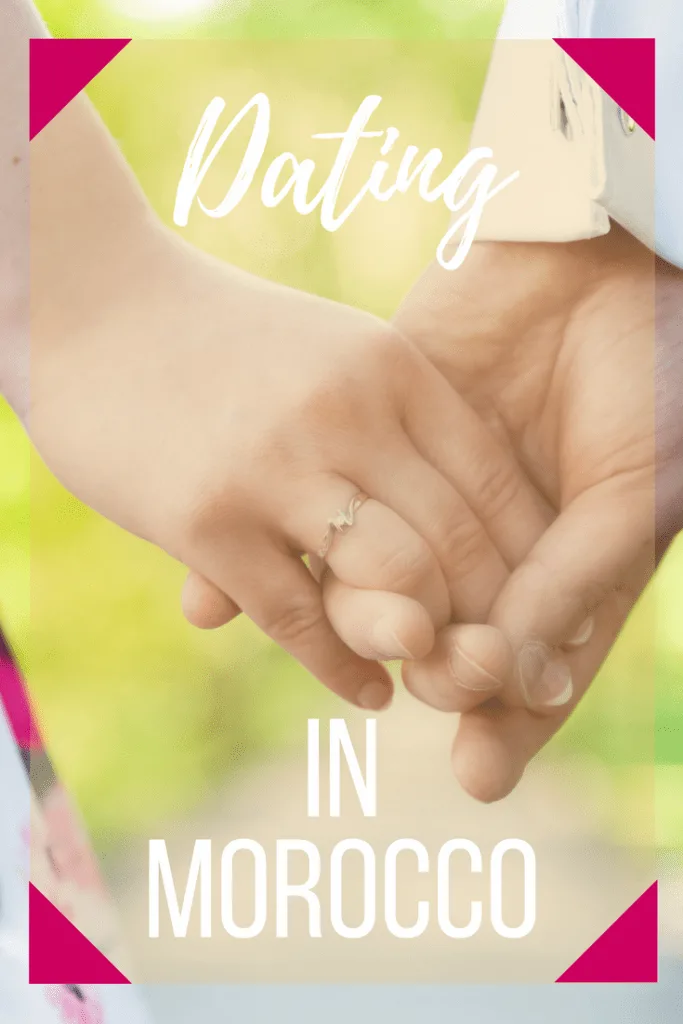 To begin, I want to say the thing some people will hate to admit: Moroccans date. Whether religiously they or others believe it is right or wrong, it exists in Morocco just like anywhere else in the world. But it's definitely not as publicly praised or flaunted like in other countries. The best way I can put it is that there's a kind of "don't ask, don't tell" mentality.
In rural places, dating is secretive. In my own experience, I only became aware of teenagers crushing on each other from my pseudo-village confidante position being the only American in the village. They assume as an American I've dated so they would ask me questions about it but knowing its considered inappropriate in Morocco, I'd keep their secrets and give general advice but I avoided giving specifics like "How many boyfriends have you had?" or "Do you have a boyfriend now?"
Another reason I didn't really engage in discussing dating in the villages I lived in was another cultural tidbit you might not know about. In Morocco, if you are unmarried you are viewed as a "girl" not a "woman." Now let me break that down, it might sound strange since in the West we are raised to understand a girl becomes a woman through physical, emotional, and psychological changes from puberty and aging.
But, for traditional (and oddly some non-traditional) folk, you become a woman when you consummate your marriage. So you can see my discomfort in admitting I've had boyfriends, when it's associated with sex in a rural place where social status and respect is relative to your marital status or if you date.
On the flip side, dating in the major cities is easier to nod into the seen and "not seen ." Living in Marrakech, I was able to meet and befriend 20-something-year-old Moroccans, both guys and girls who dated other Moroccans or foreigners. They go out to eat in the Medina, they go clubbing, they study together at university, they hang out at festivals and other public places, they just don't bring their current significant others home to hang with the parental units.
Are you a woman navigating a cross-cultural relationship and wishing you had a little more support or someone to bounce your questions off? Check out The Living Room, my closed community for women in this specific situation!
For many couples, this is the ultimate no-no. A variety of reasons for this come to mind: embarrassment about dating and/or who they're dating, having super traditional or religious parents and dating a foreigner or non-Muslim or non-Jew (don't forget there are Moroccans Jews too!).
This isn't the case for all Moroccan couples. Personally, I know some people whose families are more comfortable with their young adult children bringing their "best friend" home. This is also visible for mixed couples like myself and my significant other. I was simply introduced as "Brenda" and we actually never expressed we were dating or exclusive.
Actually we didn't openly express to the family we were a couple until we had a group discussion about us deciding to file a fiancé visa in other to move forward with our future. Mind you this is AFTER my mom and family members had come to Morocco and met his family.
It was so funny to know everyone in the room knew we were a couple and meeting each other's families is a pretty big deal in any culture but no one mentioned it directly. It was "don't ask, don't tell" also known as "live and let live." I know we're quite lucky to have both our families' blessings to date each other relatively openly but we know others aren't so lucky.
Before I forget I should also point out that it's not just for religious reasons that dating is taboo but it is actually illegal to have premarital sex in Morocco. (Read up on some of the other rules relating to social norms) Prostitution is also illegal and while the two things are mutually exclusive topics they both occur in Morocco. Don't shoot the messenger guys, it's just a reality.
So, if you're a foreigner (tourist, resident, or like a lot of us a mix of both) with a Moroccan partner, it can actually be a bit tricky to just "fool around" like is easier to do in Western countries. A lot of establishments will ask you for your marriage certificate and if you're not married you can (and likely will) be denied to stay there. Some places are relaxed and won't bother you about it, but those places can be hard to find.
On an almost contradictory point, I should point out in big cities some couples actually live together. Illegally, I should point out but again it doesn't mean it doesn't happen. I lived with my Moroccan boyfriend for about a year before we got engaged. Other couples don't live together and yet exit from their homes at different times when one visits the other so people won't see them.
This might feel like a lot of balancing and juggling of religious values, cultural perspectives, individuals' opinions and societal customs- man that's a mouthful– but on the day-to-day, we're all just living average lives and trying to find happiness with someone. While dating in Morocco is far from "smooth sailing" or "perfect", is dating really easy anywhere? I don't think so.
This post is not the all-encompassing guide on dating in Morocco, but I hope it will shed light on some stereotypes and give you a different perspective on a topic that is usually hush-hush. By keeping these experiences only in private conversations, we give power to the taboo and no one wants to feel like their desire for love is taboo.
Because love is love.
The one thing I hope you take away from this post is that there's no guide to "dating a Moroccan." They're human just like everyone else. Sure there are cultural differences but that exists anywhere. Whenever someone asks me a relationship question I encourage them to look at the relationship the same way they would if it was someone they met at a party or from across the state. Use the same measuring stick and sense of judgment and it will really help answer your questions!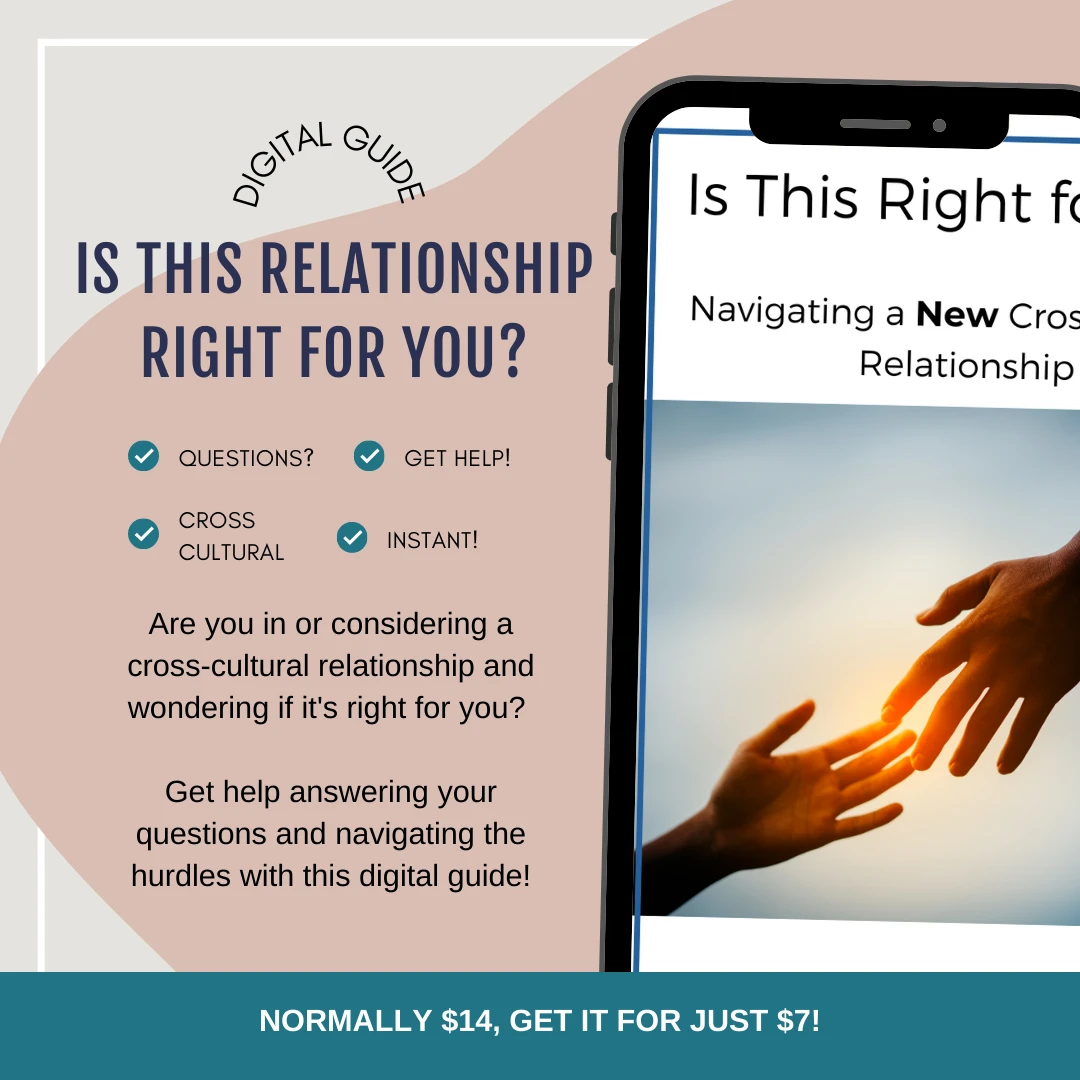 If you're in a new cross-cultural relationship or considering one, pick up your copy of this guide! Normally $14 it's just $7 right now!
Looking for more relationship posts?
6 Things You Should Do When Meeting Someone Overseas
The Good, The Bad, and The Ugly of Meeting Someone Overseas
So you Wanna Marry a Moroccan Man?