I get several emails every week asking me about the dynamics of life here in Morocco or about relationship questions. I love getting email from readers, especially those who tell me they feel a personal connection – what a compliment! Sometimes it can feel like I'm writing into space, but getting those bits of feedback truly mean so much as I continue to write and explore topics that are personal to me but may help someone else.
Recently I've been getting many messages from families who are considering a move to Morocco, either permanently or temporarily. Every family and individual's situation is unique so my advice can't be all-encompassing – it's merely my observations and experience.
With that today's question is one I'm regularly asked; should we live with my in-laws or should we get our own place?
My answer almost 100% of the time will be if you can, get your own place.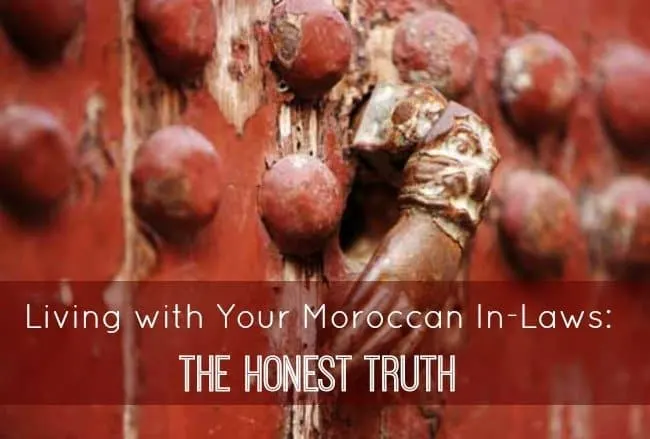 But, before I leave it at that let me back up and discuss both arrangements. In some traditional Moroccan homes it's still common for men to live at home after they're married. The new wife moves into the family home.
The couple has their own room but all other aspects of life are shared. The role of the daughter-in-law is to take on household responsibilities. The mother-in-law has done her time and so cleaning, cooking, washing, etc falls to the younger women – who most often are directed by the mother/mother-in-law on the "proper way" (i.e. her way) to do these things. Most Moroccan women who move into this type of family inherently know and accept that this is the way things are, though they may not like it.
If you're a foreign woman who is coming into a family like this the expectations are similar though not really the same. I've found that most often a foreign woman occupies a third space.
You don't have all the rights and privileges that a man does, however you're not expected to know or understand the roles as a Moroccan woman would. You can take the best of both worlds but at the cost of never really being fully accepted in either one.
Sound complicated?
It is.
As an adult who has lived independently, you have your own way of doing things. If you have children you parent them in the way you and your spouse determined before living in Morocco. For example, you may not believe in physical punishment for children.
Expect that to be challenged.
You might have your own technique for cleaning floors or standard for washing laundry.
Chances are it will be different and it will be challenged.
You may work out of the home or enjoy going to meet friends for a cup of coffee. Expect that your in-laws won't understand why you need to do this.
Your ways will be foreign even if your in-laws are worldly and have traveled or visited your country. If there's one thing I've learned it's that your ways are often seen as wrong when in reality they're just different.
When we moved here we moved into my husband's family home and have lived here for almost 10 years. It is a "riad style" home with an open middle courtyard and several floors. We live on the top floor in our own "apartment". I have my own kitchen, bedrooms, living room, and bathroom.
My mother in law along with one sister-in-law and her children live on the second floor and the first floor is a common area. Because this is the family home it is very common to have my husband's other sisters and their children here, especially on the weekends.
I'm going to share the pros and cons, depending on your personality you'll have to decide what is a pro and what is a con!
Pros and Cons
it's a shared home, and so you lack control over noise and who comes and goes.
there is a lack of privacy and personal space even if you have your own floor
shared expenses unless this has been divided somehow or established ahead of time
loss of independence. You are not as free to come and go as you might be if you were living alone – you will often be questioned and hear others opinions about what you're doing.
Your business becomes everyone's business – and they often are more than happy to share their opinion either to your face or behind your back.
there are skewed expectations unless this has been very firmly established ahead of time.
Jealousy and competition over the "man of the house" – especially if it's your husband.
there is almost always someone to help with the children
you can alternate cooking. For example in our home my sister in law always makes lunch that we all typically eat together and we each prepare dinner for our respective families.
You're rarely ever alone.
Cost of living is reduced. If you're on a fixed income this is one way to not have as many housing expenses.
A greater sense of family and community
There's almost always someone around if you need help with something.
Our first year living in the house was not a happy time. Not only was I dealing with culture shock and adjusting to life here the issues that come with living in a shared home took their toll. My mother-in-law and I rarely saw eye to eye. While she was thrilled to have her son back in Morocco I often felt that she saw me as a threat and a competitor for his affection. This was very strange for me.
One of the reasons we moved here was so that he and our children could spend more time with her! I had never experienced this type of competition for affection and truthfully didn't know how to respond. She also didn't understand why I would spend all day upstairs in our apartment, it took a long time for her to grasp that I wasn't avoiding them but I was actually working.
It also took a long time for her to realize I wasn't going to come and wash floors or do laundry as a Moroccan wife would – but I was happy to contribute financially and pay for someone to come to the house to do that work. In her defense because I felt so much pressure to "be" the person they thought I should be I did avoid them. I would stay upstairs for days on end just so I didn't have to answer the questions.
I am sharing all of this in hopes of giving others a look into what this transition was like. Today I am at peace with our decision though ideally, we would be in our own apartment nearby.
I know there are some of you reading who will say, "well they're just trying to help! They just want to share with you and show you there's another way."
To which I say yes, certainly.
Be open-minded of course but also don't be afraid to hold your own. For example, I refuse to hit my children and have had countless arguments with my in-laws about this practice. In Morocco, it's seen as normal but for me, it is a hard and fast line I won't cross.
Many times I have been asked to just see it their way and change my way, and in some ways yes I can do this but it shouldn't always be the non-Moroccan that is asked to make the change, sometimes it has to be them. Don't be afraid to put your foot down, draw your boundaries, and stick with it!
Remember even if you choose to move to another country and even in a shared living situation like this, you as the immigrating spouse do not have to compromise your values or your feelings for others. You get to be 100% you! It will be hard but it is important.