Are you a woman in a cross-cultural relationship and needing a little more help or support?
We know navigating the waters of these types of relationships can be hard, especially when you don't have anyone in your family or friend circle that has gone through it.
But, you really aren't alone!
We've created a unique experience for women who are in cross-cultural relationships. We know that there are a million questions, so many scenarios, and hurdles that can be faced. We know because we went through it.
We wanted to create this group experience to give you what I didn't have. A safe space to meet other people who understand where you're coming from and can help you understand the challenges you are facing.
That's how The Living Room was born!
But wait, Who are WE?!
If you've read this far you might be wondering, ok but who are you, and why are you doing this?!?
Amanda Mouttaki
I have been in a cross-cultural relationship for almost 20 years. I've raised children, moved countries, navigated religious differences as well as cultural expectations. I've cried alone in my room and lashed out when I had no idea who to talk to. Basically, I've been there and I'm still doing it!
I've had multiple different jobs even though my degree is in International Politics and I also hold an MBA. I've also been writing my website MarocMama and its online social platforms for 15 years. In that time I've gotten hundreds of emails and spoken to dozens, and dozens of women who have found themselves in a cross-cultural relationship. Through these messages I've helped unpack cultural messages, navigate sticky situations, and been an ear for listening.
Kelly Nelson
As well as being in a cross-cultural relationship for five years, I have a background as a licensed clinical mental health counselor. Through my training and experience, I have found that helping others around the themes of belonging, connecting, and identity is where I feel my own sense of connection and calling. My aim is to empower you and provide you with tools for building the confidence and motivation necessary to navigate these sometimes turbulent waters.
In 2019 I moved to Morocco, my husband's home country, and had my own personal experiences with navigating cultural nuances. Having been on both sides of the equation has proven invaluable to my practice and what I offer.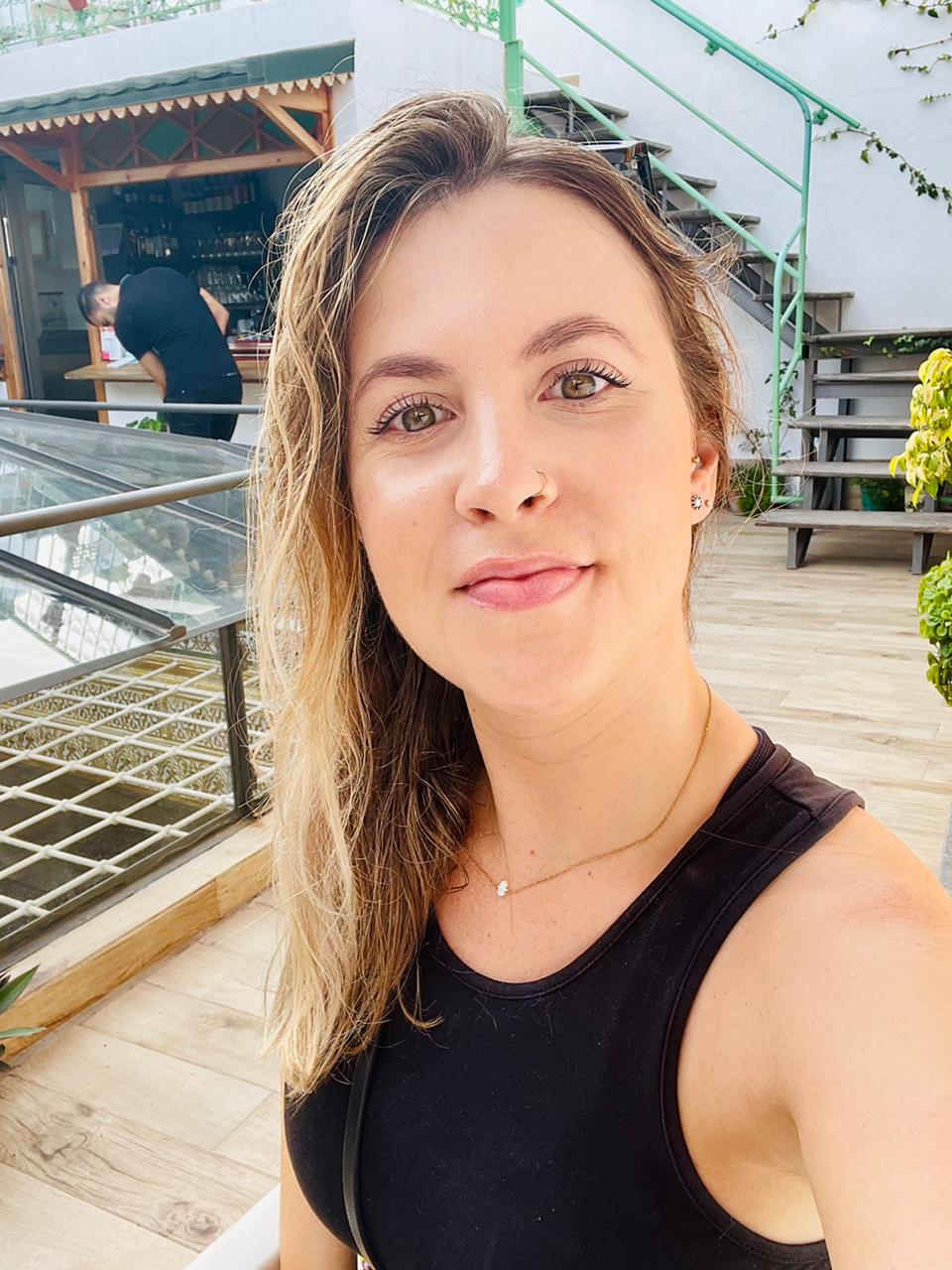 Is this right for you?
Imagine if you found a community of women just like you, who are going through some of the same challenges and struggles as well as people who have done it already.
You no longer have to wonder if what you're experiencing is just you. You're ready to TAKE ACTION confidently because you have the knowledge you need to handle it.
You finally feel the way you WANT to feel because you're reassured and know you have a group of people behind you with experience and support.
You have more answers to the questions that have been causing you STRESS about what to expect or what you are experiencing.
You are better able to understand your own feelings, emotions, anxieties as well as the TOOLS to address these things with your partner.
When you join The Living Room you'll be surrounded by a community of women who are in, or who are considering a similar type of relationship.
What's included?
Let's Dish!
For $25 a month you'll get resources and support in your relationship journey from Kelly and Amanda!
Each month will have a theme or topic that will be the focus. No matter when you join, you can jump right on. Months don't necessarily build off each other but complement each other so no matter what you're able to jump right in.
What's included with your membership;
1 conversation or class lead or taught by Kelly or Amanda
1 discussion session via Zoom (or other platform) where you can bring your questions and engage in a guided discussion on the months' topic.
1 game or activity that you can use with your partner (whether you're together or still at a distance) aimed at building or exploring your relationship.
a dedicated, private Facebook group for members where additional discussion happens throughout the month.
other random bonuses or extras as needed.
Want to save some cash? When you purchase a yearly membership you'll get a month free!
Deep Dish
For those members who want a little more one-on-one, we will offer deep dives into your own personal situation. You're able to ask questions, discuss situations, or simply ask for an opinion with complete honesty and confidentiality. These can be purchased with either of us at any time and are only available to those that are already members.
We will be releasing specific details about what's available, how to purchase and redeem shortly.
Purchasing & Payment Details
Here's what happens after you clickety-click that magical button!
You'll be taken to a page with either a monthly or yearly option. You'll choose your spot on the couch with any major credit card to complete your enrollment.
Right after you pay, you'll get a confirmation email with your membership details. Make sure to read this and follow through.
Next, you'll get an email with the current month's activites as well as where to go to join them.
You pop into the Facebook group to introduce yourself and meet everyone else!
Ready? Let's go!