With autumn temperatures and back-to-school schedules approaching, it seemed the appropriate time to round up some of the tastiest and easiest Moroccan crock pot or Moroccan slow cooker recipes to make your lives a little less stressful and a lot more flavorful in the coming months. I am excited to share a great variety of slow cooker meals from the kitchens of my fellow foodie bloggers as well as my own.
Beef Crock-Pot Meals
Moroccan-Spiced Beef Stew
From Christine's table at Chew Nibble Nosh comes this exotically seasoned Moroccan-Spiced Beef Stew, flavored with dried figs, paprika and Garam Masala. Serve with couscous or rice, and you've got a complete meal the whole family will enjoy. Sure the spices have a mix of Moroccan and Indian but the flavors will translate well. An added bonus is that you can freeze this dish for a quick dinner later on.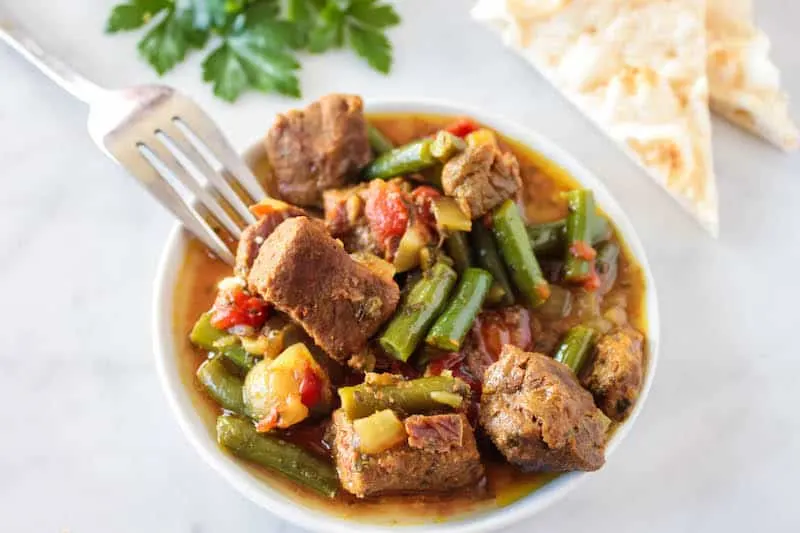 Moroccan Beef and Green Bean Tajine
My Moroccan Beef and Green Bean Tajine recipe is one I converted into a crock-pot friendly version last year and it was met with rave reviews. Not only is the meat tender and the dish hearty, but it's full of great veggies like tomatoes and green beans. Pair this dinner with quick and easy Moroccan Bread to soak up the tasty juices.
This really is a Moroccan beef slow cooker recipe that your family will request again and again – and is a cinch to make.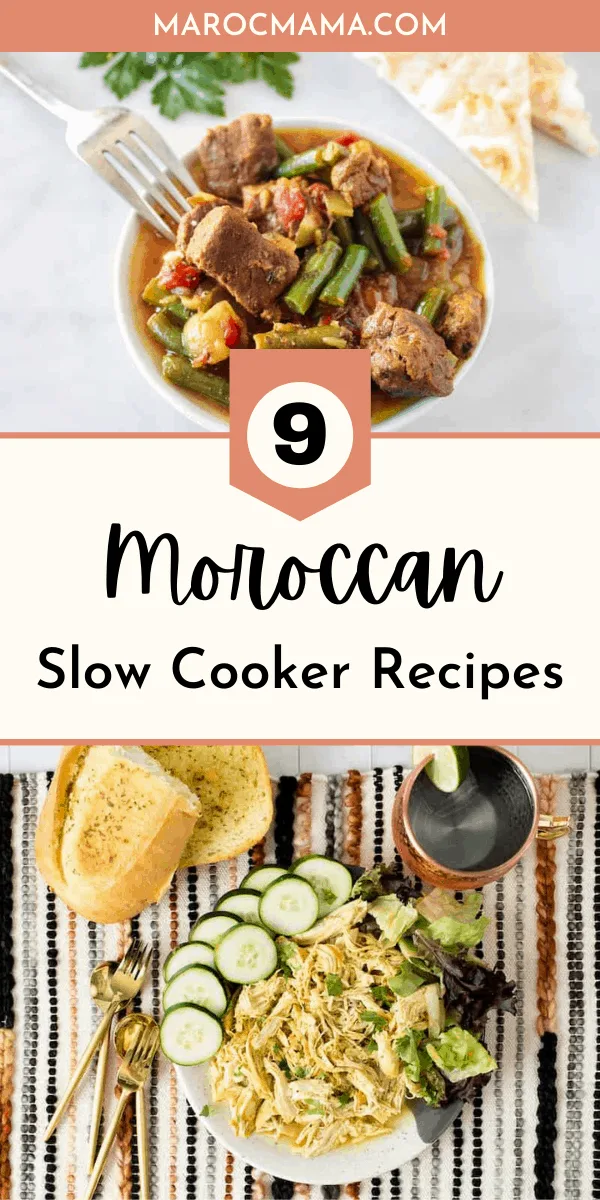 Chicken Crock-Pot Meals
Moroccan Chicken Stew
If you love the idea of stew, but want to skip the red meat, Louisa of Living Lou Cooking Through My Twenties offers a fun twist on traditional beef stew with her Moroccan Chicken Stew. Combined with rice, sweet potatoes and carrots, this is a dish packed with flavor and healthy ingredients.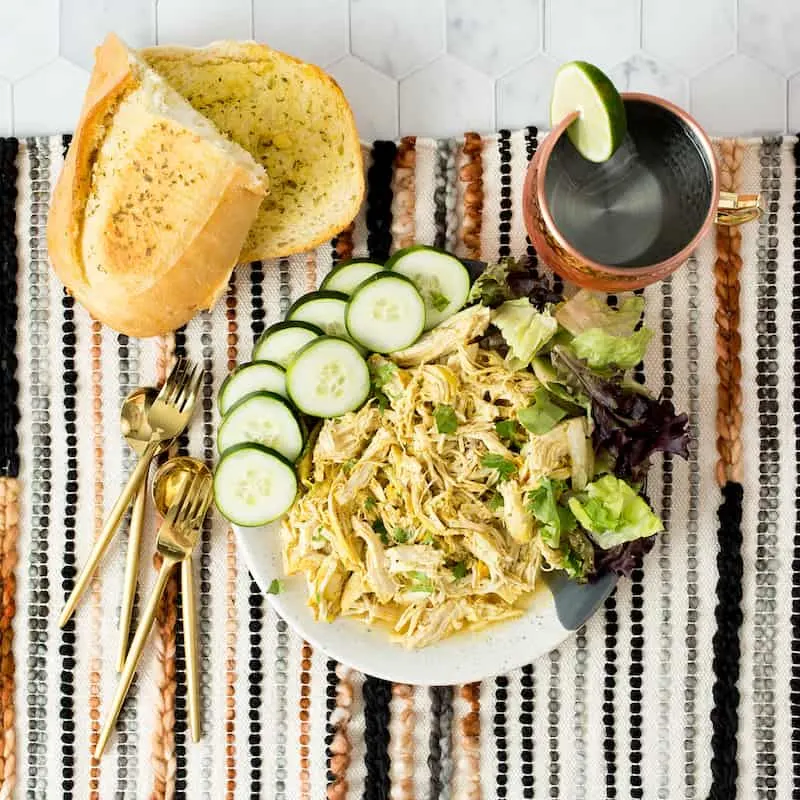 Chicken Shwarma
Traditionally the chicken in a shwarma sandwich is spit roasted and shaved to fill a sandwich. I have neither a spit nor the patience to slow roast and shave it – hence, my Slow-Cooker Chicken Shwarma recipe was born.
While this isn't authentically Moroccan, shwarma is found in plenty of street snack shops. When it's made in the slow cooker it's delicious and won't make you sweat all day tending the spit. Serve with warm pita bread, Arabic garlic mayo, lettuce, tomatoes, pickles and other mezze style dips.
Harissa Moroccan Chicken
A versatile and somewhat spicy sauce found in many Moroccan homes is harissa and it adds the perfect amount of heat to Miryam of Eat Good 4 Life's Harissa Moroccan Chicken dish. Another great crock-pot recipe served over rice, couscous or quinoa!
Easy Moroccan Chicken Recipe
Mary from LoveFoodies shared with us a wonderfully authentic recipe for Moroccan Chicken that includes chickpeas and a bonus recipe for making Ras El Hanout (a traditional Moroccan spice mix) at home. A ras al hanout chicken slow cooker recipe?
Yes, please!
A slightly sweet flavor envelops this dish, not to mention, your whole house will be swept up in the aroma while cooking! The original recipe is given with instructions for stove-top cooking, but there also are time and temperature directions for throwing this all in your crock-pot.
Moroccan Chicken
We couldn't help sharing one more great variation on Moroccan Chicken as it's such a popular recipe in Morocco! We love the simplicity of Elise of Simply Recipe's Moroccan Chicken recipe. She adds green olives for an extra punch of flavor and color.
Lamb Crock-Pot Meals
Paleo Moroccan Lamb Stew with Cauliflower Rice
For those in need of a paleo and gluten-free slow cooker option, this Paleo Lamb Stew with Cauliflower Rice is easy, delicious and packed with healthy ingredients like tomatoes and apricots. If you don't like lamb, it can easily be substituted with beef or chicken, but I suggest giving lamb a try!
Moroccan Tagine Lamb Roast
The secret to this Moroccan Tagine Lamb Roast recipe is all in the simmer sauce which offsets the higher price of lamb. Saffron Roads makes some excellent simmer sauces that make meal prep easier than ever. Leave your spice rack alone and skip using the measuring spoons, as it's a simple dump and heat recipe. Paired with Mandarin and Pine Nut Rice, and you've got a cold weather family favorite dinner you will go back to time and again.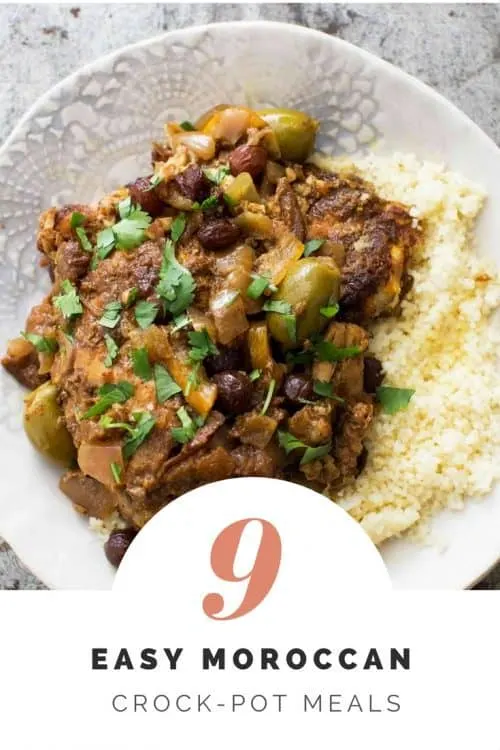 So get out your slow cookers and get ready for a delicious, Moroccan inspired fall season!
Need a good crock pot? This is one of my favorites.