I can't believe that it took me until this year to finally create a portable, comprehensive first aid/illness kit. We've been on the road a lot and usually that means I inevitably forget something. Having a bag full of "just in case" medications takes up a lot of space and wasn't working for me. So instead I put together a small kit that I can throw in my purse, the car glovebox or suitcase and know that I have all of my bases covered.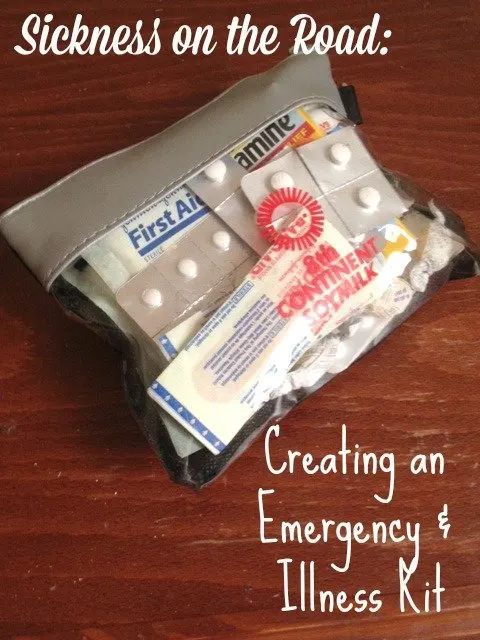 The good news? You probably have everything you need already on hand!
The contents of your bag will likely vary from mine but here's a list of what I include;
Band-aids in a few different sizes.
Cough Drops
Gauze squares
Antibiotic cream
Congestion tablets
Gax-X
Advil and Tylenol for adults and children (tablets for kids it old enough)
Benadryl or other allergy medication
Dramamine
Melatonin or other sleep aid
Toothpaste (because I always forget it!)
Hand sanitizer
a few day supply of other prescription medications your family needs
This seems like a lot of things and it is – I really feel like no matter what happens I've got something on hand. The key is not to overdo it. You don't need an entire bag of cough drops, you really don't need a full package of any of these things. This is for emergencies. It's enough to get you through a day or two until you can refill or find another source.
It's for those illnesses i the middle of the night when you're in a hotel room and have no access to any other medications. For example when we were staying in Fez our oldest ended up with some mild food poisoning. I had pepto bismol, I had nausea medication, and I had Gas X all on hand. I wouldn't normally pack these things.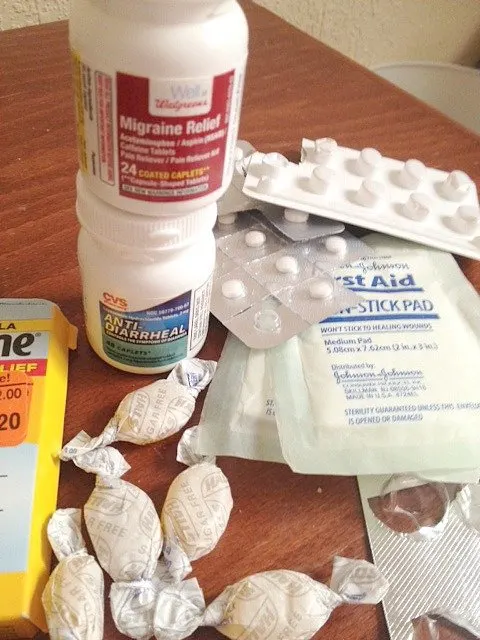 To keep everything together I use a zippered cosmetic bag. The bigger your bag, the more likely you are to over fill it. Keep it simple and stick with something that is small enough to fit into your purse and won't encourage you to stuff in more than you really need. You probably already have several on hand but something like this cosmetic bag is a good size. (This one has two sizes, maybe you want to keep a smaller version in your purse and a larger one for your suitcase)
Once you get home be sure that you check your bag and refill it with anything you've used. This way you'll be ready to go the next time and won't be scrambling to refill it or find yourself missing what you thought you had in the bag.
Do you keep an illness/emergency kit on hand? What would you add?