Earlier this month my mom and stepdad came to visit. As all good children do we jam-packed the schedule to squeeze every ounce out of their visit as possible. With our children being in school during their visit, illnesses, and a small rash of bad weather we didn't even come close to doing everything we had hoped. But, we did get in some of the big experiences we were hoping for.
This included a visit to the Sahara desert.
Believe it or not, I was the only one who had ever been – even though MarocBaba has lived here his entire life he'd never gone. It took some persuading to get him on board. The question came up, should we take the kids or not? I said yes, he said no – I won!
I knew this was one experience that had to happen.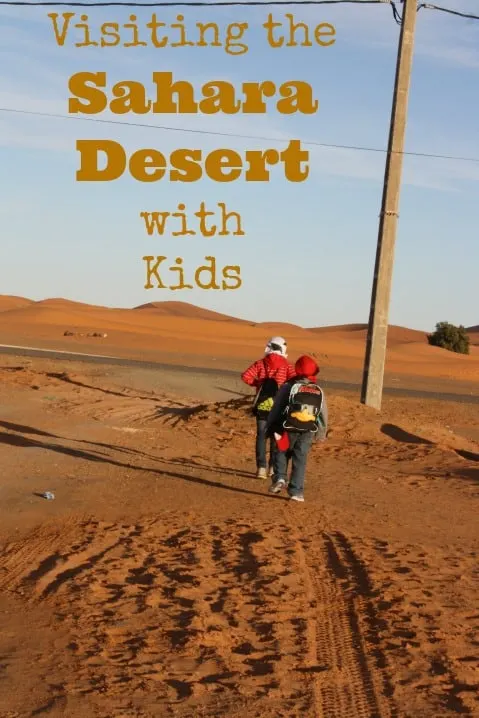 There are a lot of people who have asked if they should do this with their kids, and what advice we would give so I hope to answer those questions. First, the issue of actually getting to the Sahara is important to consider. You can get there from Fez or Marrakech, but either way it's a long trip.
We left Marrakech, over the High Atlas Mountains, stopped in Ait Ben Haddou, Ouarzazate, the Todra Gorges, and Dades Valley before reaching Merzouga for our desert experience. We left on Friday and spent that night in the Todra Gorge. Saturday afternoon we rode camels into the desert in Merzouga to our camp. Sunday morning we were up before the sunrise to ride the camels out and drive all the way back to Marrakech.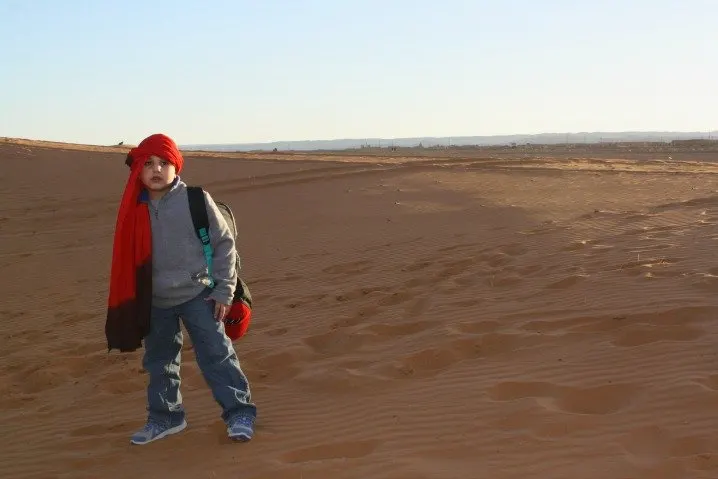 My first reflection was this; if your kids are not used to spending long periods of time in a car, this is going to be really difficult for you. My kids have spent days at a time on car rides, driving across the United States. When we were in the US it was normal to take a weekend trip 250+ miles to visit relatives. If you're considering a Sahara visit you MUST take this into consideration. If you're unsure how they will do, you will want to book a private tour that will allow you to stop as frequently as needed and will not put others on edge.
Our tour was mixed, there were 12 of us altogether in a single minibus. If you're thinking you might just rent a car and head out alone, don't. You absolutely should not ever go into the Sahara Desert without a guide. There are many logistics and difficult driving terrain to get to the Sahara, leave it to the experts and save yourself the stress and risk.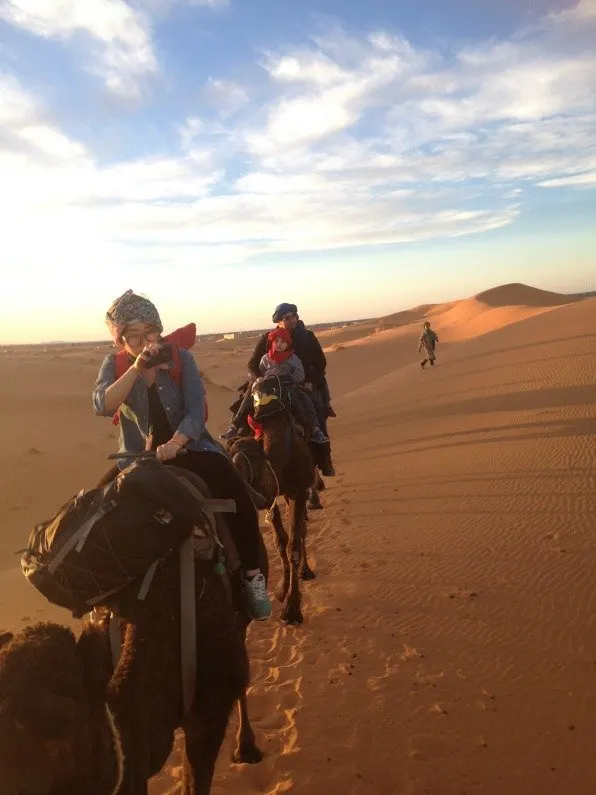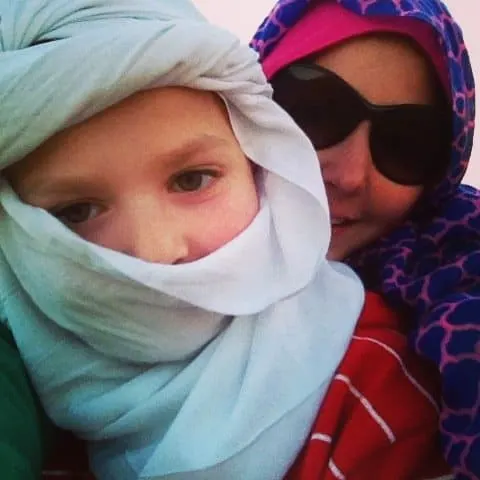 When you begin planning your trip there are some questions that you should take the time to ask and have answered by the tour operator.
Questions to Ask When Booking Your Sahara Trip
What is included in the quoted price? What is not included?
Do you actually have tours during the time we will be there and how hot is it? This is something you will want to know for summer months. Many operators do not provide services in the summer months. There is no air conditioning and it can easily reach between 100-110F during the day and mid 70's at night.
Where will we be stopping including the name of any hotels or riads?
If it is not a private tour, how many other people will be traveling together?
Are there any stops that have additional tours or tips that I should expect to pay?
What meals will be paid out of pocket and what's the average cost?
If I don't want to eat at the locations stopped for meals, are there other options?
What are the sleeping arrangements in the desert camp?
What is the full schedule of the tour, including stops, and times to arrive and leave the desert camp?
Will children ride on their own camel or ride with a parent?
If you have any health issues, like a bad back (me!) ask if they have a back rest for the camel for added support.
Most companies are going to gloss over everything and give you the feeling that this is a luxury trip. In some instances, this may be true but you should assume it's not. Also, like most things in Morocco price is not fixed. You will want to know all of the costs ahead of time so that you can choose the tour that makes the most sense for your family financially and logistically. Ask about different options and if you feel the price is too high you should push to get the best price possible.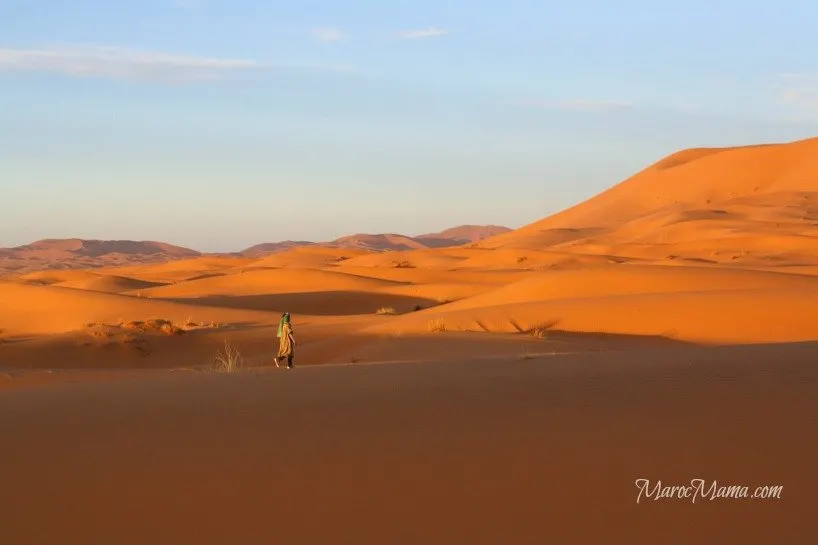 After my observation about the length of time we spent in the car, my next observation was about activities. Essentially you're driving 10+ hours to ride a camel for 1-2 hours, to tents in the sand. Yes, it's amazing, but from a kid's point of view there isn't a whole lot to do. Electronics are going to die, so you'll want to be prepared with these technology free ideas. If your kids aren't the type to spend hours without being entertained, then plan accordingly. This can be an amazing experience, or a really trying one!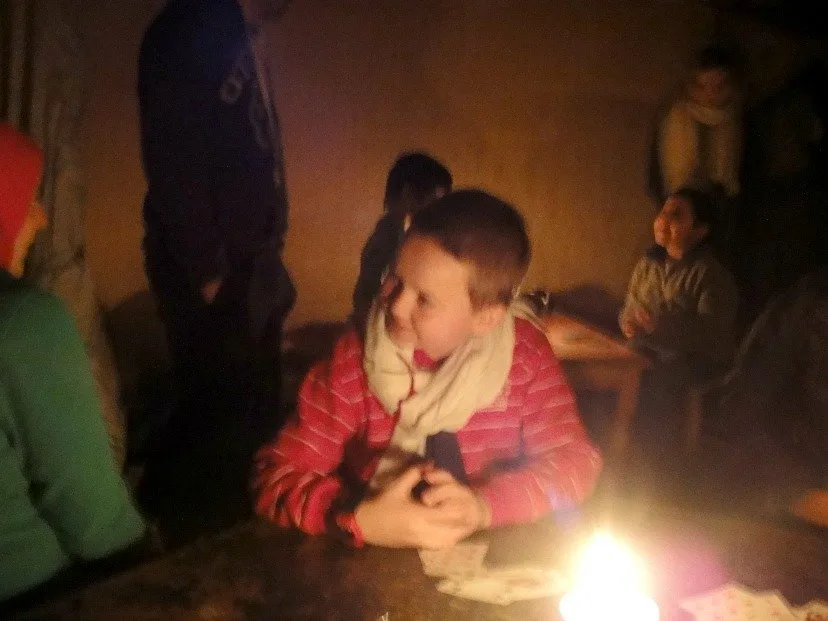 What happens when you get to your desert camp?
Well that depends on the tour you're taking (be sure to refer back to the "questions to ask" section when booking your tour.) Our experience was basic. We got to the camp at sunset. The last bit was actually in the dark. We then dropped off our bags, and spent some time in a group tent with tables and candle light.
Thankfully someone had a deck of cards, so some games were played. After an hour or so it was time for dinner. This was the worst part. Both times I've done a Sahara trip the food has been awful. Really awful. What we ate was essentially steamed vegetables and chicken in a tajine pot. Bad, bad, bad. It was followed by oranges. I get that we're in the desert, but it's a short 4×4 ride, and some salt, pepper, and cumin go a long way. We ate it because there was nothing else to eat.
My kids are very used to Moroccan food (or Moroccan-ish in this case) so they didn't complain too much, except to say "amitou's (aunties) is much better." If your kids are picky be ready for very very limited options. Bring some food with you. I had packed an insulated lunch bag with nuts, dates, apricots, oranges, and some cookies (enough for all 6 of us to eat throughout the trip).
Let me reiterate, bring some food with you!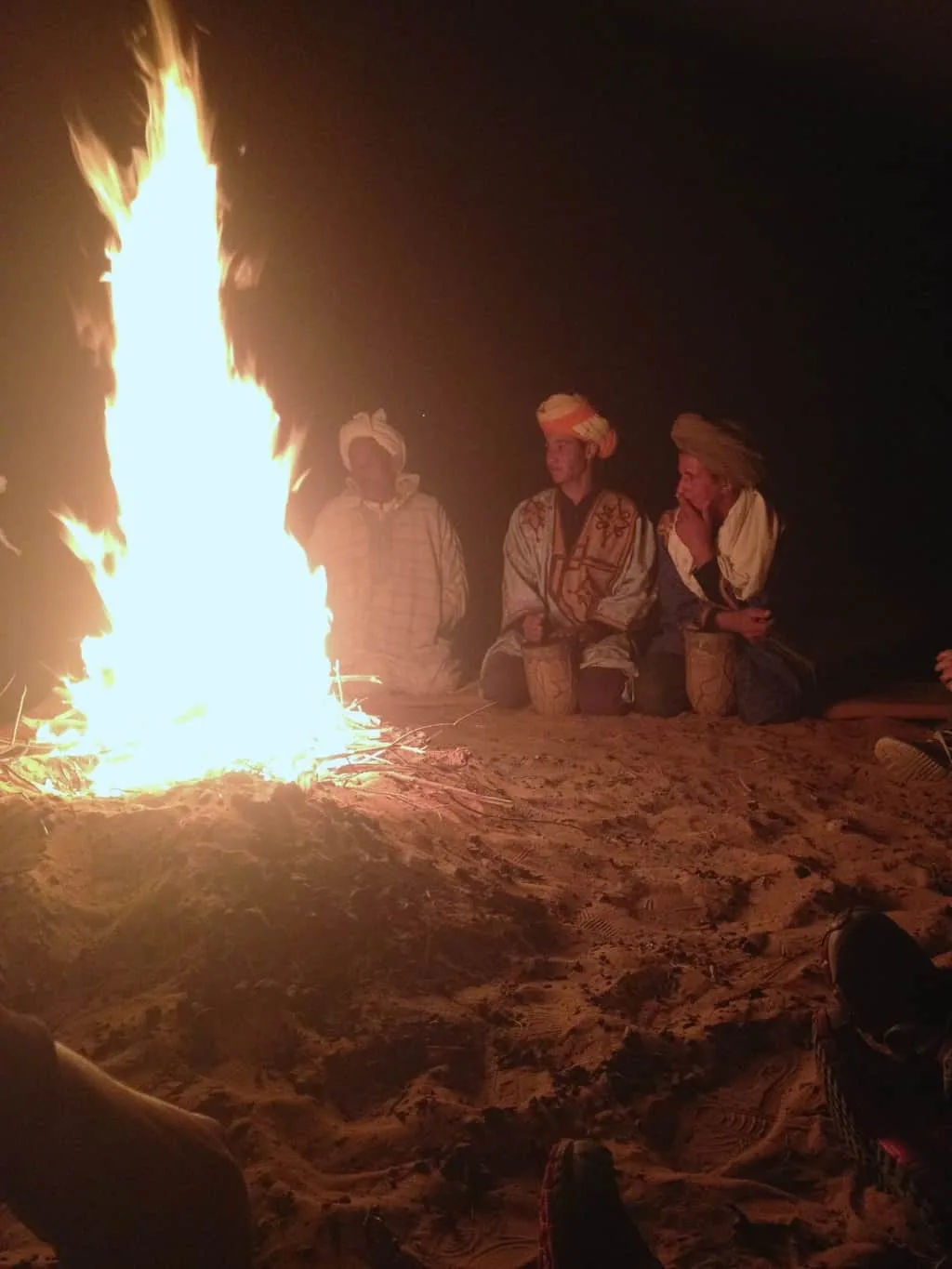 After dinner, we were brought outside to a fire where our guides played some traditional songs and everyone was given the chance to try and play too. Our guides were not too enthusiastic. They weren't too thrilled about anything during our stay which put me off. Moroccans are notoriously hospitable and welcoming. While one of them was all of these things, the others were a bit disgruntled.
At this point, I took K back to the tent and fell asleep. M, grandma, and grandpa went with the group and the guide for a walk where I heard they laid on a sand dune and looked at the stars. For me, seeing the stars over the Sahara is one of the most amazing things you'll ever experience. I'm sad I missed it this time but glad they got the opportunity.
Our sleeping arrangement was in one big tent for six of us. There were mattresses on the ground and blankets. It was rustic. But, I slept. MarocBaba slept with his boots on "just in case." The most dangerous thing we encountered were the camp cats who decided to fight sometime in the early morning on our roof.
Sometime before the sun rose we were woken up without any clear reason why. I assumed it was to go and see the sunrise, as that is what happened the last time I'd taken a trip like this. Oh yes, we were going to see the sunrise, on our camels. This wasn't clear the night before and the guide's rudimentary English didn't explain it too well either.
If you're planning to go here are a few things you should take;
warm clothing including winter hats (yes this is the desert, yes is it is cold at night)
a flashlight for each person
long pants
closed toed shoes
hand sanitizer or wipes
potentially a sleeping bag
a scarf and/or hat for the sun and sand
camera and a bag to keep it safe from sand
a small backpack to carry the clothes you'll need just for the desert portion of the trip
water
food
games and/or toys that are not electronics
So there it is visiting the Sahara in a nutshell! If you've got specific questions leave me a comment and I'll do my best to answer. Watch here for more posts on the stops we made on our way to the Sahara and non-electronic kids activities in the next few weeks!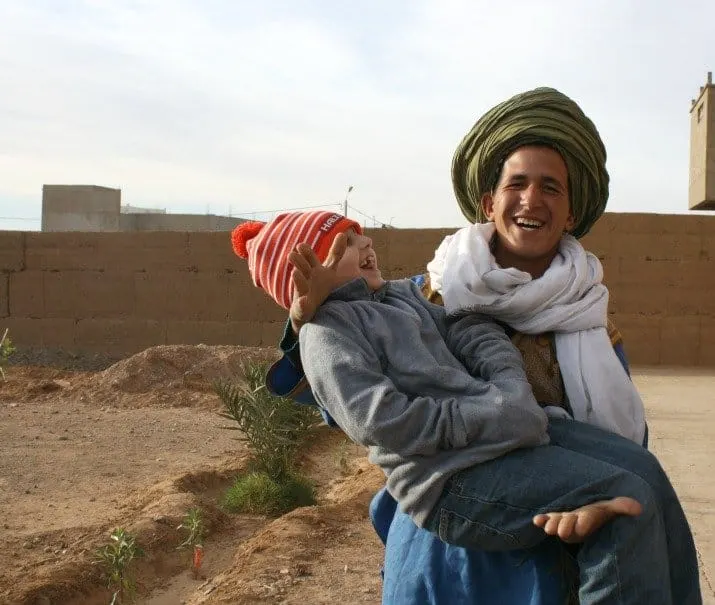 UPDATES: This was originally posted in 2014 and since that time we have gone to the Sahara under different circumstances. I shared our honest experiences here but want to add there are MANY other travel agencies offering fantastic tours and experiences completely different from this. Some of my suggestions remain; including how far it is, going with a higher class sleeping arrangement (i.e. not the ground), and really considering the age of your kids. I'll be writing a new post soon about a family trip to the Sahara taken more recently.
More Posts about Visiting the Sahara
Morocco Desert Tours: Everything you need to know about a Sahara Desert Tour
Can't Get to the Sahara? Visit the Agafay Desert!
What to Wear in Morocco: The Sahara