If a visit to the Sahara Desert dunes is on your list of activities in Morocco, there are some great places to stay in Merzouga that will put you right in the heart of all that desert beauty!
Where to Stay in Merzouga, Morocco
Merzouga is a tiny village located very close to the famous Erg Chebbi sand dune. Recent popularity with tourists has filled this area with many new businesses. I've collected together a nice selection of great places to stay in Merzouga. This list includes a number of places in different price points, starting with the least expensive and working up to the most luxurious.
If you dream of sleeping near the desert, but perhaps not right in the middle of the dunes, the perfect place is just waiting here for you! (Don't worry there's a few actual camps in the dunes too).
Planet Sahara
Located only five minutes from the city center of Merzouga, the Planet Sahara is a traditional guesthouse within walking distance of the sand dunes. Featuring spacious rooms and tents, a cozy garden, free WiFi, and a 24-hour front desk run by multi-lingual staff, your comfort is first in mind at Planet Sahara.
They offer delicious and traditional Moroccan cuisine and guests remark favorably about the delicious coffee. Relax in the shared TV lounge or enjoy the outdoors while relaxing around the fire while your hosts play drums. And when you are ready to explore the desert, the friendly staff is ready to help you organize a trip to explore – either by camel or in a 4X4 vehicle.
The Planet Sahara guesthouse is popular with couples, but they are happy to welcome your whole family. Reasonably priced and created for comfort, their main concern while you are there is that you feel right at home!
Merzouga Activities Camp
If you are looking for an unforgettable escape to the Saharan desert, the Merzouga Activities Camp is one fantastic option. This enchanting camp is pure magic in the desert. You'll sleep on a comfortable bed in a luxurious tent with a mind-blowing view of the Erb Chebbi sand dunes.
Choose from a cozy tent for two for the romantic getaway of your dreams. Or choose a tent that sleeps up to six when traveling with friends. They even have cribs and extra beds available upon request. Best of all, your room rate includes a camel ride out into the desert!
Start each morning with breakfast and in the evening, you'll feast on traditional Moroccan cuisine. After dark, you'll see just how magical this camp is when you are relaxing under the star-filled sky. And when you get enough of taking in the view of the Milky Way, they have books, music, and DVDs to enjoy. Or get online using their free Wi-Fi!
The multi-lingual staff at the Merzouga Activities Camp wants you to feel right at home. The 24-hour front desk is there if you need help with anything at all, and they are happy to welcome your pet at no extra charge!
Riad Merzouga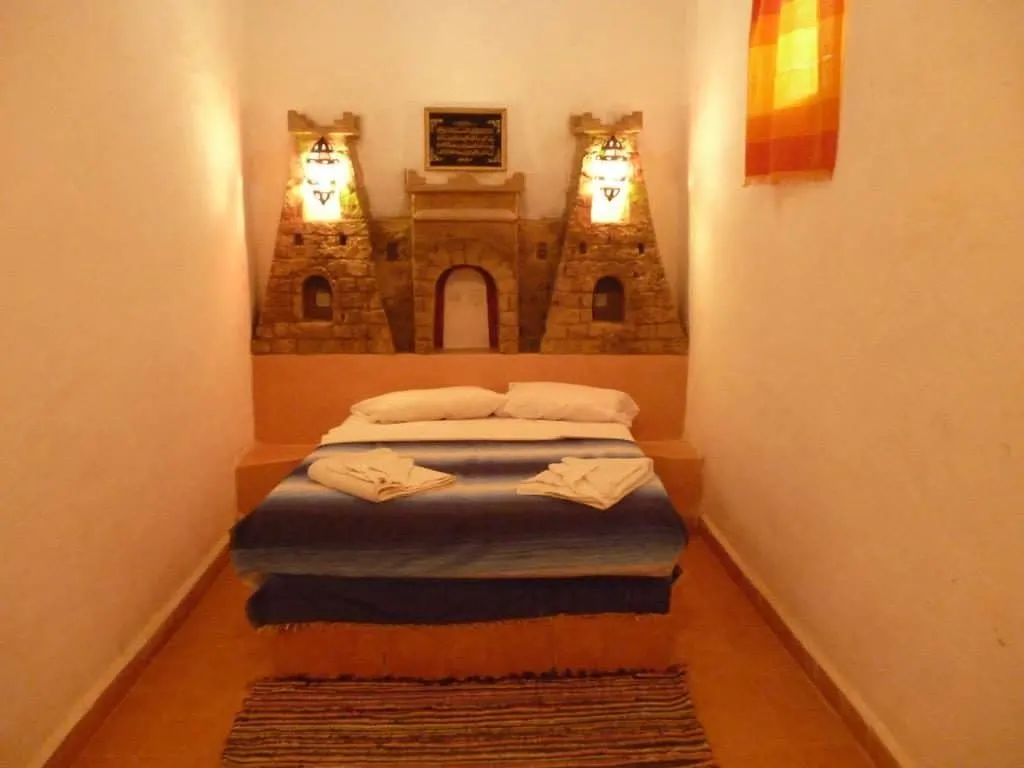 Beautifully decorated, the Riad Merzouga is a lovely guesthouse that offers a lot of luxury for the price. Relax in the peaceful garden or patio. Take a cool and refreshing swim in the pool. Or take advantage of the free Wi-Fi to make your friends and family jealous when they hear about all your travel adventures.
Accommodations for up to four people are available – with extra beds an option, too. The garden-view rooms feature heat and air conditioning, private bathrooms with a shower, and many other extra perks you normally only find in places charging much more.
The on-site restaurant serves traditional Moroccan cuisine and a breakfast buffet that includes traditional, Halal, and even vegan options. And if you are traveling with the kids, the Riad Merzouga has safety gates, play equipment perfect for kids, and other items to make your stay more comfortable. They can also help you book a tour, schedule a cooking class, or get involved in many other fun activities!
Riad Madu
Located in the small city of Merzouga, the Riad Madu offers you so much more than simply a nice place to stay while exploring the Sahara desert. The airport shuttle is only the beginning of the many extras that this lovely riad offers to its guests.
Stay in a tastefully decorated room or suite built with your comfort in mind. Rooms include air conditioning, a sitting area, minibar, private bathrooms with showers, breakfast in your room each morning, and so much more. When you aren't in your room, spend time relaxing on the terrace, drink in the beauty of the garden, or take a relaxing swim in the pool before hanging out at poolside with a nice drink from the bar.
When you get hungry, there's a great restaurant on site where you can enjoy many delicious choices. They are also happy to work around any special dietary needs you may have – just let them know when booking your room.
The Riad Madu has a 24-hour front desk and tour desk with staff that speaks six languages. They are happy to help you with all your needs and can help you find your way to many fun activities too. Whether you want to go cycling or hiking, take a cooking class, or check out a live music performance, they can help.
Riad Chebbi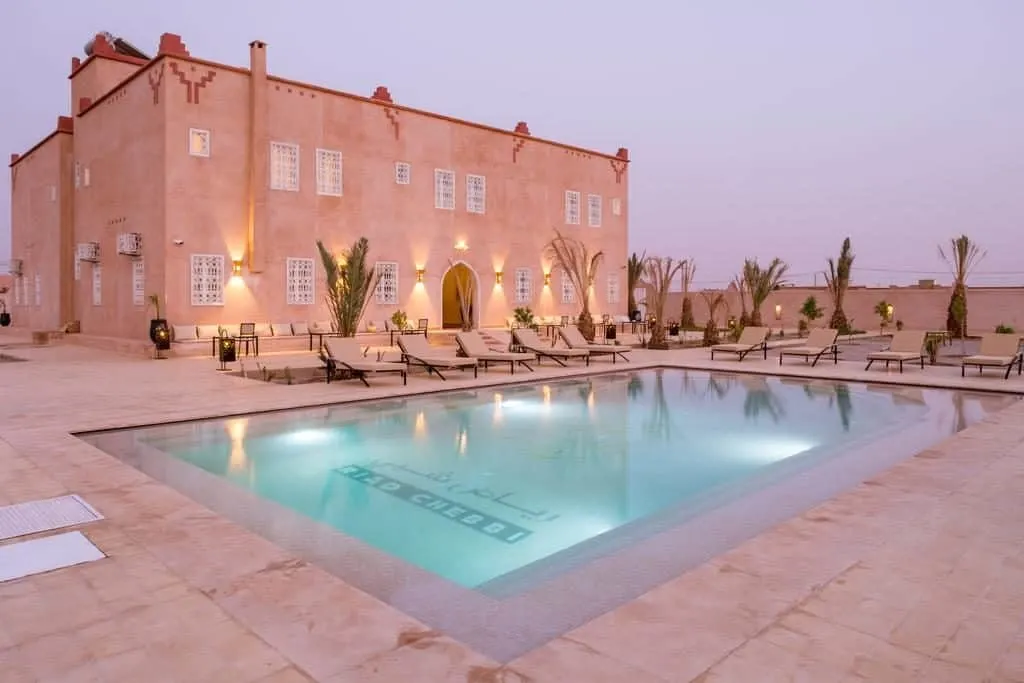 The Riad Chebbi is a 4-star riad located in Merzouga, just in front of the entry to the desert. Luxurious and comfortable, this beautiful riad features a relaxing garden, an outdoor swimming pool, and many comfortable areas to lounge and spend time with your traveling companions.
Rooms feature gorgeous decor with comfortable beds, desks, sitting areas, air-conditioning, free Wi-Fi, and private bathrooms.
The staff at the 24-hour front desk is happy to help you anytime. You'll love the food in the on-site restaurant, which is available as room-service, too. And the buffet breakfast can really start your day off right.
If you are the active type, the staff at Riad Chebbi can help you find your way to all kinds of fun. Bike and car rentals are available (along with ski equipment at the right time of year). Take a cooking class or a walking tour. Or take class to learn more about the local culture.
Kanz Erremal
Do you want the desert views but would rather be in a hotel than in a tent? This might be the perfect hotel for you. It's also a good bet if you're visiting during warmer months as the hotel features air conditioning – a luxury you can't get in a tented camp.
The hotel has a beautiful pool and a variety of different room types. You can book desert experiences like camel rides and quad riding directly from the hotel. While some people want to detox when they come to the desert if you need to have WIFI connectivity they offer internet access throughout the hotel.
Sahara Sky Luxury Camp
The beautiful Sahara Luxury Camp needs to be seen to be believed. This place gives new meaning to the idea of camping out in the desert. Stay in a luxurious tent, relax under the stars, and eat some of the best food you've ever had, all while basking in the astonishing beauty of the garden and surrounding sand dunes.
Choose a private tent that sleeps three to four people. Each gorgeous tent is fitted with comfortable beds, table and chairs, and a private bathroom with toilet, shower, and free toiletries like shampoo and body wash. Your tent is so lovely and relaxing, you may feel as if you never want to leave. But there are so many wonderful reasons to step outside.
Whether relaxing on the terrace, sitting around the fireplace, enjoying an amazing breakfast, or keeping up with the outside world using the free Wi-Fi, you'll find plenty to do.
When you're ready for more activity, you can take a walk on the dunes, go for a camel ride, take a bike tour, or enjoy a cooking class. Just talk to the friendly multi-lingual staff and they'll be happy to help you find all kinds of fun things to do.
Luxury Oasis Camp
If you dream of camping out in the Sahara Desert but don't wish to do without the finer things in life, the Luxury Oasis Camp may be just what you are looking for. The beauty and grandeur of this luxurious camp are practically beyond description.
Large comfortable tents surround an open area where carpeted pathways lead you from place to place. At night, the delicately lit pathways twinkle and glow almost as brightly as the stars above. You'll want to wander from place to place simply to enjoy the magical views.
After dark, guests are invited to gather around the outdoor fire to enjoy an evening of singing and conversation under the stars. And when you're hungry, the onsite restaurant is happy to serve up scrumptious Moroccan cuisine. They also have a wonderful breakfast buffet for you to enjoy every morning.
Choose from an assortment of charming tents. Deluxe tents are perfect for cooler weather. Suite tents offer air conditioning and heating for those who need a bit more control of their climate. All the tents are beautifully decorated and come complete with comfortable beds, sitting areas, electrical sockets, and private bathrooms with showers.
Caravanserai Luxury Desert Camp
When you visit the Caravanserai Luxury Desert Camp, you can leave all the "trip planning stress" behind. They happily provide transportation to their camp from all over Morocco – and that is only the beginning of the services they provide.

While in the camp, you'll stay in a comfortable and beautifully decorated tent on a good quality mattress, and you will have your own private bathroom with a shower, as well. You'll dine on delicious local cuisine, drink tasty tea, drink in the beauty of the desert around you (and the incredible view of the Milky Way at night as you enjoy traditional music around the fire).
When you're ready to go exploring, they are happy to help with that, too. Head out into the dunes on the back of a camel or in a comfortable 4 X 4 vehicle. Enjoy some relaxing yoga on the dunes. And you've dreamed of getting married in the desert, they can help with that, too!
Orient Desert Camp
If you are looking to enjoy a romantic night under the Sahara Desert sky, the Orient Desert Camp is happy to provide. Popular with couples, this lovely desert camp offers luxurious accommodations that you will remember forever.
Located in Merzouga, the camp offers free parking and is easy to find. They are also happy to provide transportation to the camp if you prefer not to go it alone. And once you are there, they are ready to help you have the best time possible. Relax in your luxurious tent which features comfortable beds, sitting area, private bathroom with shower, and many other "extras." Or relax outside enjoying the terrace and garden while visiting and enjoying delicious food and a nice glass of wine.
The Orient Desert Camp offers all you need for a relaxing and fun-filled stay. The staff at the 24-hour desk is ready to help you with anything you need. And they'll make you feel so at home, you'll wish you never had to leave!
Kam Kam Dunes
There is no better way to enjoy the Sahara Desert than staying at the Kam Kam Dunes. Luxurious and beautiful, the multi-lingual staff at this nomadic Berber camp love to do all they can to spoil you.
Stay in one of eleven incredible tents made locally from soft camel leather. Each tent sleeps two to three adults and has a private bathroom with a hot shower and free toiletries. Rustic, charming, and beautiful, these tents are incredibly romantic and comfortable.
Your room rate includes dinner and breakfast and if you have special dietary needs, all you need to do is let them know. There is also a bar onsite, making it easy to enjoy a cocktail in the evening while relaxing outside under the star-filled sky.
Activities available include treks into the desert on camels or in 4X4s, bike rentals, walking tours, hiking and skiing and more. If you are interested in doing something special, just talk to the staff and they will do all they can to help!
Xaluca Belle Etoile
This desert camp provides 23 rooms and 2 suites for guests in the middle of the dunes. They organize camel rides as well as 4×4 excursions around the area to explore desert life.
Merzouga is an enchanting place from which to explore the Sahara Desert. I hope that this list of places to stay in Merzouga will help you plan the Moroccan vacation you've been dreaming about!
Want more information about planning and booking a Sahara Desert Trip? Be sure to read this post to kick off your Sahara Desert Planning!