Are you looking to light up your home for Ramadan celebrations this year? Spruce things up a bit and add some color and warmth with this guide on how to make a Ramadan Lantern!
With just a few simple supplies, you can make your own beautiful lanterns in no time. And best of all – you don't have to be an artist or a crafter to make them; it's easier than ever! So easy, in fact, that they make perfect Ramadan crafts for kids!
Let me show you how little effort it really takes to create something magical that will give the perfect glow for your Ramadan celebrations.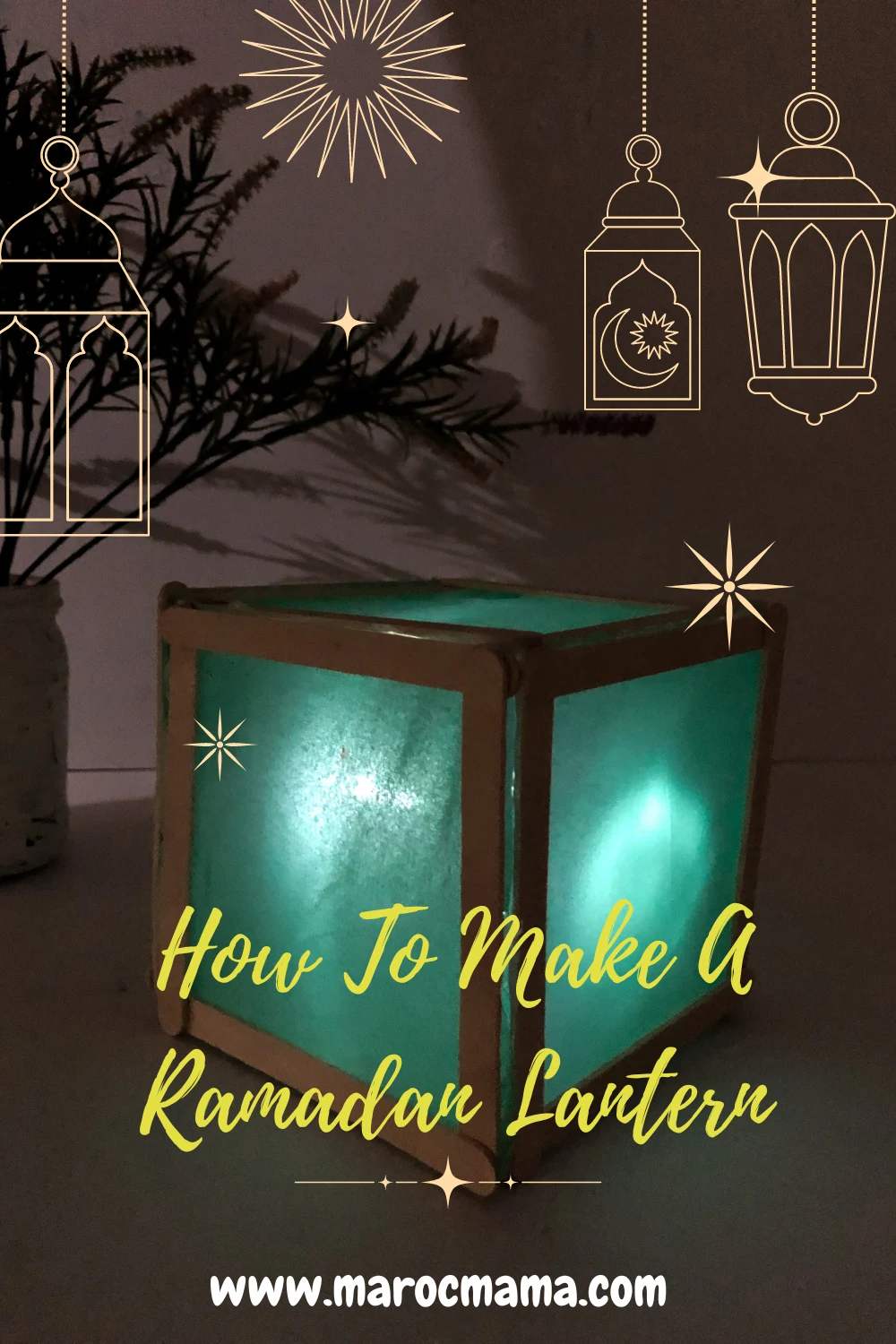 Join us in celebrating the month of fasting and reflection by making your very own beautiful Ramadan centerpiece out of popsicle sticks!
How to Make A Ramadan Lamp
This Ramadan lamp is made using basic supplies that are easily found at your local craft store.
Make sure to prepare all the necessary supplies before beginning your craft.
How To Make A Ramadan Lantern
Illuminate your Ramadan nights with a touch of creativity! Learn how to craft a captivating Ramadan lantern, infusing your home with the warm glow of tradition and the spirit of the holy month, as you embark on a delightful journey of craftsmanship and cultural celebration.
Materials
Glue (hot glue works best)
Popsicle sticks
LED candle with remote control
Crepe paper (Light green)
Double sided tape
Scissors
Yarn (Green)
Instructions
Gather 24 popsicle sticks.
Take 4 popsicle sticks and make a square figure out of them. Glue the corners of the square together. Repeat 5 times. You will end up with six large squares when finished.
In the green tissue paper, cut out a square the same size as one of the large popsicle squares. Use a double sided tape to attach the tissue paper to the square popsicle sticks. Repeat 5 times so that all popsicle stick squares are covered in green tissue paper.
Make a cube figure by connecting the six squares, one at a time, using hot glue. Before sealing the final side, the LED candle inside the lantern, securing it with double sided tape to the inside surface.
To finish your craft, tie yarn or twine in a loop at one of the corners.
Notes
This simple lantern is a nice way for the kids to become acquainted with Ramadan. It will not just keep the kids artistically inspired, but it makes for a great opportunity to teach them the symbolic meanings of lanterns and how they are related to Ramadan.
Where To Buy Lantern Materials
These lanterns use materials found at most craft stores, but you can also buy supplies online.
LED Tea Lights with a Remote Start are a great artificial light source to put in your lantern. With the remote start, you can easily turn your lantern on and off once finished.
Colorful Jute Twine works great for creating the handle on the lantern. If you buy a multi-pack, you can make lanterns of many colors!
Mini Hot Glue Guns are super hands to have on hand. Not only is hot glue a great staple for craft projects, but the mini version of this tool is super easy to store. They now even make cordless hot glue guns for more convenience, but they are a bit pricier.
More Ramadan Crafts for Kids
If you're looking for inspiration or ideas for other Ramadan crafts ideas, look no further! Try some of these ideas!