Best Hotels in Casablanca
In Morocco's largest city there's no doubt countless hotels and options for places to stay when you visit. But where to begin? I put together this post to showcase a variety of different hotels at different price points to give you options.
This list will be regularly updated when I discover new places worth adding!
Hotel and Spa Le Doge
This is one of our very favorite hotels in the city. It's location is a bit out of the way but taxis are easily accessible. The hotel itself is an art deco throwback that is beautifully appointed with a mixture of Moroccan and French influences. It's worth a trip to Casablanca to stay here!
Casablanca Four Seasons
A fantastic upscale hotel by the sea. It has high class style, spacious rooms, and a luxury spa. The food is outstanding and there are dining areas overlooking the ocean. They also serve afternoon tea for 200 dhs; an opportunity to enjoy the beautiful ambiance without spending the night.
DownTown Hotel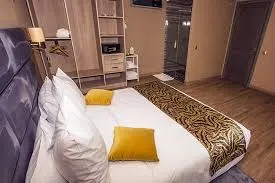 Perfectly located in the heart of Ma'arif, the popular shopping district, the DownTown Hotel is made up of art deco style apartments. It has a cool energy, lots of space and the price is really reasonable (around 800 dhs/night) for the high standard of the hotel's cleanliness and design.
Movenpick Casablanca
Located in the Casablanca City Center, the Movenpick has comfortable, large rooms with modern decor. They also have a rooftop pool and dining area that overlooks the city
ONOMO Hotel Casablanca City Center
In the Racine district this hotel is a comfortable 4 star hotel with a variety of room configurations across their 201 rooms. ONOMO is an African hotel chain with hotels across West Africa bringing together modern technology and affordable business travel amenities. They also strive to highlight African cultures by incorporating visual art from across the continent.
Sofitel Casablanca Tour Blanche
A luxury hotel that's just a 2 minute walk to the old medina and opposite the Hassan II mosque. Higher rooms have a sea view and there is butler service throughout the hotel. Enjoy soaking in their beautiful bathtubs or head down to the onsite restaurant for French, Moroccan or international dishes.
Ibis Casablanca City Center
One of the most affordable hotel options in central Casablanca, the Ibis provides simple rooms at an economical rate. The rooms can be small and some are a bit dated however they are clean and the hotel offers a decent breakfast buffet.
Le Casablanca Hotel
With spacious and comfortable rooms, a heated pool, and poolside dining options among many other amenities this is a wonderful hotel. Numerous guests praise the staff for their excellent service.
Imperial Casablanca Hotel
If you're planning to take the TGV train from Casablanca to Tangier and need a hotel near the Casa Port train station this is a good one to consider. It's still within distance to reach the old medina easily. They offer affordable rooms, a spa and relaxation area and an airport shuttle if needed. This is an affordable hotel option in Casablanca
Radisson Blu Casablanca City Center
Close to the old medina and on Boulevard Mohamed V this modern hotel has 120 rooms and 16 suites depending on your needs. There's also an indoor pool and spa if you want to relax or have fun.
Pestana
This is an apart-hotel that has sea views and easy access to Anfa Place for shopping and cafes. A good choice when traveling with children as they offer larger spaces. Rooms also have kitchenettes available if you prefer to prepare some of your own meals.