The first time I strapped on a pair of skis I was so young, I don't even remember the experience. In middle and high school, skiing was the winter activity of choice for me and my friends. One of my favorite Christmas gifts was the year I got my own set of ski equipment – it was like turning a corner, no more rentals for me! Nearly a year ago I started thinking what it would be like to ski in Austria with kids.
Why Austria?
Skiing the mountains in Austria is amazing! But, there was one problem. Neither of my kids nor my husband had ever skied before. Oops. Even though I had been skiing my whole life, when I became an adult we never lived somewhere that was close to a ski hill so it just never happened.
When I reached out to the lovely people at Vorarlberg, Austria tourism they said come on up! Vorarlberg is the westernmost region of Austria, which borders Lake Constance as well as Germany, Switzerland and Lichtenstein. It's also one of the best ski regions in Austria.
Choosing where to go in Vorarlberg was a little more difficult but with some help and guidance we narrowed it down to two areas within the region. We started our time in the Bregenzerwald region and then went to the Kleinwalswertal region. Even though they're not so far apart they both had a different feel.
Visiting Bregenzerwald
We flew into Munich and then rented a car to drive to Vorarlberg. This was exciting to begin with because it was the first time either of us had driven a car in Europe! The trip took about three hours but that was with morning commuting traffic. There are several small villages in this region (including our kids favorite – Egg). We stayed in Damüls. While you can stay in a hotel (there are several at the ski resorts) we stayed in an apartment. We really like doing this when we travel with the kids because it gives us a lot more space and the opportunity to make our own meals.
The apartment we stayed in was the Hölderle Appartements and Ruth, the very kind lady who manages the apartments was so kind – even though we barely spoke the same language. Suffice to say the college German I learned was severely tested during this trip! One added bonus of this apartment stay was that they had a bread order form you could fill out each day and fresh bread was delivered to your door in the morning. The beds were also very comfortable, the rooms were warm and it was SO clean. Big points from this mama!
But, seriously, bread delivery. I love it!
On our visit to the ski museum here we learned that this village really was pretty closed off from the rest of the country for a long time. Our guide told us one story about a lady who was a ski racer in the 1930's. She would ski down the mountain from her house, walk a few kilometers to the bus station, take the bus to a nearby village, walk to the ski hill, complete the ski race and then turn around and do it all again to go home.
CRAZY?!?!
Thankfully there's now direct road access connecting everything. Being that it was remote for so long it's probably not surprising that it has some of the best skiing in Austria. Shortly after we got settled it was time to set up and get geared up for ski lesson #1. Now, the hardest part of this trip was that we had been planning it for almost a year, well before I was pregnant. I had every intention of still skiing but my doctor pretty much point blank told me no way. So I was relegated to the sidelines.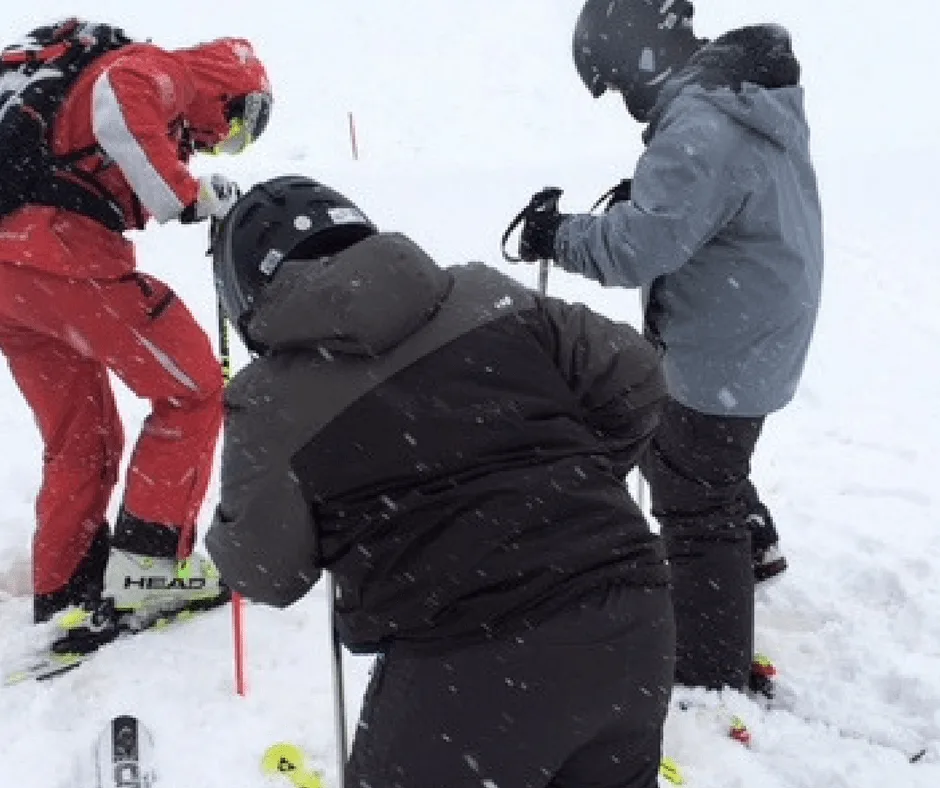 The boys all got fitted for their gear and were apprehensive. The first time you put on ski boots feels like someone has vice gripped your legs. Not surprising my youngest began complaining almost immediately. But he toughed it out and everyone made their way to the area for ski lessons. They started at the very beginning having never been on skis and worked there way up to a snowplow in their first two hour lesson.
At the end no one wanted to ski again. Their legs hurt, their bodies hurt and they were TIRED. It has been years since the kids slept as good that night. Don't worry they had another lesson planned in Kleinwalsertal a few days later and they were excited to go after recovering. There were lots of other activities that we could do at the ski resort in Damuls and were going to go on a guided lantern hike that night but I couldn't get anyone out of bed!
There were two other activities that I thought the boys would love; tobogganing and mini snowmobile driving. Turns out the toboggan run was a little more than we bargained for. It totally would be great for older teens (M had a great time until he had a crash and hurt his arm a bit), but for K it was too overwhelming. The run is 3km down and on the mountain ski hill. He was terrified as soon as he saw the size of the first hill. Suffice to say we all ended up walking down the mountain which was a bit exhausting. For the life of me I couldn't get K to get on the sled and try it.
Sometimes, things just don't turn out the way you envision.
..and sometimes they do. M and I went to the village of Au (you should visit just because the city names are great!) to see the process to make traditional alpine cheese. We had to go early because that's when the cheese is made. All of the milk used is natural and the animals never get any antibiotics. They also only eat grasses and harvested hay that hasn't been treated. In summer farmers take the animals higher up the alps to graze and in winter bring them down to the valley where they are safe. The cheese is still made in the traditional way; heated for the curds and whey to separate. Then the curds are scooped out using a gigantic cheesecloth and some serious muscle. It's all pressed into a round mold where the excess liquid is squeezed out. The cheese ages for at least 3 months when it's ready to be eaten. A key characteristic of this cheese is how melty it is. We discovered this right away when we ate it at dinner!
Visiting Kleinwalsertal
The second half of our vacation brought us to this area of Vorarlberg. A winding mountain drive was something we dreaded a little at first but turned out to be a lot of fun seeing the small villages along the way. It reminded us a lot of the Agadir to Essaouira coastal drive (one of our favorites in Morocco) albeit with a lot more snow. We got in a bit later than planned and checked into our apartment/homestay at Landhaus Bromm. Another beautiful room that was spotless and the proprietress Patricia an absolute delight. Our daily breakfast was exceptional and diverse.
One of the really nice things about this area is that the villages are really set up for a great children ski holiday. There are numerous hills and winter activities and a bus that runs throughout the villages to transport people. With our stay we were given bus passes and the bus stops literally outside the door of the house! Even in snowy weather (which we had) the bus is super punctual. So if the pick up is 8:12am it's really 8:12am. We could have driven but the bus was so convenient and easy why bother?
The boys ski lesson this day was a lot more fun for them as they had the basics down and our instructor Tobi was not only really good but a lot of fun. K decided he was done with skiing and he and I spent the morning playing in the snow. By the end of his lesson Tobi had M take the tow rope up the bigger hill and make his way down – and he did great! He really picked up on skiing so quickly! After lunch M and MarocBaba decided they wanted to ski more so they did while K and I made snowballs. While there were also options for winter hikes available to us the ski bug had hit!
What Did We Eat?
I know, I know it's the most important thing in my traveling life! Vorarlberg is known for their local foods, especially cheese. This was music to my ears. Traditional Austrian food in this region is pretty heavy but it needs to be, winters are long and cold and people work very hard. Many still are farmers. We barely scratched the food surface but we prepared several meals at the apartments and our kids seemed to stick to some of the same foods they really ended up enjoying.
Alpine Cheeses
No shortage of cheese in this region and it was on everything! There were zero complaints from me or the kids as we enjoyed all of it!
Käsespätzle
This is a special regional dish made with a type of noodle (spatzle) and you guessed it – cheese! The pasta is creamy and loaded with stringy cheese then topped with fried onions. Sure it's got a few calories but I'm still thinking of it weeks later!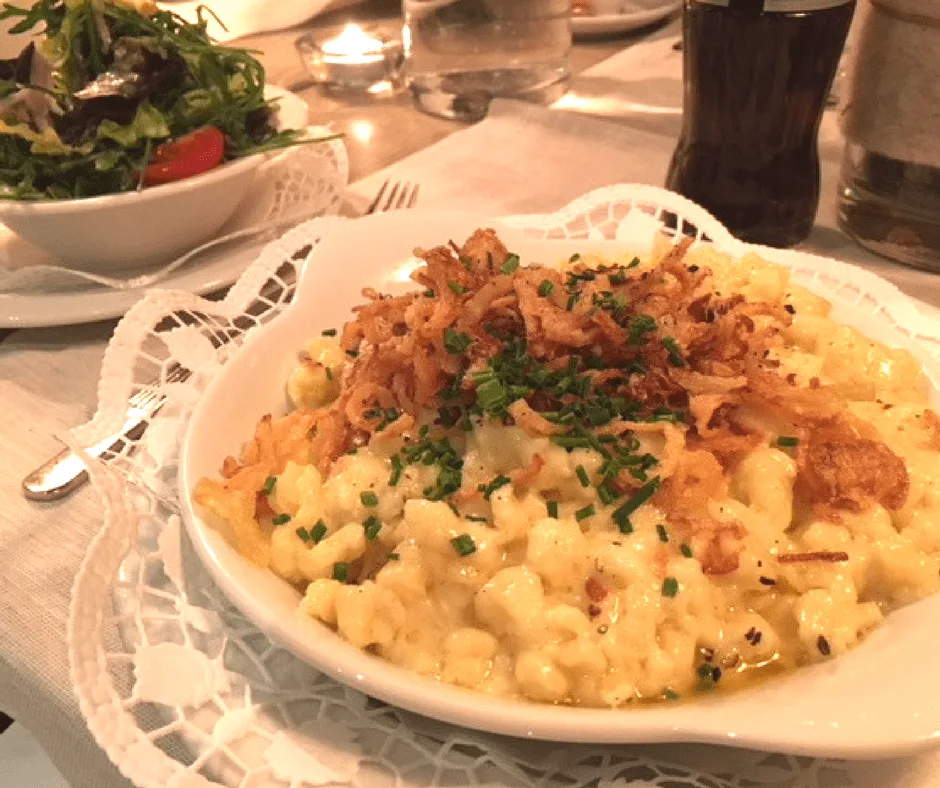 Weinerschnitzel
You might think this is a German dish but the Austrians will be quick to tell you that you are wrong. Often times it's made with pork but we also had it made with veal and chicken. This was K's very favorite food and you don't want to know how many times he ordered it.
Wild Game
The meat primarily offered is venison and both MarocBaba and I ordered this in two different places and both times we were very pleasantly surprised. It was cooked so well. Venison is hard to work with and even harder to get right so clearly they know what they're doing in this part of the world!
Apfelstrudel
I can't forget desserts! While I had dreams of visiting cafe after cafe and tasting all of the delicious pastry and baked goods it just didn't happen. When you're traveling with kids it isn't always easy. But when I did have the apple strudel I was very happy.
Restaurant Suggestions
Alpenhotel Miggagsspitze (Damuls)
Walliserstube (Damuls)
Wirsthaus Hoheneck (Mittelberg)
Walserstuba (Riezlern)
If you just visit one:
In Mittelberg (Kleinwalsertal Region – also known as the Gourmet Region) we ate at Wirsthaus Hoheneck whose chef was named the best chef in Austria this past year. The food was very good, simple and local. It was a really nice experience to eat this quality of food without the pretentiousness that sometimes comes with higher level cooking.
A Few Facts to Know When Planning a Visit to Austria's Ski Resorts

Cost
Ski holidays with kids in Austria can add up. But, that doesn't mean it's completely unaffordable. In my post on 9 things to consider when booking your Austrian ski holiday I give some additional information on how to save money and what to consider when you are making your plans.
Geographic Breakdown
Austria is divided into states (we were in Vorarlberg). Each state is made up of regions (Kleinwalseral and Bregenzerwald are regions), and then there are villages and cities that make up each region. Many villages especially in the regions we visited are very small and close together. Keep this in mind when arranging when arranging your Austria ski holidays. If you're thinking of visiting for a ski weekend in Austria then you may want to just stick to a single resort as there's plenty to do for a short period.
Dressing for the Weather
We visited the last week of January/beginning of February and the weather couldn't have been much better. It snowed only one day and the other days were sunny. During the day the weather was amazing but as soon as the sun went down the temperatures dropped massively. You certainly need proper winter gear which as you might imagine was not easy for us to find in Morocco. I'll be posting a condensed packing list soon to help.
Skiing or Snowboarding Skill Level
For those that are not used to mountain skiing the ski areas of Austria may be a little intimidating. There are some VERY big hills here. There are also plenty of runs for beginning and intermediate skiers. There were two big differences I noticed between resorts here and in the US.
First, there are a lot of instructors available to help people who are at all different skill levels and it's not as expensive as in the US. If you're not feeling comfortable – book this! Second, everyone wears a lot of protection. This means nearly everyone wears a helmet and I saw many people wearing chest and back pads inside their jackets. Stay safe, it's a great idea!
Language
If you only speak English you might face a few challenges when you visit. What we found was that while staff often spoke English at resorts, there was much less English spoken than we may have anticipated. This isn't a bad thing, it's just something to be aware of. We were able to use some of my German from years past and some French at times to get by. Many of the resorts here primarily see German and Dutch guests so it makes sense that German remains the lingua franca.
Extra Ideas for Your Visit to Vorarlberg

Werkraumhaus – Andelsbuch
This space is a multifunctional meeting place and showcase of locals craftsmanship. There are events and workshops regularly held here as well as a restaurant/cafe to enjoy local treats.
This isn't a "street" but a collection of producers that have joined together to show off the cheesemaking traditions of the region. So if cheese is your thing you'll want to check in and see what's happening!
Naturbrucke – Riezlern
This is a beautiful natural bridge that is fun to visit in any season (just dress appropriately!) It's a very close walk if you decide to stay at Landhaus Bromm too!
Weekend Market – Walserhaus in Hirschegg
In winter this market is small hosting just a few producers but we hear as the weather improves there are more things available. Either way you can walk away with some great local produce. We opted for cheese, honey, and cured beef all done locally.
From beginners to advanced snowshoe hikers there are multiple options you can book to explore on foot.
Winter Hiking
There are a LOT of trails in this region where you can hike year round. Depending on where you choose to stay check with the local tourism office or your accommodation to get some ideas!
Is this the best family vacation in Austria? We haven't visited in summer but I can say our ski holiday in Austria was something we'll not soon forget!