It's time to take your children skiing! There's no better place to consider for ski holidays in Europe than the wonderful country of Austria! It has a long history of being a great destination for skiers of all levels making it a great choice for families. Whether you've never skied before or you're veterans, here are some things I think you should consider before you book your next ski holiday.
9 Questions to Ask When Planning a ski holiday in Austria
What ski level is your family?

This is a big question you should be asking because not all ski resorts are great for everyone. If you're advanced then you'll be bored with hills that are for beginners and intermediate. Head to a resort that has giant slopes and you might just scare your kids away from the sport. So how do you find the best Austrian ski resorts for your ski level?
First, take a think over some of the other questions. This will help narrow your search area. Then, begin to look at the remaining options. Are there plenty of blue hills signifying it's a great ski resort for beginners? Do they offer a ski school if your kids need a little extra help? Or, are there lots of intermediate or black diamond hills and terrain parks for more advanced skiers or snowboarders. Taking the time to really look through the options available will make your time on the hill once you arrive more enjoyable.
Which language(s) do you speak?
At Austrian ski resorts we found that most of the staff were at least bilingual (German/English) BUT, we also found getting around in the mountain villages was a little harder. Not as many everyday people spoke English as we had expected. This isn't insurmountable but it is something to keep in mind. Thankfully we also speak some German and French so we were able to bridge that gap.
When you're looking for the best ski resort for your family dig into which languages are spoken at the resort as well as doing a little extra research to see what you can find about the surrounding area. Of course, learning a bit of German is always a good idea too!
Where in the country should you look?
Finding the best family ski resorts in Austria means looking across the country because there are a lot of options! For our ski holiday we went to Vorarlberg and learned that the Bregenzerwald region where we spent a few days is one of the snowiest regions of Austria. It's location in the northern Alps means that it has an above average snow fall. We skied at Damuls which has even earned the title "the world's village most assured of snow!" The worst thing that could happen on your planned ski holiday is to turn up and realize there's not enough snow.
Innsbruck has global fame as a ski destination making it another location a lot of people consider. The area surrounding Lech is yet another area that is extremely popular and has the title of the "cradle of Alpine skiing." Not only is it popular for everyday skiers but also royalty – it was a favorite ski destination for Princess Diana.
The best Austria ski resort doesn't exist. What does exist is finding the best resort for you and your family based on your wants, needs and budget.
How close is the airport?
Austria is serviced by multiple airports but you may discover the closest airport to land in is not in Austria at all. For us there were direct flights to Munich. This was the most affordable option. We were able to rent a car and drive to Austria. Even though you won't need a car in most cases as resorts are often serviced by buses we were VERY happy to have one. It let us explore more and at our own pace instead of waiting for the bus to take us where we wanted to go – or walking.
You may also choose to fly into a closer airport. I had considered flying to Innsbruck instead but in the end it didn't make sense. There are smaller airports to choose but keep in mind the costs will be much higher and you'll still need to get to your final destination.
What is your budget?
Let's face it this is a big question to consider.
There are a lot of things to keep in mind when searching for your ski holiday location. While some factors seem obvious like the cost of lift tickets or equipment rental there are other costs to look into as well;
will you stay in an all-inclusive resort or self-catering option (more on this later).
is there access to grocery stores or affordable restaurants nearby?
are there other, affordable activities that your family can do?
what discounts are available if you bundle your vacation?
will you need childcare or lessons and what are the costs of this?
Two of the things that we discovered in Vorarlberg on our ski holiday were the option to get a multi-hill ski pass and transportation options. In Bregenzerwald there is a 3-valley ski pass that gives access to 29 different hills and the ski buses as well. Tickets can last from 2.5 days through 21 days.
The Kleinwalsertal region also offers something similar granting access to multiple hills as well as discounts for multiple day passes such as paying for 5 days but having access for 6.
Before booking, pick your top 2 or 3 areas and walk through pricing to see what it really will cost you when factoring in all costs. I would also add extra budget as when traveling with kids, costs always seem to add up more than when traveling without!
What else might you like to do on holiday?

When we started planning our ski holiday I had no idea how much my family would like skiing. It was their first time and while I would be happy to ski all day, every day they might not. So if we would have gone somewhere that skiing was the only option and they hated it? Well it would have made for a really long and boring vacation. Après-ski (literally "after ski" in French) is the name used for social activity (though often also refers to having a few drinks at the ski lodge). Seeking out the après-ski options is a good start to your research.
Thankfully there are plenty of things to do with kids in Austria! Even (and maybe more so) during winter months.
There were multiple activities happening at the ski hill and in the village that could be joined. In Damüls we went tobaggoning as well as having the option to do a guided lantern night hike.We also visited the local ski museum. Horse drawn carriage rides as well as musical and cultural events are also available. Likewise when we went to Riezlern in Kleinwalsertal there was a LOT to do (the city and nearby villages were also a bit larger). Not only does this region have great food but there were over 50km of trails available for winter hiking, much of which was suitable for kids. Dog sled rides, snowbiking, tobogganing and snowshoeing are a few outdoor activities you could do.
One more thing to keep in mind when looking at activities is which locations offer ski holidays with childcare. You may or may not need this. Some resorts offer it for children as young as under 2 while others require children to be 3+ and/or potty trained. Depending on the ages of your children, this is something to be considered.
When will you take your Austrian ski holiday?

It's probably no surprise that the peak seasons for skiing in Austria are around Christmas and New Year's holidays as well as around children's school holidays like the February half term. Most resorts open around the end of November and close in mid-April. The later you go in the year the more risk you have of poor ski conditions but you also will have warmer weather, longer days and fewer crowds. January is another good time of year to go, even though the weather can be quite cold. If you do opt to go in March or April look for resorts that are above 2000 meters where the snow is more likely to still be good.
Planning your trip during off-peak seasons can also save you quite a bit of money both on lift tickets and accommodations as most places have different rates for these times of year. If you can't avoid going during school holidays then the best idea is to plan as far in advance as possible to book the most affordable transportation and accommodation. You also could look into special package deals for families to help with costs.
Do you want an all-inclusive holiday or self catering or something in-between?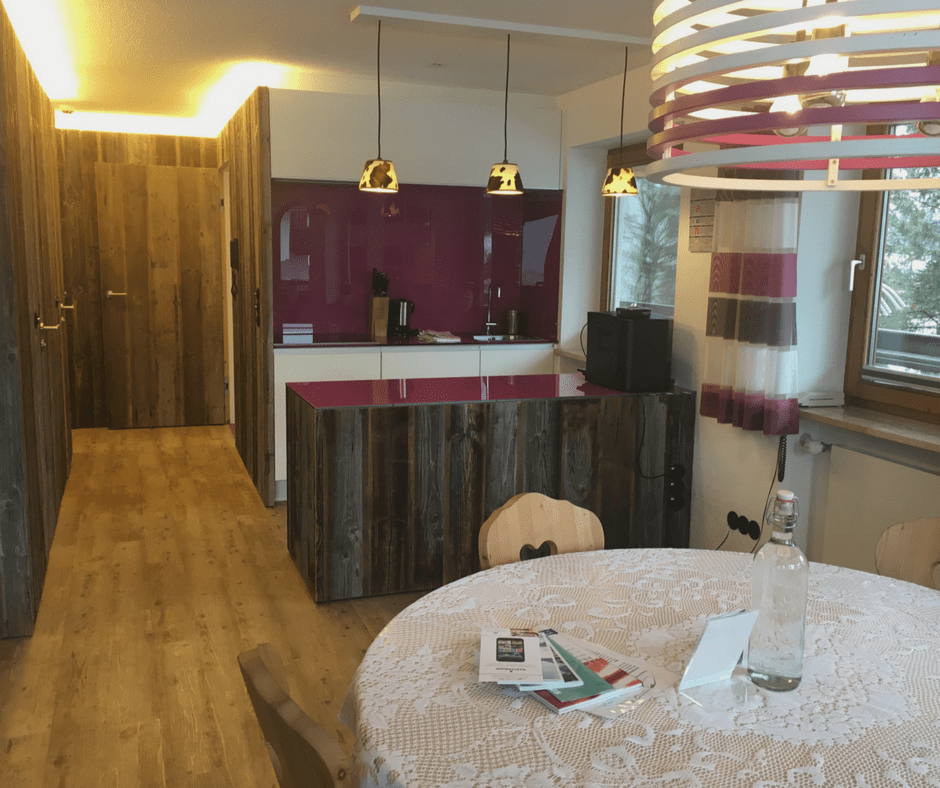 There are several different options when booking your holiday. An all inclusive ski holiday means a lot less work for everyone. No need to worry about meals (or the cost of them) or anything else. While these can seem expensive up-front factor in your food costs. I know for example, when traveling with our teen boys we rarely can eat a meal for under 50€. Just the cost of food adds up quick! When doing your budgeting don't forget to include this.
If all-inclusive seems just a little too out of your budget then a self-catering apartment might be a better fit. We really like this option for longer stays because it gives us a place to settle in. Typically, I only consider an apartment if we're staying a minimum of three nights otherwise it's just too much hassle. In Damüls we had a large apartment that let us have our own room, the kids have a room, a living room and kitchen. We were able to cook our own meals and feel more at home and less crowded than we would have in a hotel.
A hotel or bed and breakfast is your third option. We also stayed in what I would call a bed and breakfast in Riezlern. It was a family home where breakfast was provided each day but the rooms themselves were very much like a hotel. There were only a few rooms rented in the home and it didn't feel like a hotel – though it had all the conveniences of one. The best of both worlds really as we could prepare our own lunch and dinner if we liked but breakfast was taken care of, there was space to park and were in a residential area.
How long will your holiday be?
If you're looking for a ski weekend in Austria what you are looking for will likely be much different than if you're looking for a weeklong ski holiday. For a weekend you'll want something with the easiest in and out as well as amenities on hand to make the most of your time. If however you're staying for a week (or more) you have a bit more flexibility and choice when it comes to selecting.
It's really no surprise that the longer you stay the more money you'll be able to save by extended length lift tickets, renting an apartment and cooking more of your meals. For shorter stays you just need to be more selective about the location you choose and how to maximize your time and money.
No matter which Austria ski resort you end up choosing your family is in for a great winter adventure. I know this was one of our favorite experiences and my kids are already asking if we can go back next year!