One of my favorite ways to explore a city is there several, shorter visits. I'm really not someone that likes to spend a long time in one place; rather I like to go back a few times for shorter stretches. London is a place that I've grown to love by doing just this. There's even a term for it; a city break or "a short holiday spent in a city."
So in April, Sofie from Wonderful Wanderings and I planned a trip to London. The idea all started when we saw the FesTeaVal being advertised over a year ago. Both she and I are tea lovers and London is THE place to go if you're all about the tea. So we set out to have a completely tea inspired London city break.
We did drink a lot of tea and we also did a lot of walking. If you're after an experience in London that's not really about hitting all the major sites but connecting with a friend or loved one, and seeing some of the lesser known sites of London than I think this itinerary is for you!
Also an additional note, this isn't what we did exactly day by day, instead I've broken it into different ideas daily that you can mix and match.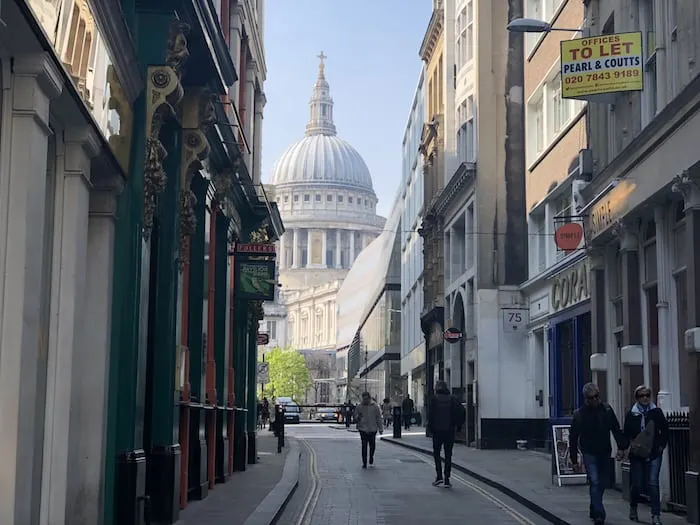 Getting around London
London's public transportation system is massive and has several different parts. You've probably heard of "the tube," but there are also commuter trains, light rails, buses, ferries, and even a cable-car line. The London transit website is an excellent resource to check the best routes for your journey, you just need to add in the start and ending point.
You also may want to keep in mind the fastest way to reach your destination may be on foot. Rome2Rio is another great resource that will give you an estimated time based on the multiple options to get between two places.
If you'll be using public transportation, regularly buy an Oyster card and use it. If you plan to use the system throughout the day, this will be a cheaper option than point-to-point tickets. (It's 50% less and caps at £7 a day in central London) Don't overlook unique transportation and site seeing options like the Emirates Air Line or the Thames River Bus. The Oyster card can also be used on both the Gatwick and Heathrow Express trains from the airports.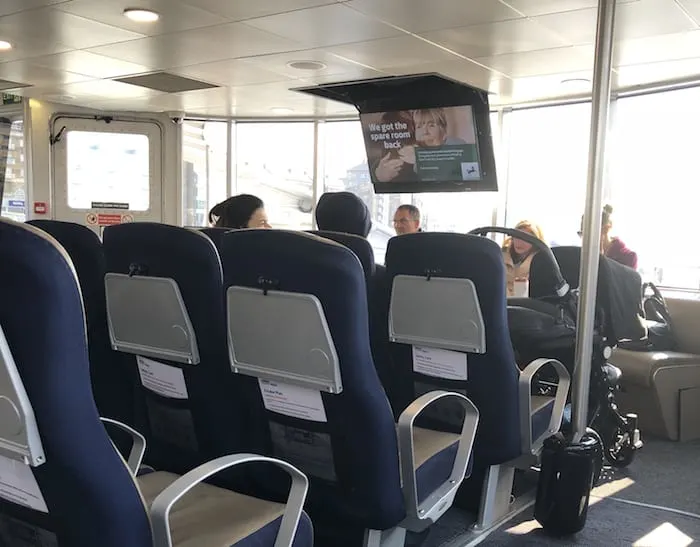 A fun fact that not many people know is that London also has water buses. You can use your Oyster Card to go to different points on the Thames River. It costs more than a metro trip, but you get to take a boat ride on the Thames for MUCH less than the boat tours you'll see sold and they have an the Thames Clippers app that talks about the things you see along your way.
Where to Stay
For this trip we stayed really centrally. Our rooms were at the Premier Inn Tower Bridge which turned out to be a really great spot for us. It was very easy to get to a wide variety of places. Also with our stay we had breakfast included. The breakfast here is a good value; you get to choose a main dish, a side (like fresh fruit) and a hot beverage. Ours was included with the room but if not it's just £5.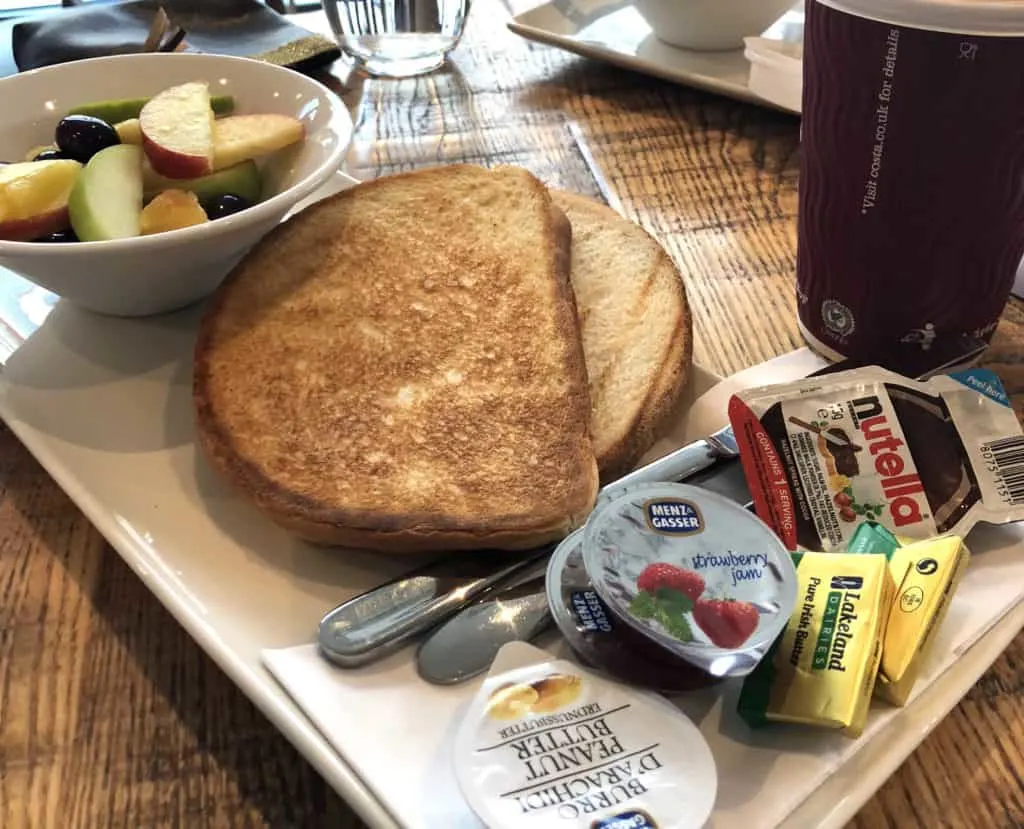 The rooms themselves are small (hey, it's Europe) but very clean. The shower was great and there was adequate storage space. WiFi was good and there are lots of TV channels if that's your thing. We didn't spend a lot of time at the hotel because we were out exploring but after a long day of walking the bed was really comfortable!
If you're looking for other ideas, you might want to read my post on how to spend a girlfriends getaway in London.
Day One
Borough Market
If you love food I think that you have to plan to stop at Borough Market at least once. There are some amazing vendors selling everything from whole goods (like mushrooms or cheeses), bakers, to prepared foods. You can snack your way around or plan to have lunch here. There is limited seating so don't expect to find space to sit down at a table and eat when you make your food choices.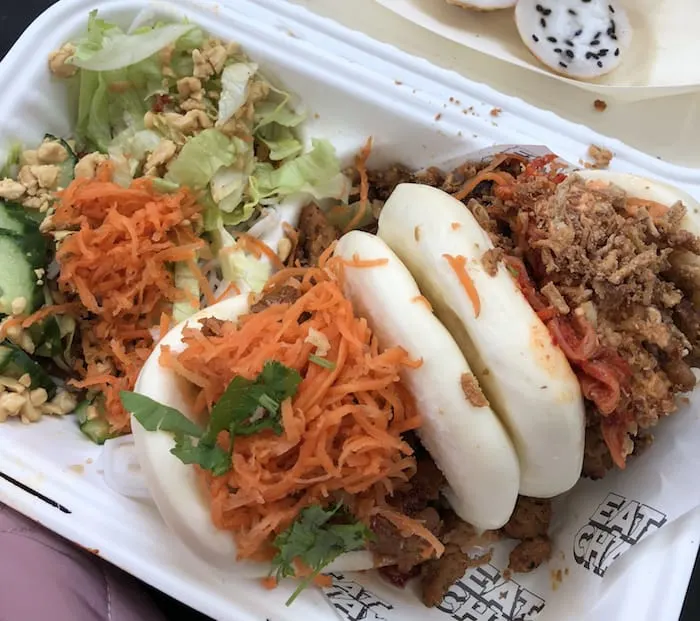 I had some amazing vegan bao buns that were way better than I thought they would be! Do also be prepared to pay cash as many food vendors only take cash and cash also makes things go faster.
Brick Lane
Brick Lane is known as London's major Indian neighborhood and if you're after a delicious curry you'll want to head here. But there's more to be found.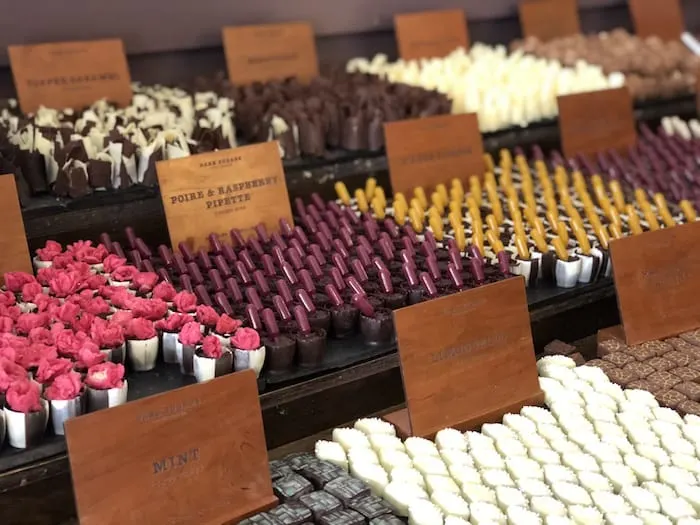 We wandered inside the food hall which along with food from around the world also had a huge vintage market in the basement. Across the street we sniffed our way into Dark Sugars. What a find! The chocolates in here are divine. They also have decadent hot chocolate and silky smooth chai. Even if you decide not to buy something (but why would you not) pop in to wander the offers.
We didn't eat in this neighborhood because I had made reservations at Tandoor Chophouse for their signature brunch thali (only available on Sundays). It's perfect to split between two and even if you have no experience with Indian food I found it was completely approachable. We got a little bit of everything with the thali so if you go any other day do not hesitate to order anything on the menu. It was deliciously spiced and nothing was too hot – just flavorful.
After a giant meal there's nothing better than a long walk to let everything digest. From the restaurant it was a straight walk to the National Portrait Gallery and Trafalgar Square. There's always something happening here to just take in and of course snap a few pictures of the lions.
Day Two: Great Walks to Take
The Parks of London
Even though London is one of the largest cities in the world it was some beautiful parks that are worth a walk or a picnic.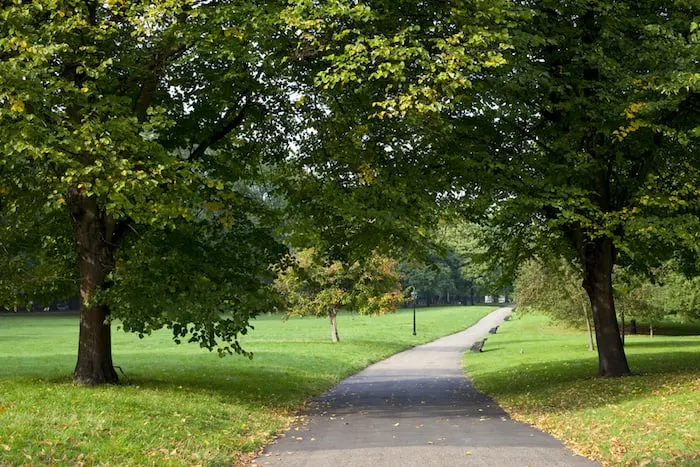 Green Park was the first we wandered and it seemed a bit out of the way so there weren't a lot of people about. Nothing wrong with that, plus it's beautiful for a nice spring day.
This park is HUGE and we barely covered a fraction of it. There's a lake through the middle with boats and lots of geese and swans. There are lots of smaller gardens built around the edges and one of the most interesting parts of the garden for me was the Princess Diana Memorial Fountain. It's built uniquely and it's meant to be played in so let your kids (or you) wade and walk through it.
Located right outside Kensington Palace this is a smaller park area but with the palace right on site it's very picturesque.
The Tower Bridge
Not to be confused as the London Bridge (that's actually in the US, weird story), this is probably the most iconic site of London – and you can walk across it (like we did) and even go inside it. It's maybe not the best activity for a cold, windy day but any other chance, take it! Do expect there to be a lot of people and if you decide to climb it buy your tickets in advance.
Day Three – Tower Hill and Greenwich
We took the Thames Clipper riverboat from the Tower Bridge station to Greenwich for something a little different to try.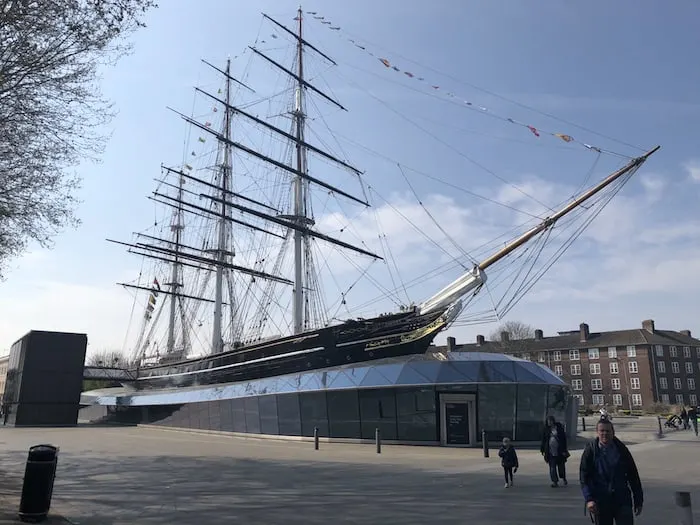 When you arrive in Greenwich it immediately feels like you've plopped into a little village instead of still being in London. Right at the dock for the water bus you can't miss the Cutty Sark. This is the last remaining tea clipper, originally built in 1869 and is very well preserved. At one time it was the fastest clipper in the world that sailed to China trading tea and later to Australia trading wool. Today it's a museum.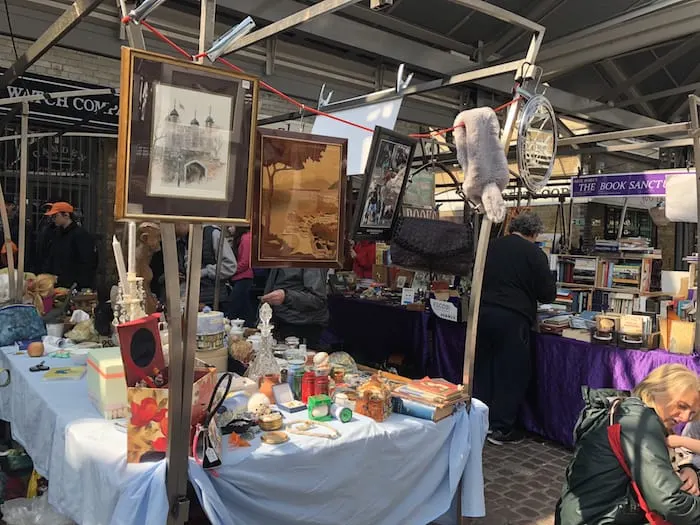 Nearby you'll discover Greenwich Market. It's small but you never know what you'll find. I was scouring the antique vendors in search of a cute tea tray, sadly I came up empty. Right off one of the sides is the Red Door Cafe where we went first for some tea and cakes.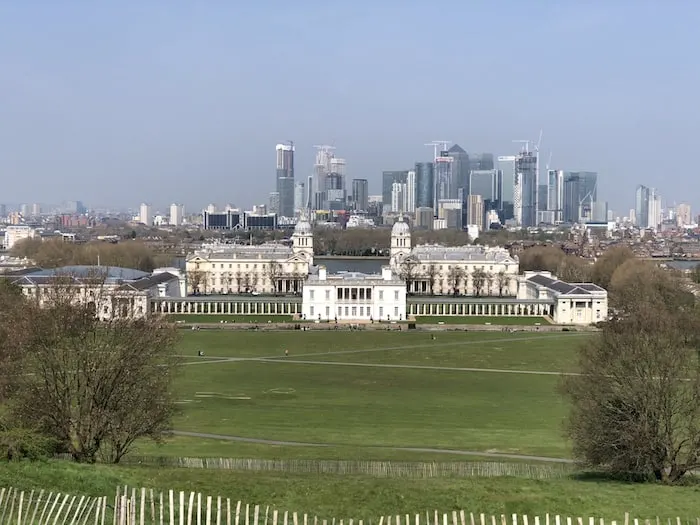 You can walk to the Old Royal Naval College and admire the grounds of this historic institution and it's architecture. If you're wanting an aerial view of London that's really unrivaled there's one place to go. The Royal Observatory. This is an operating sky observatory and it's also on top of a giant hill that yes, we did walk up. The views are really worth it!! In the spring the grounds around it are full of blooming trees and I needed to go find the pink trees.
After all this walking it's time to fill up again. You could of course go for a picnic in the park near the observatory (which is a great way to save some money), or eat at the Greenwich Market OR head somewhere for tea. We really wanted to go to have tea at the Fan Museum that's also in Greenwich but it wasn't open the day we were there. It's a really affordable tea option and if you try this itinerary, and do it on a day they're open try it out!
Great Tea Options in London to Include
So where's the tea? Right here! Instead of mixing into the itinerary I thought it would be easier to break it down here for you to pick and choose which afternoon tea option sounds appealing to you. These are purely based on my own experience and opinions. Many of these are themed afternoon teas.
Could we discover the best tea in London? Probably not but neither of us are known to back down to a challenge.
Best Cream Tea in London
If you don't have a reservation somewhere you can pop into Beas of Bloomsbury's anytime for tea. They have three locations across the city. Cream tea is just tea and scones with cream and jam – no extra cakes or sandwiches. I liked that this was available any time and there were lots of ala carte options. They also had raisin free scones which are what I like. We ended up at the location closest to our hotel and also near St. Paul's Cathedral if you also wanted to visit this site. This was a nice spot to spend a bit of time chatting and eating. The scones were hot and fresh and I'd recommend it even though it does feel a bit chain-like vs the quirkiness of stand alone tea houses.
Cheap Afternoon Tea in London
The Fan Museum certainly has the most affordable tea option in the most beautiful setting. Tea for under £10 is an amazing deal.
Vintage Afternoon Tea in London
After walking through all the parks this is where we headed for tea. Candella Tea Room is a small tea shop that offers either tea alone, cream tea, or high tea. They only had raisin scones as we arrived close to the closing time so I skipped trying them out. Their tea menu was very long and the mis-matched tea services added to the ambiance. It felt like you were in a grandma's kitchen.
Quirky Afternoon Tea in London
Every time I start looking for tea options I find more and more specialized and unique/quirky teas popping up.
The Mad Hatter's Afternoon Tea at The Sanderson and The Potion Room at Cutter & Squidge might be my favorite options for quirky afternoon teas. The mad hatter tea is inspired by Alice in Wonderland and the theme extends to every part of the experience. The potion room tea is a two hour experience with edible and drinkable potions that you get to create. They also cater to all dietary types with different options.
My final suggestion for a quirky tea is the tea bus! The B Bakery afternoon tea bus is a combination of sightseeing and tea drinking. It also has 5 dietary options to customize based on your needs.
Luxury Afternoon Tea in London
Just the name conjures up glamour. The Ritz London has served tea since its opening in 1906 and remains true to classic British tradition. You'll need to come prepared and dress for the event – no sneakers or t-shirts allowed. Also book in advance as it's very popular with visitors.
Clamoring for a position as the birthplace of afternoon tea over 150 years ago, The Langham offers a luxury experience for guests. Their signature afternoon tea is worthy of a luxury title. The service is so special that it has been awarded the Tea Guild's Top London Afternoon Tea award several times.
Traditional High Tea in London
If you're looking for a traditional afternoon tea for two than try one of these options.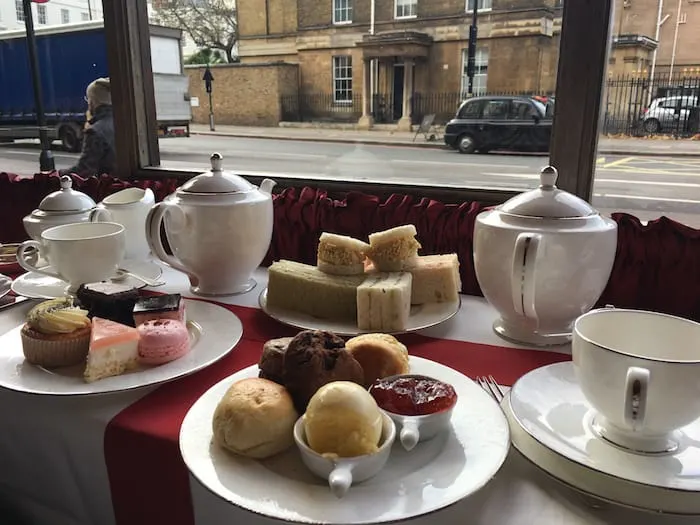 On my last visit Sofie and I had tea at The Reubens at the Palace. This was a traditional tea that we really enjoyed. It also wasn't over the top expensive, the staff was delightful and it was easy to get a reservation.
Another option is the afternoon tea at Claridge's. They offer a champagne high tea and a traditional high tea. All come with finger sandwiches, sweets and scones with clotted cream and jam – and of course tea!