Moroccan tajines are typically used for cooking tajine recipes. (Confused yet? Both the name of the pot and the food cooked inside is called by the same name!) These clay pots come in a variety of sizes, so it is important to know what size Moroccan tajine you want before buying one!
I have been shopping in the markets and have seen so many cute items, some small and some giant, only to realize that it will only end up taking up space as it's not the right fit for what I need. So how are tagines sold and what size is best for you?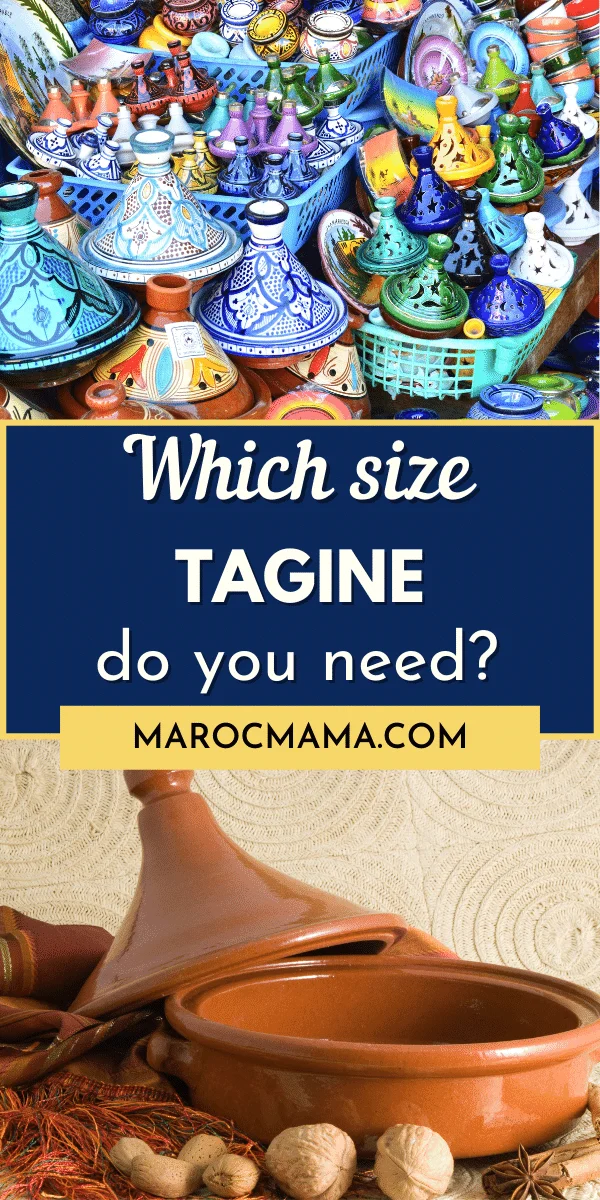 Tagine Widths
When measuring the width we are only looking at the base part of the tajine. Normally the depth of the tagine base is about the same no matter how wide it is. The top, cone part can be tall and point or shorter. This doesn't make as big of a difference, and you can choose based on what looks aesthetically better to you.
Tiny Tagines
You may see very small tagines sold, these aren't generally made for cooking in but for decorative purposes like serving salads or a finger pinch bowl for salt and cumin on the table.
Small Moroccan Tagines
Generally, these are less than (20cm / 8in) in diameter. They are meant to serve a single person or possibly two. They also can be used as serving dishes for salads if you have a larger tagine serving as the main dish.
Medium Moroccan tagines
These tagines are generally between 20cm to 27 cm (8in – 10.5in) in diameter. They can have shorter cone tops or taller. Generally these are the most common sizes sold and used in day to day life.
Large Moroccan tagines
A large tagine is more than 27 cm (or 11in) in diameter. They are used for serving large groups or larger families. The exact measurements can vary greatly so it's a good idea to check and see just how large the tagine you're looking at is.
Tagine Serving Size
When shopping for a tagine you will sometimes see that the amount of people it can feed is the measurement being used. In this case you might see it marketed as an individual or a family tagine.
If you are only a single person or perhaps a couple then one or two individual tagines will likely be enough to use. This is also a good size as I find the smaller tagines don't break as easily (less surface area) and are inexpensive to buy. If you're just starting out with tagine cooking it's not a bad option.
The most popular option however is to buy the medium-sized tagine. This is typically sold to serve 3-4 people. Most people have this size. It's versatile and is good if you have a family or are inviting someone to dinner. It's not so large that you would have issues storing it or cooking it on your stove.
The large size is generally reserved for special occasions rather than everyday meals since they take longer to cook and require more preparation time. It can be hard to find a space that is large enough to cook this size. If you're deciding between the large and medium-size, I recommend also considering how big your stovetop is and if it can evenly distribute the heat to the tagine.
So what size Moroccan tagine should you buy?
If cooking for one person or yourself then I recommend a small Moroccan tajine.
A medium Moroccan tagine is typically the most common size that people own and it can be used to cook many dishes.
For large family gatherings, parties of friends, holidays, or when you want to cook extra Moroccan tagine food then go for the large Moroccan tagine.
Of course, you can also add all three to your collection if you're planning to do a variety of cooking!
4 of Our Favorite Tagine Recipes