I love a good chocolate cookie. Seriously, if cookies are presented and chocolate is an option, I can promise you, I'm taking the one that has chocolate! When my husband was diagnosed with celiac disease it meant our cookie game had to change. I did learn how to bake gluten free but it can be really tricky.
This recipe is not tricky!
Even if you're a new gluten free baker, you can do this!
These are seriously an everyday cookie or they're perfect for a Moroccan tea party! I love Moroccan cookies as much as the next person but sometimes I just need something that's a little different. I think this cookie will make anyone happy. Good thing they're so easy, you'll be able to whip up batch after batch!
While these have white chocolate drizzled on top you could drizzle with anything you'd like. Dark chocolate or even a mint chocolate would be nice. Crushed candy canes instead of sprinkles? So many options!
How to Store These Cookies
Because these are made with almond flour they'll harden up quick. If you store them in a tightly sealed container it will help keep them softer longer. You can also freeze them. I suggest placing them on a single layer inside a freezer bag or freezer safe container and placing a sheet of parchment between layers.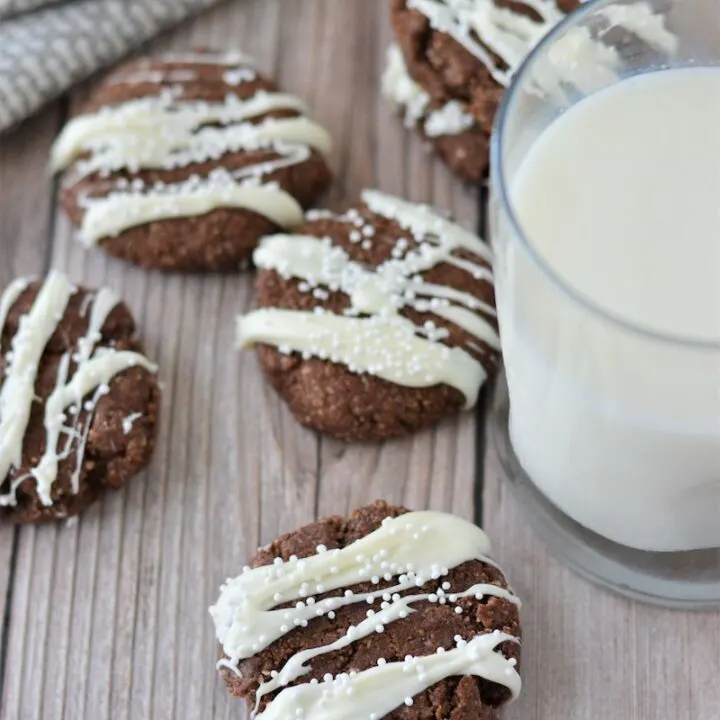 Yield:

15
Almond Flour Chocolate Peppermint Cookies
Additional Time:
31 minutes
Chocolate and gluten-free? These are great for serving anyone who has a gluten-free diet - or not!
Ingredients
1 ⅓ cups almond flour
1 Tbsp cocoa powder
½ cup chocolate chips
1 egg
¼ cup coconut oil
½ tsp peppermint extract
Optional: melted white chocolate & white sprinkles
Instructions
Preheat your oven to 350 degrees F.
In a bowl, melt chocolate chips and coconut oil. You can do this in the microwave using 20-30 second intervals, stirring in-between. Or, you can do it on the stovetop. Place a glass bowl over boiling water (not touching the water) and mix until melted.
Let the melted chocolate/coconut oil cool slightly, then mix in 1 egg and peppermint
extract. You want it to be cool enough that it won't cook the egg.
Add almond flour and cocoa powder.
Roll the dough into small balls and place on a prepared baking sheet. Bake for 9
minutes. Remove and let cool completely on a wire rack.
To create flat cookies, you can either press down on the cookies before cooking or after.
Once the cookies have cooled, drizzle with white chocolate and top with white
sprinkles if desired.
Notes
The cooking time and quantity will depend on how large you make your cookies.
Need More Cookies? Try These Gluten Free Options
Gluten Free Lemon, Vanilla, and Almond Ghriba