Do you have a party coming up or a special occasion where the host or hostess would love to get a tagine gift set? Whether it's someone that is just interested in Moroccan tagines or an adventurous cook, this is really a unique and interesting idea for gift giving.
They're also a lot easier to create than you may realize. However, you won't find many in the marketplace that already come preassembled. With that in mind, I've created this guide to help you pick and choose what the main components for your gift set can look like.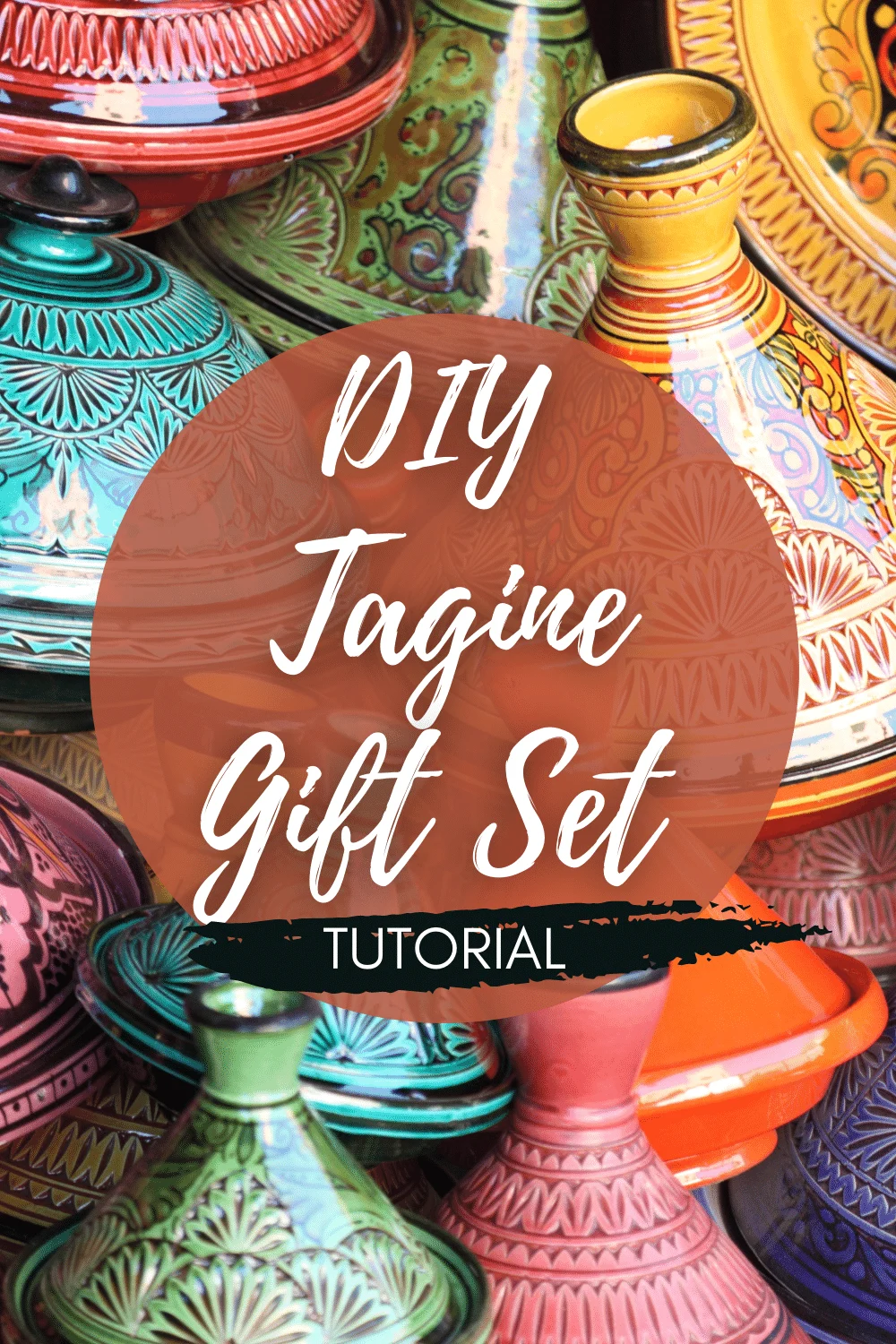 Feel free to add or omit based on the recipients' like and dislikes, I'll try to provide as many options as possible to make it easy to pick and choose.
The Tagine to Choose
If buying a tagine will be a part of your gift set then you will want to choose a tagine that will work for the needs of your intended. There are many different kinds available. If you aren't sure which would be the best, I think the safest option is a tagine like an Emile Henry or Le Creuset. They are much easier to learn how to cook with and last for a long time.
Moroccan Cooking Tagine
Emile Henry Flame Tagine,
Le Creuset Enameled Cast Iron Taigne
If you need some more ideas of which tagines might be a good fit these additional posts can help you narrow things down.
Moroccan Tagines: Which Size to Buy?
The Best Tagines for an Electric Stove
The Best Tagine Pot for an Induction Stove
Mix and Match Tagine Spices
When buying spices for your tagine gift set you have two choices; either buy the spices individually or buy a set of spices. For someone who already has a wide collection of spices, a set of spices might not make sense. However for someone who is just setting out, having a nice set to pull from can be welcome addition to the kitchen collection.
Whether you need just a few or you need 10 spices, there are loads of options available!
Auzoud Tagine Spice Blend, Support North African Women Farmers, 100% Natural, 50 gr (1.76 oz)
Moroccan Spices Set
Ultimate Moroccan Tagine Spices & Seasoning Kit
Moroccan Spices Complete – Set of 10
Moroccan Spices Chef – Set of 7
Mix and Match Your Own Tagine Spices
If you are looking for individual spices that can be used for your tagine gift basket. Here are some of the most common spices you'll find used. The basic spices for most tagines include;
cumin
turmeric
ginger
white pepper
salt
cinnamon
paprika
saffron
The Gathering of Saffron Brand Saffron, Pure Spanish, 1 Ounce
Badia Spices inc Spice, Cumin Seed Ground, 16-Ounce, Yellow Multi (087881)
Badia Organic Turmeric Ground, 2 Ounce (Pack of 12)
Badia Ginger Ground, 12 Ounce (Pack of 6)
Badia Organic Cinnamon Powder, 2-Ounce
Simply Organic White Pepper, 2.86 oz
Moroccan Pantry Staples for Tagines
Once you have the tagine pot and the spices you need to create your tagine, you'll need a few more pantry items to make the tagine stand out. These also make great gifts because they're shelf stable until opened and even once open they can last awhile.
If you're trying to choose the MOST important things then a good quality olive oil and preserved lemons are the core items you should have in your tagine gift set. If you can get a brand that is made in Morocco – it will make all the difference. Mina is my favorite brand sold internationally.
Mina Extra Virgin Olive Oil, Single Origin Olive Oil, Cold Extracted, Moroccan Olive Oil High in Polyphenols, Less Than 0.2% Acidity, 16.9 Fl Oz (500 ml)

Mina Mild Harissa Sauce, Mild Sauce Crafted with Fresh Red Peppers Instantly Transforms Any Plate with the Lively Flavors of Morocco (10 Ounces)

Mina Preserved Lemons, Authentic Moroccan Gourmet Preserved Beldi Lemons, 12.5 Ounce

Mina Green Olives, Premium Handpicked and Naturally Cured – Gluten Free, Low Carb, Vegan – Great Keto Snacks to Go, 12.5 oz

Moroccan Tagine Cookbooks
A great way to round out your gift basket is by adding a tagine cookbook. I have one post that has several different options you can check out by visiting this link on tagine cookbooks. If you want a quick glance with my top recommendations it's these two;
The Food of Morocco
The Modern Tagine Cookbook: Delicious recipes for Moroccan one-pot meals
There you have it! A perfect tagine gift set for the special person in your list – or keep it for yourself – we won't tell!