I LOVE brunch. It's seriously the best meal of my day and I will never ever turn down a chance to try a new one. However, I have been misled by many Marrakech menus claiming they offer brunch. I'm not sure the concept always translates
But that hasn't put me off from trying to find the best brunch in Marrakech! All of my suggestions are places that I have personally tried, and many of which are places I go to regularly. You may notice that there are not traditional Moroccan spots on this list.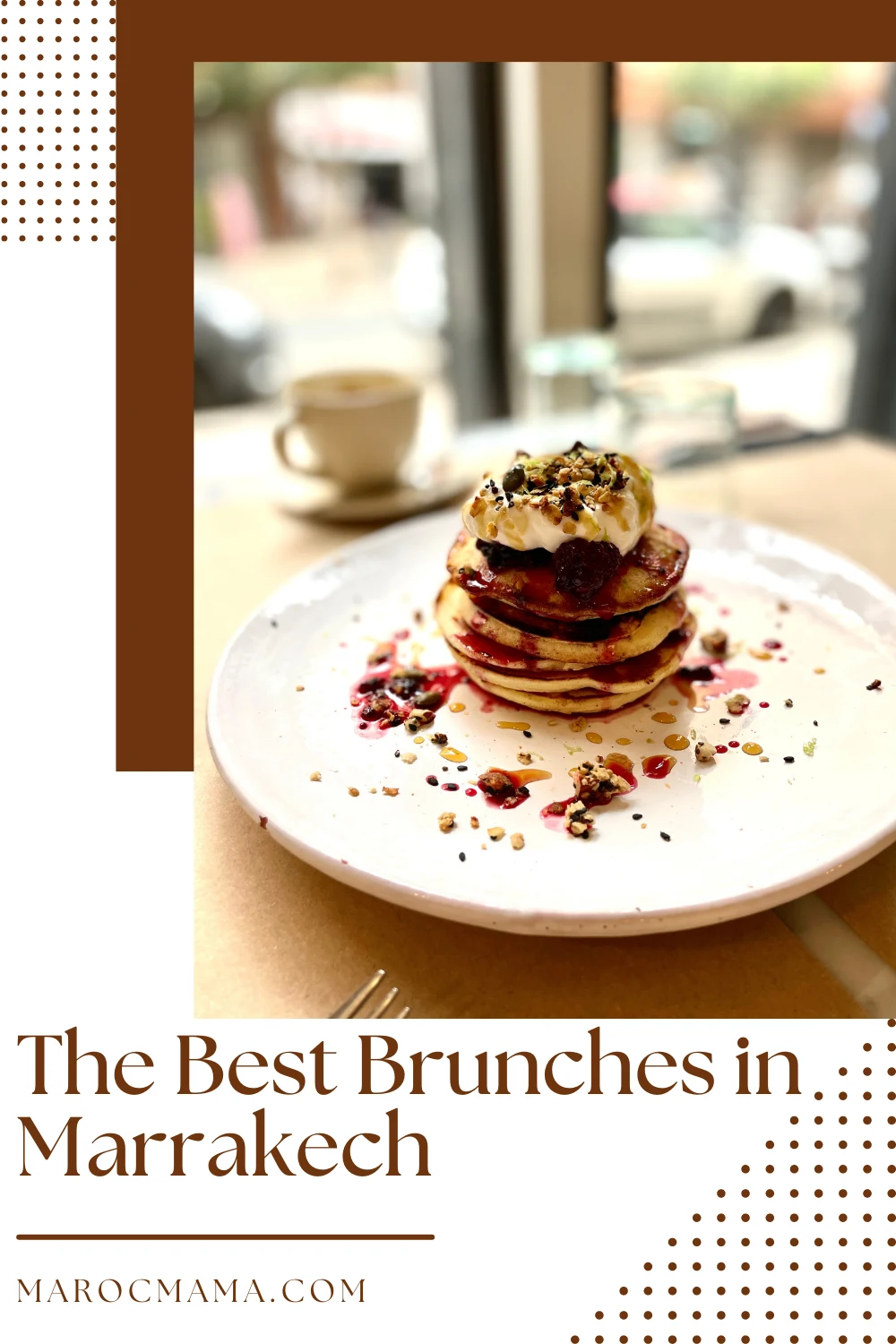 There's a reason for that. In most cases a typical Moroccan brunch is closer to a breakfast and is served in every hotel or riad in Marrakech. If you're looking for that traditional breakfast/brunch style it won't be hard to find and will generally be offered. Instead, I went with spots that offer things that are a little bit different.
This list is not in any particular order, I enjoy them all but some a bit more than others. That generally boils down to personal taste. For each restaurant I'll share information about what they offer, if they are only open specific times for brunch, what's in the picture and any other information about the menu I think is important.
I would highly recommend you call or check out their social media profiles to make sure that times are still accurate as many places will adjust at different times of the year and I can't always keep up wtih updating based on their changes.
What is brunch?
Before I share my favorites here are my criteria for choosing what I'm qualifying as a brunch;
The menu needs to be offered from mid-morning into the afternoon.
There should be a mixture of sweet and savory items
It should not be a set lunch menu (this happens in Morocco) that is served earlier.
The food should be small enough portions that you could get two or more things and not feel like it's too much.
A good selection of drinks should be included or available.
Added bonus if the restuarant is open on Sundays for brunch too.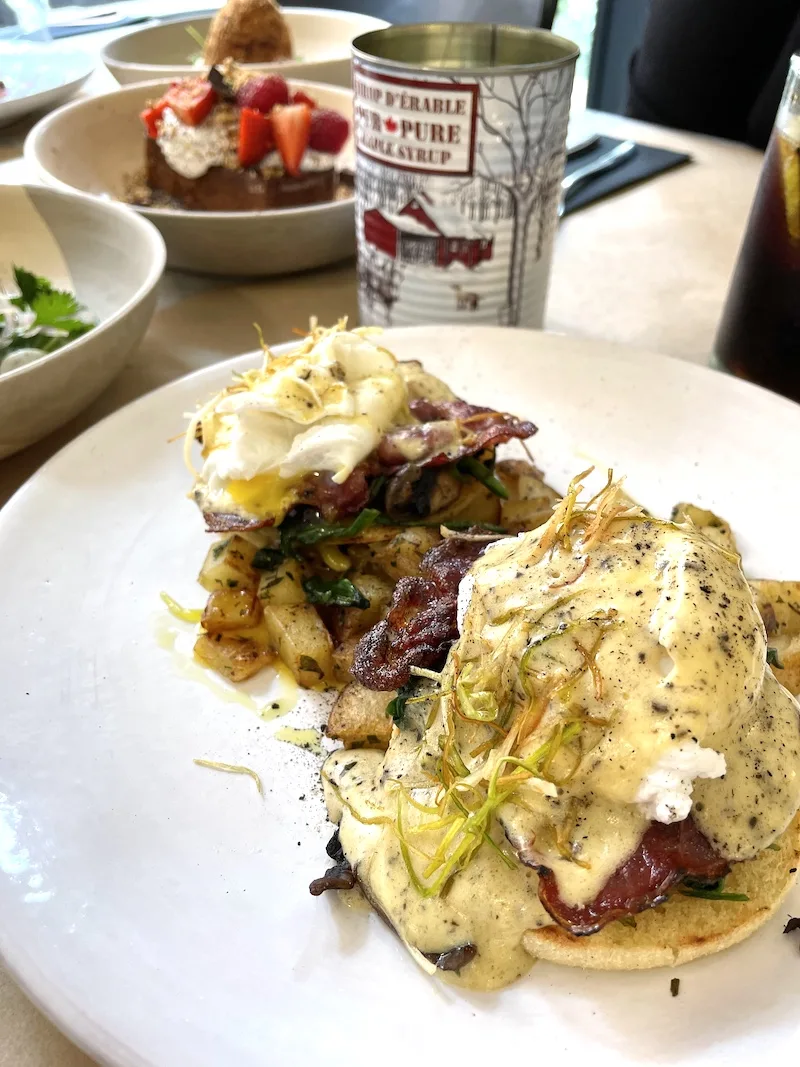 Mouton Noir
I know I said I wasn't choosing favorites but this is my favorite. Their weekend brunch is exactly what I look for when I go out. And it makes sense, the Montreal-style brunches offered here are excellent. I have personally tried every single item on their brunch menu and there's nothing I wouldn't recommend.
Pictured: Truffle Eggs Benedict with Hashbrowns
Menu Items of Note: The banana bread is REALLY good and the croissant sandwich is another favorite.
Brunch Offered: Weekends
Address: 115 Rue Mohammed el Beqal, Gueliz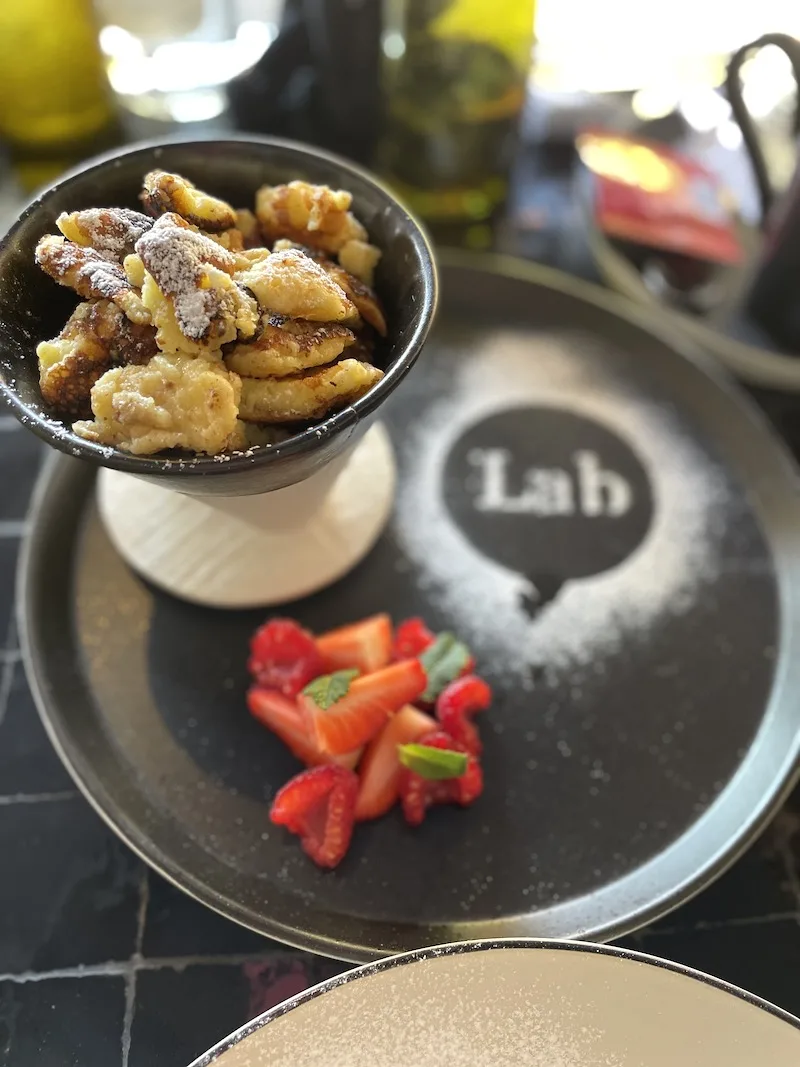 Le Lab Gourmand
This restaurant is a realtive newcomer on the food scene and I was skeptical the first time we visited but the brunch was really excellent. There was loads of options and they had a kid menu too that was interactive (including mini ketchup squirt bottles) that kept my 3-year old very busy and happy.
Pictured: Deconstructed Pancakes
Menu Items of Note: Their waffles with chocolate dipping sauce are some of the best waffles I've ever had. The avocado toast was also something I enjoyed.
Brunch Offered: Weekends
Address: 18 rue Loubnane, Gueliz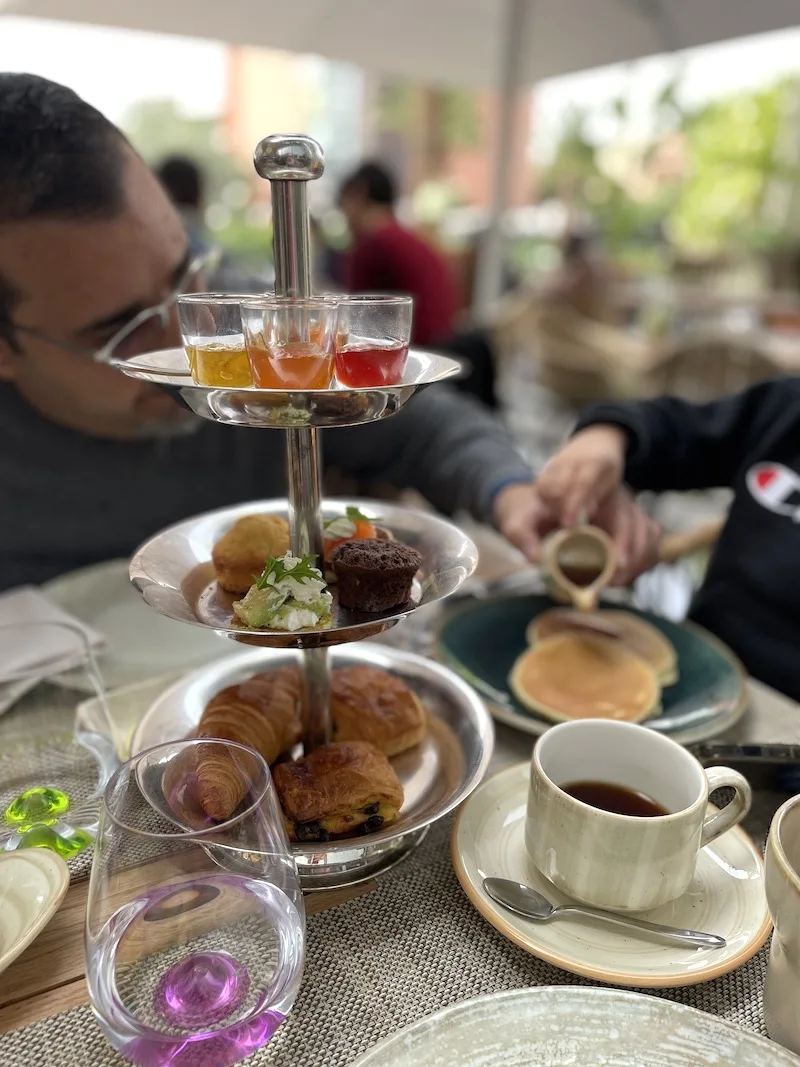 Omazonia
Speaking of my 3 year old this is his favorite restaurant. Maybe it's the outstanding staff or maybe he just really likes the food but we're siding with him. We've had both their breakfast and lunch offers and we love the brunch! This tower of food not only looks pretty but was really good!
Pictured: Largest breakfast on the menu!
Menu Items of Note: If you want something a little savory add the Korean bipibap to your order or some of their fresh sushi. They also have great coffee!
Brunch offered: Daily
Address: At the Jad Ali Hotel in Hivernage
Mandala Brunch Society
If it has brunch in the name then you know you'll be looking at some good options! Mandala started in Essaouira until opening its Marrakech branch (unfortunately) right at the start of our first lockdown. But they're back and one of the best offers is their brunch board that is more than enough for 2 people to share. They also have keto and fully vegetarian options.
Pictured: Brunch board
Menu items of note: I generally order this board however they also have yummy Icelandic pancakes (one of the owners is Icelandic), and the desserts are all homemade and excellent too.
Brunch offered: Daily
Location: 159 Rue Riad Zitoun el Jdid, Medina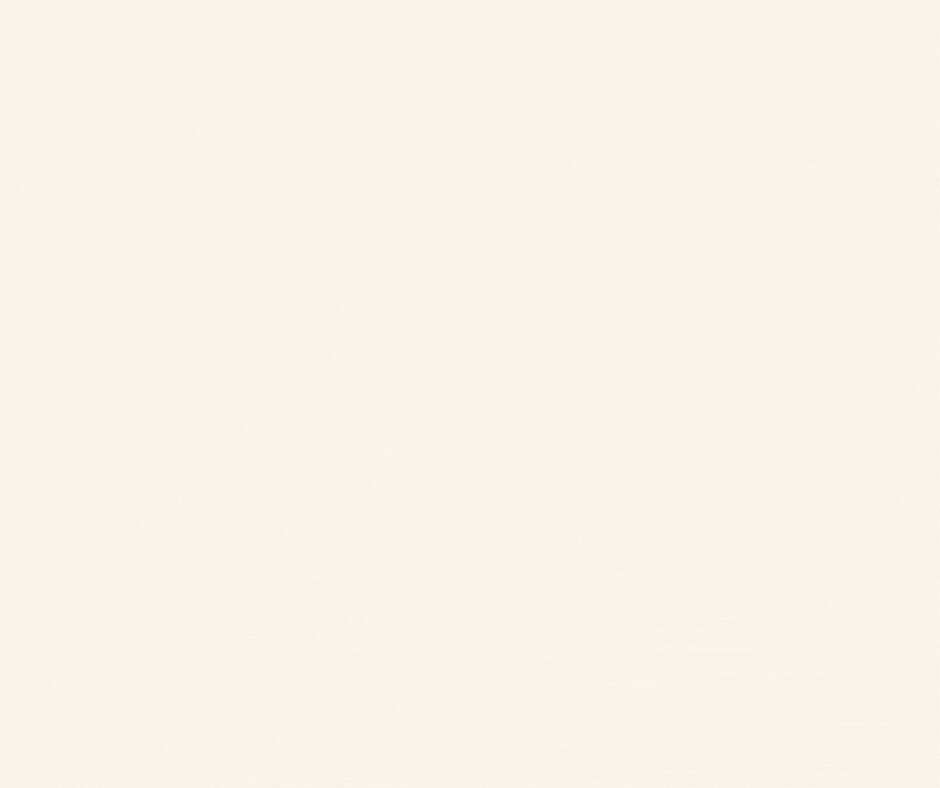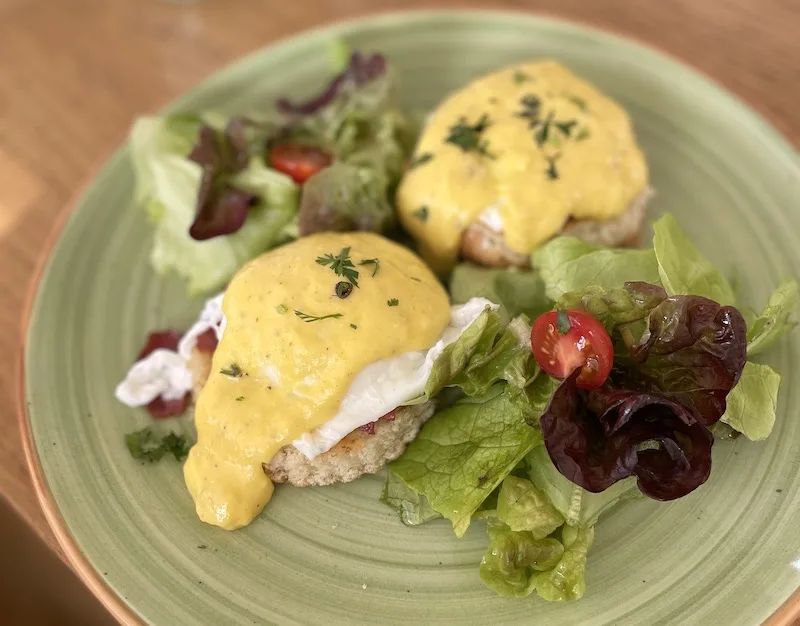 Zedd
If you're looking for a simpler brunch option Zedd is a good choice. It's also conveniently located across from the train station in Marrakech so a good pre or post trip meal option. They have quite a few diffferent breakfast/brunch options including a large "Zedd Brunch" option.
Pictured: Eggs Benedicit
Menu Items of Note: My oldest son liked the egg burrito and they also have quite a few Moroccan options if you're looking for this.
Brunch offered: Daily
Location: in front of the Marrakech train station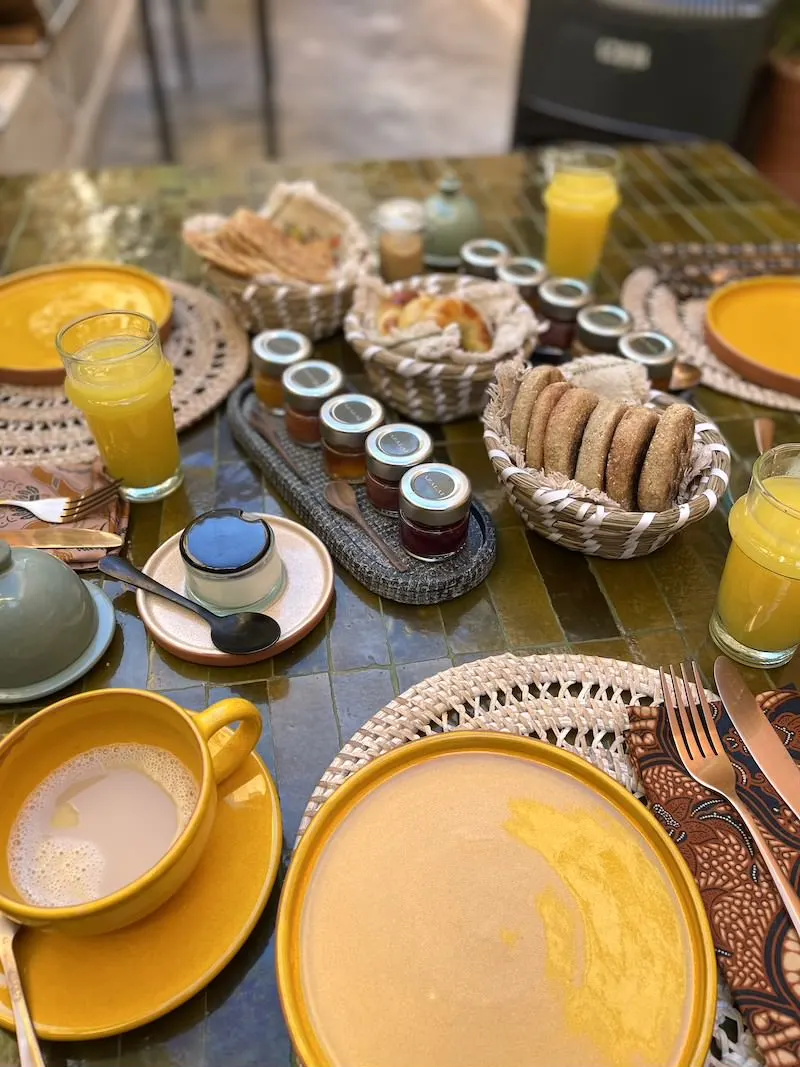 Azalai Urban Souk
It was this restaurant that kicked off my adventures into Marrakech brunches. What I love is that they make everything homemade including their jams. The mini breads are made with coconut and their morning brunch is really a perfect balance of all things brunch-y. I also suggest ordering their iced coconut latte.
Pictured: Sunrise in the Desert Brunch (missing a few items!)
Menu Items of Note: I always just go with this order because it's great for a bit of everything. They also do have tartines, a good house yogurt and fruit.
Brunch available: Daily
Location: 67 Boulevard Mansour Eddahbi Gueliz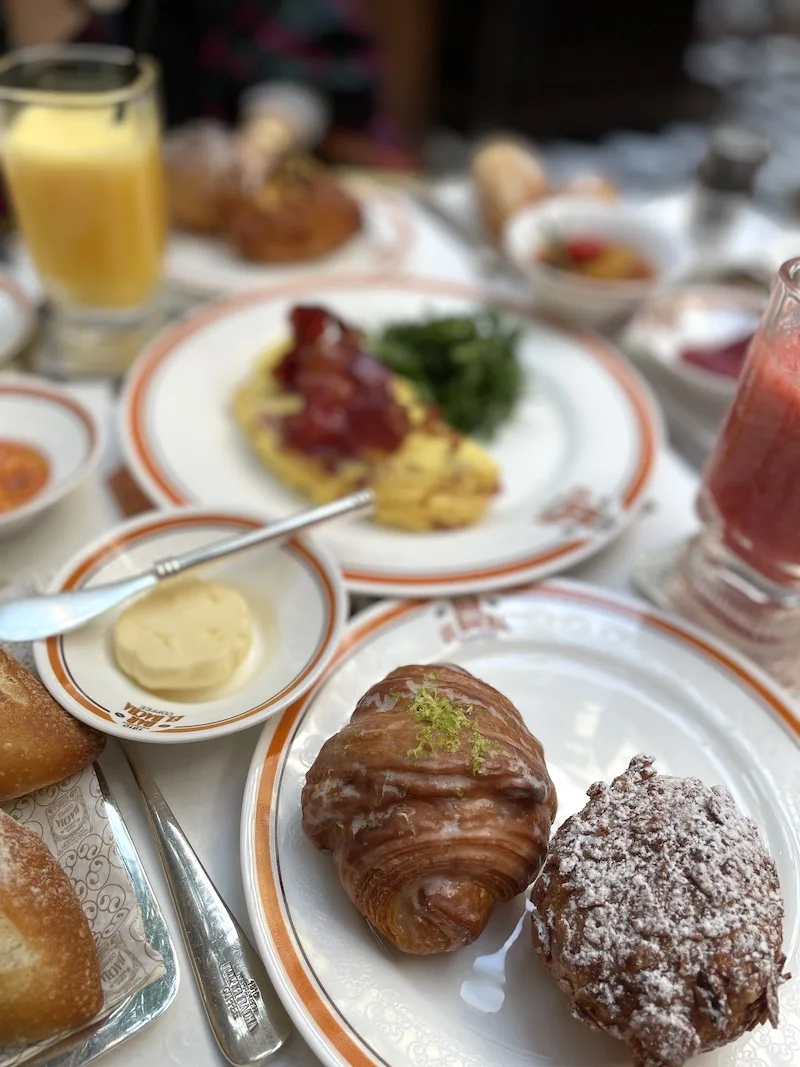 Bacha Coffee
If you want to be treated like a queen (or a king) then you need to make a reservation immediately and have brunch at Bacha Coffee House. It ranks up there with my very favorite food experiences and should not be missed. Besides having dozens of coffees available, the food here is amazing. Personally, I think their morning/brunch menu is the better then lunch.
Pictured: Gourmand Breakfast
Menu Items of Note: The scrambled eggs with truffles are creamy and perfect, and the croissants are really a treat, I love the date and lemon.
Brunch available: Daily (closed on Mondays)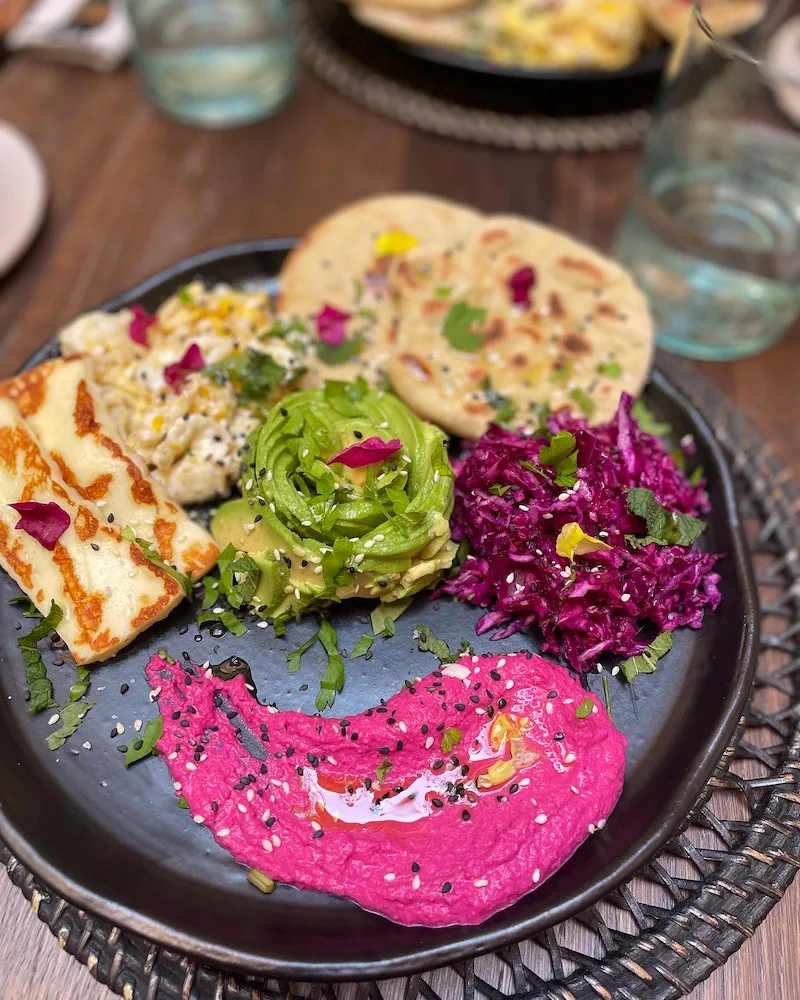 Bloom House
If you're on the hunt for somehting a little healthier or you eat a vegan or vegetarian diet then the Bloom House should be on your list. Yes, the food is as delicious as it looks. Best of all, the entire restaurant is breakfast all day. So for you brunch lovers like me, you can come anytime! They also have yoga classes if you want to get a little movement in too.
Pictured: Breakfast in Delhi
Menu Items of Note: The chia breakfast pudding is really tasty as well as the raw, vegan tarte citron which reminds me of a cheesecake but is completely vegan.
Brunch available: everyday
Location: 20 Rue du Capitaine Arrigui
Kabana
For a little more untraditional brunch head to Kabana's rooftop. This is a great, hip restaurant that has a wide menu that is Mediterranean and Latin inspired. You can find menu items daily that generally swing more savory however Sunday's they also have a more traditional brunch menu.
Pictured: Omelette with chicken skewers and burrata on fresh tomatoes.
Menu Items of Note: If you're looking for a spot that you can also have cocktails, they offer it.
Brunch Available: Weekends
Location: Kissariat Ben Khaled Rue Fatima Ezzahra R'Mila, Medina
I hope that when you visit you'll check out some of these great spots for breakfast – maybe I'll see you there!