If you're looking to cook in Moroccan style or want to add some spice to your table, then adding the best tagine cookbooks out there will take your dining to the next level. A Moroccan tagine refers to a North African dish cooked in a traditional clay tagine pot. Both the pot and the food inside of it are called tagine. With tagine cuisine, you'll find savory, slow-cooked dishes made from beef, chicken, or fish and stewed with fresh vegetables, dried fruits, fragrant spices, and nuts.
If you're looking for the best tagine cookbook, check out these top 5 picks to build your collection.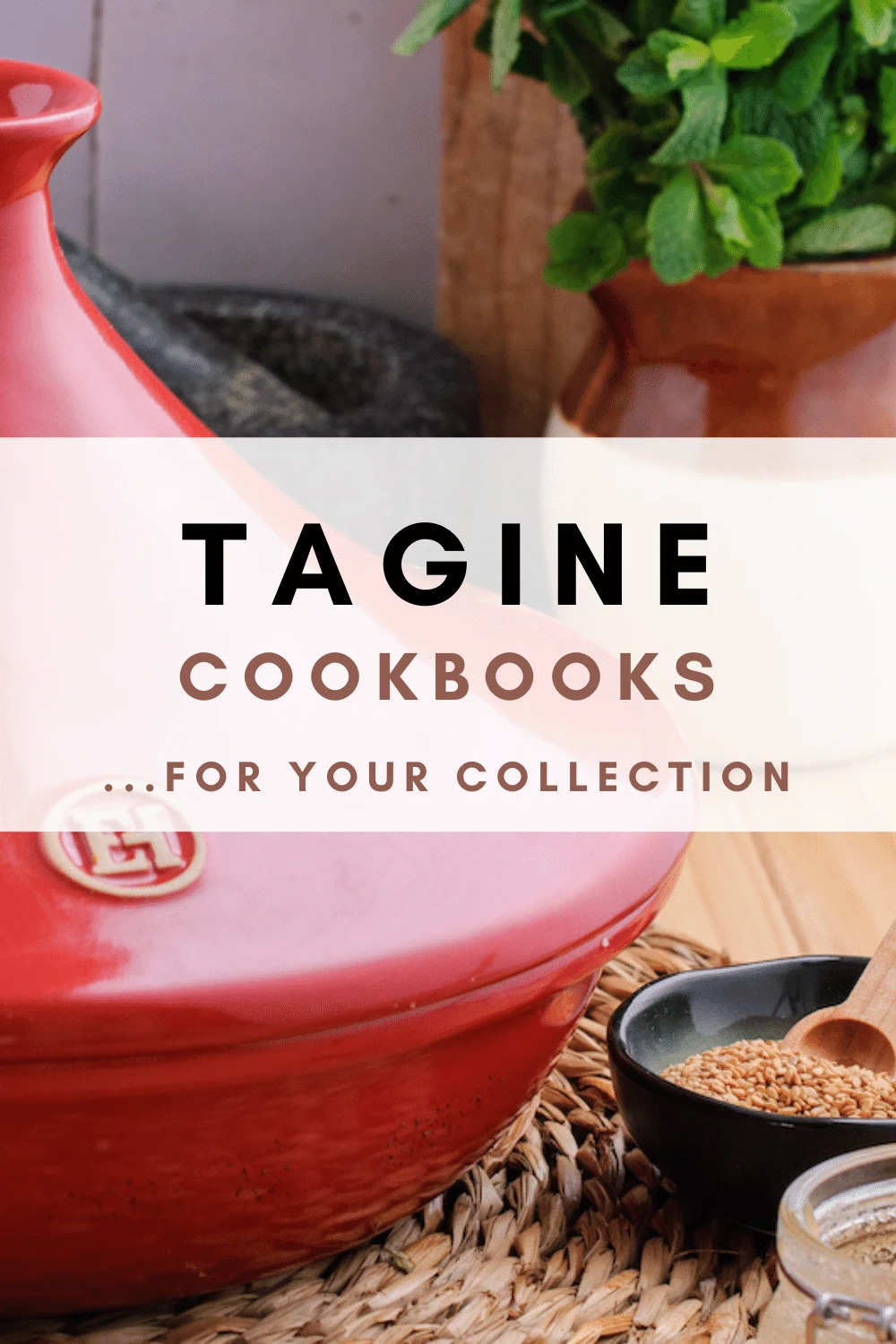 These cookbooks are generally not all focused on making Moroccan tagines but do include recipes for other recipes as well. I tried to choose the ones that I own and enjoy. I also included a mixture of those with traditional recipes and those that have more modern twists to them.
Overall they're a great mixture of options for your kitchen.
I'd also suggest if you'd like two quick digital cookbook options you check out my two Moroccan cookbooks. The original cookbook is a quick rundown of some classic recipes but with several vegetarian and gluten-free options. The second cookbook is focused on Ramadan dishes however these can be made all year.
My two cookbooks:
Casablanca – My Moroccan Food
If you're not familiar with the flavors of Morocco, this inspiring book by Nargisse Benkabbou, a native Moroccan, will introduce you to 100 vibrant and tasty recipes from her North African home.
The London-based author's creative, cross-cultural culinary creations are both delicious and simple. Benkabbou not only introduces readers to essential Moroccan cuisine, but she also tells you how to recreate this edible culture in your own kitchen.
Take your pick from preserved lemons, ras el hanout spices, spicy harissa paste, scented water, couscous, serrouda chickpea dip, sweet potato with feta maakouda potato cakes, Monkfish stuffed with dates, apricots, and fennel, or zesty orange turmeric lamb chops to infuse your own tagine pot cooking with all the flavors of Morocco.
While some recipes reflect the author's own innovative creations, Casablanca is a delightful introduction to Moroccan cuisine for the adventurous chef.
The Food of Morocco
If you're a visual learner, then the gorgeous color photographs in Paula Wolfert's Moroccan cookbook are sure to enchant.
Combining 50 years of skill, passion, and North African travels, the author shows readers how to recreate fabulous and delicious dishes in your own kitchen.
You can learn how to make preserved lemons, perfectly fluffy, light, hand-rolled Moroccan couscous, enticing lamb, pumpkin, chickpea, carrot, and raisin stew. There's also a wonderful section on salads and elegant, flaky Moroccan pastries that use almonds, prunes, and dates for an exquisite effect.
Most importantly you'll find plenty of Moroccan tagine recipes inside – all of them traditional Moroccan recipes from across the country.
Mourad New Moroccan: The Cookbook
If you prefer to learn the art of tagine cooking from a native expert, check out Mourad Lahlou's modern take on traditional Moroccan dishes.
As owner and Michelin-starred chef at Aziza, a famous Moroccan restaurant in San Francisco, Mourad offers fresh ways to cook with tagine while keeping readers connected to culinary traditions with over 100 classic recipes.
If you like to play with flavors and textures while recreating the heart of Moroccan cooking, then this vibrant book that offers date balls, paprika, ginger, garlic, and cumin chicken skewers, exotic, flaky basteeyas, and preserved lemon marinades will take you where you want to go.
Tagines and Couscous: Delicious recipes for Moroccan one-pot cooking
Tagines and Couscous
In this enticing guide to Moroccan one-pot cooking, Ghillie Basin introduces readers to the world of succulent recipes, aromatic spices, and meals that you can make in the tagine earthenware cooking vessel.
Here, you'll find Moroccan delights such as lamb tagine stewed with dates, pistachios, and almonds, a tangy chicken tagine that combines green olives, lemon, and thyme. Try out baby aubergines spiced with coriander and mint or sink into succulent flavors created by a blend of butternut squash, sultanas, shallots, and almonds.
Vegetarian Tagines and Couscous
In this creative take on Moroccan cooking, Ghillie Basin wows readers again by producing an outstanding way to create a vegetarian-style Moroccan feast.
With 65 aromatic recipes to choose from, including spicy roasted pumpkin wedges with squeezed lime, chickpea spinach, or saffron couscous with roasted coconut and pistachios, there's something for everyone's taste.
Some Other Great Tagine Recipes
If you're searching for more great Moroccan tagine recipes, here are some suggestions.
Moroccan Tagines: Which Size to Buy?
Finding the Best Moroccan Tagine Pot for You
What to Serve with Moroccan Tagines
Roasted Cauliflower, Apricots and Chickpea Tagine