Ceuta (Spanish) or Sebta (Arabic) is a Spanish city that is located on the mainland of Morocco. It is approximately 75 kilometers from Tangier, Morocco. The city has a tax free status making it particularly interesting to those in industry who can use it as a base; and it is a large shipping port. It's also a very busy location for foot traffic as Moroccans who have access to cross carry back goods to be resold in Morocco as anything they can carry is tax free entering Morocco.
An interesting fact is that since 2010 Ceuta and Melilla have declared Eid al Adha a public holiday; the first time a Muslim holiday has been officially celebrated by Spain since the Reconquista.
The population is Spanish speaking however most also speak Darija (the Moroccan Arabic dialect) as well as Berber and French.
Weather-wise Ceuta is a great destination. The temperatures in Ceuta average between 17C and 28C year round with minimal rain. Winter months are colder with more chances for rain.
All About Ceuta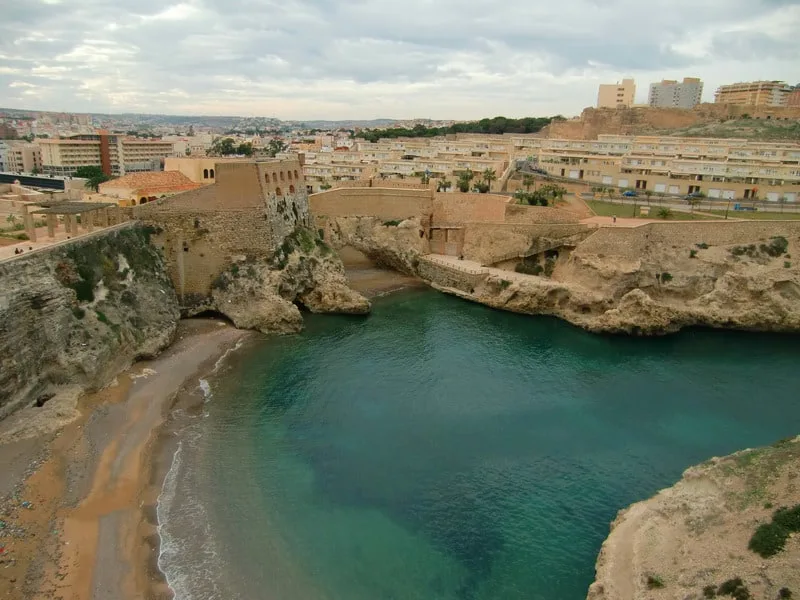 The northern area of Morocco was once part of Spain's colonial territorial holdings and while much of the territory was returned to Moroccan sovereignty in the mid 20th century the cities of Ceuta and Melilla were not. The city has been out of Moroccan control since the 1400's changing hands from the Portuguese to the Spanish.
The Rif War is the most recent violent dispute between Morocco and Spain in the region. Berber factions from the Rif area began confronting Spanish workers in the region around 1909 and there followed years of attempts by Spain to pacify the area. From 1920-1927, immediately following the signing of the Treaty of Fez that gave Spain control of the area armed conflict broke out. The conflict only ended once the French also got involved in 1925.
(For more on this war check out the books The Betrothed of Death: The Spanish Foreign Legion During the Rif Rebellion, 1920-1927 and Deadly Embrace: Morocco and the Road to the Spanish Civil War. If you're more visually inclined the Netflix series Morocco: Love in Time of War happens during this time period.
Morocco has long asserted the city should belong to Morocco and has pushed for its return however this has largely fallen on deaf ears.
The city is regularly featured on the news as many migrants attempting to make it from Morocco but more commonly from other African nations have used Ceuta as a crossing point by scaling the border walls. Morocco and Spain have attempted to crack down on this practice with Moroccan police apprehending those attempting to cross and those who are able to cross effectively stuck in Ceuta until their amnesty or asylum cases are processed.
Ceuta has a long history that has been peppered with conquests and takeovers, making it an interesting location to visit. While it is Spanish it has a different feel from other cities in mainland Spain.
Getting to Ceuta and Getting Around Ceuta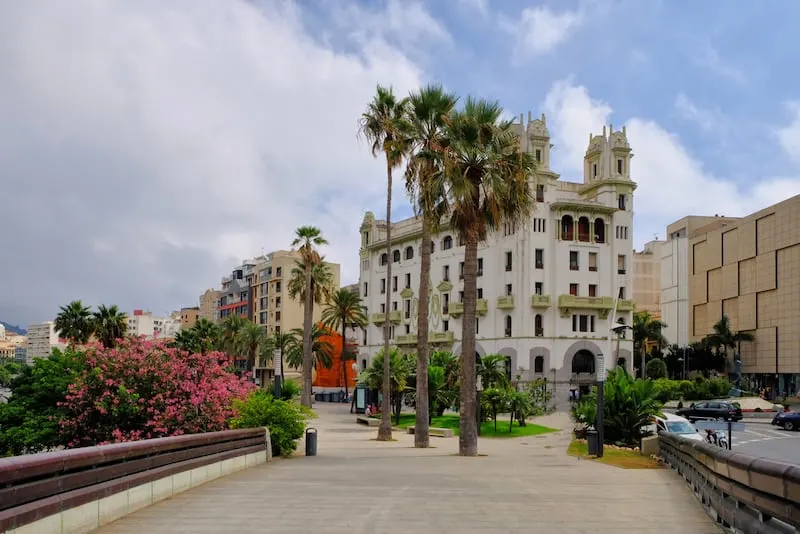 For those visiting or living in Morocco a trip to Ceuta is quite easy to make. From Tangier there are buses and taxis that can take you to Fnideq and the land crossing. There are ferries that run from mainland Spain to Ceuta daily.
Crossing from Morocco to Ceuta in Fnideq
You can cross at this point on foot or via automobile. Whichever route you choose you should be prepared for the process of crossing an international border.
For those crossing by automobile you should be prepared to wait for an extended time at the border. During busy times (especially the beginning and end of the summer holiday season) the wait can be several hours to a full day depending on when you arrive. Keep in mind the city is small so bringing in a vehicle for a short time may not be the best route.
If you have a vehicle with Moroccan license plates, you need to check with your insurance company to get the green visa that lets your car through and remain covered. I have heard mixed reports of needing this so it's best to check before you go. If you plan to use the ferry to cross to mainland Spain with your vehicle you will for sure need the car visa.
Crossing by foot is considerably faster and easier than by car. You can park your car in Fnideq or take a taxi to the border. From here you simply get in line to go through the immigration point. You will see a lot of Moroccans congregated around the entrance to cross, many if not most of these people are those that cross back and forth the border all day hauling goods. They typically allow you to pass them in line.
You do need to pass through a passport check on each side of the border. Once you get to the entry line you'll go to a window box to give the immigration officer your passport as well as residency card if you're a Moroccan resident. They rarely ask questions and usually stamp you through.
At this point you'll walk approximately 300 meters through a corridor that is at least 5 meters tall until you reach the Spanish border. The Spanish immigration police are not seated but standing at the entrances and typically take a quick look at your passport and stamp and let you through. They don't stamp your passport.
You're now in Ceuta!
Can Moroccans cross to Ceuta without a Spanish visa?
Yes and no – but in most cases no. Moroccan citizens that live near Ceuta are granted special passes that allow them to cross. Chances are they will know if they are eligible for this pass if they live nearby. In most cases however, Moroccan citizens will need a Spanish visa to enter Ceuta.
Getting from la frontera (the border) to the city
Once you're across you have three options to get to the city center.
Walk. Yes you can walk there but it's a long walk with mostly direct sun all the way. Unless you're on a huge budget or like to walk avoid this.
The bus. There is a bus stop just outside the exit point of the Spanish border. It comes fairly regularly and costs €0.80 each way. You do need to have euros on hand as they won't take Moroccan dirham. If you haven't planned ahead for this then there are men who stand near this area and will exchange dirham to euro but at a less than great rate. The bus drops off
A taxi. Getting a taxi right at the border are hit or miss depending on how heavy traffic is exiting Spain. A taxi from the border to the city costs approximately €8. If you don't find one right away begin walking towards the city and chances are you can grab one that's turning around to head back.
Returning to cross back to Morocco
Both taxi and bus are options to return however taxis are the easiest to find and take back. Don't be surprised if you end up in a long line once you get to the border. It's fairly standard for the driver to have you get out well ahead of the crossing if there's a back up so be prepared to walk some. When hailing a taxi simply tell them "la frontera" and they will return you to the border.
Your documents will not be checked by Spanish authorities when you are leaving however they will be by the Moroccans. As you exit you will need to have another white landing card filled out and presented. You will see many people that walk past the small window that serves as passport control.
The Moroccans that have access and live on the border do not have to show their documents each time however you will need to do this. You must present the landing card and your passport on exit and get a stamp. If you miss this checkpoint there will be a police officer further up that turns you back.
This portion of the crossing can be a lot of walking, so if you have done any shopping while in Ceuta be prepared to carry everything with you for about 1 km.
Entering via the ferry port
There is no bus that runs from the port to the city so you should be prepared to get a taxi. It's only about a 15 minute walk to reach the city center from the port so a perfectly do-able walk as well.
Getting around Ceuta
There is an internal bus system in the city that is fairly easy to navigate. You also can walk most of the areas, especially in the city center. Finally taxis are readily available and not very expensive to use.
What to do in Ceuta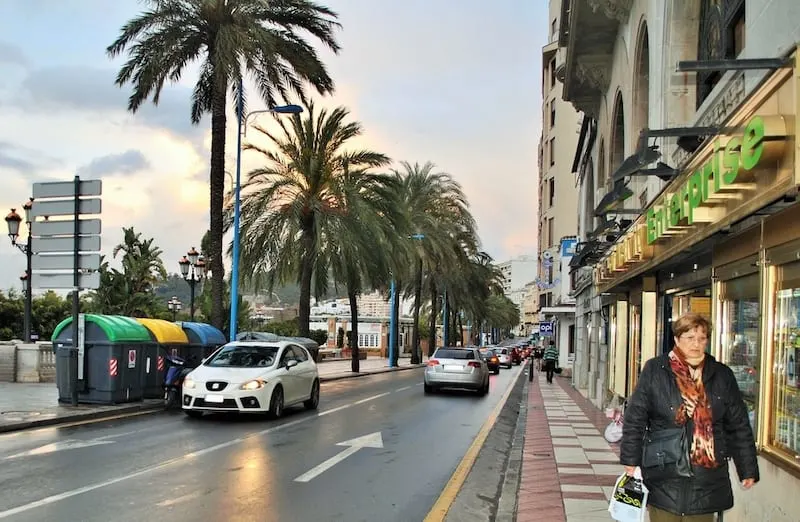 The Arab Baths of Ceuta
Built between the 12th and 13th centuries as a public bathhouse. The remains have been largely reconstructed however done so as close to their original form as possible.
The Royal Walls of Ceuta
These fortifications were believed to have been started in the 5th century but what is seen today was strengthened and built upon during the Portuguese reign. There is a museum called Museo de los Muralles Reales that houses temporary art exhibitions.

Museo de Ceuta
This free museum tells the story of Ceuta through history and archeology. The museum is only a few rooms but holds many artifacts dating from Roman times through the Rif war. It also regularly holds temporary exhibits.

Churches at the Plaza Africa
The plaza itself is rather uninspiring but there are two churches located on the plaza. The Cathedral and the Church of Our Lady of Africa. Both stand on sites that were once mosques. Both are open to the public at various times of the day.

House of Dragons
This building was completed in 1905 and might be one of the most recognizable buildings in Ceuta due to the bronze dragons that flank the exterior. It is known as a great example of eclectic architecture. The original dragons were removed in 1925 and lost and it wasn't until 2006 that new dragons were installed.

Hercules Statue
On the seafront of Ceuta this massive sculpture represents Hercules straddling the Straits of Gibralter.

Mercado Central
Just as in all Spanish cities the central market is an important part of daily life. The market opens at 8am and shuts down by 3pm so it's best to visit in the morning. This is a great video (in Spanish) about the market, even if you don't understand Spanish the imagery is great.
Beaches in Ceuta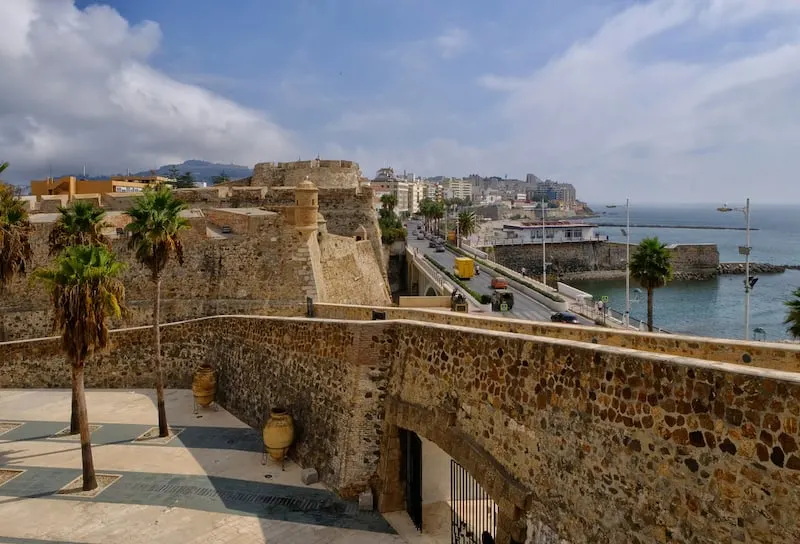 There are several beaches that can be found in Ceuta. Along the southern bay of Ceuta is the La Ribera Beach and El Chorrillo Beach both are located near the city center and are blue flag certified beaches for quality and safety. Benzu Beach and Calamocarro beach are in the northern bay and have cooler water and rougher gravel beaches. Benitez beach is popular with people that live nearby and has a mix of sand and pebbles.

If you'd rather not hit the beach but want a pool day the Mediterranean Maritime Park located close to the port is a good option. It has salt water pools, green spaces, restaurants, a casino, night club and more. Entry price varies depending on season but is approximate €5 per person.

Shopping in Ceuta
Shopping is one of the big reasons people visit Ceuta, especially coming from Morocco. Ceuta is a duty free zone! While mainland Spain has a 21% VAT on goods in Ceuta VAT does not apply and instead their local tax is only 5-10% depending on the product.
Through the downtown area Calle Camoens Street is a pedestrian street with brand name stores of all types. You'll also find stores like Spanish department store giant El Corte Ingles and Carrefour in Ceuta.
Eating in Ceuta
There are quite a few restaurants in Ceuta, mostly mom and pop type places which is fantastic. You'll find both Spanish and Moroccan restaurants and those that are a bit of both. I've never been disappointed with food but have yet to have a really stand out experience. Below are a few places that we've tried and liked.
Your best bet in Ceuta is to order seafood, it's what they specialize in. We also always order mosto which is a great Andalusian drink if you don't drink alcohol – it's essentially grape juice but the taste is wonderful and a treat as usually you can only find it in mainland Spain.
Restaurant Parador – The restaurant itself is slightly dated but the food is basic and ok. It's not out of this world but especially if you're traveling with children we found it to be an "easy" meal to take in.
Pasteleria La Africana – Not a restaurant but a bakery that has a selection of Spanish bakery items. Try the little doughnuts (usually on the top counter) that are studded with ane.
El Bistro de George – Spanish and Mediterranean flavors for a little more upscale dining experience. The owner also speaks English if you're worried about ordering in Spanish at other places.
El Pescador – If you want a good meal with great views this is the place to consider. They serve plenty of seafood as well as tapas. Perfect for either lunch, snacks or dinner.
Where to Stay in Ceuta
Most anywhere you book in Ceuta will be relatively close to where you want to be. Here are a few suggestions if you're planning to spend the night.
Located close to Ribera Beach and has an outdoor swimming pool if you'd rather not hit the waves. The rooms are also a good size and include air conditioning. A typical Spanish breakfast is provided with plenty of restaurants and other shopping nearby.

Close to the bus stop for buses coming from the border, this is a basic hotel that is clean and will fit the bill for travelers on a budget that want to stay over in Ceuta.
This boutique hotel is beautifully decorated and well situated. If you'll be bringing a vehicle there is nearby public parking. There are two beaches nearby and some rooms have a water view. Plus free drinks and snacks in the room!
There are quite a few listings on Airbnb too which is not a bad option in a small area like Ceuta.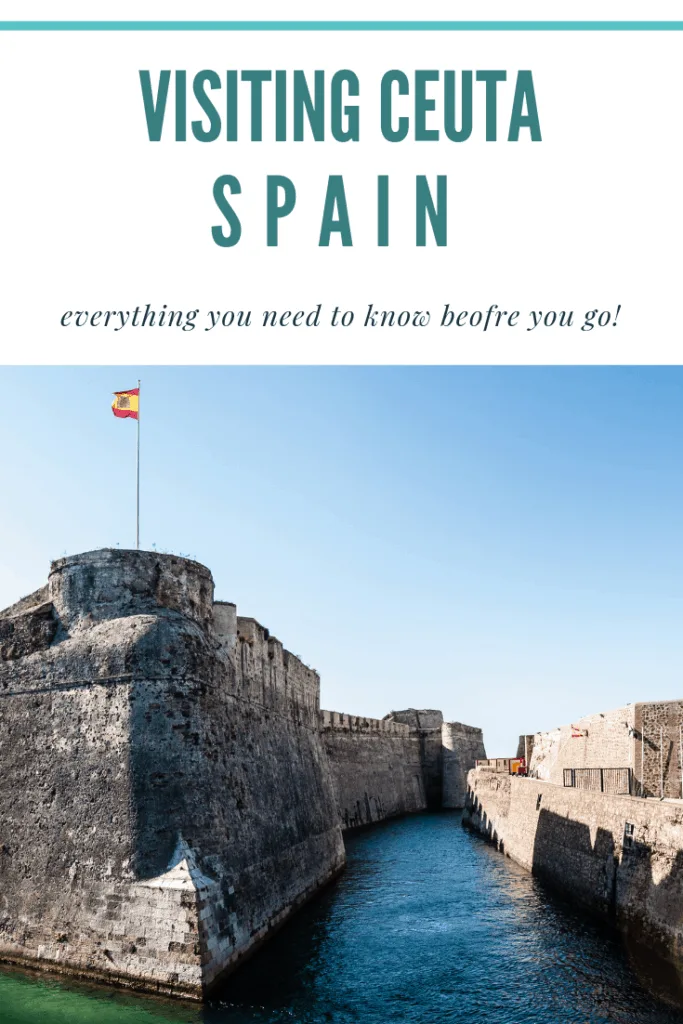 Related Destination Guides:
If you're planning to be near Ceuta than you can easily visit Tetouan and Tangier – both of which are within easy driving distance.