Morocco is known to be full of beautiful adventures. And what better way to experience the destination than with the person you love? Thankfully, if you're looking for a Moroccan vacation for two, there's plenty for you to do.
You can spend a calm and tranquil day soaking up the sun, head off on an exciting escapade through the Sahara Desert, or book a local guide to show you around. There are so many dreamy activities and things to see in Morocco for all personalities and tastes.
This list combines all of the most romantic things to do in Morocco, so read through it and pick out the dates that best suit you as a couple.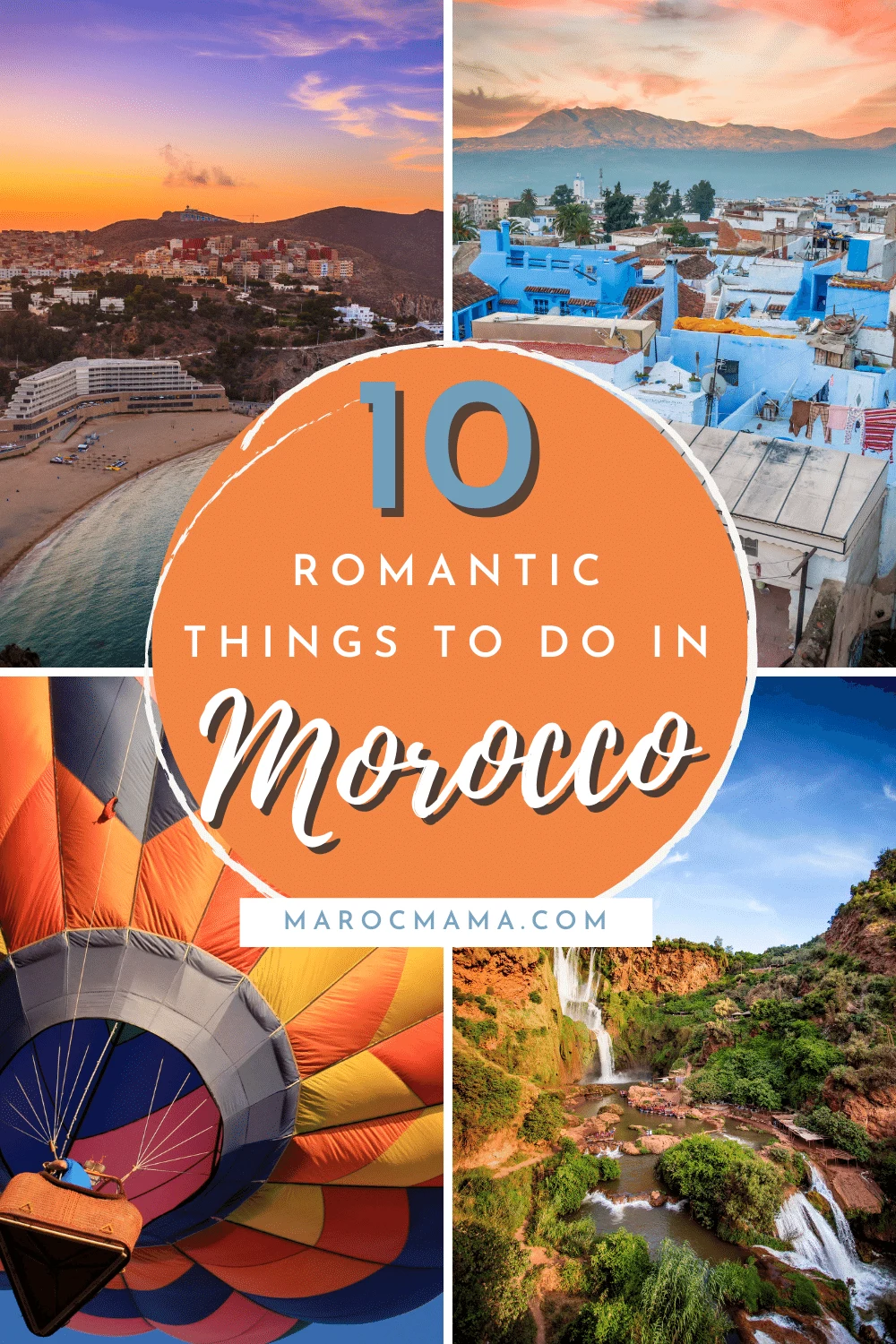 What are Morocco's Most Romantic Things to do on Vacation?
Whether you're off on a couple's escape or spending your honeymoon in Morocco, you'll find a myriad of amorous adventures in this majestic country. From a quiet massage to an exhilarating hot air balloon ride, this list offers something for every type of couple.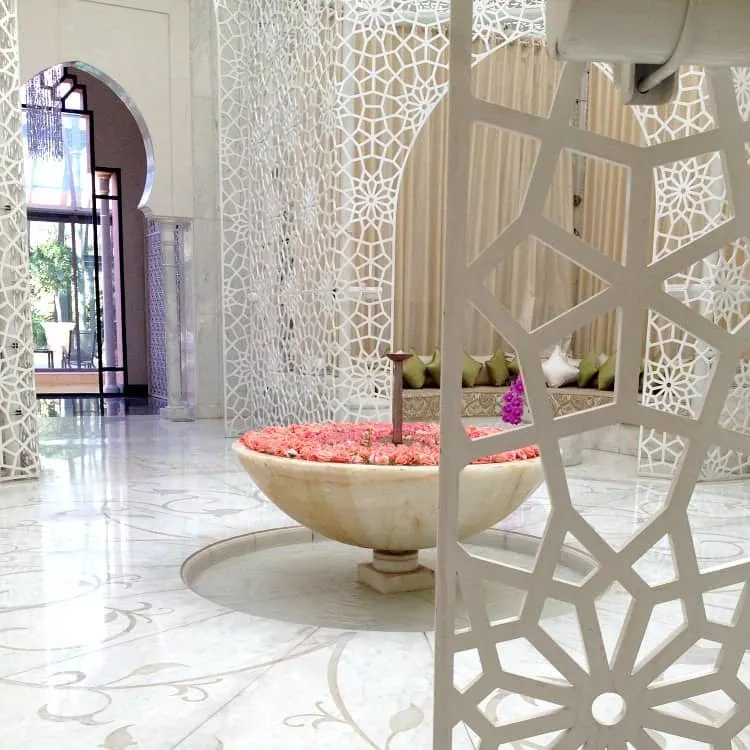 Have a Couple's Spa Day
Spend some quiet time together at one of Morocco's hammam spas. These are similar to Turkish baths, and entail you soaking in a pool or spend time sitting in a steam room. Then you get out and are rinsed, exfoliated, and massaged.
Book a couple's spa day, select your treatments and lay back for a relaxing time together. This is great for the more laidback couple but is also a treat for the duo that has been on-the-go exploring for the whole trip.
This is the perfect time to relax on your holiday, while still spending time as a couple and immersing yourselves in the Moroccan culture.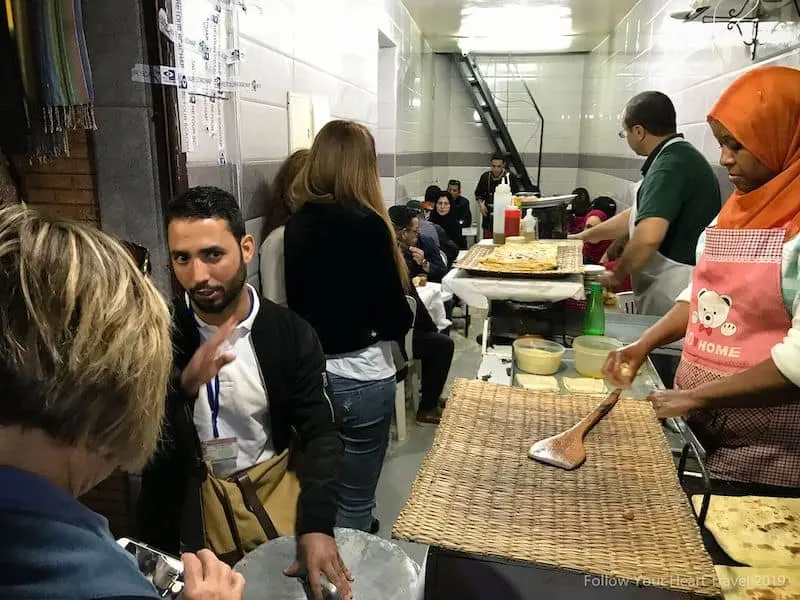 Tantalize Your Taste Buds Food Tour
You know the saying, "food is a love language." So why not explore your love for each other while you discover the many enticing tastes of Morocco. The country's authentic cuisine is full of flavor, using a range of spices and delicious ingredients.
Take a guided walking tour in Marrakech and try out a few sample tastings before you decide what your favorite dish is. A local guide will be able to lead you through only the best stalls and markets, giving you time to stop and savor the many tastes around you.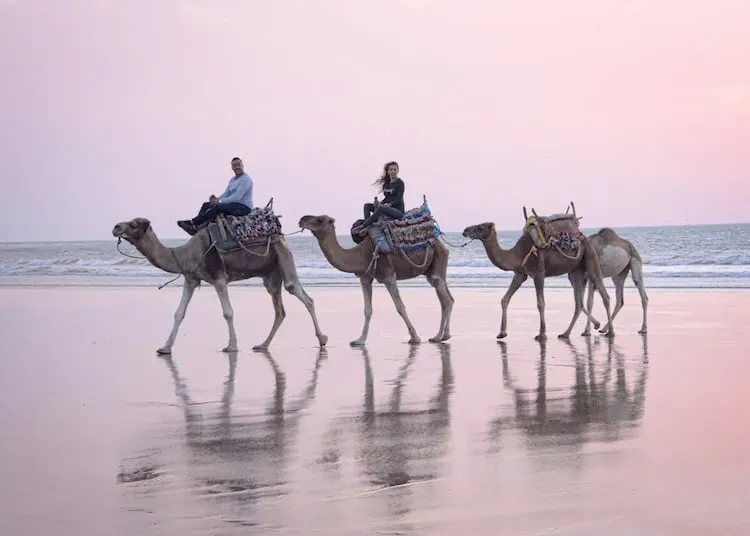 Head Off on a Camel Ride Through the Desert
If you've never ridden on a camel, a Moroccan trip is a perfect excuse to experience this amazing ride. Since there is so much desert surrounding Morocco, the camels here are all happy in their natural habitat and quite relaxed at giving a kind tourist a ride through the sands.
You can also get shorter camel rides in Marrakech, but for a truly romantic excursion, a sunset ride through the desert is ideal. Pair this ride with a guide out to the Atlas Mountains, or simply have a dinner picnic under the stars. There is plenty to enjoy out in the vast desert.
Take a Moroccan Cooking Class Together
This would be a lovely follow-on from the food tour but also works as an alternative, if you're rushed for time. You can find a skilled chef to guide you during your cooking class in Marrakech and get them to share their culinary skills with you.
After the class, you'll be able to enjoy your meal together, so it's really two dates in one. And you'll both have learned a new dish to add to your typical at-home dinner schedule.
This offers a fun activity to do as a couple, and you can continue using the skills you learn at home. Cooking together, whether on holiday or in your own kitchen, is always a great way for couples to spend time together. And the divine tastes and smells will keep all of your senses happy.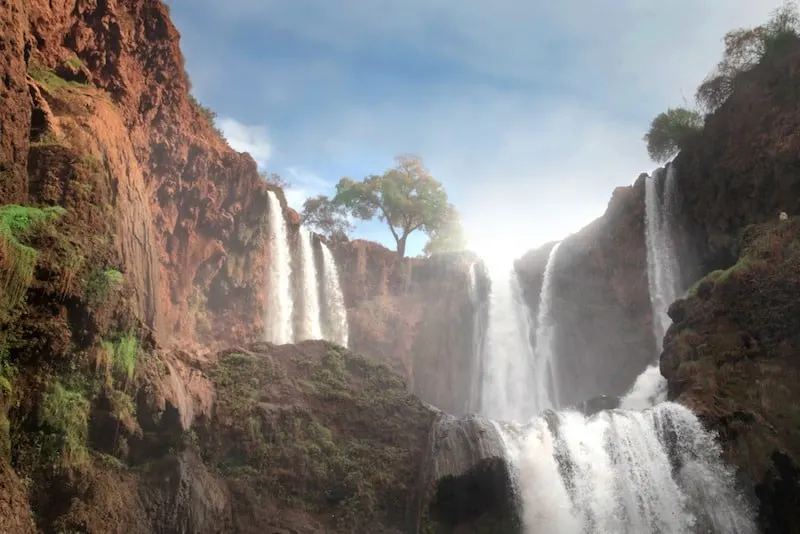 Visit Cascades d'Ouzoud
Found 150 km northeast of Marrakech, near the Middle Atlas village of Tanaghmeilt, you'll find this collection of stunning waterfalls. These are thought to be the most beautiful falls in the world – the only way to know for sure, though, is to see for yourself.
These are also the highest waterfalls in North Africa, at 100 meters tall. The Cascades drop down into the El-Abid River's gorge and create a refreshing pool below them. Here, you can get into your swimsuit and enjoy a cool swim, out of the usual Moroccan heat. Also, keep your eyes out for the Barbary macaque (monkeys) that roam the area and come to the pool occasionally for a cool drink.
Get the best views and access to these falls by booking into Riad Cascades, located a short 5-minute walk from d'Ouzoud. Spending a night here, marveling at the falls, and enjoying the luxury accommodation will certainly provide that romantic feeling.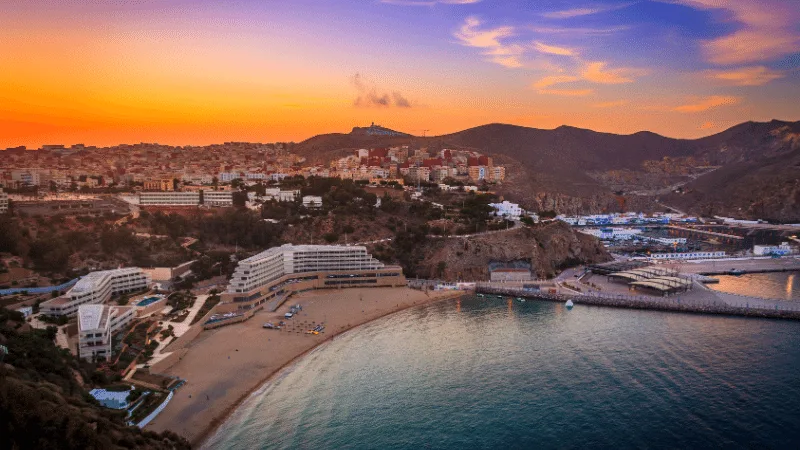 Spend Some Time at One of The Morocco Beach Resorts
If this is a honeymoon, a Moroccan beach resort is highly recommended. These resorts provide access to the most stunning beaches, as well as a list of fun and romantic activities. You can go the adventurous route and try water sports like kayaking or kitesurfing. Or book into the resorts' own spa and enjoy those massages we mentioned above.
The resorts also typically have their own restaurants, so a candlelight dinner is easy to plan. And there should definitely be time to simply sit on the beach and soak up the sun while enjoying each other's company.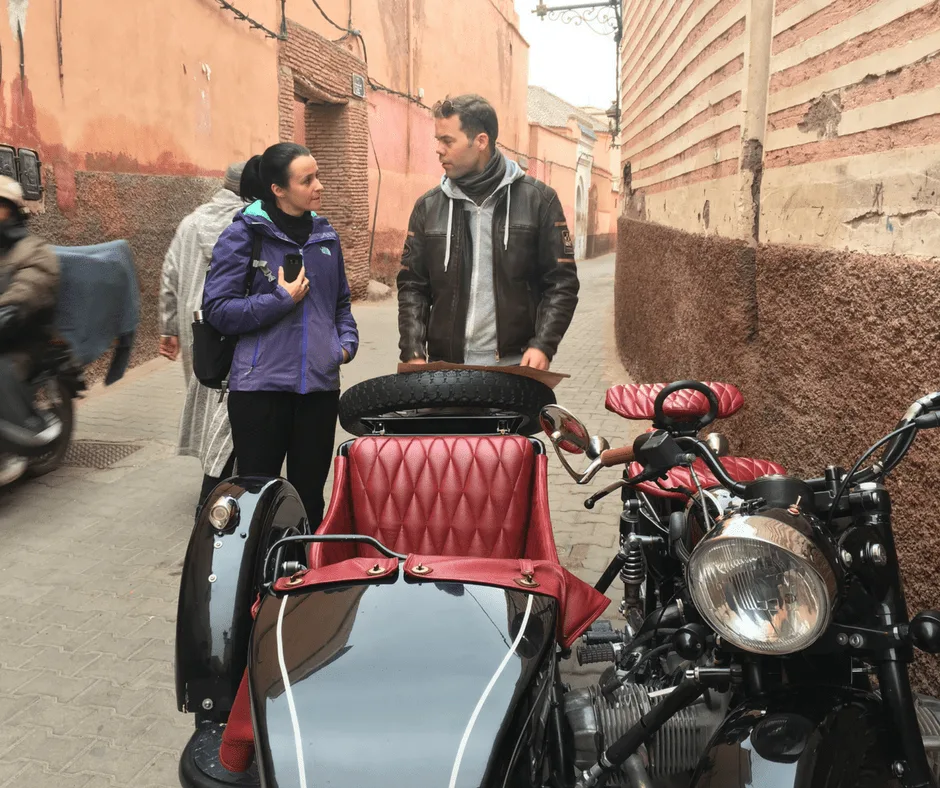 Spend a Day City Sightseeing
Marrakech has so many of the best things to do in Morocco, and many of them are perfect for couples. You can wander the souks at your own pace while finding souvenirs to take home and remember your day by.
Or take a horse-drawn carriage ride through the city streets and people watch as you pass the crowds. There are stunning public parks to stroll through, and a variety of cafes and restaurants to enjoy a drink and a bite to eat.
For more dreamy activities in the city, check out my guide to Marrakech romance here.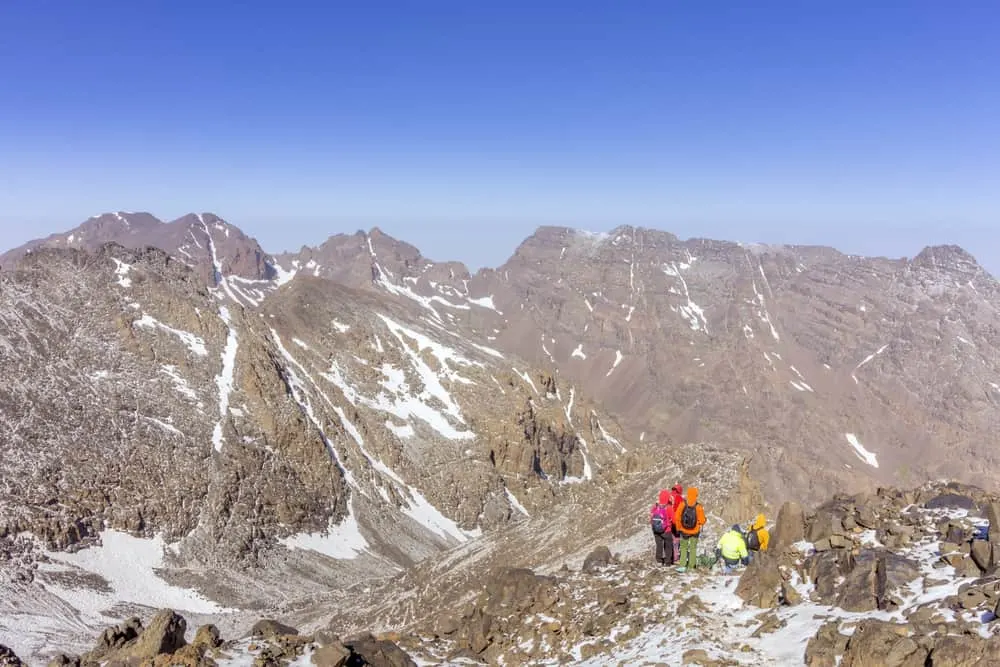 Take a Trip Out to The High Atlas Mountains
If this is your very first time in Morocco, you don't want to miss out on a trip to The Atlas Mountains. This collection of three mountain ranges is absolutely breathtaking and offers a magnificent view of Morocco's history and culture. So it's understandable that this is one of the top things to do in Morocco.
You can take a short 90-minute drive from Marrakech to reach a perfect spot in the mountains to begin your journey. Then decide if you want to do the trip by 4×4 or hike – although if you're hiking, make sure you're properly prepared.
There are great hiking trails, as well as trails to run on and rock climbing spots. And while you're high, it's a good idea to stop at one of the traditional Berber villages. Be respectful of these locals and their lives, but also immerse yourself in their way of living and beautiful homes.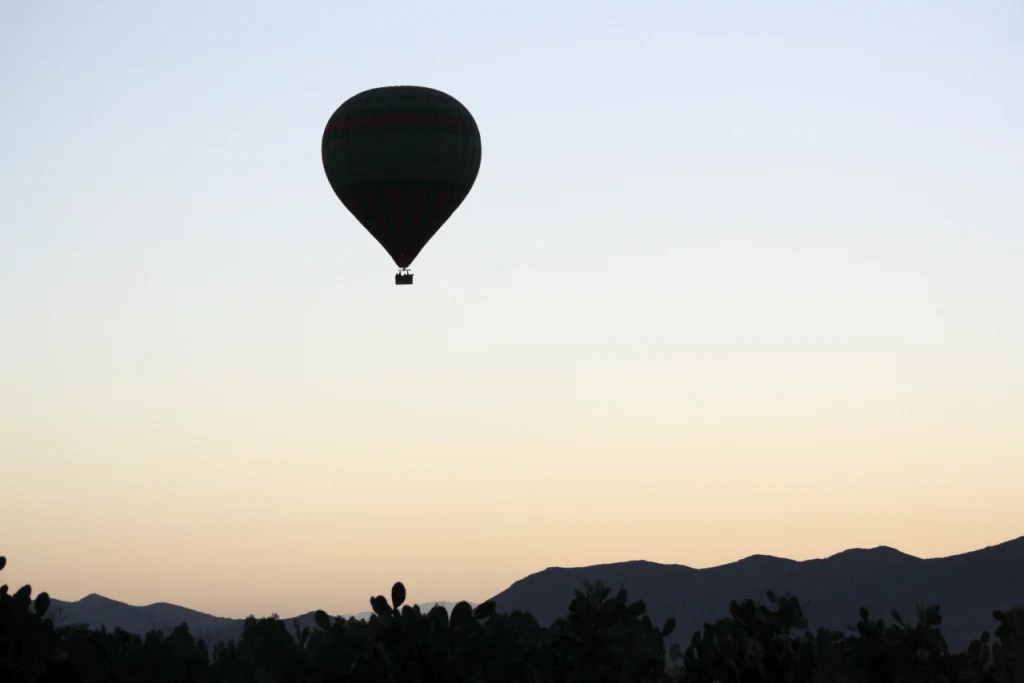 Soar Up High in a Hot Air Balloon
There's something insanely romantic about those big, bright balloons, lifted into the air by a flame, floating serenely among the birds. So if you're in the mood to splurge a bit, a hot air balloon ride above the striking city of Marrakech is an absolute must.
You may have already done sightseeing in Morocco, but this leisurely trip over the small towns, villages, and sandy landscapes will offer a whole new perspective. Take a camera and snap a few selfies from up high, and don't forget to capture the views as well.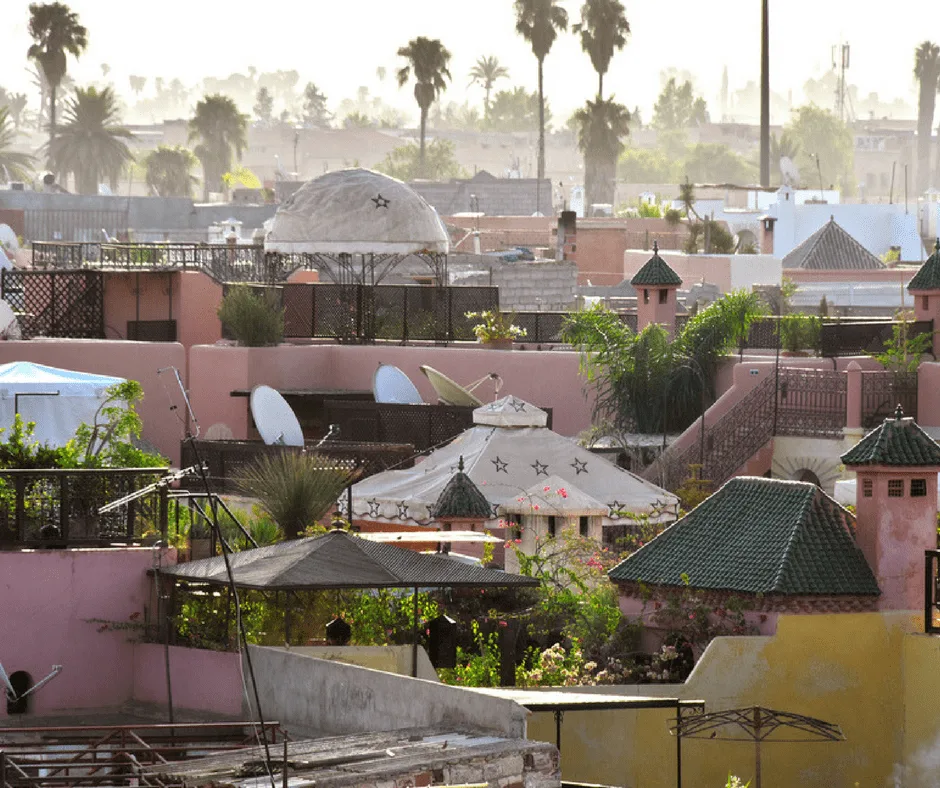 Enjoy Dinner on a Rooftop
Traditional Moroccan homes have flat roofs, which make for the ultimate sunset view spots. And because these became so popular, there are now restaurants, bars, and riads that have furnished and decorated their roof areas specifically for this reason.
Book a table at your nearest Marrakech rooftop restaurant and enjoy dinner under the stars while overlooking the city below. If you go just before sunset, you'll be able to watch the city turn from daytime bustle to nighttime fun, with a stunning show from the sun in between.
What Are Your Favourite Romantic Morocco Vacation Ideas?
The list of romantic and fun things to do in Morocco is almost endless. Whether you're in the country on a short visit, an extended vacation, or are living here, you'll find something new and exciting if you look hard enough.
As a couple in Morocco, there are so many memories to be made, and adventures to be had. You can embrace your adventurous side and chase down waterfalls, or take a chill pill and relax in your love.
Whatever you choose to do together, the important part will be enjoying each other's company and appreciating Morocco's beauty.
---