Morocco, with shores situated along both the Atlantic Ocean and the Mediterranean Sea, is home to some of the best beach resorts in Africa. Whether you're looking for a romantic getaway or the perfect family vacation spot, Morocco has plenty to offer!
Some of the most popular vacation destinations among tourists include Agadir, Tangier, Casablanca and Essaouira. Each of these spots boasts some of the most spectacular coastlines, and are perfect for swimming, relaxing, and water sports.
Morocco also experiences fairly high temperatures for most of the year, providing the ideal setting for the perfect beach vacation! To help you find the perfect accommodation, here is a list of the best beach resorts in Morocco.
Wondering what to pack for your beach vacation? Check out this list of what to wear on the beach in Morocco.
In search of some of Morocco's best beaches in general? This post is for you!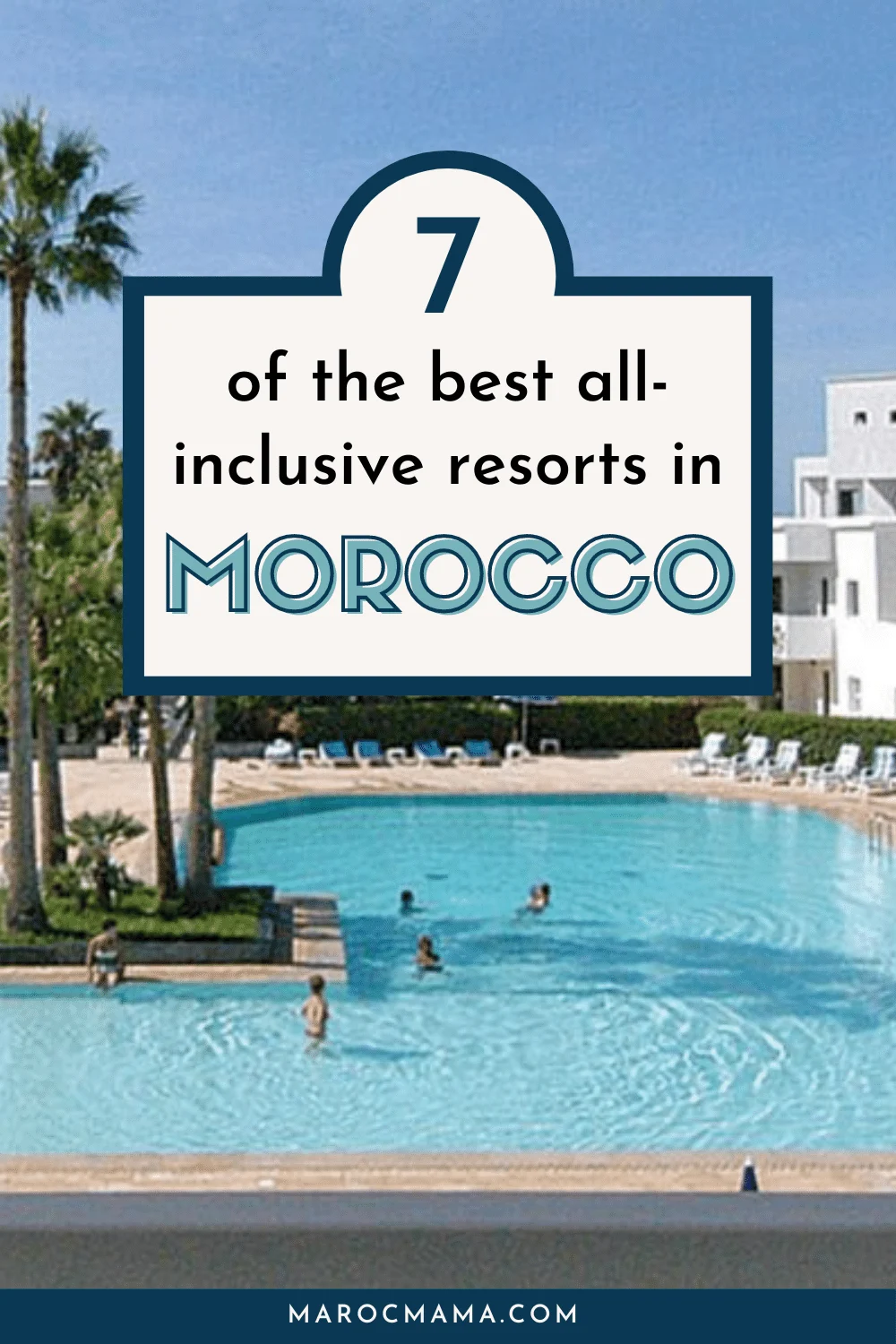 Where are the Best Resorts in Morocco?
Morocco beaches are flagged with many luxurious, all-inclusive, and budget-friendly beach resorts. As such, there are plenty of options to choose from to best meet your budget and travel needs. Here are 7 wonderful Morocco beach resorts to choose from.
Paradis Plage Surf Yoga & Spa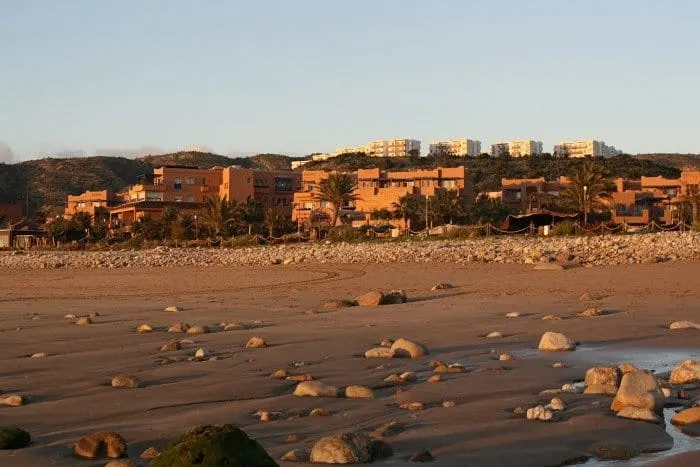 If you're looking for a relaxing (and fun) vacation spot for you and your family, then Paradis Plage Surf Yoga & Spa is most certainly worth checking out.
With the Atlantic Ocean on its doorstep, this resort provides you with direct access to the beach. On the private beach, you'll be able to take part in a number of activities, including surfing and stand-up paddle. Yoga classes are also provided at an outdoor center.
The resort features a spa and beauty center, zen garden, outdoor swimming pool, and several hammocks – all perfect for a day of relaxation. And for the kids, there'll never be a dull moment. The resort features an on-site kids club that organizes a number of fun activities such as beach games and outdoor cinema sessions.
Regarding your accommodation, Paradis Plage includes a number of spacious rooms with large terraces facing the garden or sea. Each room is beautifully designed with modern décor with a Moroccan twist.
Best of all, the resort is situated just 25 minutes away from the popular Agadir town. Paradis Plage offers daily free shuttle transfers to the city center for guests.
Hilton Tangier Al Houara Resort and Spa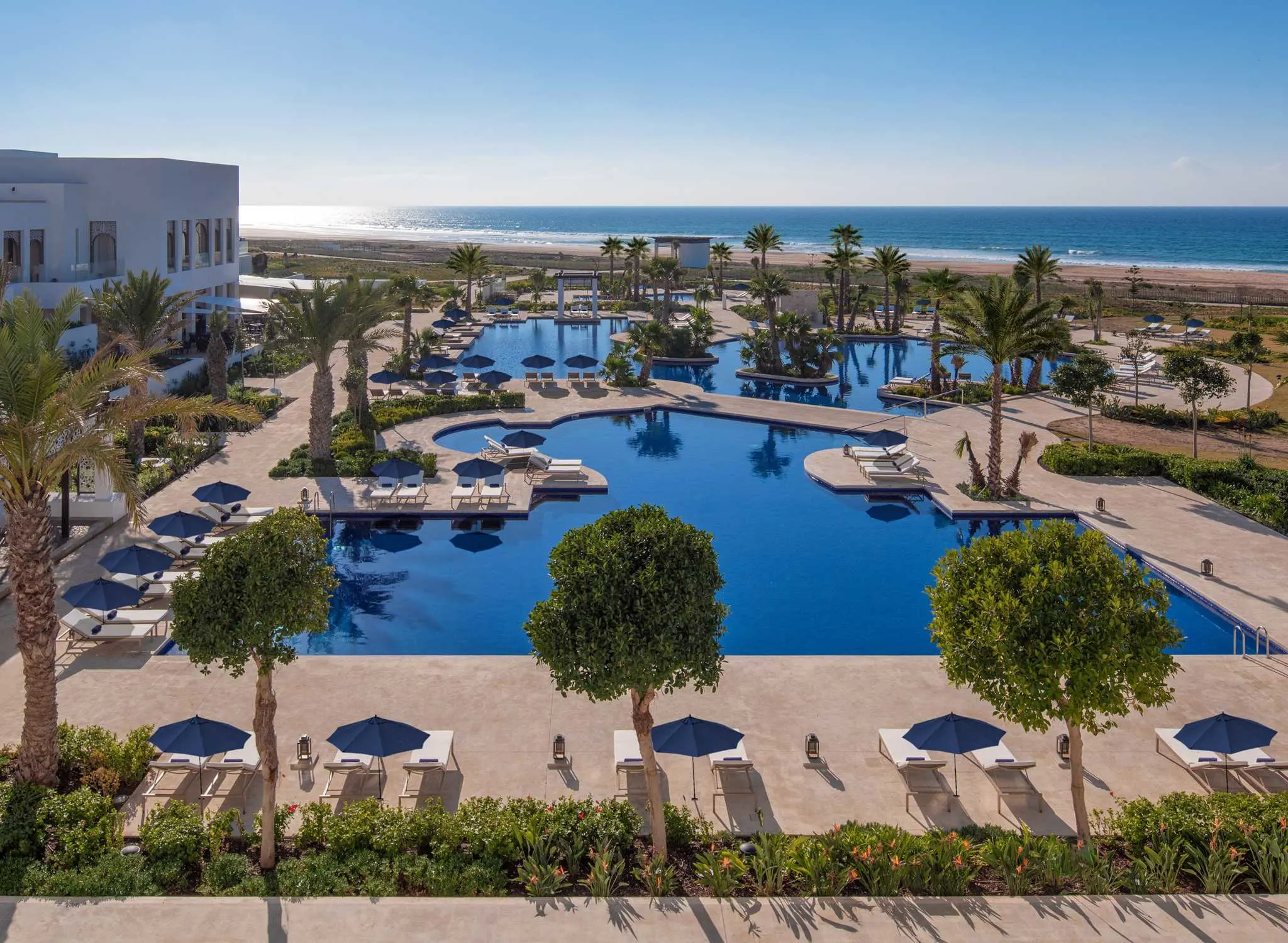 Situated right on the Tangier Morocco beach, the 5-star Hilton Tangier Al Houara Resort & Spa is a great vacation spot for couples, as well as families.
Housing some of the most spectacular rooms, including large two-bedroom apartments, spacious suites, and standard rooms, there is something for all visitors. Better yet, regardless of the accommodation you pick, you're guaranteed a beautiful ocean view!
On-site amenities include a restaurant, bar, two outdoor swimming pools, a game room for kids, a fitness center, and a spa. Additionally, there are two large golf-classes (one 18-hole course and one 9-hole course).
The Hilton Tangier Al Houara is also ideally located just 22 kilometers from the town of Tangier, and 26 kilometers from the beautiful town of Asilah.
Banyan Tree Tamouda Bay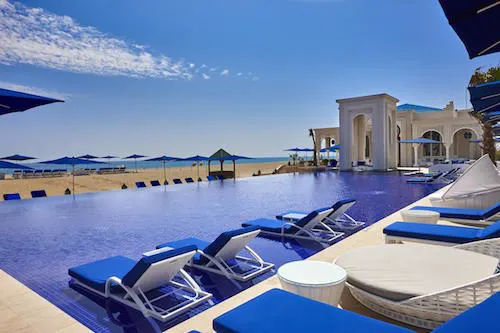 This 5-star resort, Banyan Tree Tamouda Bay, is a luxury all-pool villa resort and is the perfect vacation spot for couples and families alike. The resort, situated on the coast of Morocco, comprises a large sun terrace, a central outdoor pool, and a private beach area.
Most villas in the resort include a private pool, as well as direct access to the beach. The villas are also fitted with a lovely kitchenette, living room, and private hot tub.
The resort includes four restaurants where guests can enjoy a tasty spread of authentic Moroccon and Thai cuisine, as well as Mediterranean-inspired seafood dishes.
Regarding amenities, Banyan Tree Tamouda Bay has an Asian-inspired spa featuring several Deluxe Treatment and Royal Treatment rooms. As well as a Hydro pool, Vitality pool, and fitness center. Additionally, there is a special yoga pavilion.
On the resort's private beach, there are options for snorkeling, diving, and other fun water sports. Cooking classes are also offered occasionally.
White Beach Resort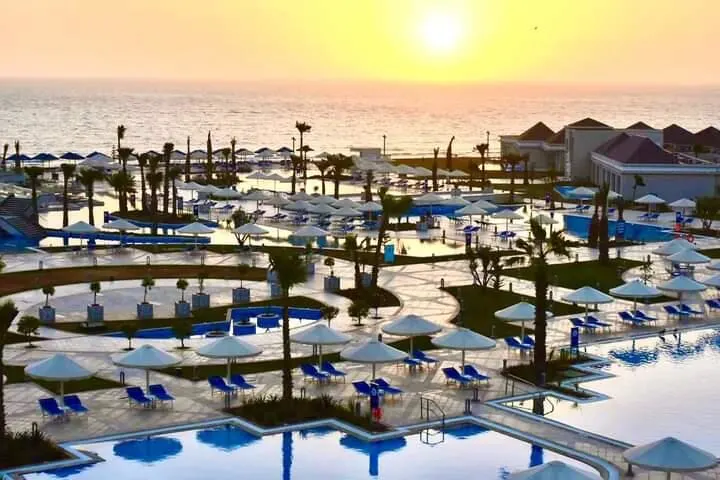 White Beach Resort is an adults-only resort situated on a private beach in Taghazout. With a wide selection of luxury 5-star accommodation, including swim-up rooms, this resort is the perfect location for couples looking for a romantic, sun-soaked getaway!
One of White Beach Resort's most outstanding features is its collection of pools. The resort has a total of seven swimming pools, including two main outdoor pools surrounded by umbrellas and loungers.
There are also a number of bars, a restaurant, spa, and fitness center. As well as plenty of activities to take part in such as archery, aerobics, tennis and water sports. With so much on offer, there will never be a dull moment at this luxury resort.
La Tour d'Eole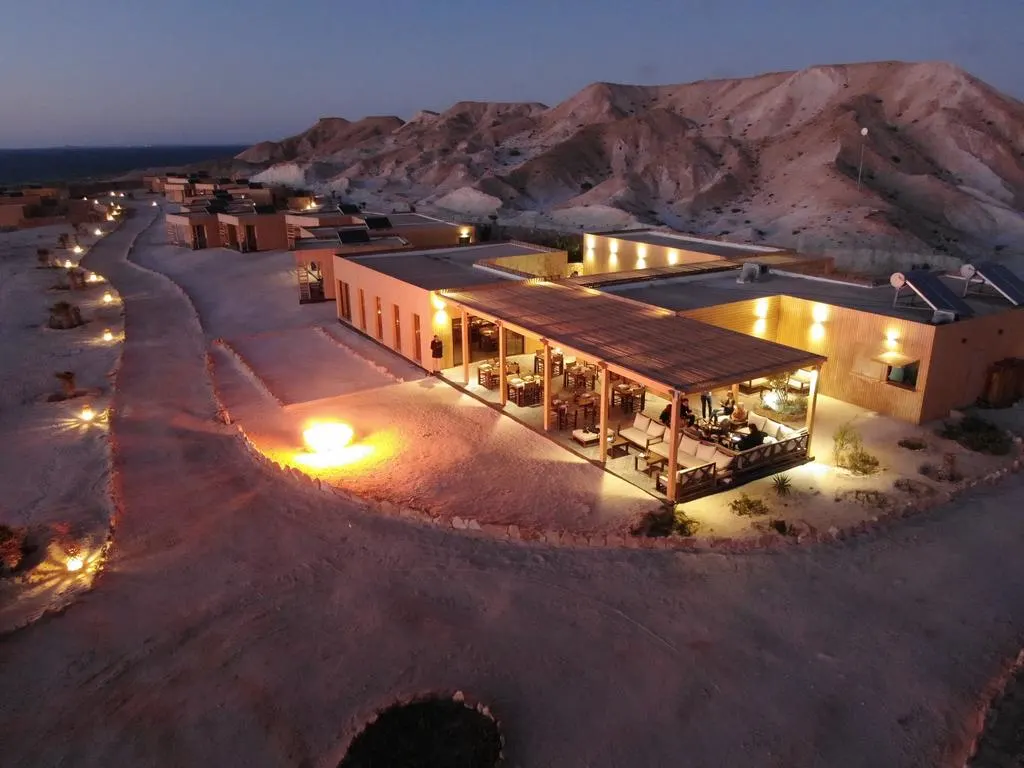 This truly unique resort, nestled perfectly between the Dakhla lagoon and Moroccan desert, is a haven of peace. It's the perfect spot for couples looking for a relaxing getaway.
La Tour d'Eole was built to perfectly coexist with its natural surroundings. The eco-friendly resort comprises 21 private bungalows. These are all built from sustainable materials, and designed to provide guests with a sense of intimacy, comfort, and relaxation.
The resort has its own Ocean Academy, which provides a number of fun activities and excursions. The warm temperatures and constant wind offer the perfect conditions for a day of kitesurfing and stand-up paddleboarding. You can also enjoy sunset yoga classes, a private spa room, and a heated outdoor swimming pool.
A noteworthy excursion offered by La Tour d'Eole is the White Dune excursion. Arrive by 4×4 and trek over the mesmerizing white dunes overlooking the Dakhla lagoon. Then enjoy a day at the Ocean Academy, as well as a visit to the Asnaa Springs for a relaxing massage in hot, sulfur-rich waters.
Royal Decameron Tafoukt Beach Resort – All Inclusive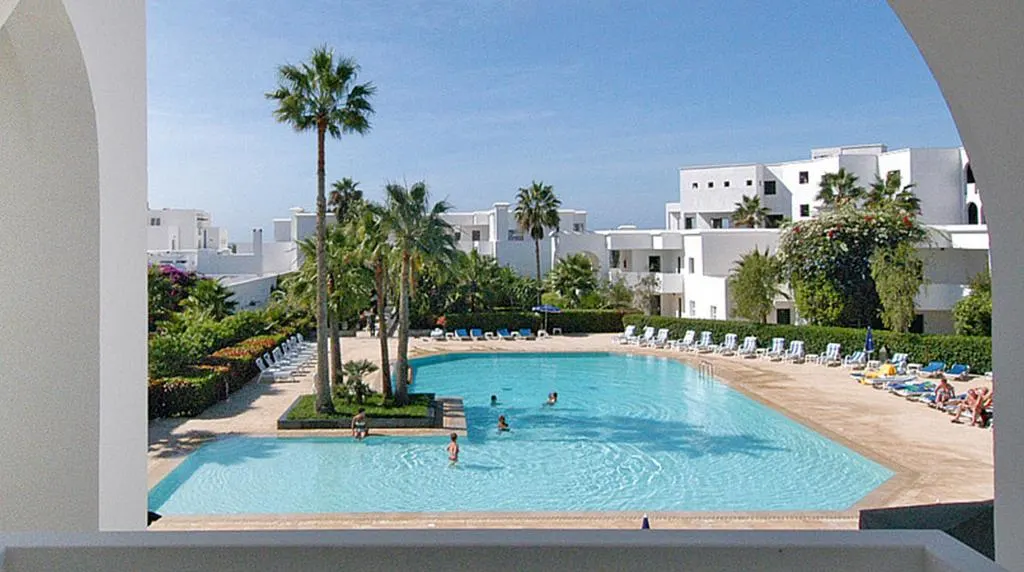 Ideally located just 10 minutes away from Agadir city center, Royal Decameron Tafoukt Beach Resort is a great option for travelers. Especially families, seeking an activity-filled vacation.
The all-inclusive beachfront resort features two on-site bars offering endless complimentary drinks for all guests. There are two restaurants, Café del Mar and Muso, offering a delicious spread of Moroccan cuisines and other international favorites. Before starting your day, fill-up with a continental buffet-style breakfast served each morning.
The resort also features an outdoor pool where events and activities are organized daily. Guests can partake in a variety of action-filled fun like aqua sessions, aerobics, and beach volleyball. There is also a kids' club offering fun things to do all day. For the golfers, the resort is just 12 kilometers from the Agadir Royal Golf Club.
In the evenings, enjoy wonderful shows hosted by the resort's entertainment team. Adults may also visit the hookah lounge, as well as The Factory nightclub, which features a DJ and open bar.
Mazagan Beach & Golf Resort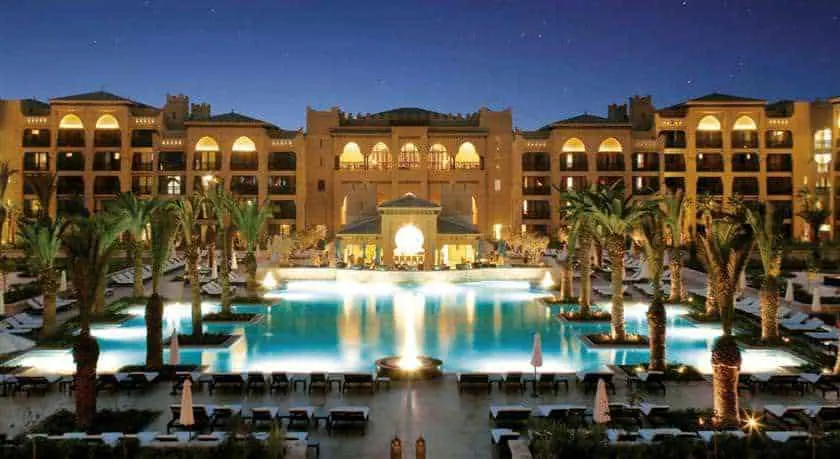 Mazagan Beach & Golf Resort provides an ideal location for travelers, situated comfortably along the Atlantic coastline and just a 20-minute drive from the town of El Jadida. The resort is also a one-hour drive away from the popular Casablanca.
This luxury 5-star beach resort has plenty to offer, making it the perfect accommodation for both couples and families. Mazagan Beach & Golf Resort features several pools, a spa, fitness center, night club, and a separate club for kids and teens.
One of the resort's more unique features is its wide selection of restaurants. With 14 eateries serving some of the most exquisite Moroccan and international cuisine, your taste buds are sure to be wowed. The resort also offers some unique activities like ATV biking, rock climbing, and horseback riding, as well as an 18-hole golf course.
Regarding accommodation, the resort has plenty of spacious guest rooms offering a tasteful contemporary design with Moroccan features.
Have You Found Your Favorite Morocco Resorts?
With plenty of spectacular resorts ideally located on some of the best beaches in Morocco, you're guaranteed your perfect coastal vacation. Whether you're a couple looking for a relaxing getaway, or a family looking for a spot that's fun for both the parents and kids, Morocco most certainly has you covered.
Regardless of which accommodation you stay at on this list, whether it's a Morocco all-inclusive resort or a luxury villa, you're bound to have an unforgettable stay. So come and soak up the sun, eat delicious food and enjoy good company.
For the parents, here's everything you need to know about visiting Morocco with kids.