Something magical happens in the tiny town of Kelaat M'gouna, which is situated in the Dades Valley. Dades Valley is locally known as the 'valley of roses' and every year, it bursts into bloom with thousands of soft pink, fragrant roses.
For centuries, roses have played an important part in sacred ceremonies, joyous Moroccan weddings, formal occasions, and romantic offerings. Today, roses are harvested across Morocco and then turned into rose oil and water. It's used in everyday life or sold across the world.
To celebrate this wonderful harvest and the benefits of these blossoms, the cheerful Rose Festival in Morocco takes place.
Whether you're joining in on the festivities, or simply planning a visit around the Valley of Roses, you'll find all the need to know below. As well as what you can get up to in the surrounding area.
Valley of the Roses Festival in Morocco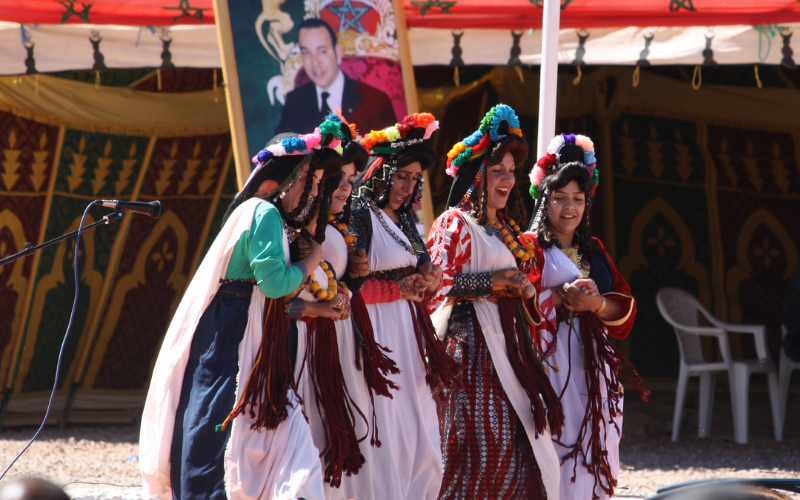 Each year, El Kelaâ M'Gouna hosts the roses festival as a way of celebrating the wondrous harvest of these blossoms. Around 20,000 people gather around this quaint and charming town to soak up all the festival's joy and excitement.
The festival starts with thousands of roses being blanketed across the tanned street. This transforms them into roads bursting with tones of soft pinks. It doesn't just leave the streets looking fantastic; it also fills the air with the delightful smell of roses.
Overall, the festival of roses is a time for folk dancing, singing, celebrating, and feasting. Markets and souks display their finest products, and you'll be tempted to spend the entire day sampling new exotic foods and fresh rose produce, like jams and waters.
If there were any day to visit the 3-day festival, it would be on the last day. This is when dozens of beautiful women come dressed in their most impressive kaftans and decorate themselves with roses. They're all hoping to win the title of 'Miss Rose'.
When Does the Rose Festival Start?
The rose festival dates vary each year. This is because it depends on when the roses bloom and when they're ready to be harvested. Usually, the festival happens within the first few weeks of May.
It starts on a Friday and will end on Sunday. While tourists are more than welcome to attend the festival, it should be noted that it is mainly frequented by local farmers and villagers.
In preparation for the festival, everybody has a job to do. Days before the event, locals work hard to place the petals on rooftops to dry them out in the sun, pack canvases with dried petals and make potpourri.
Accommodation for the Annual Rose Festival
Accommodation is limited for those hoping to stay in the region during the festival.
Situated in the Valley of Roses, Kasbah Chems is a top-rated B&B that offers Dadès Gorges and the Roses Valley tours. With a terrace and outdoor balcony, you'll be blessed with sweeping views of the surrounding mountains.
Alternatively, Kasbah Agoulzi is also situated in the Valley of Roses and is a beautiful place to spend a couple of nights.
Depending on how in advance you book your accommodation, you might end up staying in Skoura or Ouarzazate. From these destinations, you can travel by taxi or rental car to reach the Dades Valley.
Things to do in El Kelaâ M'Gouna: The Valley of Roses
As a tourist, it might be tricky planning your visit around attending the festival. If your visit coincides with the rose fest, that's wonderful! However, there are several other adventures you can get up to before the festival or even throughout the year.
Marvel at the Moroccan Flowers
The days leading up to the festival are just as spectacular as the festival itself. It provides you with the opportunity to wander through fields of fresh roses.
The fragrance of these magical little blossoms is best enjoyed in the morning. The roses are stripped early in the morning to capture this fragrance before the sun burns it out.
It's best to wake up bright and early to catch the best of the bunch. One whiff of these blossoms and you'll understand completely why Morocco loves dedicating a festival to the roses each year.
Keep in mind, flowers aren't the only beauties that line these paths. You'll also find trails dotted with date, orange, and fig trees.
Visit a Distillery
Don't miss out on the opportunity to visit one of the distilleries in El Kelaâ M'Gouna. Learn the art of creating rose water. This is done by carefully extracting the perfume from the Damascena rose blossoms to produce the iconic rose water.
Rosewater has been in Morocco for generations and has many wonderful benefits. It's used as a moisturizer that holds incredible anti-inflammatory and anti-aging properties.
Did you know that it takes 7,000 pounds of rose petals to produce a 35-ounce bottle of rose oil?
El Kelaâ M'Gouna thrives off of producing rose products, so you can expect to find rose oils, perfumes, creams, soaps, and jams. The best way to support the locals is to purchase one (or many) of these products that are unique to the region.
Chez Pierre Restaurant
You're in Morocco, and that means you're going to be feasting on some exceptional meals. Chez Pierre combines the market-fresh produce found in Morocco with a flair from the Mediterranean.
Each day you're in for a new treat with a different menu. Some of the treats you can expect to find at Chez Pierre include spicy dumplings with mint, goat's cheese, and beetroot in a roasted almond crust, and grilled cheeses with honey.
Ready to Embark on an Adventure to the Valley of Roses in Morocco?
While the period to visit the spectacular flower show is brief, the weeks and days leading up to the Moroccan flower festival are just as incredible.
Wander through paths dotted with soft pink roses with delightful scents that waft through the air. Or learn the art of rose water making by visiting a local distillery. And if you're not traveling here during April or May, it's still worth a trip to see the glorious mountains and enjoy some downtime.
Be a part of the MarocMama family!
Do you want access to all things MarocMama? Join our community of readers to get updates on new posts, inside information that won't go on the blog and so much more!
Sound good? Pop your email below and you're in!