Malaga is so close to Morocco and yet we had never visited until recently. Ryanair opened up a direct Marrakech to Malaga flight making it much easier (and faster!) then the ferry transfer from Tangier.
Our itinerary for this trip might be different than what you may consider. We flew from Marrakech to Seville and immediately took the train to Cordoba where we stayed for a few days. We then took another train to Malaga and flew Malaga to Marrakech home.
While we really enjoyed Cordoba, I think both MarocBaba and I were surprised at how much we liked Malaga. Truthfully it's known a bit as the place elderly Britons go to retire so we were a bit apprehensive. But what we found was a fun city with some great food and a place we felt at home.
My personal recommendation would be to spend three days in Malaga but if you don't have that much time, or will be visiting for a single day only I've created a few itineraries keeping that in mind. You can combine all of these or two of these if your time in Malaga is longer.
Getting Around Malaga
Malaga is a fairly small, walkable city. We managed fine without any special transportation. That being said we also made use of the city bus which is easy to understand and you can pay in cash when you enter. This was helpful for the long distances.
If you have Uber, Malaga also has Lime electric scooters – everywhere! It's where we first were introduced to them and may have bought one to bring home to Marrakech. If you have internet connectivity you can download the app, check one out and use it whenever you'd like.
Itinerary One: Highlights of Malaga
Malaga is an old city; founded by the Phoenicians in 1000 BC. The Carthagians and Romans also ruled followed by the Moorish rule over Andalusia from 711 – 1487. Many of the buildings from the period before Christian rule in the 15th century have been destroyed but there are still some vestiges that you can see.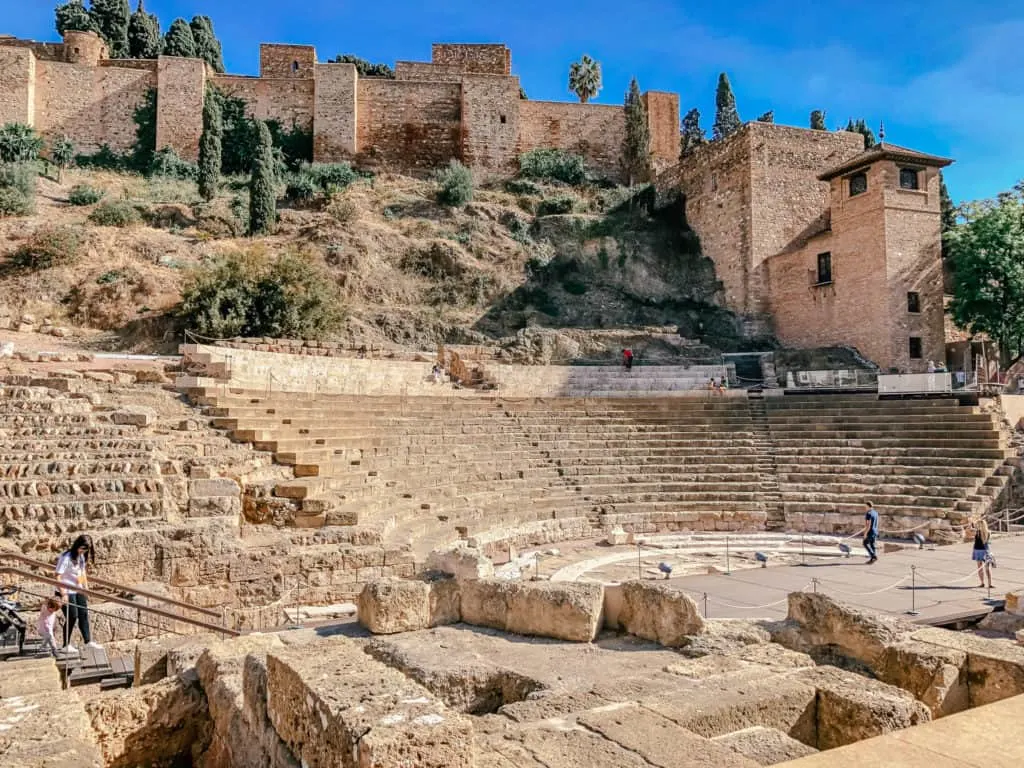 The Roman Theatre
This is, as you can see an old Roman theatre in downtown Malaga that does still hold performances today. You can visit the ruins and walk through them and there is a small museum with artifacts just to the left of this picture. If you walk just right of the theatre you will find the walkway that will lead you to visit another important site.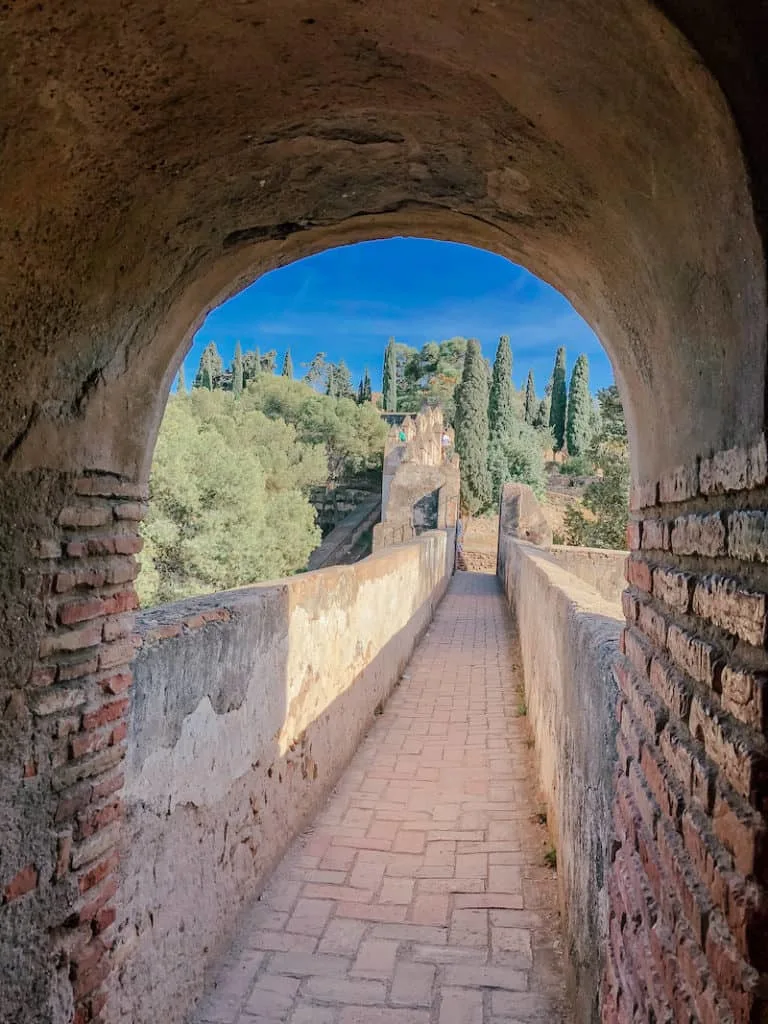 The Alcazaba and Castillo Gibralfaro
It is a quite a long walk to get to the Alcazaba and Gibralfaro from the theatre however if you're someone that enjoys a good uphill walk it is worth it. It will take you about 45 minutes to make the walk and it's a good idea to wear decent walking shoes and have some water with you.
This was a city on top of the hill, a palace fortress, that overlooks all of the surrounding areas. There are over 100 tower lookouts and kilometers of walkways. It's a really interesting area to explore and entry is 5,50€ (it's free Sundays after 2pm!) If you don't want to walk you can take bus number 35 will bring you up as well.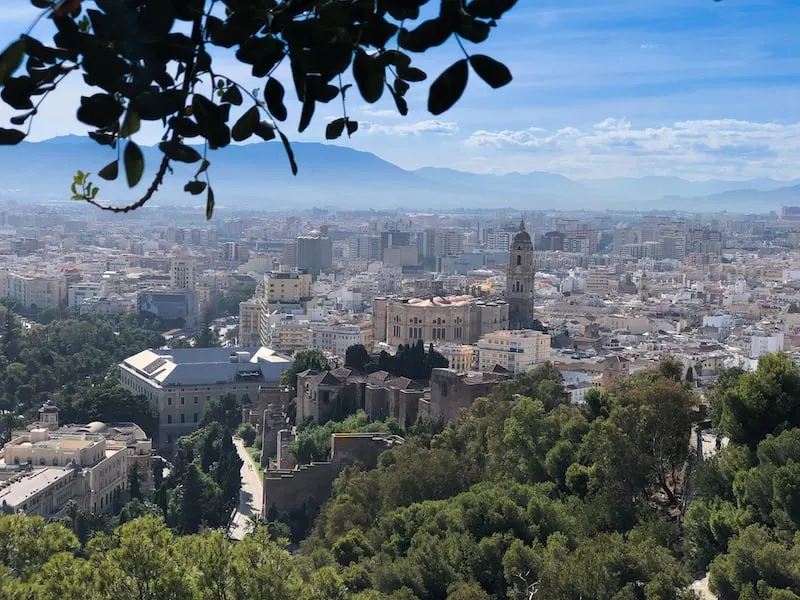 Catedral de la Encarnación de Málaga – Malaga Cathedral
This is the highest point in Malaga and you can see it from just about anywhere. Typically cathedrals have two towers but as you can see there's just one on this church. It was constructed between 1528 and 1782, and it's stated that the missing second tower is because the funds for that tower were diverted to help the United States to gain their independence from Great Britain. You can visit the interior for €6 and there's an option to take a guided tour to the roof – if you can handle the 200+ steps.
Itinerary Two: Museums and Beaches
These two things may not really go together but I feel like if you're going to spend part of your day inside you should also spend part of it outside – and there's no better place to do that than in Malaga!
The Picasso Museum
Malaga is where Pablo Picasso was born and this museum is a tribute to the artist. It shows his journey as well as many of his works. I personally love art but MarocBaba is not a fan. I had to drag him here. We used the audioguide and toured in a little over an hour. It has a lot of Picasso's works but not so many that it was overwhelming. I booked our tickets in advance which I recommend doing.
Center Pompidou Malaga
This is a branch of the Paris based Pompidou Museum. It features a permanent contemporary collection of artworks and rotates other shows throughout the year. Film, photography, dance, design, and architecture are also featured through temporary exhibits and performances.
Playa de la Malagueta
This is the easiest beach to reach in Malaga because it's very close to the downtown area. It has a long stretch of sand, bicycle and walking paths, volleyball courts, playgrounds and chiringuitos (which are food and drink stands). We visited in late November so it wasn't exactly ideal weather for getting a sun tan and many of the food places were closed however there were still some beachside restaurants open.
If you want to discover more Malaga beaches check out this post from my friend Lauren of Spanish Sabores.
Itinerary Three: Shopping and Eating
If you're me you might skip everything above and just focus in on this but we have to have balance right?
Atarazanas Market
I can not turn down a trip to a food market – if there's one in a city I will make it a point to visit. You can learn so much about a place and a culture by how they shop and eat! Fun fact, this market was actually built to be a shipyard during the Moorish rule in Malaga and didn't become a food market until the 19th century. We spent a long time wandering here and some of the things I picked up were candied lemons and oranges, fried marcona almonds (the best!), giant olives, and miel de cana (sugar cane honey that's put on fried eggplants here).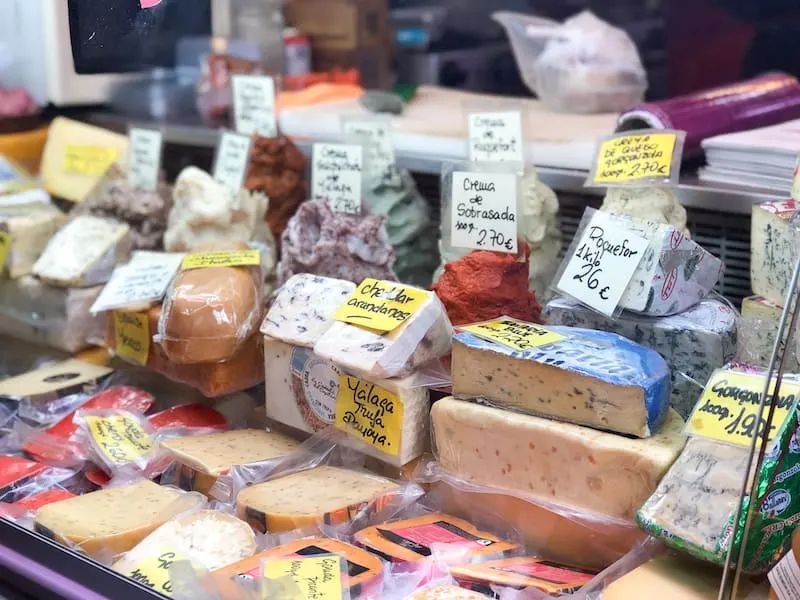 Be on the lookout for specialty foods that are found only here. For example at this cheese shop I discovered "lomo en manteca" which is marinated pork loin preserved in lard. This caught my attention because in Morocco we have khlii, which is sheep meat that is preserved in fat – same thing different animal. I have to believe there's a connection to the Moorish past there and I LOVE finding unique things like this in my travels.
Outside of the market there are a lot of restaurants and food shops too so you can spend a long time wandering and eating your way around!
Calle Larios (and surrounding streets)
Just like most Spanish towns Malaga has pedestrian streets that are full of shops, restaurants and cafes. Here you'll find the big name brands that are ubiquitous throughout the world but you might also find some gems. For example Primor is a perfume (and general cosmetics) store that sells perfumes at a price lower than many big box sellers. Even if you don't want to buy anything this is a good place to take a walk and people watch!
Malaga Pass
If you are planning to hit up many of the attractions in one day or two you may want to consider investing in the Malaga Pass. It has admission to many of the sites of Malaga but also discounts on a wide range of things. You can purchase ahead of time and load onto their app so you can take advantage of things like hotel discounts before you even leave home.
Where to Eat in Malaga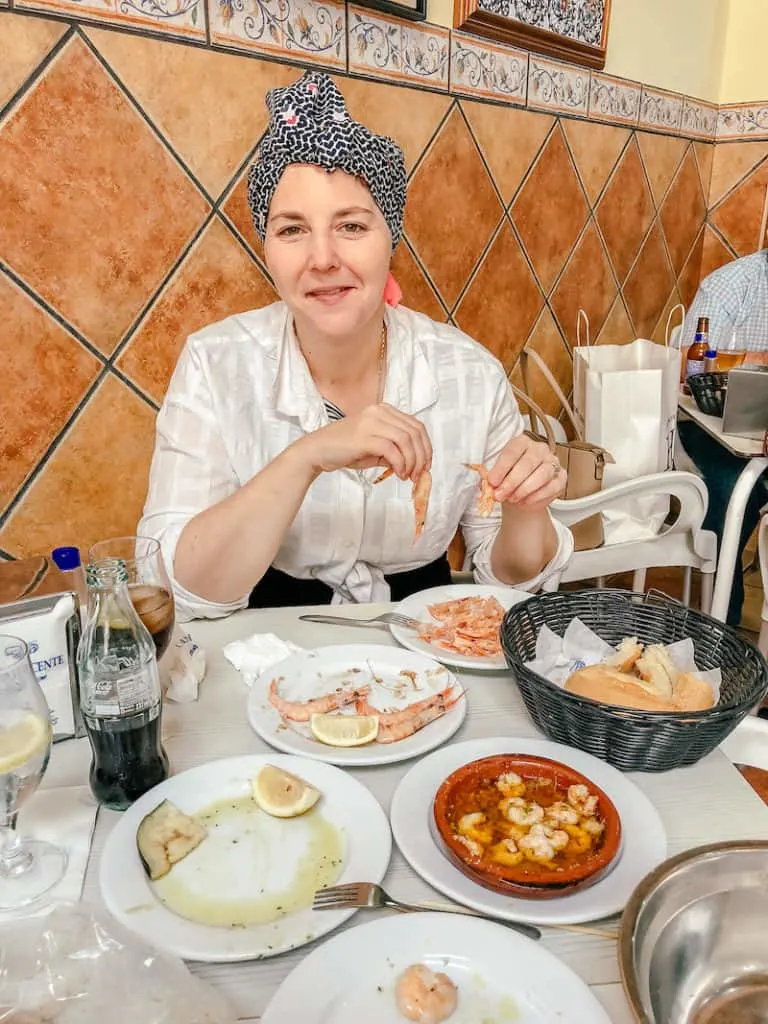 Feel free to mix in these food suggestions throughout your stay! I haven't specified days for these – I think it's better to let your stomach lead the way.
Marisquería Casa Vicente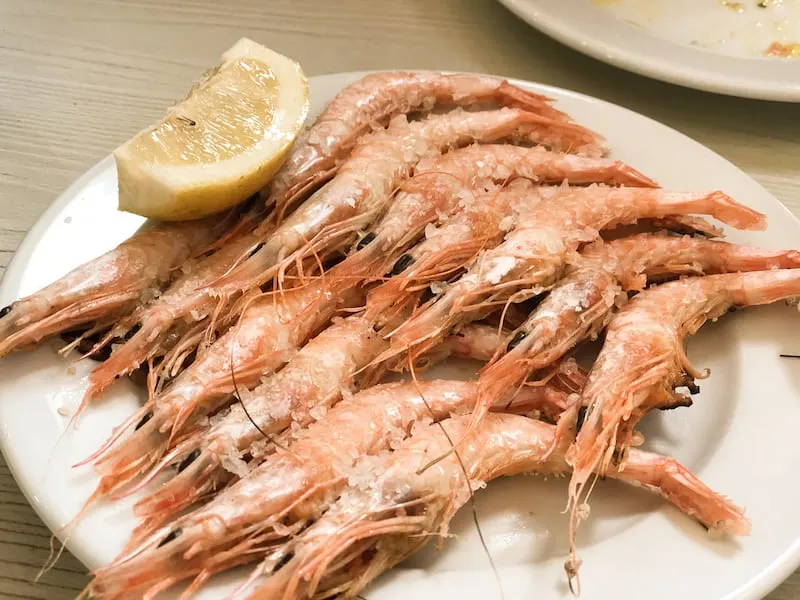 A very no frills place with some delicious seafood. We highly recommend ordering the shrimp as well as the fried eggplants. It's close to the central shopping area and market in Malaga. There's usually a crowd around meal times so be prepared.
Cafe Central Malaga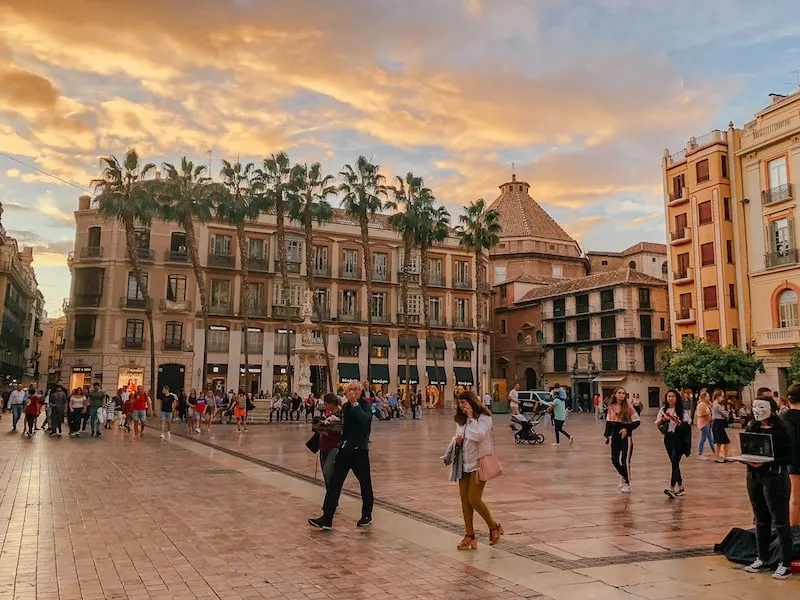 This is your sunset views if you choose to pull up a seat and enjoy a coffee and snack here. They do have a full menu but personally I'd stick to just a pick me up or a simple breakfast.
Farina Malaga
I know you're thinking pizza in Malaga? It's true and I don't deny my need for some pizza. I love that this place offers tablas like this – a mixture of several different foods. The bad news? If you're staying in central Malaga it's a bit of trip to reach. But if you're in need of a pizza there's no distance too far right?
El Pimpi
Tapas, tapas, tapas yes please. This restaurant only works with local farmers to create amazing tapas and main dishes. Yes they have staples like patatas bravas, Spanish tortilla, and fried eggplant. But, you should also try one of their signature sandwiches made on a crunchy bread as well as the boquerones (anchovies) that are extra popular along Mediterranean coasts.
Looking for a low-budget eating option?
We've found that the cost of food in Spain can be really affordable. Head to one of the grocery stores in Malaga and pick up everything you want/need for a picnic! Thanks to lots of days with sunshine, a beautiful beach and plenty of take and go food options it's easy to throw something together. Our go to staples in southern Spain?
Fresh bread, a couple kinds of cheese, olives, cured meats (yes they have cured turkey/chicken and beef too), cured tuna or sardines, and something sweet. In Andalusia we also always get a bottle of mosto – it's the pressed grape juice right before the wine making process begins and we LOVE IT! You can easily put a meal together for two people for under €15.
Malaga is a really laid back destination for anyone visiting southern Spain or taking a day trip from Tangier!