When I was growing up I don't ever remember hating vegetables. I could never relate to those cartoons of kids rejecting them. Thankfully most of my kids feel the same way. Maybe you'd have to ask my mom but I have always really liked them.
Except for onions – don't ask me about onions.
But, I wasn't a fan of cooked vegetables. I grew up eating things right off of the tree and out of my grandpa's garden. If it was a raw fruit or vegetable I was all for it. Cooked things were a different story.
Cooked peas? Nope.
Cooked spinach? No, thanks I'll take the leaves, please.
As I got older I started to see more and more recipes that roasted vegetables and that intrigued me. It only really took roasting carrots once for me to realize I was completely ok with carrots cooked this way.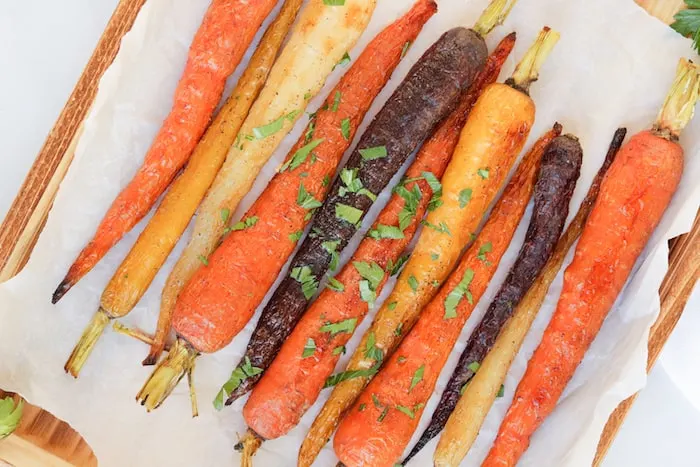 It also led me to try different ways of using roasted vegetables. Sure they make a great side dish but they also are beautiful all on their own. For these I wanted to pay homage to Morocco and did so with the inclusion of a simple ingredient; ras al hanout.
This spice is really not a single spice. It's a mix of a lot of different flavors. Ras al hanout means "head of the shop" and each spice shop has its own blend so no two will taste the same. Some are sweeter some are spicier so you have to really try and find one you like. Usually, this is possible through the smell.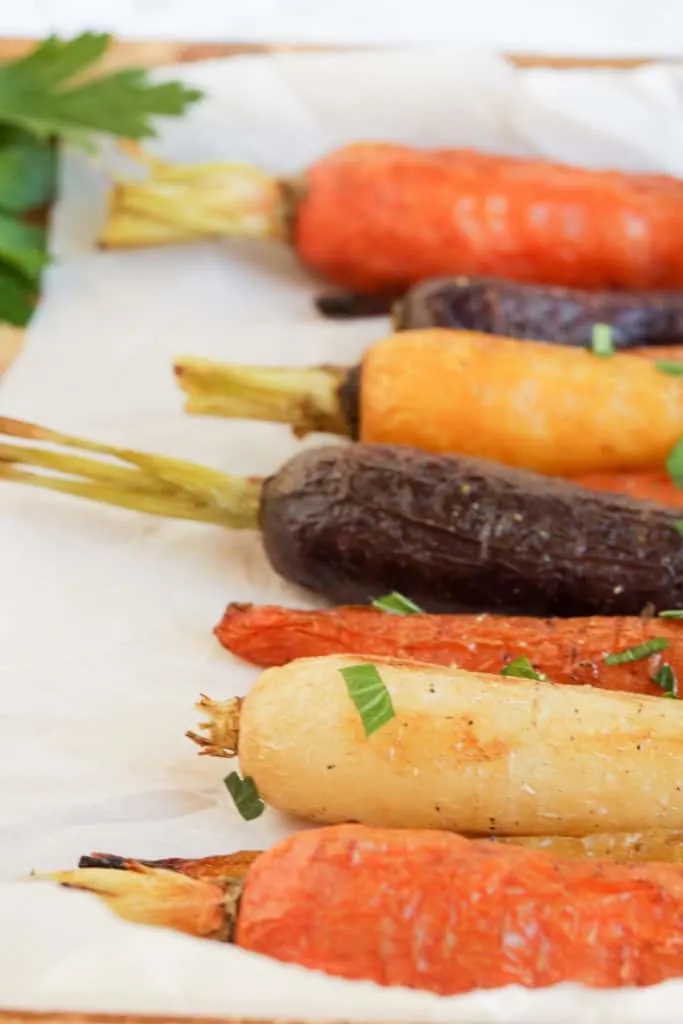 Some of the spices that are used in a ras al hanout blend are; cardamom, cumin, cloves, cinnamon, nutmeg, mace, dry ginger, chili peppers, coriander seeds, pepper, sweet and hot paprika, and turmeric. But this list is by no means exhaustive. When using this, remember a little bit goes a long way.
My recipe calls for 2 tsps to be used on 1 pound of carrots but you can reduce that amount if you like yours a little less flavorful. Ras al hanout vegetables are just a really great way to add a new edge on a basic recipe.
This dish would pair great with chicken or beef and I can't help but think it would make an easy gluten free Thanksgiving side dish and be an amazing addition to a Moroccan Thanksgiving feast.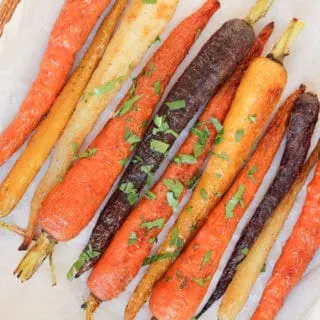 Yield:

4 servings
Ras al Hanout Roasted Carrots
An extremely simple side dish recipe using carrots and a few spices to create something unique.
Ingredients
1 pound medium sized whole carrots
2 Tablespoons olive oil
2 garlic cloves, minced
2 tsp ras al hanout
Salt and pepper to taste
Optional: Parsley or Chives for garnish
Instructions
Preheat oven to 425 degrees.
Wash carrots thoroughly and cut off the green tops. Peel if desired.
Toss the carrots in olive oil. Add the garlic, ras al hanout as well as the salt and pepper and stir until thoroughly combined.
Place the carrots in a baking dish (I like to line mine with parchment paper) in a single layer and pour the leftover oil mixture evenly on top.
Bake for 10 minutes, then turn over. Cook for the remaining 15 minutes or until the carrots are tender and they begin to caramelize.
Garnish with freshly chopped parsley or chives.
Notes
Try and choose medium sized carrots that are all similar in size. This will ensure they all cook at the same rate. If you have carrots of different sizes than cut them into similar sizes again to ensure a more even cooking time.
While this is already a quick and easy dish, you can make the oil mixture ahead of time and allow the carrots to rest in the fridge until it's time for the oven.
Things move very quickly at the end of cooking time, so be sure to keep a close eye on the oven at the end. Use a fork to test the tenderness of the carrots and remove when it's how you like them.
Recommended Products
As an Amazon Associate and member of other affiliate programs, I earn from qualifying purchases.
Where to Buy Ras al Hanout
Ras al hanout is sold all over in Morocco but if you're not here you can still pick it up. Amazon is usually the easiest place to get it. Here are a few options;