Who wouldn't want to tuck into this apricot smoothie bowl in the morning? In recent years the popularity of smoothie bowls has increased around the world. Essentially it is a thicker version of a smoothie drink and decorated with fruit and nuts of your choice.
The beauty of this smoothie bowl recipe is that it uses fruit and other ingredients that you can store in the cupboard or freezer. This means you can eat it all year round – not just when the fruit is in season or hard to find.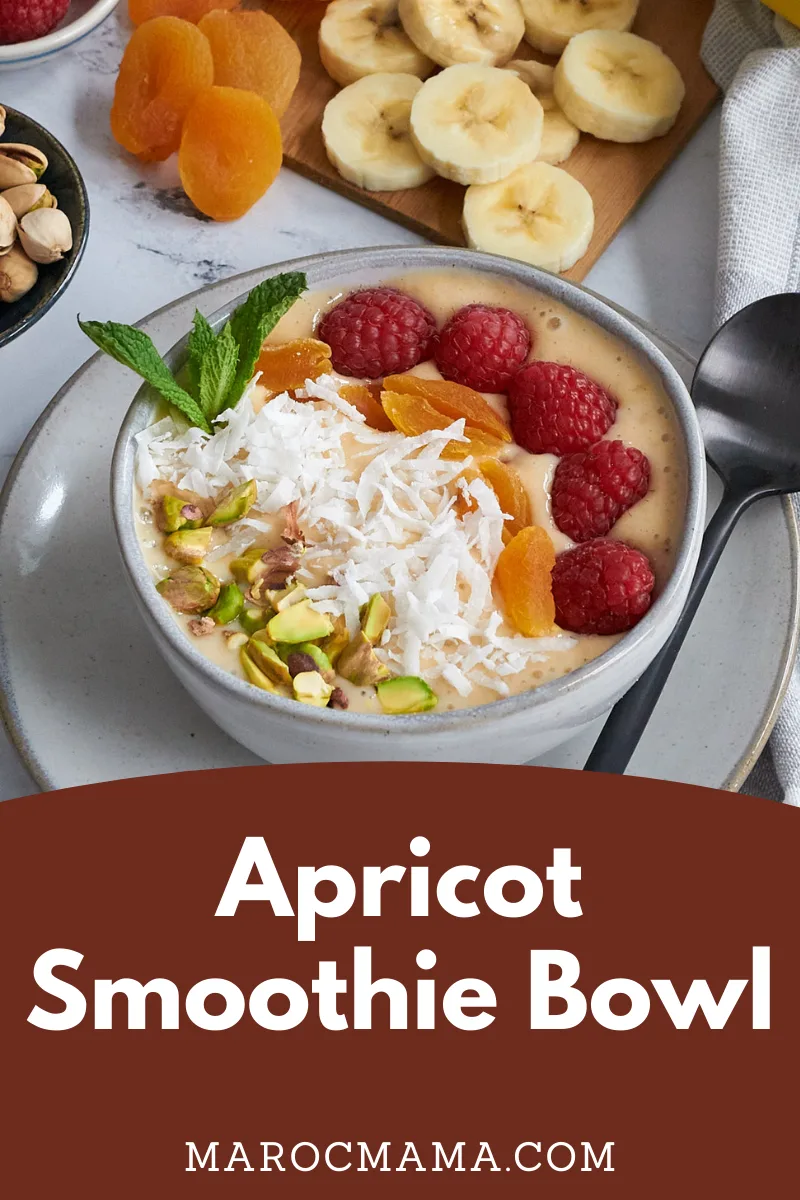 The secret to an awesome smoothie bowl is to ensure the base is thick enough to eat with a spoon. The base of this recipe uses canned apricots as well as dried apricots. The rich, thick creaminess comes from the frozen bananas and yoghurt.
Once your bowl of smoothie goodness is blended, you can then layer it up anyway you choose with the various toppings. I like to add a mix of fruit and nuts to add variety in terms of flavor and texture. If you are having a brunch, you could serve the apricot smoothie base in bowls, and then let your guests add their own toppings.
My apricot smoothie bowl recipe does include several ingredients, but don't let that put you off as all these are commonly available. The toppings are suggestions, and you can always substitute with alternative ingredients to suit your tastes and seasonal fruit availability (or use frozen fruit).
In my mind, a great smoothie bowl is almost like having permission to eat dessert for breakfast!
Other Breakfast Smoothie Bowl Ideas
If apricots are not your thing, or you want to try some alternative smoothie bowl recipes, look at my Moroccan orange banana smoothie bowl or the avocado smoothie bowl. If you are after a vegan smoothie bowl recipe, you might like to try my blackberry fig smoothie bowl.
How to Make an Apricot Smoothie Bowl
Putting together this smoothie bowl is easy to do in the morning. You could even prep your toppings in advance and then all you need to do is blend together the base in the morning. In 5 minutes you're ready!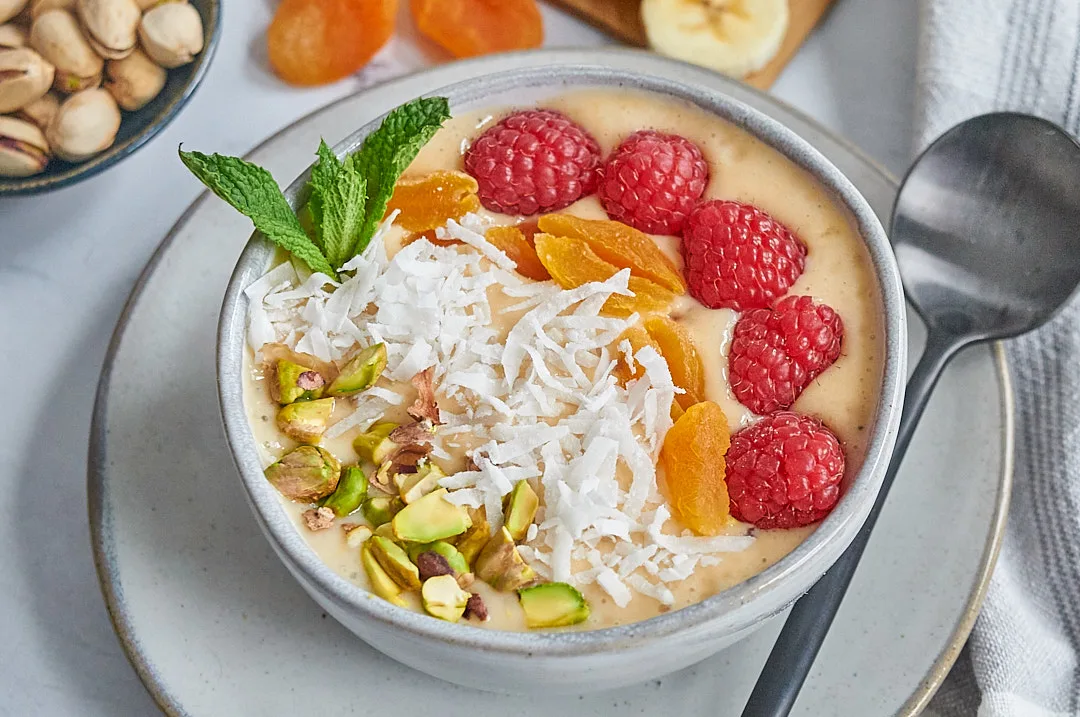 Yield:

Serves 2
Apricot Smoothie Bowl
Ingredients
Base Ingredients
3 large bananas, peeled, sliced and frozen
6 canned apricot halves
½ cup vanilla yogurt
2 tablespoons almond milk
2 tablespoons chopped dried apricots
Toppings
8 dried apricots, chopped
1/3 cup fresh raspberries
2 tablespoons dried pistachios
2 tablespoons shredded coconut
Fresh mint
Instructions
Into a blender add the base ingredients and blitz until fully combined and smooth.

Pour base ingredients into a bowl.

Decorate with topping ingredients and eat immediately.