I first had this Moroccan bread when I was visiting our friend Khadija in Essaouira. She holds Moroccan cooking classes in her house for visitors to the city and I love how she takes basic Moroccan recipes and adds her own twist to them. These Moroccan stuffed breads are really easy to make and loaded with flavor.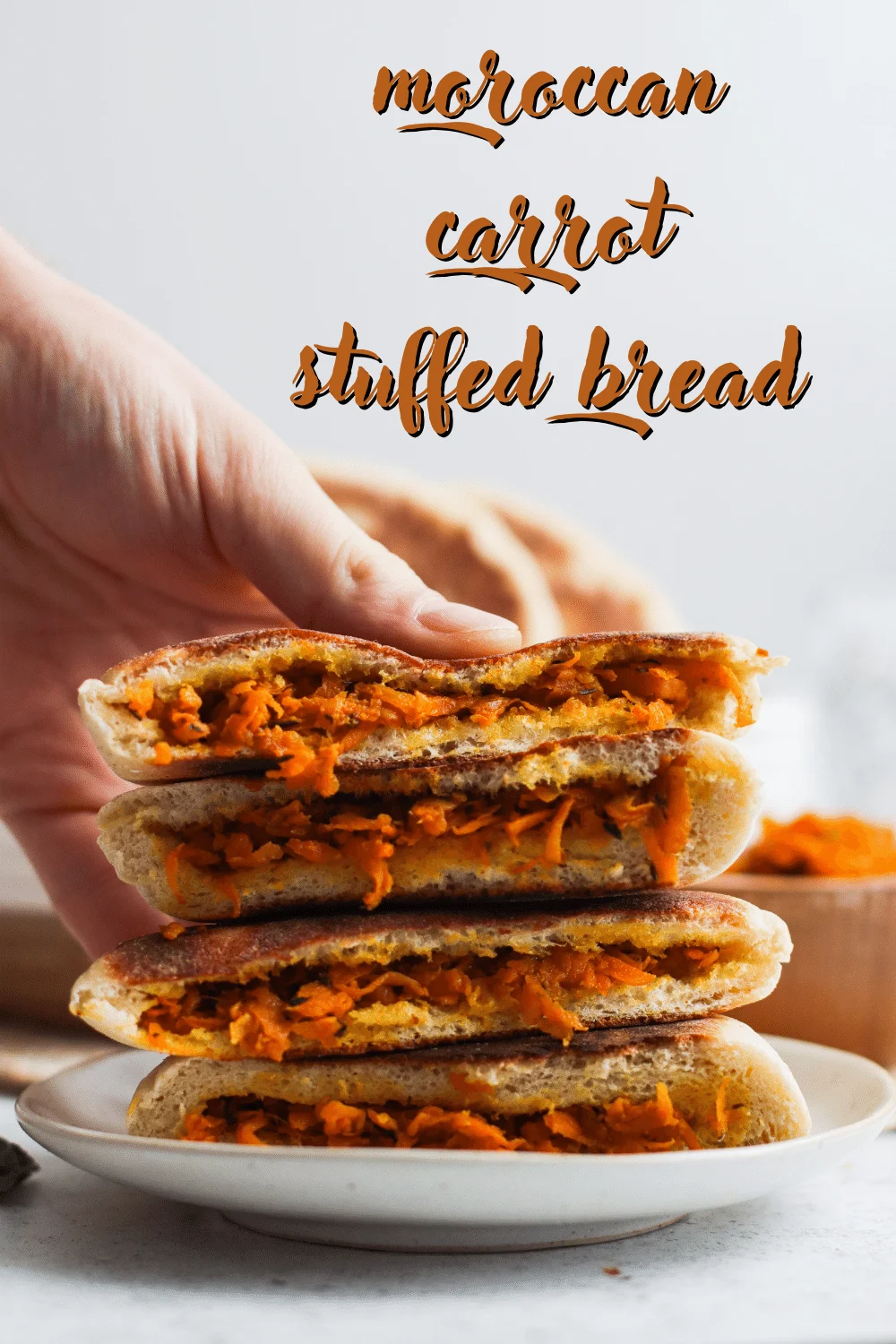 The base of this recipe is a traditional batbout bread. Once you make up a batch of the bread, you just have to add the filling. You could also play around with it and try stuffing the filling into the bread before baking and end up more with a spicy carrot bread.
Can You Freeze Carrot Stuffed Bread?
You could but I think the texture of the carrot breaks down when it's frozen and thawed. If you want an option to freeze, I'd consider mixing the carrot into the bread dough and baking. This would give a better overall taste and texture.
If you want them as shown, make the bread and freeze it and then make a batch of the carrot filling the day you want to serve. Thaw the bread and stuff them when you're ready to serve.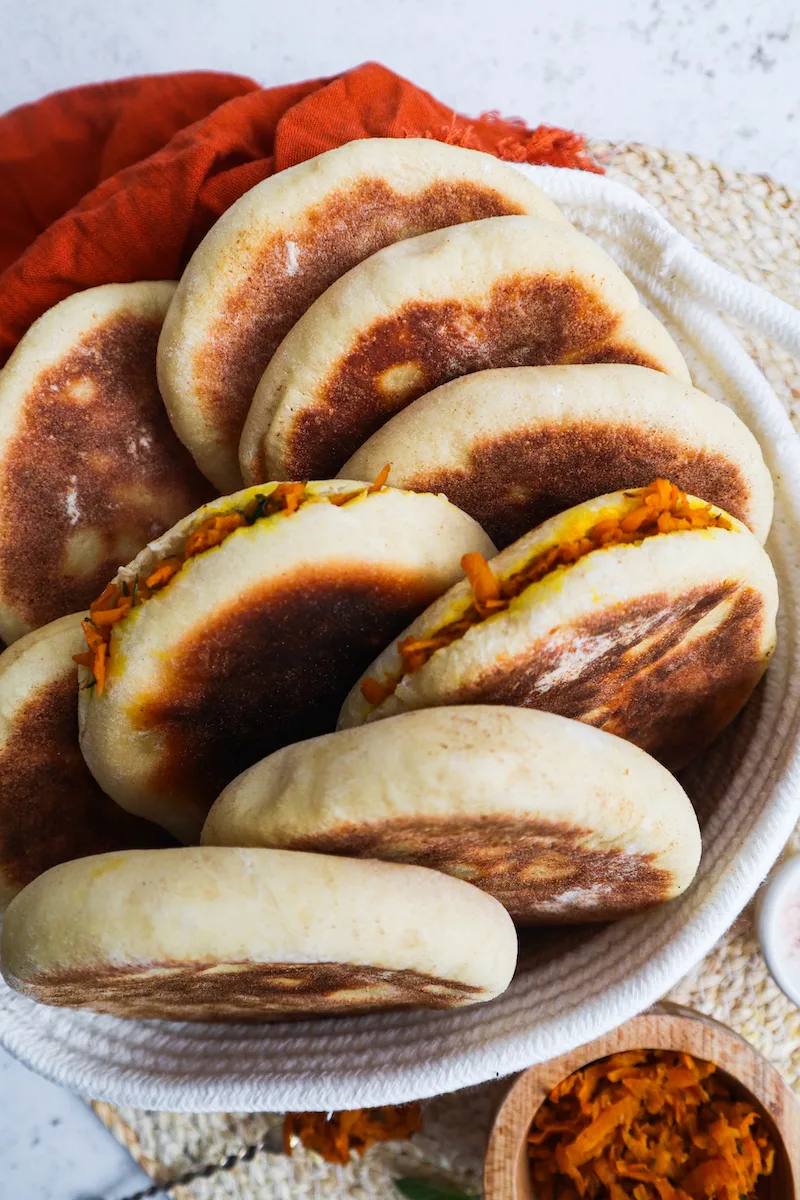 What to Serve with Stuffed Carrot Batbout
I think this makes for a really great lunch or tea party option. It's always nice to have something vegetarian that is also packed with flavor – this is that! Some other recipes you could pair to round out a lovely meal include;
Butternut Squash, Feta and Quinoa Salad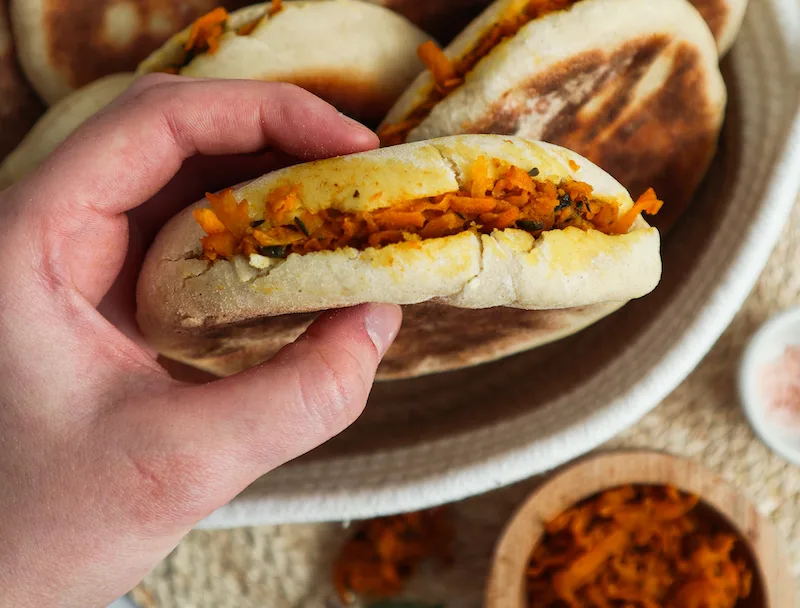 Yield:

6 Breads
Moroccan Spiced Carrot Stuffed Batbout
This spicy carrot filling is a great addition to Moroccan batbout!
Ingredients
1 pound carrots, grated
3 garlic cloves, grated
4 Tbsp olive oil
2 small lemons, juiced
1 bunch of parsley, chopped
1 bunch of cilantro, chopped
2 tsp harissa
2 tsp thyme
2 tsp turmeric
2 tsp ginger
2 tsp paprika
2 tsp pepper
2 tsp ras el hanut
1 tsp salt
Batbout Bread (recipe link in instructions)
**you can add more or less of any of the spices depending on your liking.
Instructions
To make these follow my recipe for batbout bread.

1. Grate carrots and squeeze any excess water from them.

2. Mix together the carrots, olive oil, grated garlic, lemon juice, and spices.

3. Transfer to a skillet and cook on medium to high heat for 5-10 minutes.

4. When the carrot mixture has cooked down remove from the heat.

5. Open a warm batbout and spread the carrot mixture inside of the bread.

Notes
Special thanks to Khadija of Khadija's Kuzina for sharing her recipe!