Morocco wasn't easy to love. The first time I visited, I didn't love it.
I didn't even like it.
But, the second time, oh the second time. MarocBaba and I, two giddy 20 year-olds, hopped in a shared taxi from Marrakech to Essaouira, with almost no money in our pockets but ready to get away. It felt so adult. The first time I saw the city and the sea I was at peace. I shook my head and said "ah ha! That's why people love this country!"
Spending a weekend in Essaouira is a great addition to any Morocco itinerary. I think you'll love it like I did the first time.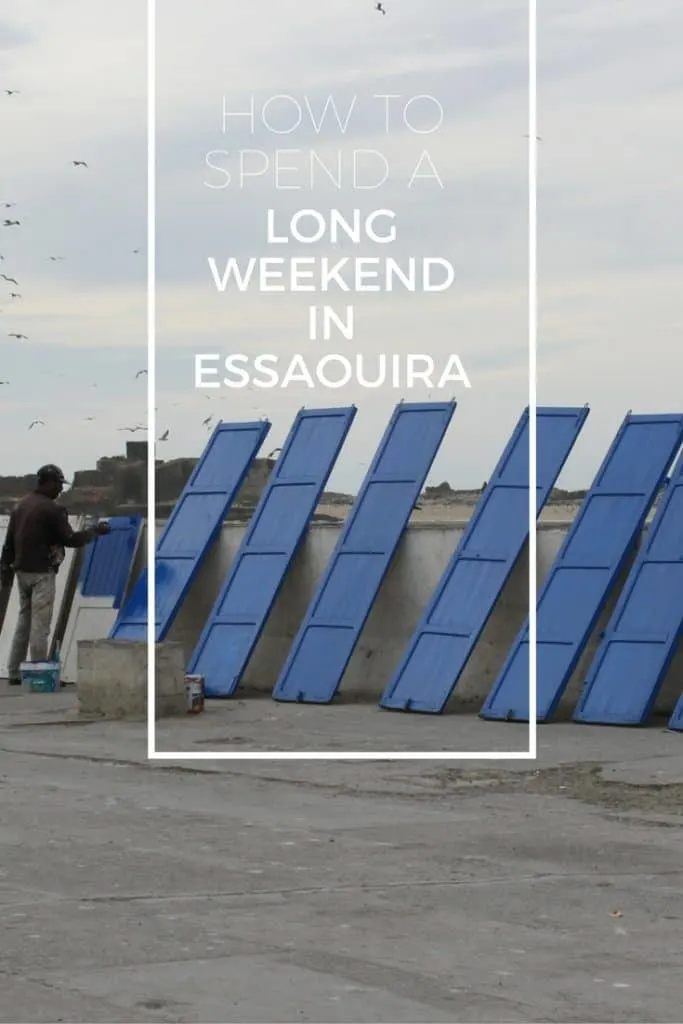 Essaouira is the chilled, funky sister of Marrakech. She's younger, she's got a different look, but they both come from the same DNA. That's why we come back time and time again. I've mentioned before this is also one of our kids favorite places. It's a family love affair. If you're coming to visit or just looking for a place to escape (if you live here), here's how we spend a long weekend in Essaouira.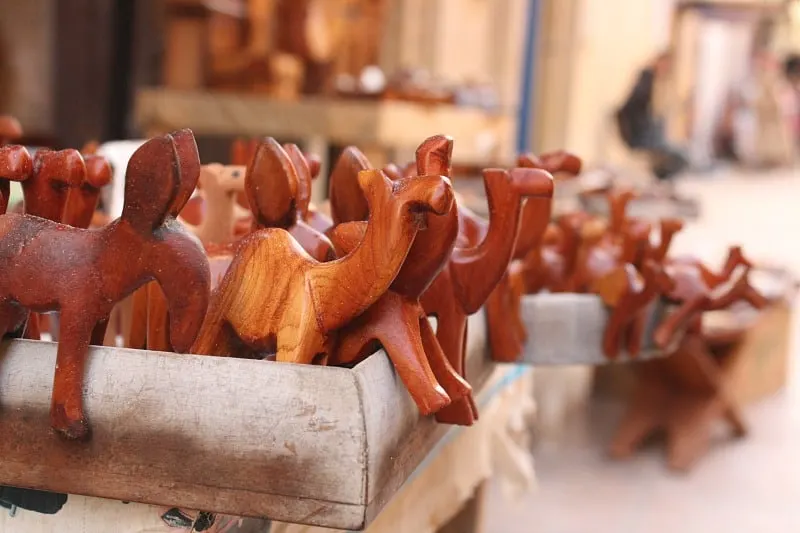 If it's your first time visiting then we highly recommend spending the night in the medina. There are riads, hotels, and apartments all over the city but for a first time stay central. Our recent visit had us staying at Riad Emotion, a really lovely and affordable riad. But there are plenty of other options too.
Family Friendly Riads in Essaouira
Affordable Riads and Hotels in Essaouira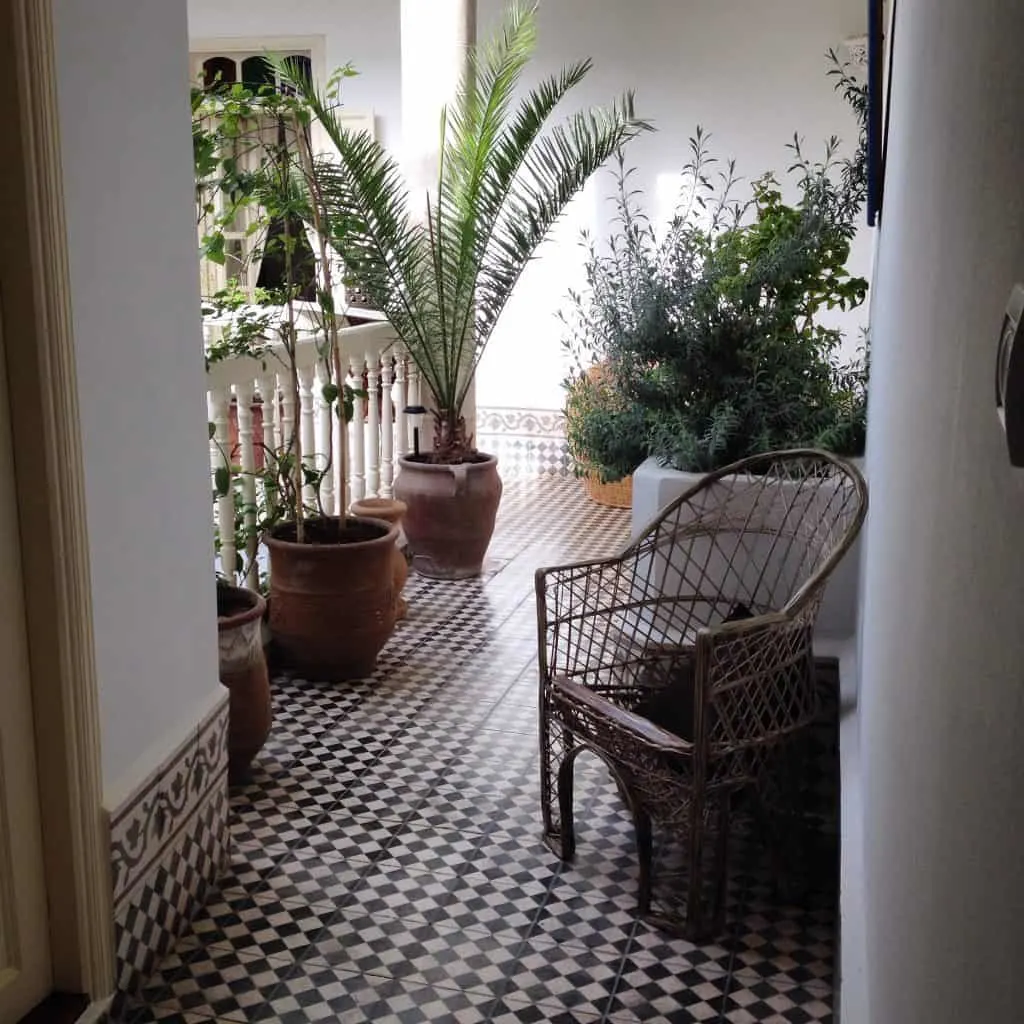 When we travel with our kids we book two rooms as they're now a bit older and ok by themselves. You may discover riads in Morocco do have age policies and even restrictions. Do check ahead of time. Riads are meant to be quiet retreats so if you know your children are not the type to go for this, you may want to consider renting an apartment.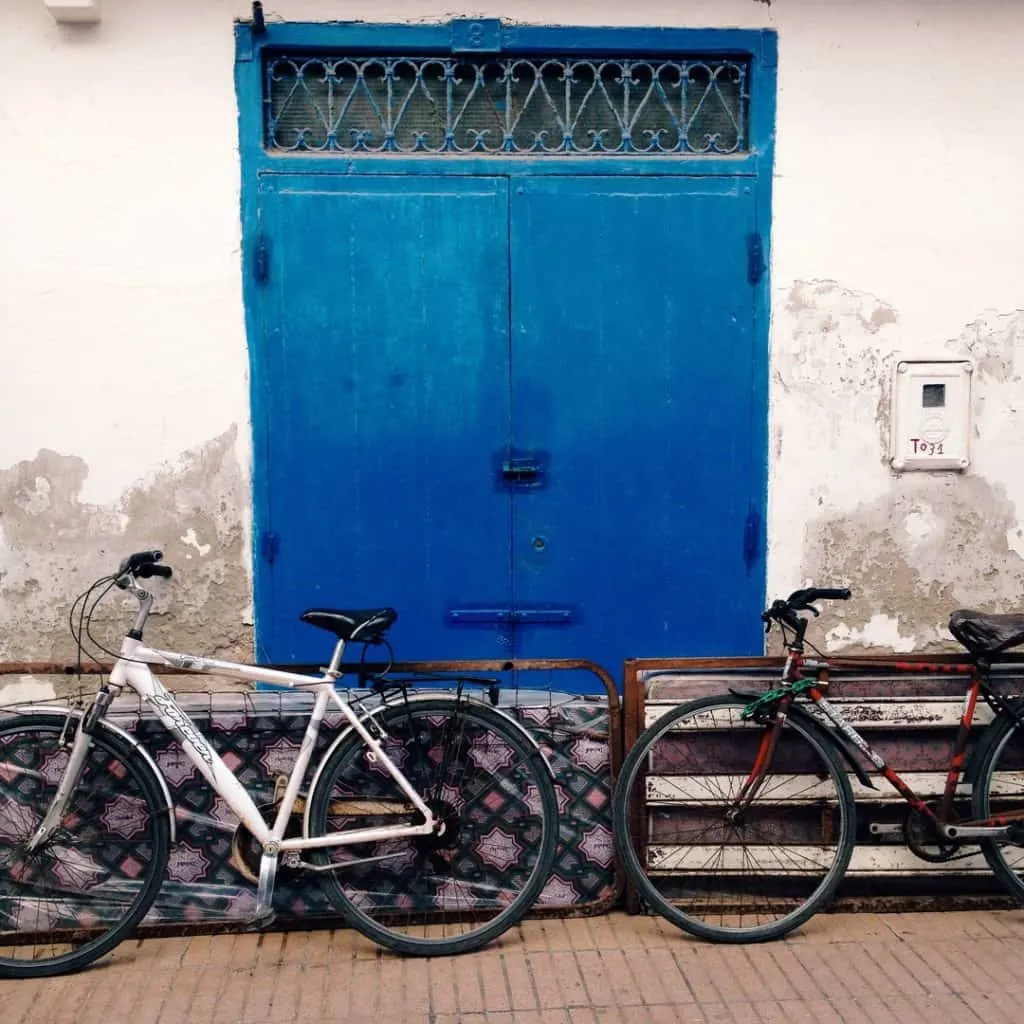 Exploring Essaouira
After you drop off your bags, have a cup of tea, and get settled head out to start exploring. You may want to just walk around a few hours in the compact medina. Don't be afraid to duck down corridors and see where they lead. You'll discover there's no hard sell in Essaouira. Look at what you like, buy if you want, or don't. It's certainly not like walking around the souks and medinas of bigger cities like Marrakech.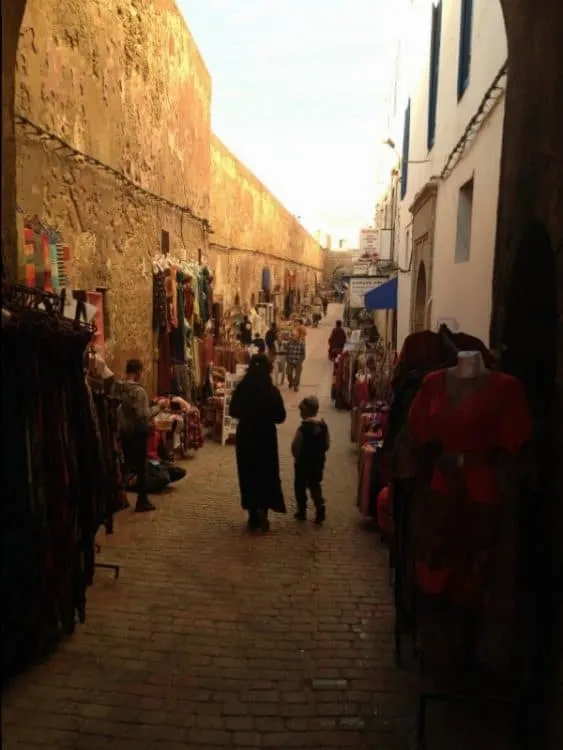 One of the most well-known features of Essaouira are the Portuguese forts and remnants. Essaouira was once called Mogador and was held by Portugal for only about fifty years but they did some impressive construction work that still stands today.
Walk to the skala to see the ocean. At sunset you'll be able to sit on the walls and watch the sun slide into the Atlantic. Many of the small shops that are exactly opposite of the wall have become restaurants, many of which are quite good. My friend Lynn of maroc-o-phile put together this list of great places to eat in Essaouira for me.
Things in Essaouira tend to close up and quiet down much earlier than we're used to so don't plan on a lot of activity after dark, especially in winter.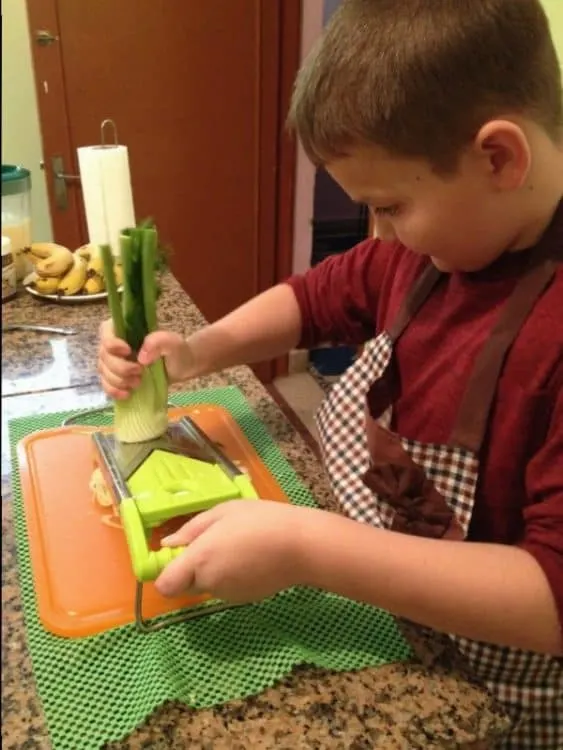 If you love to eat and want to try your hand at Moroccan cuisine – try a cooking class! I'll be writing a longer post on this class but I went to Khadija's Kuzina with my boys where we made some local Saouri dishes like ma'akouda. Khadija is absolutely lovely, and professional but with the warmth of a long-lost friend. We took our class in the morning so that we could enjoy what we cooked and have a late lunch.
Visiting The Port of Essaouira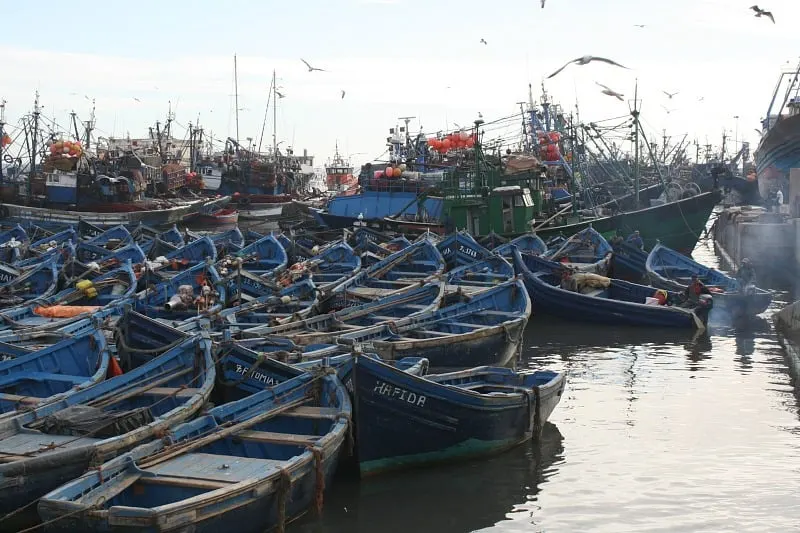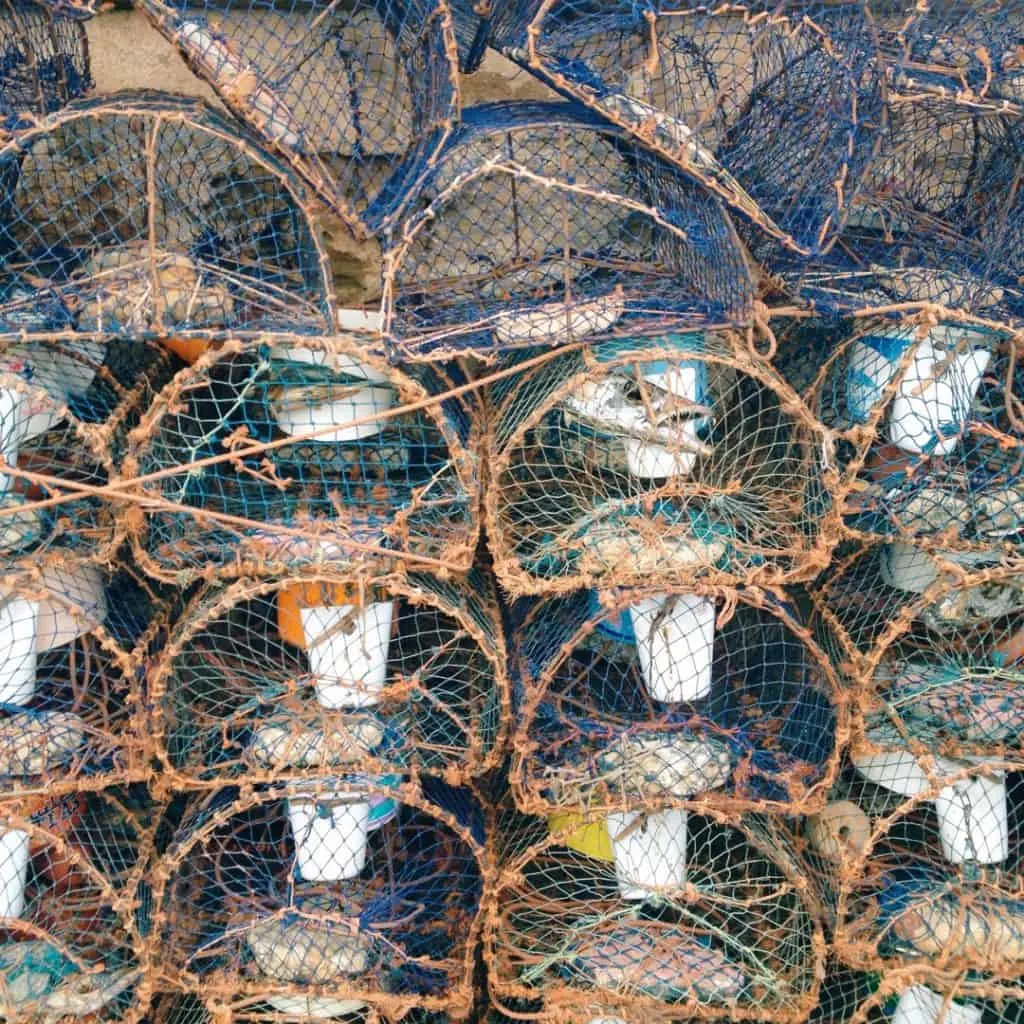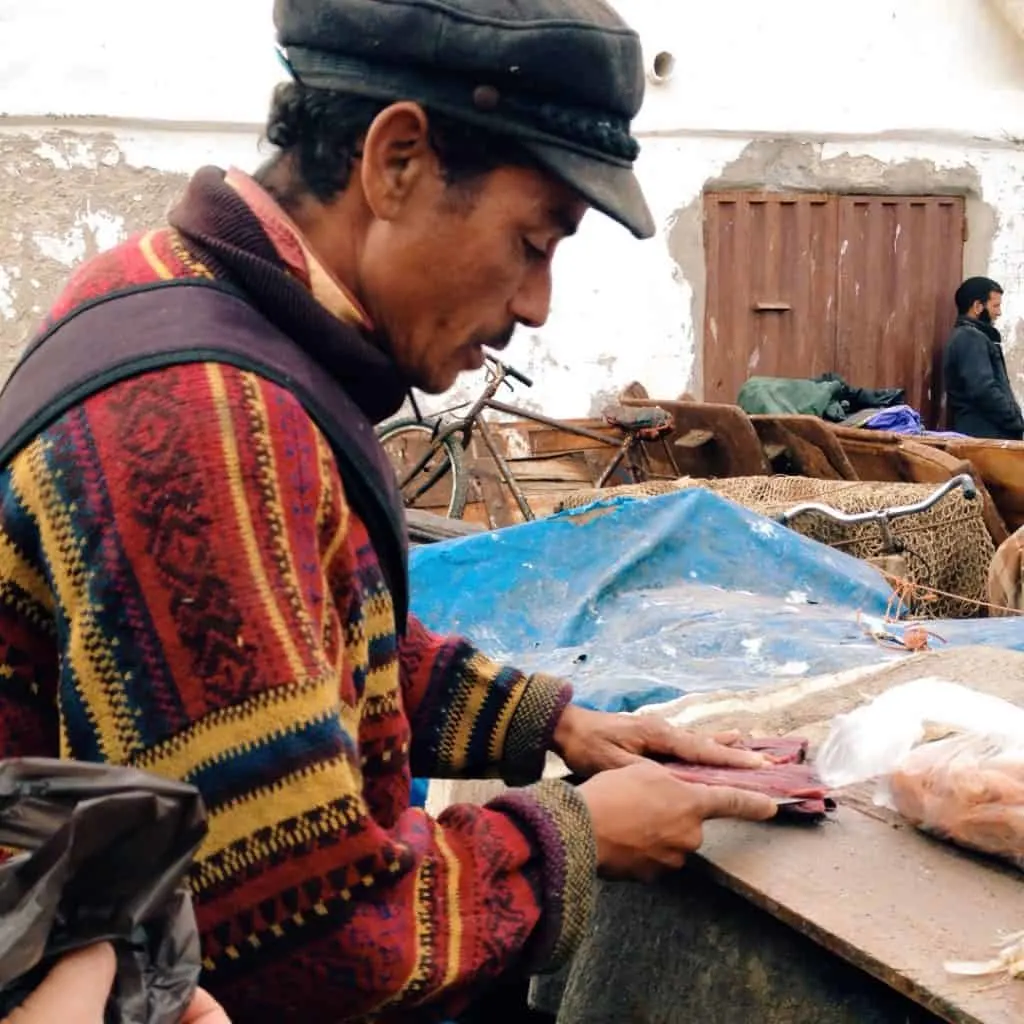 A walk through the port is a must. It's where you'll find the iconic blue boats bobbing in the water. It's also where you will find the legendary seafood Essaouira is known for.
If you feel comfortable choose the fish from the sellers that you want, and they will offer to clean it for you. You should pay the man that cleans it a bit extra for this service. The type of seafood you'll find really will vary depending on the day, season, etc.
Most of these fishermen are small operations. They don't own the big boats, they just go out for the day and bring back what they get. But now that you've got your fish what to do?
There are grills and small kitchens all around the medina where you can bring your fish in and have it cooked. They'll prepare it how you want, and may even have other accompaniments to go with – like salads or bread. Of course, you can bring your own too.
You'll pay them for the service and that's that! Alternately there are lots of seafood restaurants serving fish dishes. It can be pricy so make sure you understand the price before you have it cooked.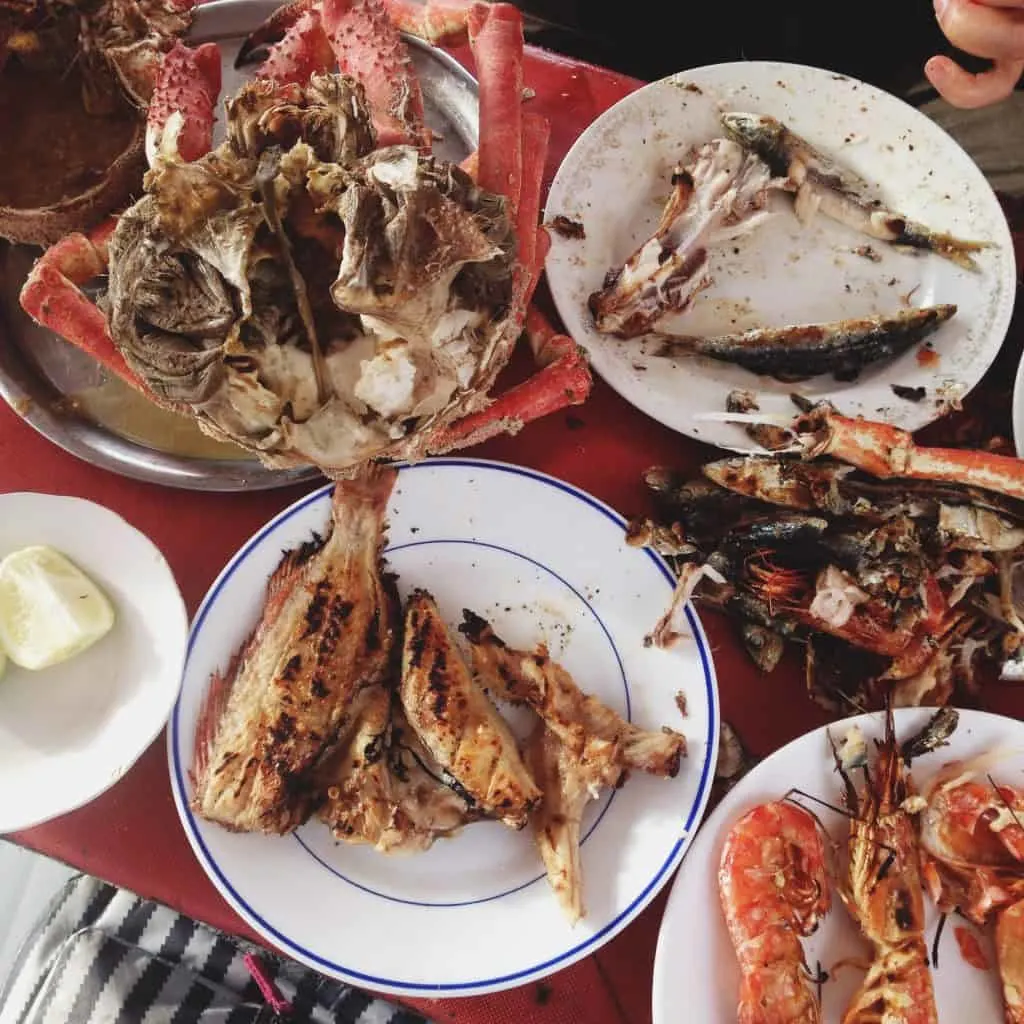 What else is there to do in Essaouira? So much – or nothing at all. We love to kick back and soak up the ocean when we visit. Head to the beach if you want to sit out or try swimming (though we don't recommend this in winter!) There are horse and camel rides on the beach as well. Venture out of the city to the surrounding natural sites or head south to cities like Taghazout for surfing.
I thought of you and how you love this beauty,
And walking up the long beach all alone
I heard the waves breaking in measured thunder
As you and I once heard their monotone.

Around me were the echoing dunes, beyond me
The cold and sparkling silver of the sea —
We two will pass through death and ages lengthen
Before you hear that sound again with me.
― Sara Teasdale