Essaouira has a growing reputation as a destination not to be missed. Unfortunately, that also means the cost of things has grown. Accommodations is one of those areas that has seen an increase. There are still some great, nice cheap hotels in Essaouira that you can rent confidently.
Situated almost perfectly on the seafront Essaouira, Jack's Apartments Suites are some of the most popular budget accommodations in the area. After all, the beach is a quick five minutes walk away and you're still just 0.2 miles from the town center.
Each of these apartments are well-appointed with private bedrooms and bathrooms as well as a dedicated kitchen, too. You'll have a full-size stove, a full-size refrigerator, and all kinds of other small kitchen appliances to prepare your meals in your apartment suite if you are interested in going out.
They'll also get free Wi-Fi, free satellite television, and world-class amenities like access to the spa and wellness center. Airport shuttles are inexpensive, family rooms are available, and the views here are some of the best in Essaouira.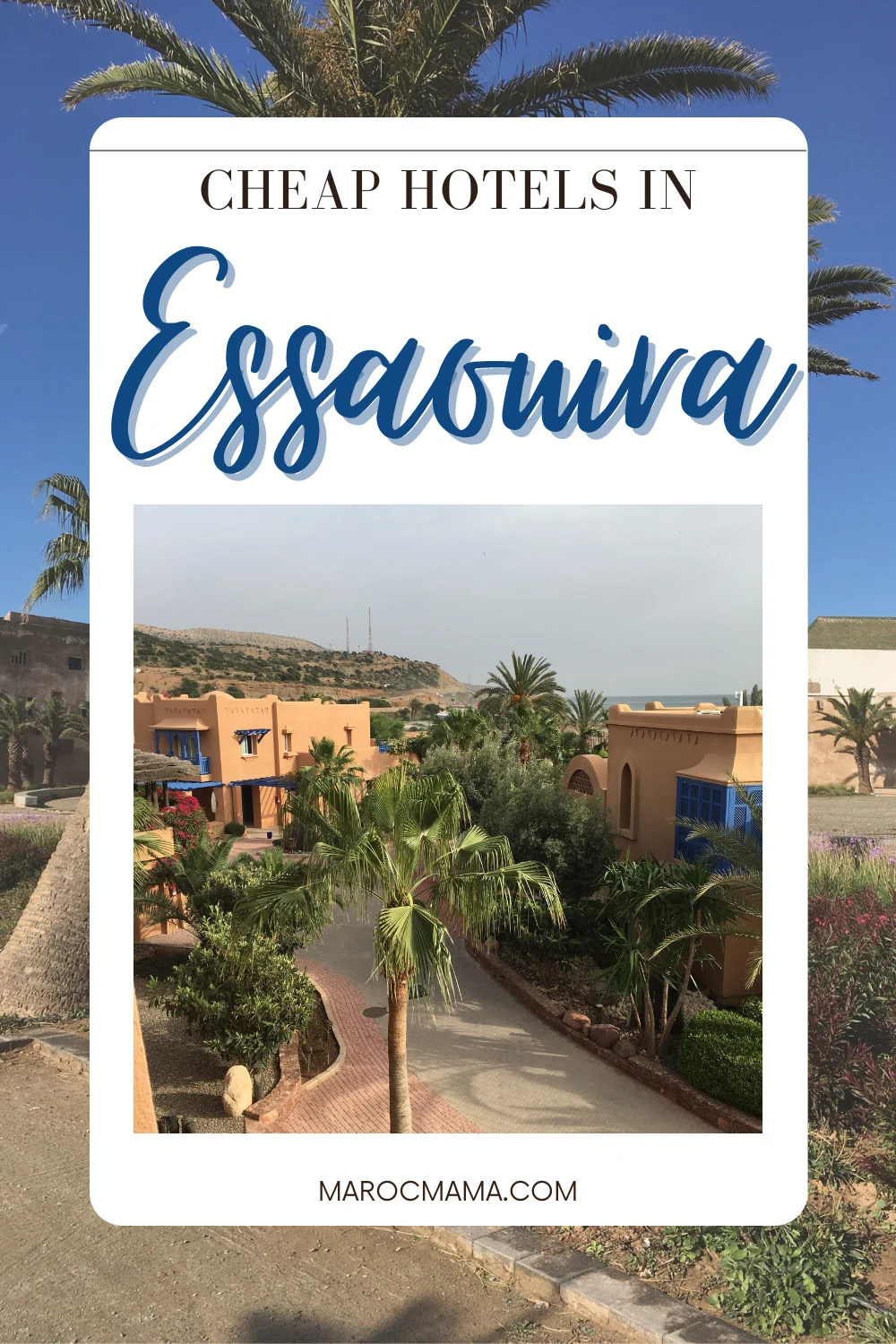 About 1.1 miles away from the town center, you're a little bit farther from the beach with these hotel accommodations – but not so far that you aren't going to be able to walk down to the ocean.
Maybe 15 minutes away from surf and sand, this particular resort is tucked away in a quiet and secluded residential district. The pace here is a lot slower, the atmosphere is a lot more relaxed, and the architecture is all in the traditional Moroccan style – adding flavor and flare you won't find elsewhere.
Guestrooms are well appointed, free Wi-Fi and satellite television is included, and there are a handful of rooms that still have ocean views (though they are available at a premium price point).
Located in Old Medina (about .2 miles from the town center), these accommodations are relatively inexpensive yet still situated just a short walk away from the Othello Garden.
You're a little bit further away from the beach than some of the other accommodations, but a 20 minute walk will have your toes in the sand for sure.
Every room here has their own private bathroom and living space, but the real reason to consider saying here are the gorgeous views every room has out their windows, their terrace, or their elevated deck.
Located right next to the capital fellow Garden (and just a few footsteps away from the legendary fishing port), if you want to be fully immersed in traditional Moroccan culture, style, and architecture there may not be any better accommodations than this.
The entirety of this resort is built from beautiful Moroccan tile and marble materials, decorated with ornamental and oriental furniture, gorgeous tapestries and rugs, and beautiful mirrors and glasswork.
Rooms are well appointed with luxury amenities, including flatscreen televisions, satellite TV service, high-speed Wi-Fi, and some of the most comfortable beds you'll find anywhere in Essaouira.
The reception desk is open 24/7 every day of the year, the concierge can help connect you to of vents and activities you might not have been able to enjoy otherwise, and the full-service 4 x 4 driver and tour guide on-call can help you see parts of Essaouira you would have missed on your own for sure.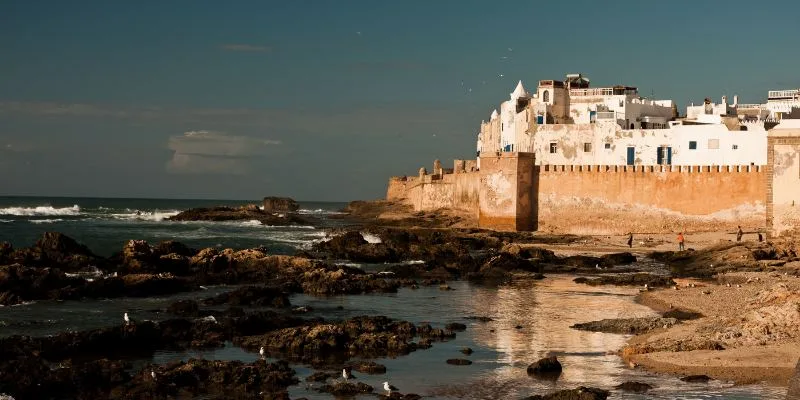 Beachfront vacationing at its best, you are literally just a handful of steps away from being on the beach when you stay at this resort!
All of the luxuriously appointed rooms have ocean side views and beautiful large windows that can be thrown open to let the sea breeze sweep through the space. Falling asleep to the sound of the ocean just outside your window is an experience you have to have for yourself to fully understand!
The on-site swimming pool, hammam, and restaurants are just a few of the incredible amenities you'll enjoy as a guest here. The traditional Moroccan cuisine served in the lounge is fantastic, all of it made from fresh market produce, seafood, and other ingredients.
This resort is situated on a very prominent point in Essaouira, sitting high above the Old Port and beach area that allows it to offer incredible panoramic views of the city and the ocean.
While the hotel itself is going to feature traditional Moroccan architecture and design elements, it's a bit more of a modern space with a more minimalist touch compared to some of the other accommodation options in the region.
Rooms are very large and spacious, with very comfortable beds and furniture throughout the space. Many of the reviews for this resort speak highly of the quality of the sleep that guests get, a big priority for those that want to have plenty of energy to explore this part of Essaouira during the day.
La Table by Madada is the main restaurant of this resort, specializing in a bistro kind of cuisine that's heavy on seafood dishes. Breakfast out on the terrace while the sun comes up belongs on any guest's bucket list.
If you are especially passionate about Moroccan cuisine and would love to know more about how to cook and prepare it yourself, on-site cooking classes taught by chefs at the restaurant can be arranged.