If you're on the lookout for a country in Europe that has a little bit of everything when it comes to culture, history, landscapes, and food, heading to Spain is always a great idea. If you are looking for 1 week in Spain itinerary ideas you've come to the right place.
Home to paradise-like beach towns, mountain ranges that seem to go on forever, a thriving cultural scene, and a splendid offering for foodies, this gorgeous country has a little to offer everybody.
From the chic streets of Madrid to the works of modernist Antoni Gaudí in Barcelona and the striking architectural wonders of the Moors in Granada, here's a perfect 1 week Spain itinerary for first-timers.
1 Week Spain Itinerary Ideas
Going to all of these locations in one week will be virtually impossible. However, I suggest combining two of them to make for a great trip. These combinations would be great to try;
Madrid + Salamanca
Seville + Ronda + Granada
Seville + Madrid
Barcelona + Madrid
Valencia + Barcelona
You can get between these points by either driving, using the train system, or buses. It would also be possible to fly to reach longer distances and save time, for example Seville and Barcelona.
As the capital of Spain, Madrid is the perfect place to start getting an introduction to some of the best the country has to offer.
Start the day by checking out Madrid's Puerta de Sol. This is the city's famous center point and a wonderful place to begin exploring. Next up, check out Plaza Mayor to see the famous Palacio Real, the largest functioning royal palace in Western Europe!
From here on, you can stroll through Buen Retiro Park to take a little break from the hustle of the city or opt to take a walk along Barrio de las Letras, an extremely interesting neighborhood that has been the home to many important writers throughout history! If you'd rather dive deep into the history of each place, a great way to see the highlights of Madrid is via this guided tour.
For dinner, head over to La Latina, a neighborhood known for its incredible tapas before capping off the day at a live Flamenco show.
Day 2: Salamanca
Known for being one of the most beautiful World Heritage Cities in Spain, Salamanca is a must on any Spain itinerary. The history of the city dates back to the Celtic era, with glorious architecture and sites proving just how old the place is.
To start off the day, visit the main highlight of Salamanca: Its medieval cathedral. This humongous complex towers high over town and features exquisite late Gothic and Baroque styles – gargoyles included! Next, up, you can also check out the Catedral de Santa Maria, which is also known as the "Old Cathedral" and features gothic and romantic styles.
For more architectural goodness, visit the University of Salamanca next. This astonishing complex was known for being an intellectual center during the 15th and 16th centuries! Walk around the university and don't forget to check out the surrounding streets as well, where you'll find plenty of bars and restaurants to take in the student life. If you're up for a bit of paranormal, you can also visit La Cueva de Salamanca. While it doesn't look like much anymore, this small "cave" in the middle of the city is said to have been the classroom where the Devil gave Dark Arts lessons!
If you want to see as much of Salamanca in a couple of hours, you can also look into taking a biking tour through the city. Highly recommended is also going for a walk at night, when the entire city lights up and makes the highlights look even more beautiful than they do during the day.
Being a student town, Salamanca bursts to life during the evenings, with plenty of bars, terraces, and restaurants spread all over the city center. There's also an evening sightseeing tour you can take in order to get to know the city from a brand new perspective!
As the largest city in Andalusia, Seville acts as the perfect place to get a taste of what southern Spain and the rest of your week in the country will have to over.
Begin the day by sightseeing at some of Seville's main highlights. Plaza de España is a great place to start. You can spend several hours here admiring its details before heading over to Parque de Maria Luisa for a break amid nature.
Next up, visit the Alcazar, a splendid royal palace that acts as a wonderful example of Moorish architecture in southern Spain. Since you only have a day in Seville, booking a ticket to skip the line is highly recommended.
Right next to the Alcazar, you'll find the Cathedral of Seville and the famous Giralda Tower. Here, you'll be able to admire even more architecture as well as get captivating 360-degree views of the city. If you've still got a little bit of time left, you can continue exploring by visiting the Casa de los Pilatos Palace, which perfectly blends Mudejar and Renaissance architecture.
To cap off the day, head over to the historic Jewish Quarters, a lovely neighborhood made up of labyrinths of streets dotted by yellow and white houses. You'll find plenty of bars and tapas restaurants here!
Day 4: Ronda
Set in Southern Spain, Ronda is a mountaintop town located next to a natural gorge that provides some of the best Spain has to offer: mountain views, wine, nature, and glorious architecture everywhere you look.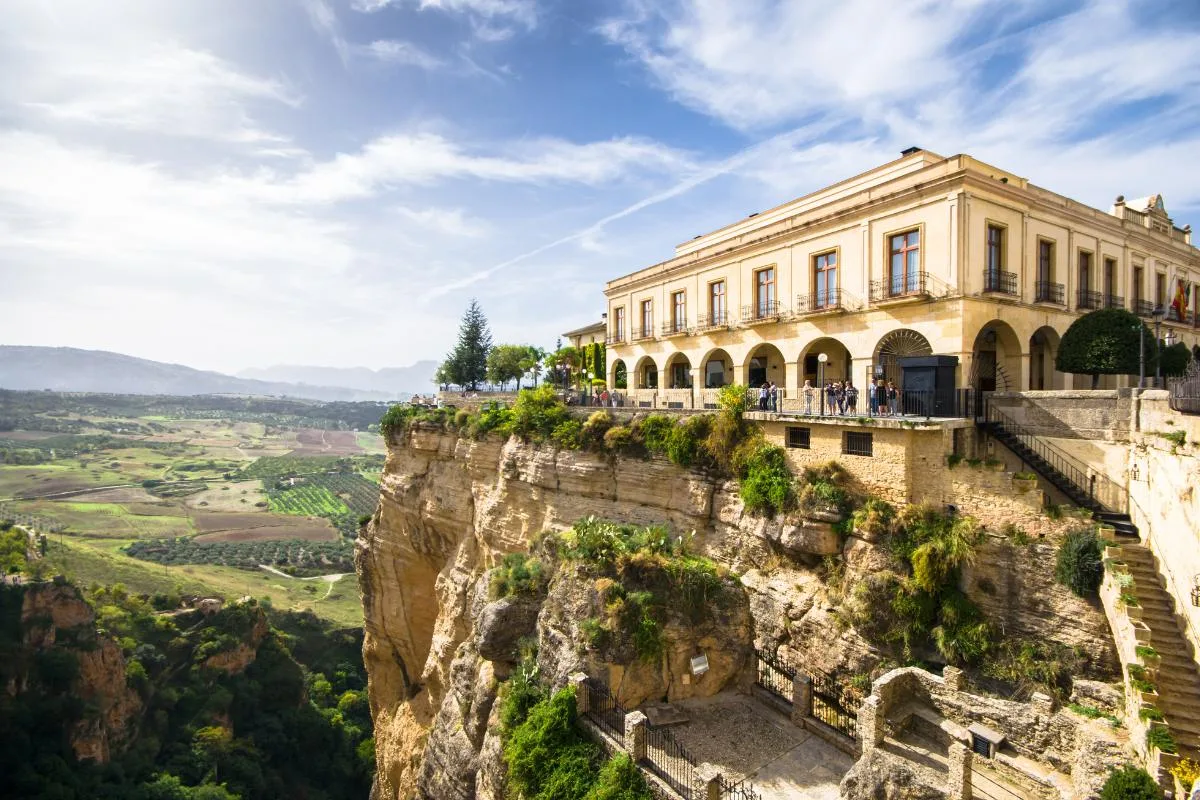 The main thing to do in Ronda is to check out the famous Puente Nuevo, a massive bridge that was carved out of rocks that connects both sides of the village that were originally separated by a gorge. You can catch views of the bridge from pretty much anywhere in town, but if you're up for a walk, you can hike down to the bottom of the gorge for the best views out there! The hike takes 2-3 hours round-trip and acts as a perfect way to get introduced to Ronda.
Once back in town, visit the Plaza de Toros. This is said to be the oldest bullring in the country. Afterward, simply spend a few hours walking over the town's streets – you'll find plenty of cozy restaurants right next to the gorge that provides wonderful vistas of the bridge.
If you have some time left, check out Bodega García Hidalgo to get an introduction to the wine-making scene of southern Spain or take a tour through an organic oil farm!
Located on the foot of the Sierra Nevada mountains, Granada is a small town that was occupied by the Moors for over 400 years. All over the city, you'll find reminders of their ruling, be it through architecture, food, and even daily life.
Most people visit Granada for a chance to see the Alhambra, a palace where the Emirates of Granada once ruled that dates back to the 13th century and acts as one of the most beautiful examples of Mudejar architecture in southern Spain. You can expect to spend the entire morning exploring the Alhambra as there are tons of rooms filled with interesting details and several gardens you can spend hours strolling through.
If you still haven't gotten your fill of gardens, you can also head over to the Carmen de los Martires, another palace that boasts gorgeous courtyards where finding peacocks is the norm. Next up, head to the outskirts of town to Sacramento, where you'll find caves people actually live in!
To relax after a day spend exploring, book yourself a hammam at one of Granada's Arab baths and finish the day with a bang at an authentic flamenco show.
Day 6: Valencia
Valencia is an enchanting coastal town that provides the best of all worlds: magnificent beaches, history, and stunning architecture.
In whichever order you decide to do it, a perfect one-day itinerary in Valencia should include eating at one of the restaurants on Plaza la Reina, checking out Plaza de la Virgen to see its quaint architecture, the city's main cathedral, and climbing up to the bell tour for views of the city. Of course, spending time at the beach is a must while in Valencia, with Las Arenas Beach being a favorite for visitors!
As the capital of Modernist art, a day in Barcelona will show you just how varied Spain can get.
Start the day by checking out Gaudi's masterpiece, the Sagrada Familia before heading over to El Recinte Modernista de Sant Pau for more examples of modernist architecture.
Of course, visiting Parque Guell is another must (skip the line access is highly recommended). This is a spectacular park that contains plenty of elements and pieces by Antoni Gaudi. If you still need more modernist goodness, make sure to also take a walk around Passeig de Gracia!
To cap off your Spain trip, head over to one of Barcelona's many beaches – Barceloneta and Nova Icaria are usually favorite spots for visitors and locals alike.
I hope this 1 week Spain itinerary helped you plan the perfect trip through Spain! Even though it's absolutely jam-packed, following it will give you the chance to see some of the best this beautiful country has to offer visitors.