Located in Spain's southern Costa del Sol, Malaga is a wonderful gateway to explore some of the best the country has to offer.
While most people land in Malaga and head off to nearby resorts in order to experience the beaches in the area, Malaga also happens to be one of the best cities in Andalucia to linger for a while in.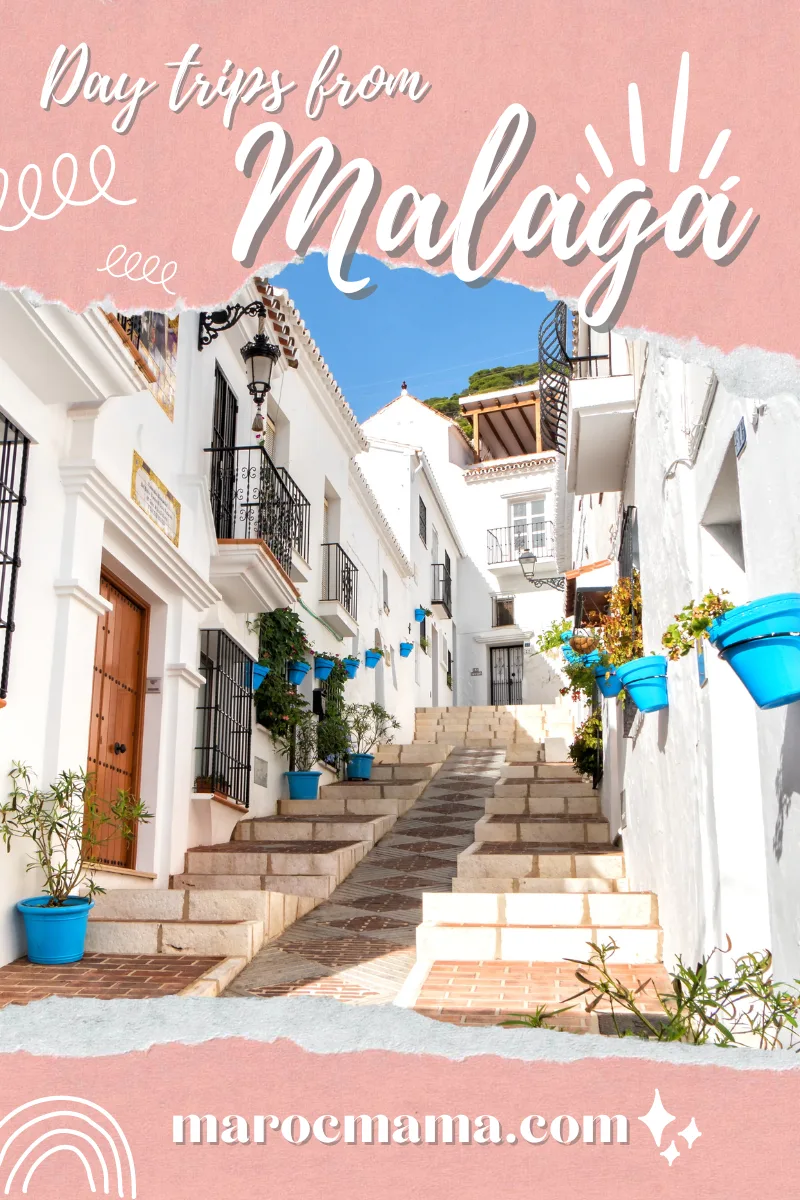 Aside from homing dream-like Mediterranean beaches, a glorious foodie scene and plenty of historical attractions spread all over town, thanks to its location, Malaga also happens to be a fantastic city to see the rest of Seville. From white-washed towns to villages perched atop gorges and historical locales as Instagrammable as they can get, these are some of the best day trips from Malaga to take.
Day trips from Malaga
Divided in two by an enormous gorge, Ronda is a destination perched over a ravine that provides one of the most incredible views in the entire area of Andalucia.
Ronda is divided into two sections – El Mercadillo, the new town, and La Ciudad, the old one. Both parts of town are connected by a striking 400 feet stone bridge that spans the gorge! During your visit, you'll be treated to picture-perfect Moorish architecture, twisting cobblestone streets, and quaint houses painted in white.
Aside from strolling and gawking at El Tajo gorge and the natural scenery that comes along with it, other beautiful things to do in Ronda include hiking, checking out the oldest bullring in Spain, and visiting a few of the vineyards on the outskirts of town (Bodega García Hidalgo is an absolute must!).
Set just over 30 kilometers away from Malaga, Mijas is a wonderful pueblo to visit in order to escape the bustle and hustle of the city.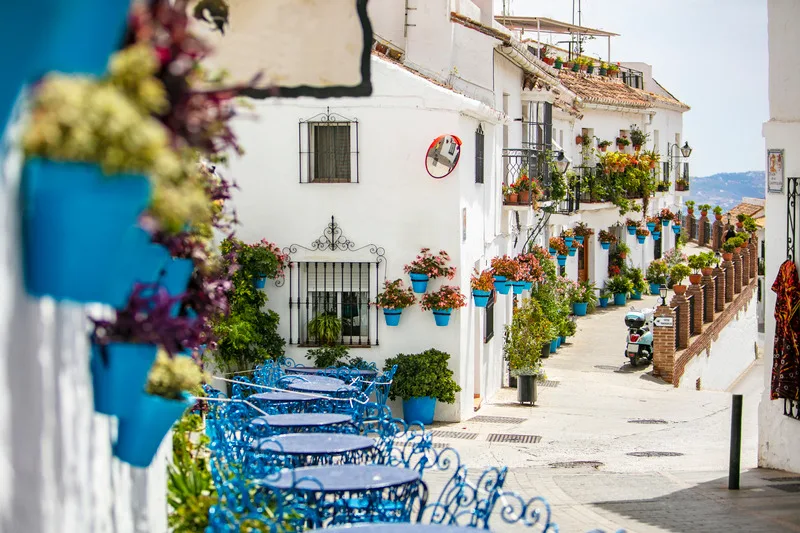 Mijas Pueblo (not to be confused with Mijas Costa) is a small village where you'll find yourself in a world of quaint cobblestone streets lined by white houses that feels almost like a fairytale. Cars in Mijas Pueblo are rare, and instead, you'll find donkey-led taxis that will make you wonder if you somehow stepped back in time.
If extremely photogenic streets and that small-town charm are what you're after, Frigilania is one of the best day trips from Malaga to take.
Set less than 60 kilometers away from Malaga, Frigiliana makes for a perfect day trip due to its close proximity to Malaga as well as its size. Here, you can spend several hours simply strolling through its flower-draped whitewashed streets, grab a cup of coffee at the many cozy cafés in town, or spend an afternoon gorging on tapas and drinking delicious tinto de verano.
For nature, you can climb up to the Castle of Lizar. Even though the castle itself was destroyed and there is barely anything of it left, the walk from downtown is very pleasant and you'll be able to catch gorgeous views of the town and surroundings from here.
Nerja
Once a thriving fishing village, today, Nerja is one of the prettiest beach destinations in Seville and a rather easy day trip from Malaga considering it is located only 58 kilometers away.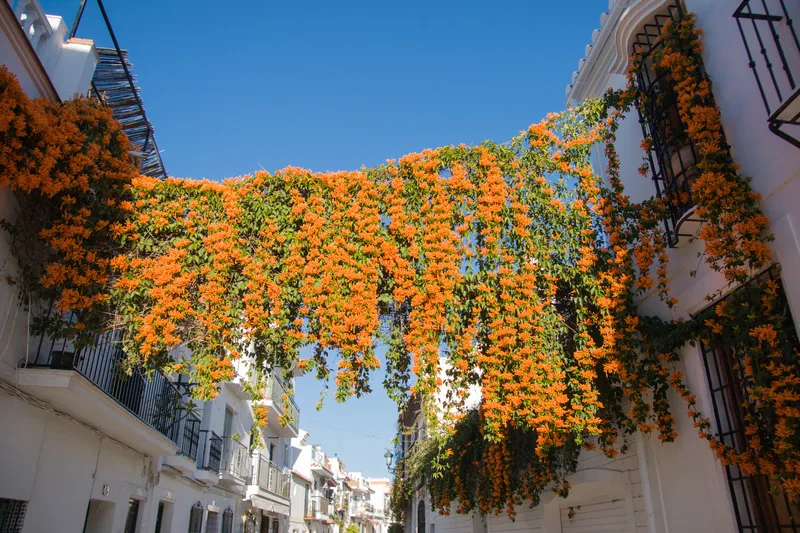 Nerja's claim to fame is its famous Balcon de Europa, which translates into "the balcony of Europe". This is a gorgeous viewpoint from where you can enjoy striking views of the Mediterranean Sea. Moreover, if you're into nature, the town is also home to the Nerja Caves, where you'll find some of the largest stalactites and stalagmites in the world as well as some of the oldest works of art in history.
If what you're after is an adrenaline-inducing day, a day trip from Malaga to Caminito del Rey is a wonderful choice.
Visiting Caminito del Rey is all about getting your heart rate up and enjoying glorious views of nature. This is a narrow 7.7 kilometers long walkway pinned over the walls of a gorge in El Chorro!
Due to the location where it's constructed, you may, at times, feel as though you're hanging from the side of the mountain, so it may not be recommended for those afraid of heights. For a little over a decade, Caminito del Rey remained closed due to incidents, and even though it's not quite as dangerous after renovations, it still remains one of the most precarious trails in the entire world.
No list of the best day trips from Malaga would be complete without including Granada, one of the most historically important cities in Spain and a gem in the Andalucia region.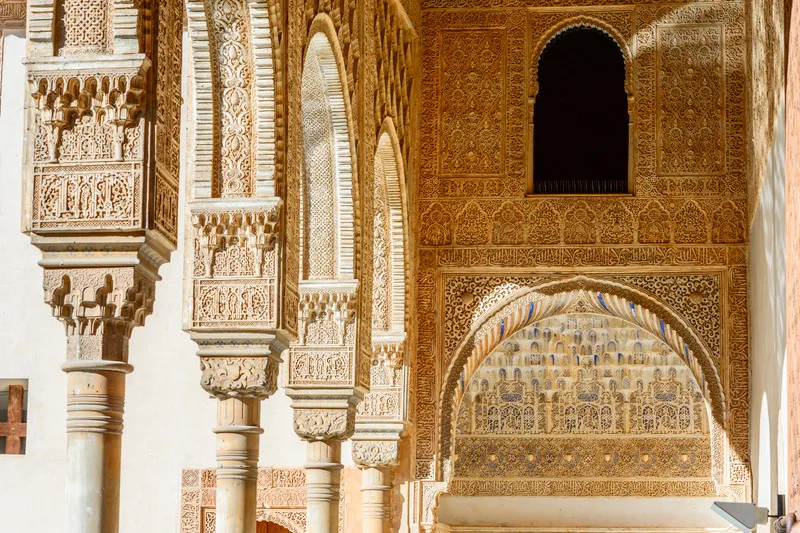 Sitting at the base of the Sierra Nevada mountains, Granada is a city as old as time. Not only does the city provide glorious opportunities to see Moorish architecture in its full splendor (with the added bonus that every single mosque, palace, and complex here is backdropped by snow-dusted mountains), but it's a wonderful spot to simply get away from everything for a little bit.
Picture a day spent strolling lavish Moorish gardens, sipping wine at charming cafés overlooking the mountains, or hiking on the many trails available all around town and you'll get a pretty good idea of what this magnificent day trip from Malaga has to offer!
Have you ever visited Malaga? What are some other wonderful day trips to take from this beautiful coastal town in southern Spain? If you have any additional recommendations that you feel should be on this post, please feel free to drop them in the comment section below!
More Information on Visiting Malaga
5 Best Cities in Andalucia to Visit
23 City Break Ideas for Malaga