Barcelona, the City of Gaudi, is known for its art and culinary scene as well as its stunning modern and classic architecture, particularly the work of one architect, Antoni Gaudi. The temperate Mediterranean climate makes it a great layover as chances are the weather will be beautiful!
Here are a few pointers if you have 24 hours in Barcelona or less.
Staying in the Airport on a Layover
Barcelona el Prat airport is a modernist architecture lovers dream. Divided into two terminals, the smart and clean lines of the building provides a welcome contrast to the oftentimes wearisome hustle and bustle of travel. If you have a layover for four to six hours at BCN we recommend that you stay in the airport instead of venturing out.
If you need a break and chance to relax, there are several spas at BCN. Heaven on Earth Spa Express has three airport locations offering a range of services including hair and nail care, massages, facials, and various therapeutic treatments.
If you're a Priority Pass member (which I highly recommend!) there are 4 lounges available in el Prat that you can make use of. If you're not a member yet, check out the benefits to see if it's a good fit for you.
Terminal 1 also features a chapel and prayer room, located in the "La Plaza" area on the first floor, and two children's play areas.
Shopping is beyond plentiful at BCN. There are 50+ shops including designers such as Carolina Herrera and Massimo Dutti to basic Spanish fast fashion staples such as Mango and Zara. There are general duty-free shops in all departure areas, so you can also snap up your favorite cosmetics, liquors and other standards, tax-free.
Where to eat in El Prat Airport
Layover too short to make it into town to try some tasty croquettas? If you are interested in sampling some authentic Spanish cuisine check out Porta Gaig which features a Michelin-starred Barcelona chef.
Fresh seafood is available at Asador del Mar if you can't make it to the beach and Lizarrán with four locations is great place to grab a more casual bite to eat that still has a Spanish flair.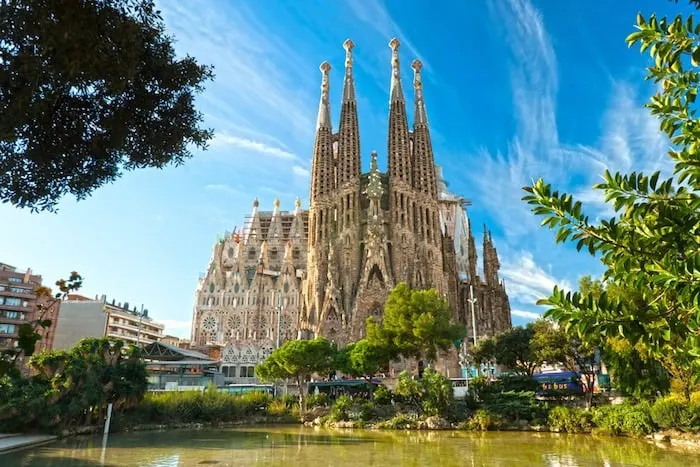 Visit the City of Barcelona on a Layover
BCN is located about 10 kilometers from the city centre which can be easily reached by taxi in about 20 minutes. Taxis are affordable especially if you are traveling with others.
If you prefer another mode of transportation, the AeroBus departs from T1, T2B, and T2C every few minutes for less than €6 each way. The metro train is another option though it doesn't run as frequently. For most sights you can get off at Plaça de Catalunya or Passeig de Gracia.
Before you leave the airport, you can store your luggage in facilities available at both T1 and T2. If needed (and somewhat advisable especially in busy seasons), reserve this service in advance online.
You're out of the airport and ready to breathe in the City of Gaudi. Where to first? Sagrada Familia or the Picasso Museum are usually the most popular destinations and because of that lines can be extraordinarily long particularly in the summer months.
It's best to purchase your ticket online for both the Sagrada Familia and the Picasso Museum in advance- you'll bypass the line and maximize your layover time!
After you leave the Picasso museum, consider a leisurely stroll along La Rambla, a famous wide pedestrian street that passes great architecture and shops as well as the historic La Boqueria market. If you'd rather a guided eating exploration, book a food tour to taste your way through Barcelona.
Barceloneta Beach is another great place for a leisurely walk or if you're really adventurous and have a particularly long layover maybe even a dip in the water followed by some tapas. Barcelona's beaches stretch for 4.5km and offer a variety of activities.
If you have a full day or longer during your layover, consider making the most of your money by purchasing a Barcelona Card which will give you unlimited travel on Barcelona's public transit, discounts at shops, restaurants and attractions and free admission to over 20 top Barcelona attractions.
Another great way to acquaint yourself with Barcelona if you have time is by taking a Spanish cooking class. This 3 hour class begins with a guided tour through La Boqueria to enliven your senses before you take to the kitchen!
Spending the Night in Barcelona on a Layover
Air Rooms in T1 offers rooms with double beds and private bathrooms. You can book an overnight stay, a room for the day or a shower option.
If you're looking to save money or only have a few hours to kill before your red eye takes off, there are usually plenty of people sleeping in T1. When deciding whether or not to book a room with Air Rooms keep in mind that BCN's modern design is expressed with carpet-less floors and hard benches and it may be difficult to find a comfortable spot to rest.
In T2, Gate U has some armrest-free chairs to spread out on as well as a 24-hour restaurant which might be your best shot at relaxing. Most of the airport is pretty brightly lit, even at night and generally is fairly chilly so prepare as necessary.
Booking an airport hotel in Barcelona
If you have a longer overnight layover and truly want to relax then we suggest booking a hotel near the airport. This is especially true if you're traveling with family.
Best Western Plus Hotel Alfa Aeropuerto
Free airport shuttle service, a heated pool, and a bus stop right outside to take you around Barcelona – what more could you ask for? How about family rooms and a great buffet breakfast to get your night and day right. A great choice!
TRYP Barcelona Aeropuerto Hotel
A quick 5 minute ride from terminal 1 and you're at the TRYP ready to snuggle in for the night. There's a 24 hour shuttle so no matter what time your flight is you've got a ride. A buffet breakfast and all-day dining options are also available.
Novotel Barcelona Cornella
This is the furthest from the airport but at 9km it's still close by. It is a fantastic choice for families with a larger rooms, a big garden area, outdoor pool, toys and games available, and there's a kids club Monday-Saturdays from 4:30-8:30pm. The hotel is 5 minutes' walk away from Almeda de Cornellà Train Station with a 15 minute ride to central Barcelona for those that want to head in to the city.