This post may contain affiliate links for suggested items you can purchase. You are not charged any additional cost for purchasing via these links, however by utilizing them you help keep this site running!
One of my favorite holidays has always been Thanksgiving. For as long as I can remember all of my family would get together at my grandma's house for a huge meal.  It was  always a fun time for my cousins and I to get together and usually get in some type of trouble. The meal was always traditional; turkey, mashed potatoes, cranberry sauce, corn, small soft rolls, and plenty of dessert.  When MarocBaba first came to America I couldn't wait to share this holiday with him. His second year here we were not near any family and it was up to me to make a Thanksgiving dinner.  I was afraid the whole thing would be a flop but we ended up having a delicious meal – even if it was just our little family. This year Thanksgiving will be different because of his diagnosed celiac disease.  I've already started re-creating some of the staples in a gluten-free version to make sure he doesn't miss out. Two of the dishes I've re-created are a baked corn pudding and a crouton to be used for stuffing.  They've both passed the kid test and I think they may be better than the original versions!
Gluten-Free Italian Croutons
To make this recipe, I whipped up a batch of cornbread, let it cool and then cubed it.  I toasted it again to make them crunchy.  Alternately you could leave the cornbread out overnight to "dry up" and then finish them in the oven the next day.
Ingredients
1 cup white rice flour
1/2 cup sorghum flour
3/4 cup cornmeal
2 teaspoons baking powder
1/2 tsp salt
1/2 teaspoon garlic powder
1/2 teaspoon onion powder
1 teaspoon basil chopped finely
1/4 grated parmesan cheese
1 cup milk
1/4 cup Brummel and Brown Spread
1 egg
1/4 cup Brummel and Brown Spread reserved
Directions
Preheat your oven to 400F
In a large mixing bowl combine the flours, cornmeal, baking powder, parmesan cheese, salt, basil, onion and garlic powders.  Mix together.
Melt the Brummel and Brown and add to the flour mixture along with the egg, and milk.
Use a whisk to combine all of the ingredients and remove as many of the lumps as possible.
Grease an 8×8 baking pan and pour in the mixture.
Bake 20-25 minutes until the bread is cooked through and a fork comes out clean.
Allow the corn bread to cool and then cut into 1/2″ strips and then cubes.
Lay out the cubes on a large baking sheet.  Melt the 2nd 1/4 cup of Brummel and Brown and drizzle on top of the corn bread cubes. Toss gently and place back into a 400F degree oven.  After 8-10 minutes mix the cubes and bake until they have browned and dried out.
Baked Corn Pudding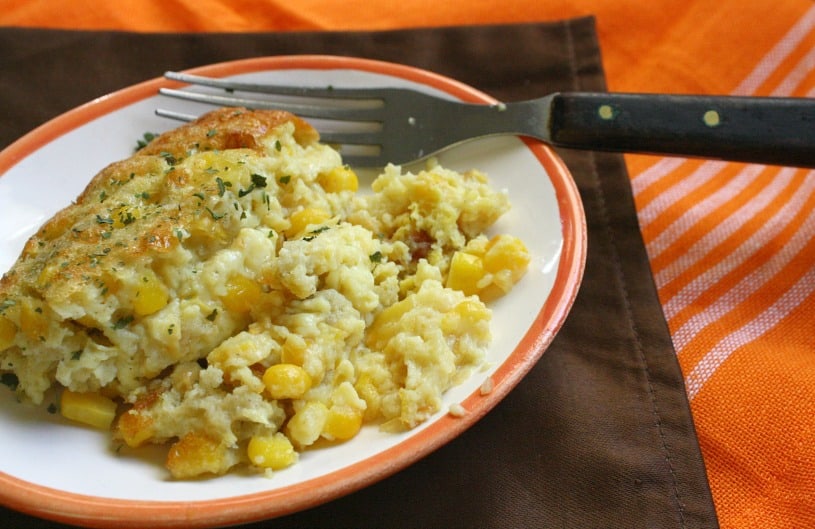 I've made this dish for several years and have often been asked for the recipe.  It's a hit with adults and especially with kids.  I've altered this version to omit any gluten.
Ingredients
5 eggs
1/3 cup sugar
1/3 cup Brummel and Brown spread
1/2 cup cream
1 can of creamed corn
2 cups frozen corn
4 Tablespoons cornstarch
1 teaspoon salt
1 teaspoon pepper
Directions
Preheat your oven to 400F.
In a large mixing bowl add the eggs and cream and whip together with a whisk.
Melt the Brummel and Brown spread and add to the egg mixture along with sugar, salt and pepper.
Mix well and add the creamed corn, frozen corn and cornstarch. Fold together everything.
Grease an 8×8 baking pan and pour the mixture in. Place in the oven.
Bake the pudding for 20-25 minutes until the edges are brown.  This is a pudding so it will not become firm. It should not be runny but don't be alarmed if it is soft.
Serve hot.  You can also garnish this with chopped parsley, cilantro, onions, or even shredded cheese!
I hope that these recipe ideas help you have a great Thanksgiving whether you're gluten intolerant or not!
Thank you to Good to Know & Unilever Spreads for being a sponsor. I was selected for this opportunity as a member of Clever Girls Collective. All opinions expressed here are my own.
Be a part of the MarocMama family!
Do you want access to all things MarocMama? Join our community of readers to get updates on new posts, inside information that won't go on the blog and so much more!
Sound good? Pop your email below and you're in!