I refuse to attend any Thanksgiving dinners that do not include stuffing and I'm firmly of the opinion we should make stuffing more than once a year. When my husband was diagnosed with celiac disease I had to get more creative with a lot of recipes. This meant I needed to create a lot of gluten-free Thanksgiving side dishes so he wasn't left out.
To make this recipe, I whipped up a batch of gluten-free cornbread, let it cool and then cubed it. I toasted it again to make them crunchy. Alternately you could leave the cornbread out overnight to "dry up" and then finish them in the oven the next day.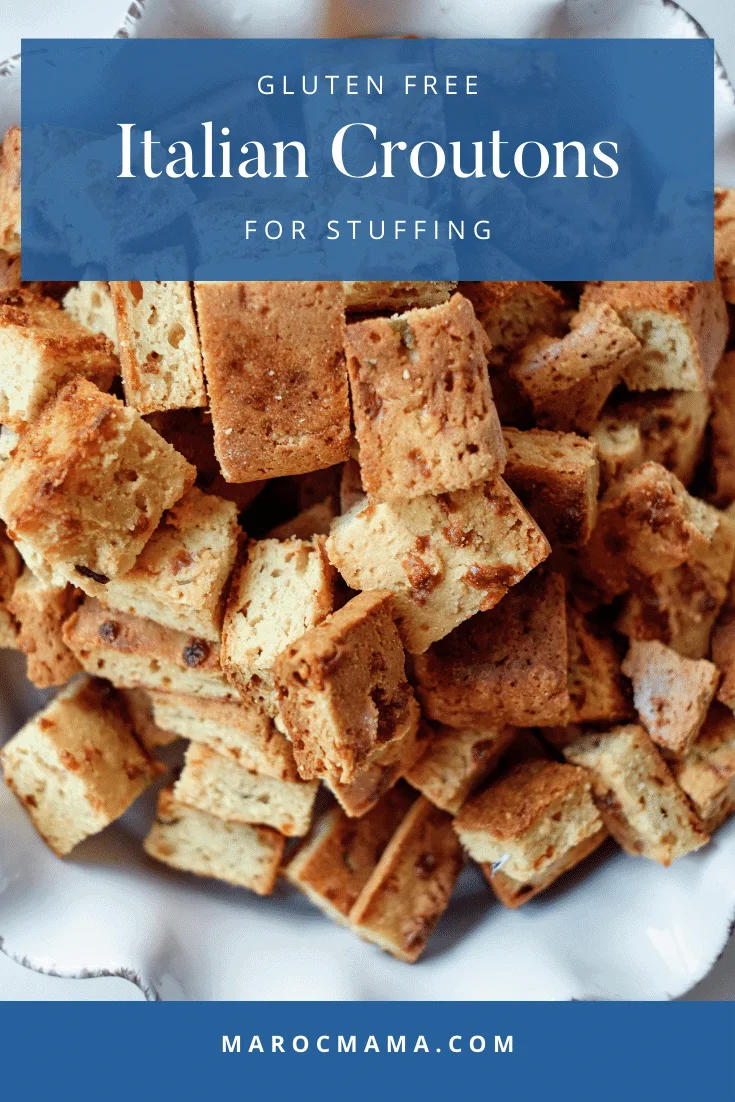 You can use these however you'd like but I make a very simple stuffing. Mine is slightly Moroccan inspired. To the toasted bread cubes I add merguez sausage, diced apples, dates, walnuts and a combination of herbs and spices. On top I use chicken broth before baking it to get all the flavors married together.
Ok, who's ready for some stuffing??
Gluten Free Italian Croutons
The perfect croutons for your gluten-free Thanksgiving stuffing.
Ingredients
1 cup white rice flour
1/2 cup sorghum flour
3/4 cup cornmeal
2 teaspoons baking powder
1/2 tsp salt
1/2 teaspoon garlic powder
1/2 teaspoon onion powder
1 teaspoon basil chopped finely
1/4 grated parmesan cheese
1 cup milk
1/4 cup butter
1 egg
1/4 cup butter reserved
Instructions
Preheat your oven to 400F
In a large mixing bowl combine the flours, cornmeal, baking powder, parmesan cheese, salt, basil, onion and garlic powders. Mix together.
Melt the butter and add to the flour mixture along with the egg, and milk.
Use a whisk to combine all of the ingredients and remove as many of the lumps as possible.
Grease an 8x8 baking pan and pour in the mixture.
Bake 20-25 minutes until the bread is cooked through and a fork comes out clean.
Allow the corn bread to cool and then cut into 1/2" strips and then cubes.
Lay out the cubes on a large baking sheet. Melt the 2nd 1/4 cup of butter and drizzle on top of the corn bread cubes.
Toss gently and place back into a 400F degree oven. After 8-10 minutes mix the cubes and bake until they have browned and dried out.