Moroccans use a lot of different spices in food however rarely is food considered "spicy." One of the signatures spices is ras al hanout. It isn't an everyday spice but it is unique to Morocco.
What is ras el hanout?
Literally translated ras al hanout means "head of the shop," in Moroccan Arabic. (Ras = head and hanout = shop). The thing about this spice is that there isn't a single way to make it. It's uniqueness is that each spice shop has their own blend. Sometimes its the recipe that's been handed down in the family and other times it's their own creation.
Watching a shopkeeper mix this spice is something special itself. If you do come to Morocco and want to bring some home, I highly recommend asking them to blend it fresh just so you can see the process.
You also may want to keep in mind that this spice can be pricy because it's based on the use of a lot of different spices; some of which are expensive (for example if it uses saffron). You can buy pre-blended ras al hanout but if you want to try making your own it's a fun project too.
Ras al hanout is a specialty Moroccan spice that is used to give dishes a pop. Whole seeds/roots work best for this but if you only have dry spices and herbs available it will work.
Ingredients
1 inch piece dry ginger (2 teaspoons ground ginger)
2 teaspoons ground mace
1 piece cinnamon bark (1 teaspoon ground cinnamon)
8-10 allspice berries (1 teaspoon ground allspice)
1 teaspoon coriander seeds
1 teaspoon ground nutmeg
1 teaspoon turmeric
1/2 teaspoon black pepper berries (1/2 tsp ground black pepper)
1/2 teaspoon white pepper berries (1/2 tsp ground white pepper
1/2 teaspoon ground cayenne pepper
2-3 star anise pods
1/4 teaspoon ground cloves
6-8 cardamom pods (2 teaspoons dry cardamom)
1/4 tsp nigella seeds
1/4 tsp caraway seeds
1/4 tsp fennel seeds
5-10 threads saffron
3-5 dry rose bud petals
Instructions
Gather all of your ingredients.
Toast the spices if you're using whole spices as follows;
Preheat oven to 325F (165C) and prepare a baking sheet.
Spread out all spices that are whole (except saffron and rose buds)
Toast for 10 minutes checking half way through to mix slightly.
Remove from oven and allow to cool approximately 10 additional minutes.
Grind spices as well as rose petals and saffron using a mortar and pestle or a spice grinder. You may need to work in batches.
Store ground spices in an air tight container until ready to use.
Notes
If you don't have all of these spices don't worry, you can adjust based on what you have. You also can play with the quantities. Add more of spices you like, reduce those you don't until you create your perfect spice blend too.
Recipes using Ras al Hanout
As mentioned this isn't an everyday ingredient and a little bit goes a long way. I think that it's too strong of a flavor to use with thing like fish dishes that are light. But when paired with a protein like lamb it works better.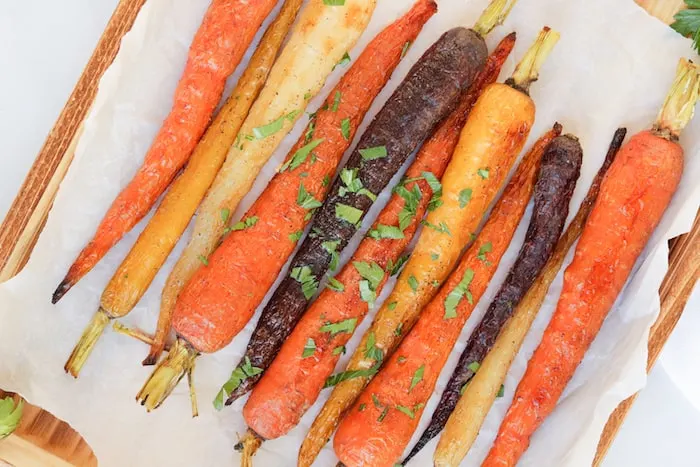 The addition of ras al hanout in these carrots brings them up from something everyday to something a little special.
How to clean a coffee grinder from spices
If you do use a coffee grinder to mix your spices, here's a helpful video on how to clean it to use for coffee again.