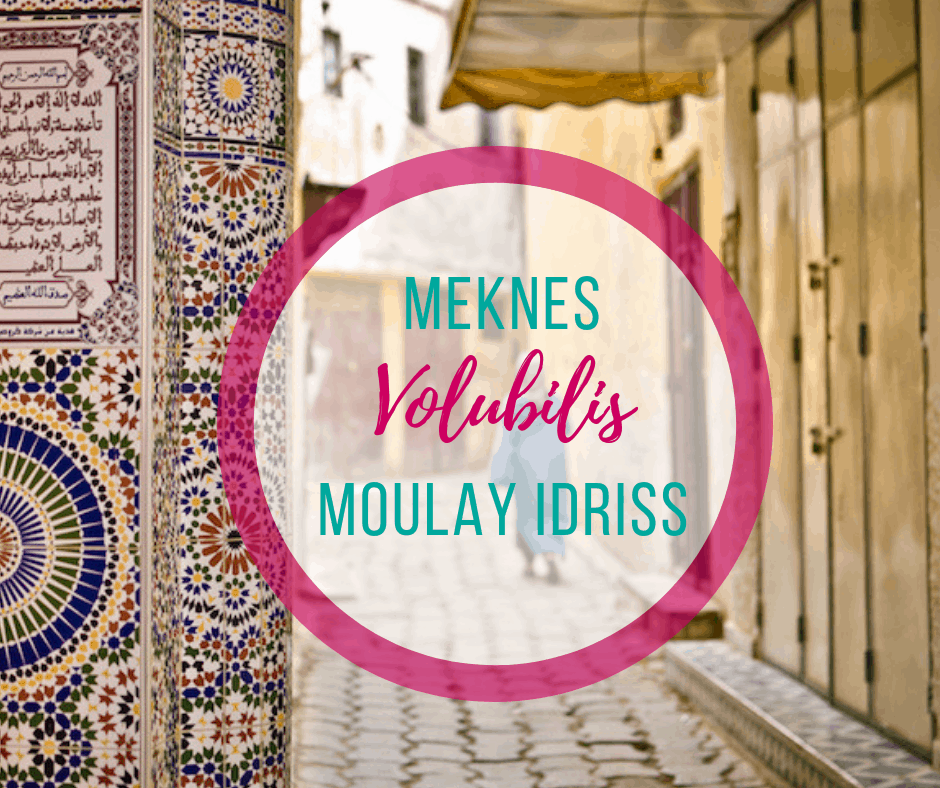 This post may contain affiliate links for suggested items you can purchase. You are not charged any additional cost for purchasing via these links, however by utilizing them you help keep this site running!
Meknes, located in north-central Morocco and also known as one of the four Moroccan "Imperial Cities", is a relaxed, lesser-known tourist attraction but packs a great punch when it comes to interesting, unique places to visit and stay. Founded in the 11th century and former capital of Morocco it was ruled under the tight control of Sultan Moulay Ismail in the mid 17th century, Meknes has arguably the loveliest and grandest "bab" or ancient door in all of Morocco, called Bab Mansour.
Meknes was named one of the top 10 cities to visit in 2019 by Lonely Planet – so why not take them up!
Check out this handy guide to the best of Meknes and happy traveling!
Meknes was first established in 1061 and made the capital of the Almoravid dynasty. Its name originates from the Berber tribe Meknassa. The most well known ruler (and the longest ruler of Morocco ever – 55 years) was Moulay Ismail who was by all accounts was quite tyrannical. With horse stables large enough to house 12,000 horses and 45 kilometers of walls built with slave labor.
It's estimated he executed over 30,000 people during his reign and was notorious as raider, having his troops capture ships at sea and even raiding cities as far away as the coast of the United Kingdom. However he's also known as the ruler that kept the Ottoman Turks at bay as well as Spanish and British would be colonizers.
If you're interested in learning more about Moulay Ismail and this period in Moroccan history the book White Gold is a really interesting insight to this period of time.
By Train
The city of Meknes is on the Rabat-Fes train line and there are two main train stations in Meknes; Gare de Meknès-Amir Abdelkader is more centrally-located in the new town (Ville Nouvelle), while the bigger Gare Meknès-Ville is a bit further east and not as convenient to the medina and tourist areas. Fes is just about 45 minutes further east on the train from Meknes.
By Car
Meknes is easily accessible by car and just off of the A2 autoroute. This freeway, like most Moroccan major autoroutes, is in excellent condition and is relatively easy to navigate.
By Plane
The closest airport to fly to is in Fez.
By Taxi
It's possible to take a grand taxi either shared or private from any city in Morocco. Prices are negotiated based on the distance that needs to be traveled. A private taxi to Meknes will cost between 400-500 dirham. However if you don't mind a shared taxi it will be much less.
Meknes is much more relaxed and hassle-free than many of the other main tourist cities in Morocco like Fes or Marrakech.
Bab El Mansour
This famous 'bab', or door in Arabic, arguably the biggest and most ornate gate in all of Morocco, is a must-see and conveniently located across the street from the main square, Place El Hedim. Bab Al Mansour is proudly a UNESCO World Heritage site. Its ornate bab (get to know this word in Morocco!); gorgeously decorated in lavish mosaic tile-work, is a beautiful photo-op and changes its look dramatically throughout the day, depending on the lighting. The actual door, most often closed, is an impressive 16 meters high. Inside the famous structure, you will find a modest art gallery.
A fascinating lesser-known fact about the door, built by the ruthless Sultan Moulay Ismaël in the 1730's; the (still-standing) front columns that are clearly visible at the entrance of this incredible door are actually Roman columns that Moulay Ismaël pillaged from the stunning Roman city of Volubilis, just 30 minutes away from Meknes. Bab Mansour is named after the ill-fated architect who built the structure, El Mansour; unfortunately killed by the Sultan after the completion of the famous door.
Place El Hedim
This bustling grand square; the 'cousin' of Marrakech's massive Djemma El Fna, is a low-key, pleasant equivalent to the main tourist hub of Marrakech. Accessibly located facing the main Bab Al Mansour, you won't want to miss out on a visit to this lively location. There are scattered cafés about for a quick 'harira' soup; a delicious Moroccan minestrone-like tomato based offering, or a steaming hot glass of Moroccan mint tea. There are friendly vendors scattered all over the square and you will surely not be harassed as you might be in Marrakech or Fes. It's a fabulous setting for people-watching, too.
Bab El Khemis
This beautiful door is a lovely gateway into the medina of Meknes; complete with two towers and a still-used passage for cars and pedestrians. Simple, yet stunning example of traditional Islamic designs.
Mausoleum of Moulay Ismail
The resting place of the founder of Meknes, Moulay Ismail. For Muslim visitors it is possible to visit the inside of the mausoleum however non-Muslims are not permitted entrance.
Palais El Mansour
Quietly situated in a non-descript suburb of Meknes is the impressive and distinctive 18th century former summer residence of Moulay Ismail; an almost-forgotten structure from the tourist crowds. It's a definite must-see, although some of the structure is in much-need of repair. It is still an awe-inspiring sight; do pop up to the roof where you can catch a lovely glimpse of the city of Meknes as well as a bird's eye view of the ruins of the residential rooms.
Heri Es-Souani
Once the city's thriving horse stables and granaries, Heri Es-Souani gives you a fascinating peek into the lavish lives of those long ago. Now a UNESCO World Heritage site, this astonishing site was an engineering feat at the time as the structure of the granary is so incredibly massive; apparently having the capacity to store enough grains for 20 years. Built in the mid 17th century by the Sultan Moulay Ismail, the impressive grounds once housed up to 12,000 royal horses. Although the stables and granaries are now in ruins thanks to a 1755 earthquake, the site is still incredibly impressive and is another often-overlooked gem. Opening hours are 9am-12 pm and from 3pm-6:30 pm. Entry tickets are 10 dirhams each.
Dar Jamaï Museum
Former home of a wealthy Moroccan family and a museum since the early 20th century, the palace is home to an extensive display of jewelry, textiles, and ceramics dating from the 14th century. There is also a breathtaking courtyard and Andalusian garden, where you can have a relaxing moment in the sun. The only drawback of this fascinating museum is that displays are in French and Arabic.
Local Souks
Meknes is peppered with non-touristy Moroccan markets; where the Meknassi people shop for food and essentials. Check out the Mellah, the old Jewish quarter of the city and people-watch in all of its hustle, bustle and authentic flair.
The Marché Central is just that-centrally located and brimming with fresh produce, olives, meats, flowers, and more. Meknes is the perfect place for some off-the-beaten-track wandering as the locals are warm and friendly, prices are very reasonable in general, and the city feel is relaxed and hassle-free.
Damascus Silver
This type of gorgeous sterling silver inlaid on steel jewelry and pottery is unique to Meknes; originally arriving in the 14th century to the city from skilled Jewish craftsmen who were exiled from Andalusia. There are only a handful of Damascus Silver artisans left; you can find them in the Kissaria Lahrir souk. Ask your guide or riad receptionist, you do not want to miss this unique craft!
Enjoy A Calèche Ride
Want to feel like you are in a fairytale? Grab a traditional Moroccan calèche, a horse-and-carriage ride through the heart of Meknes. Not all Moroccan cities are licensed for calèches, so do take advantage in Meknes.
Meknes has plenty of reasonably-priced choices for good food. A few to consider include;
La Grilladière is a perfect choice for families. There is a dish for everyone, from grilled kebabs to pizza to burgers to salads.
Angle Rues Dakar et Abdelmoumen Al Mouahidi/+212 (0) 5351 2454
Black Iris Tea Room and Restaurant-Black Iris is the perfect stop for a delicious dessert and a coffee or Moroccan mint tea. The café also conveniently serves breakfast, lunch and dinner.
Lotissement Nr 1, Marjane 2, Db. Mohamed VI Meknes
This lovely little spot has some of the best views overlooking the city of Meknes, day and night. Simple fare, but the panoramic sights are most certainly worth the visit! +212 (0)687-953086
Riad Yacout
Known for its warm and hospital staff, this stunning 18th century restored traditional riad is perfectly located just two minutes from the heart of the Meknes medina. Riad Yacout also has a well-known restaurant, serving delicious Moroccan fare, as well as a relaxing dipping pool and luxury hammam.
Riad Mama H & K
This affordably luxurious guesthouse is the ideal spot to relax after a long day seeing the sights of Meknes. Their staff is known for being extremely helpful and the restaurant is excellent. Beautifully ornate rooms have been renovated; a lovely example of Moroccan mosaic tiling traditional charm.
Les Jardins De Ryad Bahia
If you are looking for a quiet oasis on your Moroccan adventure, try the Ryad Bahia; a recently-converted family home with plentiful greenery and excellent service. Drop by for a tea and some delicious Moroccan sweets even if you aren't staying here.
Located just next to the toll station off of the autoroute into Meknes and 15 minutes from the city, this brand-new park opened in 2018 and packs a punch of fun for children and families.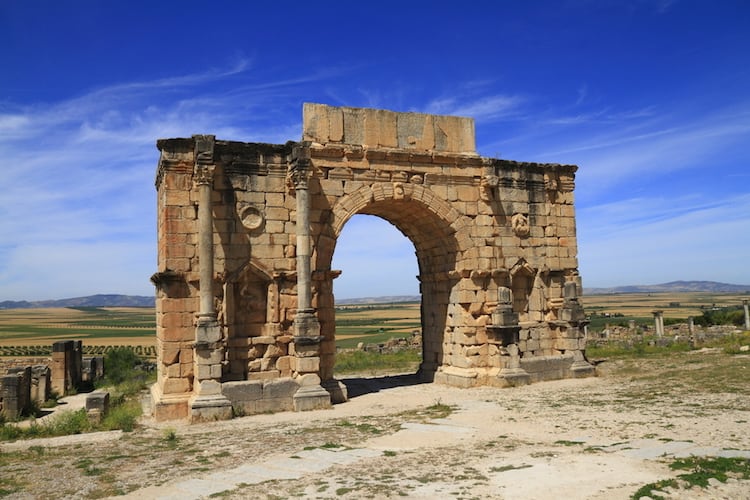 Volubilis
Do not miss out on a day (or even a half-day) trip to see the incredible Phoenician and Roman ruins of Volubilis; located about 40 minutes north of Meknes (20 miles). Even if you have a couple hours, go! You will not regret it.
Volubilis, a UNESCO World Heritage Site is an astonishingly beautiful, amazing intact vast ancient city that will surely impress you and your group. The bold mosaic tiles are still vibrantly still in tact in most of the structures, guaranteeing captivated visitors. With the Phoenicians having roots in Volubilis from the 3rd century BC to the Romans who arrived after the fall of Carthage in 146 BC, Volubilis will take your breath away.
The grounds of this striking sight are quiet, with surprisingly few tourists visiting-it's truly a hidden gem. Kids can run wild and enjoy the immense temple and awe-inspiring structures and we guarantee that you will be mesmerized by the 'Arc De Triomphe' and it's stunning backdrop into the green landscape around it. The fascinating ruins were devastated by a massive earthquake during the 18th century. It wasn't until the French colonial rule took over in the 20th century that the ruins were finally excavated restored.
Extra Volubilis Tips
Getting a guide (as soon as you buy your 20 dh per person ticket) is relatively easy but not required. Volubilis guides speak most major languages. Likely, they will ask for 200 dh for a two+ hour tour for your group, but the word on the street is that they will accept 150 dirhams if you ask. The newly constructed museum is included in your entrance fee and is an interesting center, conveniently located next to the toilets and the start of the city. Don't forget to bring a hat, water and sunblock as there is practically no shade in Volubilis and it gets VERY hot in the summer.
Open seven days a week from 8:30 am until approximately one hour before dark, tickets are 70 dirhams per adult and 30 dirhams per child. Toilets on-site are clean but do pack a snack or lunch because the one tiny 'restaurant' is really more of a modest tea/cold drink stand. Parking is easy.
Moulay Idriss
Just 2.5 miles above Volubilis, you will find the charming hilly, white-washed town of Moulay Idriss, delightfully dotted with olive groves below in the valley. Well-known locally as one of the country's most important pilgrimage sites for its holy festival the second week of August, the town is nestled between two lush-green hills and backed by the understated Mount Zerhoun.
The small community was founded in 789 by Moulay Idriss I, a direct descendent of the Prophet Mohammed. His reign was the beginning of a new dynasty; Moulay Idriss I is also responsible for introducing the religion of Shiism to the then-mostly Berber population of Morocco. The king also founded the city of Fes, one hour east of Moulay Idriss. The mausoleum built in his honor is only open to Muslims.
The narrow, delightful streets of Moulay Idriss will be a relaxing, welcome addition to your normally busy Moroccan agenda. Moulay Idriss is a bit of a secret; the picturesque town is off the main tourist circuit; a welcome break! Take some time to grab a mint tea at a café terrace where you can take in the rocky, natural terrain and catch a gorgeous glimpse of Volubilis below.
Not to be forgotten! Moulay Idriss is well-known for it's nougat, which you can find easily in the town. Its other specialty is kefta, ground beef with Moroccan spices; often served in a tagine with tomato sauce and a fried egg on top or as brochettes.
Where To Stay In Moulay Idriss
Dar Zerhoune is a lovely New Zealander-owned guesthouse and restauarant/café at the top of the steep hills of Moulay Idriss. And if you are feeling adventurous, you can even take the approximate one-hour hike down to Volubilis with a guide. Rose Button, the fabulous owner of Dar Zerhoune, can help you arrange this fun expedition, but be warned, it's hilly! Fun fact about the guesthouse-Rose is the first female to own a business in Moulay Idriss and she employs local women from the town as her loyal staff. If it's summer and hot, Dar Zerhoune has an air-conditioned terrace room for fabulous views without the relentless heat.
Pop down the road (a 15-minute walk) to the thermal bath and enjoy a dip in this unique location. It's free!
Ask the staff about the Heroune Aqueduct, a grandiose structure located north of the town that was built to bring water to the inhabitants of Moulay Idriss.
If you love animals, you are in luck as Dar Zerhoune is a huge supporter of donkeys; the most important means of transportation for the hilly town of Moulay Idriss. The guesthouse even has a heartfelt non-profit called the Dar Zerhoune Donkey Project, where these fuzzy friends receive top-notch veterinary care and donkey owners in the town learn about caring for their donkeys. It's a win-win for the community. Dar Zerhoune even offers donkey rides to Volubilis; where you will meander through the lovely landscape, including stunning olives groves on your way to the ancient city. The non-profit also gratefully accepts donations as well in order to keep the donkey of Moulay Idriss thriving.
There are many other outdoor activities around Moulay Idriss, including biking, hiking, and forest-walking. Pop down the road (a 15-20 minute walk) to the unique thermal bath and enjoy a dip in this rustic location. It's free! Be sure to ask what the options are at Dar Zerhoune; the friendly staff there will surely be of help.
If you want to grab a taxi from the town to Volubilis, expect to pay 20-40 dirhams, depending on how haggle-savvy you are.
Lastly, if you only have a few hours to spare, do stop by the guesthouse for lunch and bask in the amazing panoramic view of the valley below. Reservations are recommended to be sure that the kitchen is ready for you! The restaurant is open from 12-4 pm unless you have an arranged time with the staff and in the evenings, it is open depending on the requests of guests. The guesthouse prides itself on using fresh ingredients from the local market in Moulay Idriss. Be warned that Dar Zerhoune, like most of Moulay Idriss, is located on a steep hill. If you have bags, you can easily hire a donkey to help with your belongings!
For more information or to book a room you can do so through this link.
Where To Eat In Moulay Idriss
Dar Zerhoune – it's possible to call ahead and schedule lunch or dinner even if you're not staying as a guest.
Scorpion House
A private house for high-end dining and gorgeous rooftop terrace views. Reservations are a must.
Walila Family Restaurant and Farm
Nestled peacefully between Volubilis and Moulay Idriss, the Zayrs' little slice of heaven is an oasis of green and calm. The delicious food, beautifully presented, is entirely grown ecologically and prepared organically from the Walila farm. Reservations required.
Grillade Albanna – Located just off of the town square, Grillade Albanna's specialty is kefta, served simply with fresh bread, grilled tomatoes and spices.
Important Tips-
It can get very hot in Meknes during the summer months and very cold, icy, and even snowy in Meknes in the winter months, so plan accordingly!
Meknes is a small city, and do-able in one day. However, if you add the charming Moulay Idriss and the Roman ruins of Volubilus, we recommend that you stay two nights.
RELATED DESTINATION GUIDES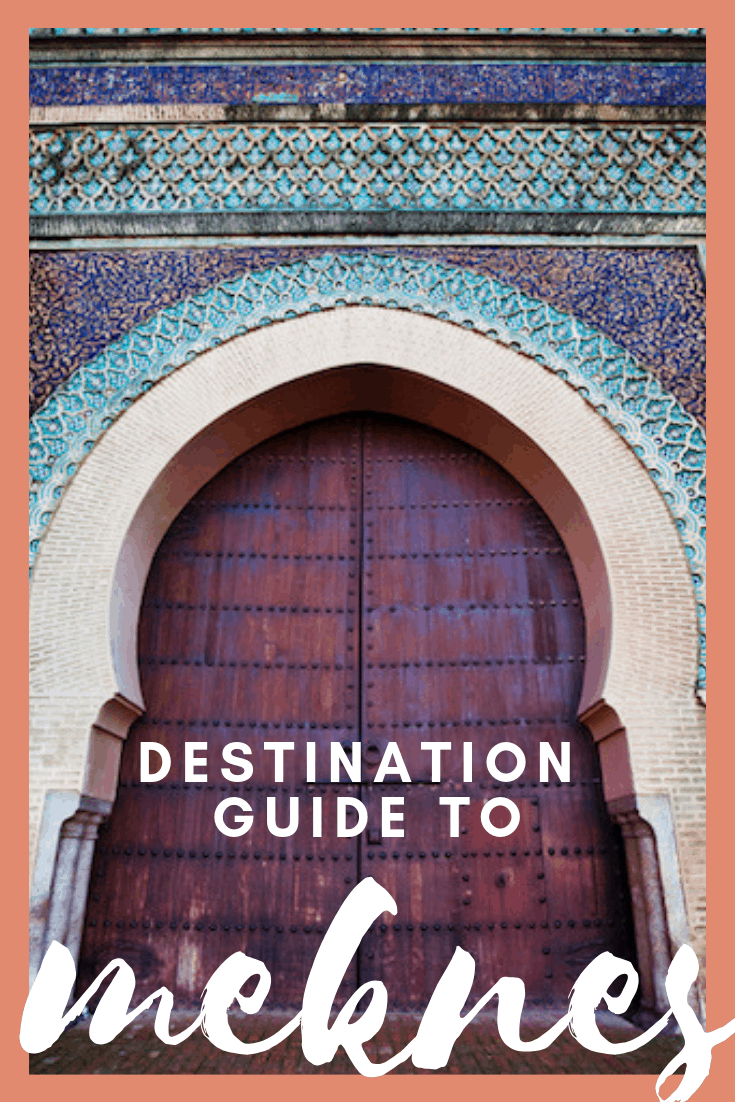 Be a part of the MarocMama family!
Do you want access to all things MarocMama? Join our community of readers to get updates on new posts, inside information that won't go on the blog and so much more!
Sound good? Pop your email below and you're in!