There are many different kinds of cookies that make an appearance during Ramadan. Some are traditional to different cultures while others are just sweet treats that can be enjoyed. There's no right or wrong way! If you want to make some Ramadan sugar cookies this year, I have a great recipe and different preparation techniques for you.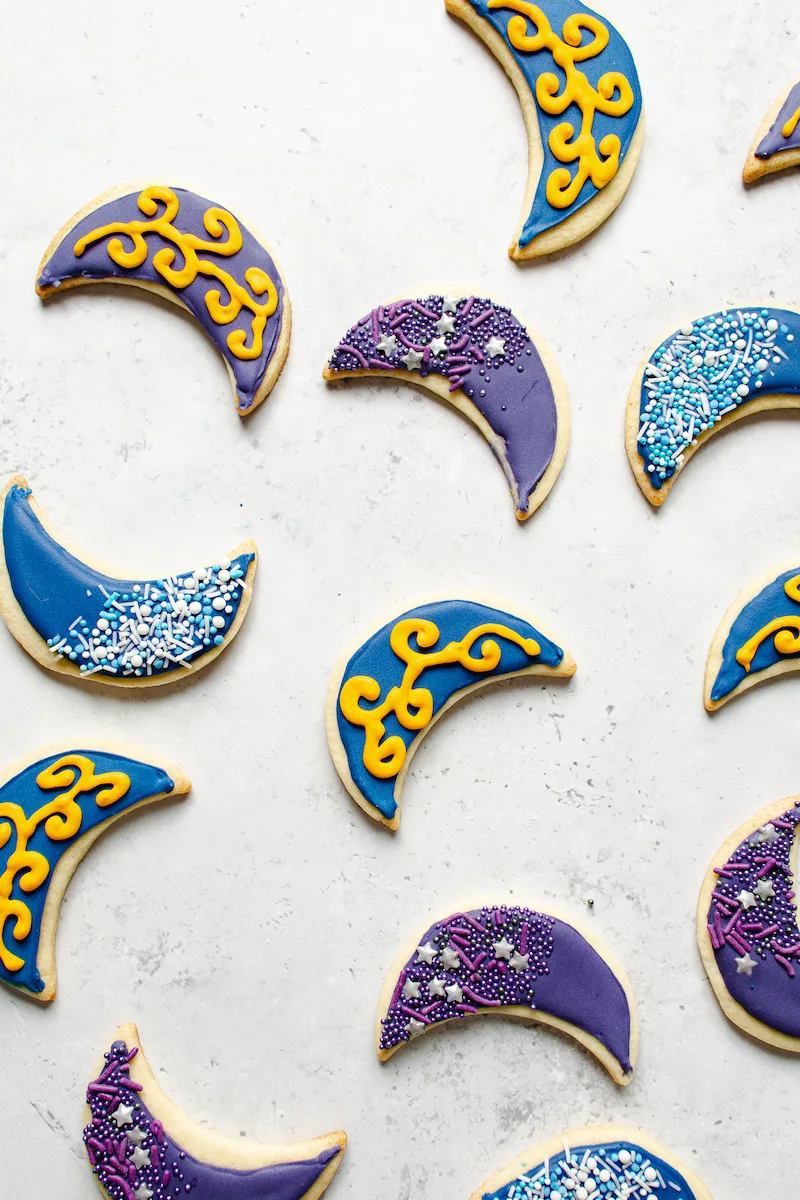 Many people are intimidated by the thought of making iced sugar cookies but they're not as intimidating as you may think!
Making cookies is a great Ramadan activity for kids because it not only gives them a fun activity to do but a snack also!
A few simple techniques can help you create really love cookies that not only are tasty but look beautiful too. What I love the most about these kinds of cookies is that you can get everyone involved – even little kids. This gives them, even more, connection to the holiday.
Sure plates of tiny perfectly made cookies might look nice, but this is about more than aesthetics!
Finding Ramadan Cookie Cutters
Today, there are so many different types of cookie cutters available for making your desserts. Of course, there's the standard moon and star – the two designs I used for these cookies – but there are literally dozens of other options. The link I shared previously has some of the really fun ones I found.
If you want something more than a general star and moon, here are two of my favorite designs.
How to Make Ramadan Sugar Cookies
To make these cookies you can use any sugar cookie recipe that you like – or buy premade cookies – because I'm all about making life easier! You can purchase sugar cookie dough from most grocery store bakery counters or pick up a package of Pillsbury sugar cookie dough in the refrigerated section.
If you don't have a favorite recipe, I'm sharing one here too.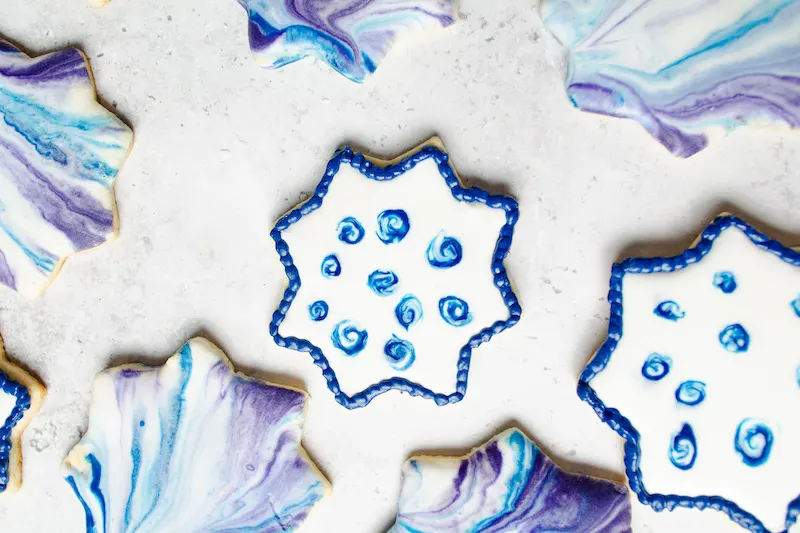 Decorating Your Ramadan Cookies
Once you've got the cookies baked and cooled it's time to decorate.
I have four different ways that you can make your decorated Ramadan cookies. There are two simple, and two slightly more complicated techniques. These can easily be adapted for colors and style, I'm simply sharing different techniques for decorating.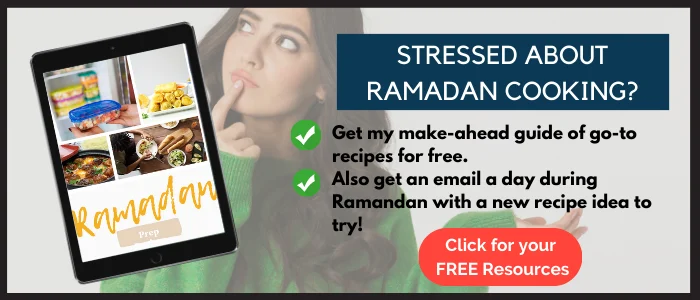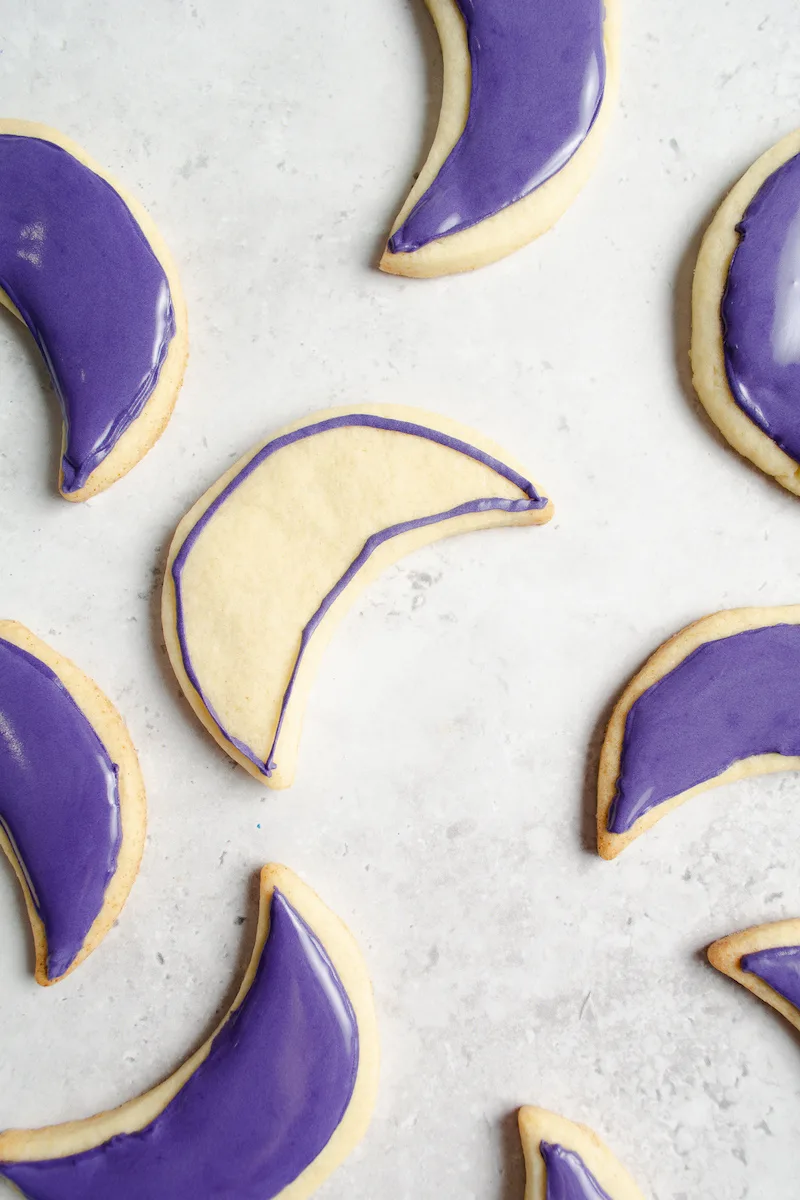 These are just some ideas you can use. There are plenty of other ways – including whipping up the icing and just free decorating whatever comes to mind.
More Ramadan Cookies and Treats to Try This Year
If you're looking to expand your baking this year there are many different kinds of sweet treats you can make. From traditional Ramadan cookies to more modern and fun treats, here are some great options.
No matter which cookies you end up making, you're sure to have happy guests!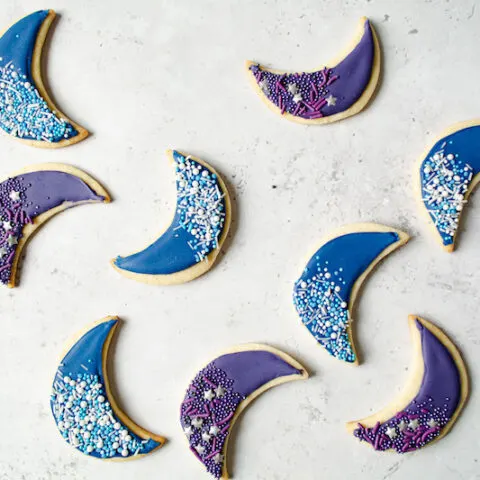 Decorated Ramadan Sugar Cookies
This is a simple sugar cookie recipe that you can make for your Ramadan frosted cookies.
Ingredients
3 cups all purpose flour
1 1/2 tsp baking powder
1/2 tsp salt
1 cup of butter softened
1 cup caster sugar
2 large eggs
2 tsp almond extract
Instructions
In a large bowl beat together the butter with a stand mixer or hand mixer until light and fluffy.
Add in the sugar and continue mixing until well combined.
Next, crack and add in the eggs, one at a time along with the almond extract.
In another bowl add the flour, baking powder, and salt. While still mixing add the dry ingredients to the wet ingredients.
Cover the dough and chill for at least 1 hour.
To bake preheat the oven to 350F and place parchment paper on a cookie sheet.
Flour a clean, large surface and roll out the dough until it is approximately 1/4 inch or 1/2 cm thick.
Bake for 8-9 minutes until a light, golden brown. You will need to adjust baking time depending on your oven as well as the shapes and thickness you choose for your cookies.
Notes
If you want to make sure your cookies hold their shape, a trick is to do the first chill, then roll and cut the cookies and chill again for an additional hour. You can also pop them into the freezer for 30 minutes. This helps keep their shape when baked.