Ramadan cupcakes are fun option to bring to an iftar, especially if there are kids at the party. Or, bring all of the supplies and let the kids design and decorate their own. Not only will they be happy to have something fun to do, it could help distract new fasters from those final hours of the fast when things get hard. Add this to your list of Ramadan preparations as a fun activity for your family.
These cupcake designs are simple and there's something that all ages can do. Use these as a guideline and feel free to mix up flavors and colors to fit what everyone likes.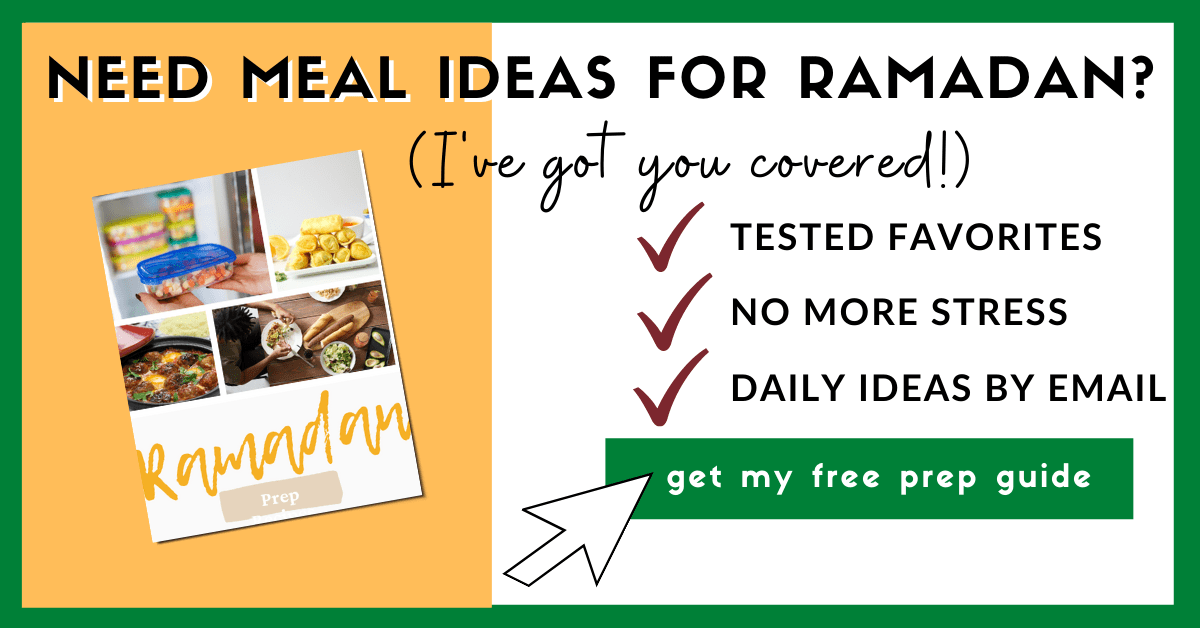 Ramadan Cupcake Decorating Tips
This recipe for cupcakes really isn't a recipe, you can use your favorite boxed or homemade recipe to make the cupcake portion. Feel free to go with any flavor you like. To make the designs will require a little more effort. There are a few different styles that I am sharing in this recipe.
There is minimal prep work required besides baking the cupcakes themselves and making the chocolate moons if you'll be using them. Then it's just a matter of getting everything out and getting to work!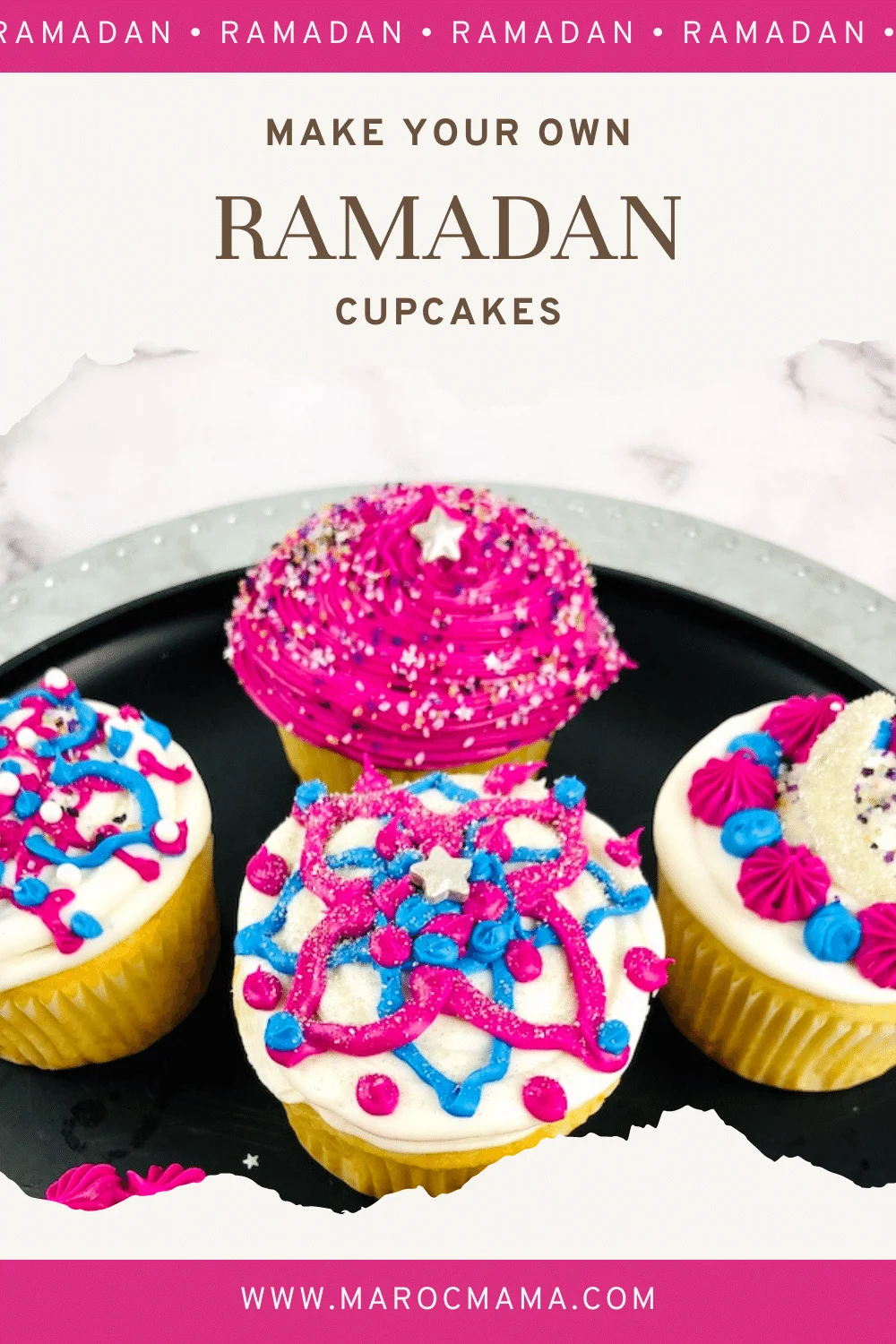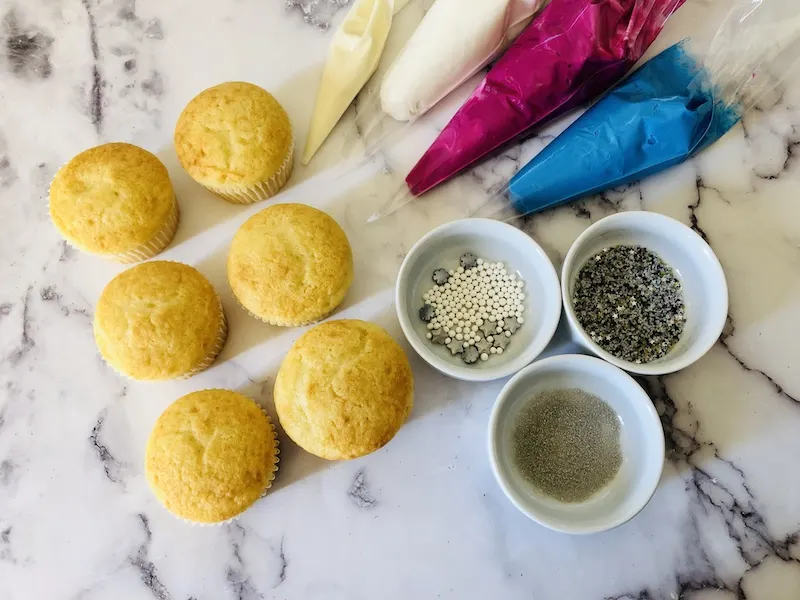 Simple Frosted Cupcake
The easiest option is to do a simple frosted cupcake. You can then decorate it with edible glitter, sprinkles, or star/moon shaped sprinkles. This is a great design if you have really little kids who want to get involved but spreading frosting and sprinkles is their ability level.
To make this slightly more complicated you can frost in two different ways like is seen in the final picture.

Bracelet Design Ramadan Cupcake
This is my personal favorite design. It looks pretty and yet is very easy to create. You can use a star tip and a flat tip piping bag to create the design. You can either alternate or do one color leaving adequate spaces and go back to fill in the gaps.
The center can then be decorated with sprinkles, edible glitter, and a chocolate moon or star. While this design has two different colors you can use a single color too with different patterns.

Mandala Frosted Ramadan Cupcake
This is the most complex design. It requires two different colors of frosting and a steady hand. The bottom design is meant to overlap with the top design. Contrasting colors make a nice effect. The design itself can be anything you would like. You might find additional inspiration from traditional henna patterns.
While this design is the most complicated it's perfectly reasonable that an older child could create this!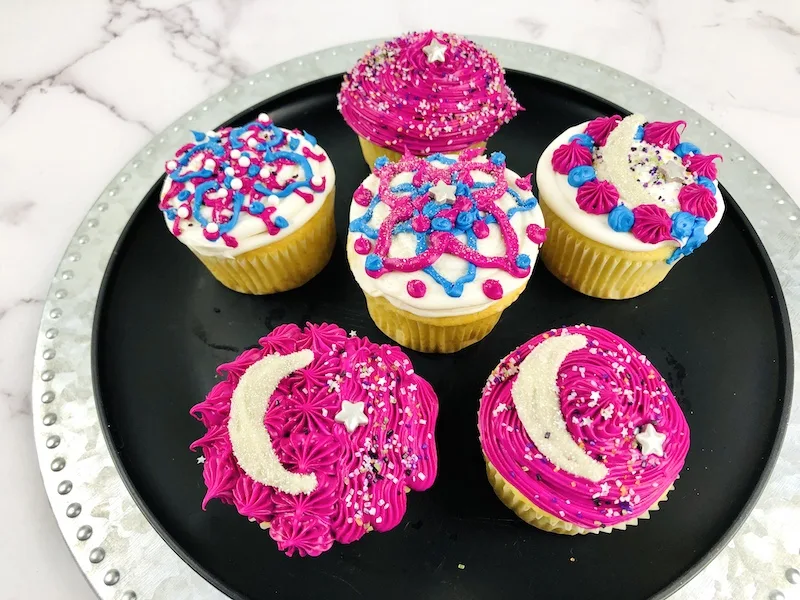 Yield:

12 cupcakes
Easy Ramadan Cupcakes
Additional Time:
30 minutes
Total Time:
1 hour
5 minutes
These simple Ramadan cupcakes can be made by adults or become a fun activity for kids to do during Ramadan.
Ingredients
1 box cake mix or your favorite recipe
Maroon frosting
White frosting
Blue frosting
White chocolate chips, melted
Piping bags & tips if desired
Star and pearl sprinkles
Themed silver edible glitter
Instructions
Prepare cupcakes according to package instructions or your recipe.

Melt the white chocolate chips, and pour into a piping bag, and cut a very small ti from the bottom of the bag.
Draw moon shapes on paper or use a template, cover it with wax paper and pipe the moon shapes onto the wax paper.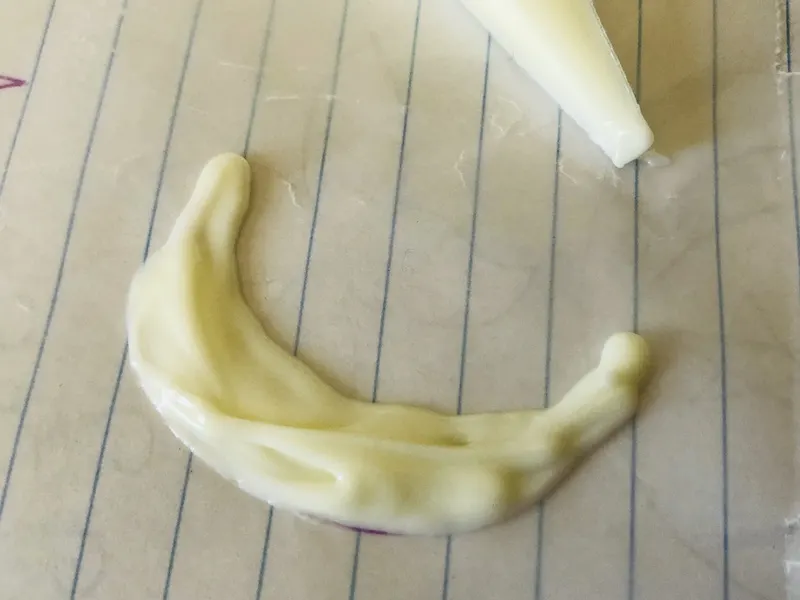 Immediately sprinkle with glitter to completely cover the shape.
Place in the freezer to completely set.
Shake off excess glitter and set it aside.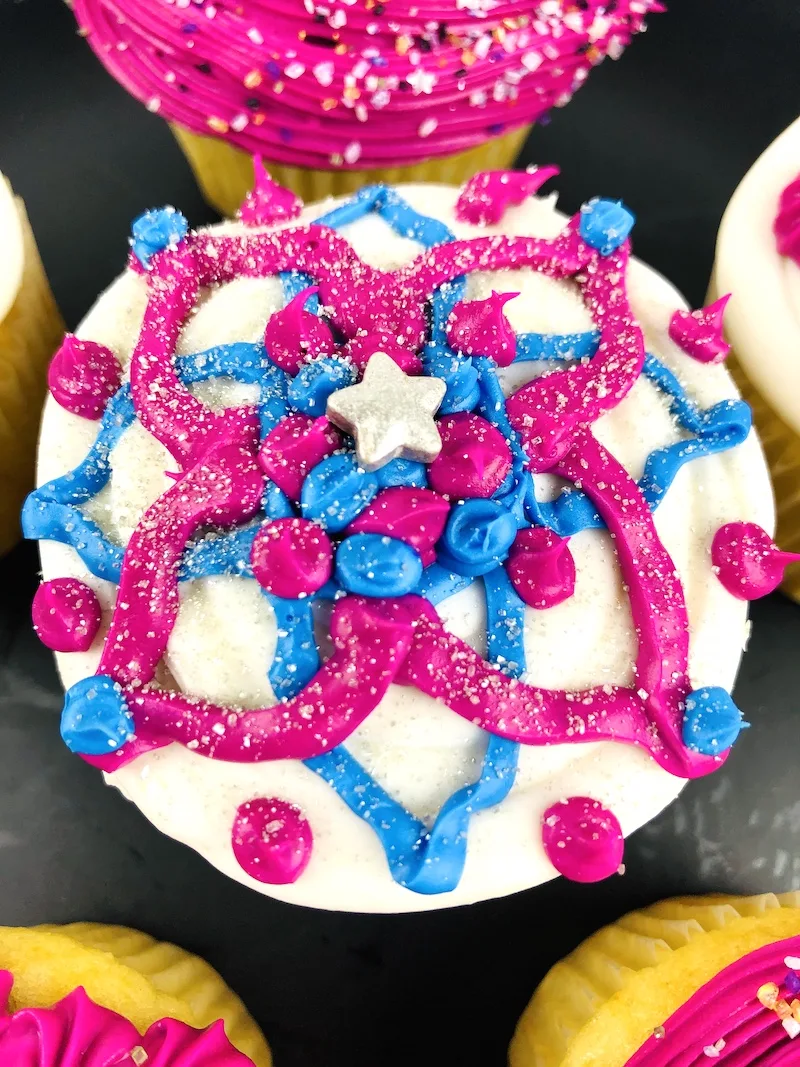 For the mandala cupcake pipe a base layer of white frosting
Then use the maroon and blue frosting to pipe on the mandala shape as shown
Finish the design with glitter and pearls.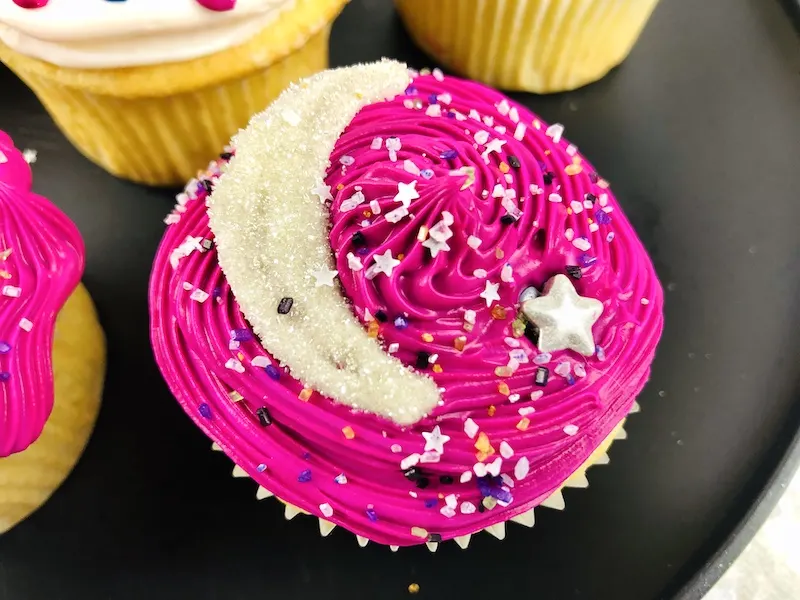 For the moon cupcakes pipe on maroon frosting in any desired design then carefully remove the molded chocolate moons from the wax paper and place on the cupcake.
Finish with a star sprinkle and glitter.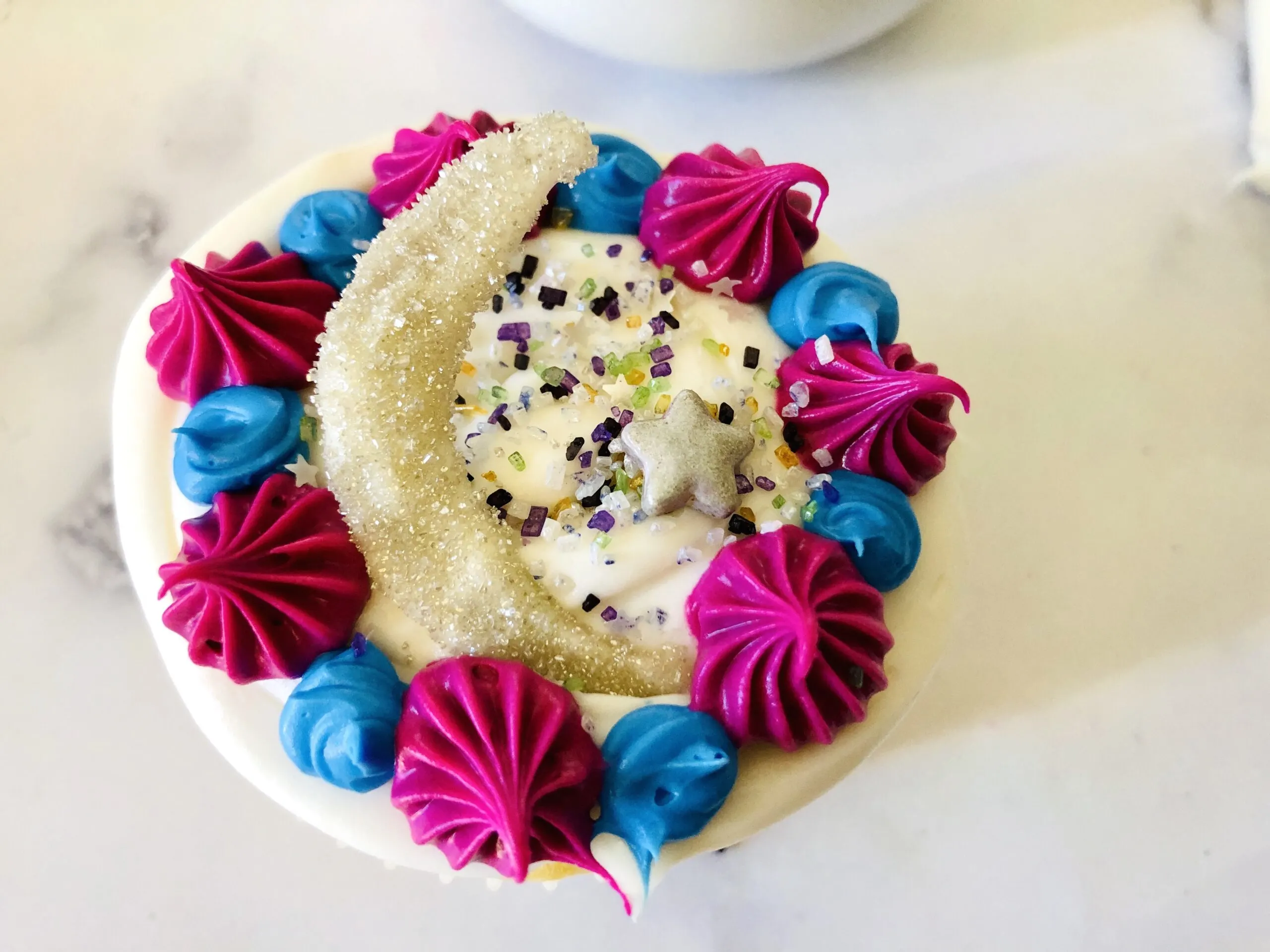 For the bracelet cupcake pipe a base layer of white frosting then alternating beads of blue and maroon frosting around the outer edge of the cupcake
Finish with glitter.
Your Ramadan cupcakes are ready to serve and enjoy!
Notes
You can use any color you would like for these designs.
More Ramadan Activities for Kids