Food tours are my favorite way to experience a destination. Whenever we are going somewhere new the first thing I look for is a food tour. This is also how we came up with the idea to start our own food tour in Marrakech. If you have never taken one, I highly recommend it!
They are popping up all over the world and can be very broadly focused (ex: the best of Rome) or narrowly focused (ex: Chocolate of Brussels). Really you might be very surprised what you find! I've been on many tours in several countries and after running our own tour for almost a year there are a few things I've taken away as keys to having a great tour.
8 Components of a Great Food Tour
The food should be items you couldn't find on your own or wouldn't know to look for.
Plenty of locals eating in the same places you go.
The focus is on the food so you walk away learning a bit about what you've eaten and why it's important to that location.
A variety of foods are offered.
Cost should be representative of experience and food provided.
The guide is knowledgeable, approachable, friendly and you're able to understand them.
At least one stop should include something substantial.
Never, ever, walk away hungry.
Yes I bolded that last one because it can and does happen. I am remembering a particular tour that I took with my mom when we were in the Caribbean this summer (*cough Carnival ** cough cough** Grand Turk food tour*). I talked her into doing the food tour, instead of something else. I was so upset when it was done. This was literally the "tour." No I didn't touch anything on this plate, and yes that is one single plantain and the tour cost $60 per person!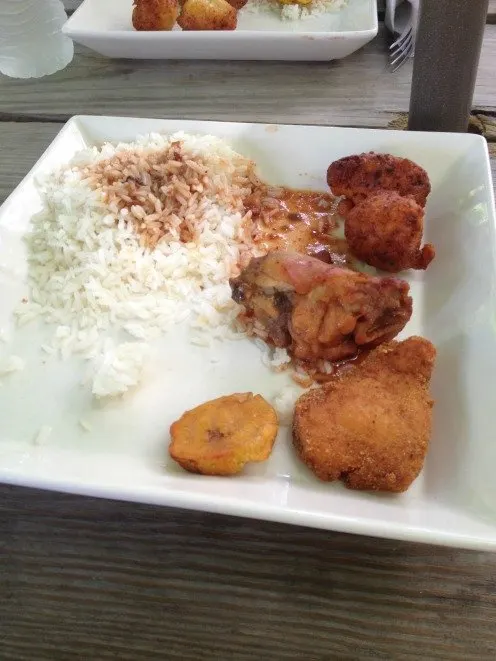 Now that we've talked about the bad and the ugly let's talk about the good! I asked some amazing travel bloggers to share their favorite food tours from around the world to compile this list. Bookmark it for your next trip!
North America
A Slice of Brooklyn Pizza Tour – Brooklyn, New York: The Traveling Praters "My daughter and I went on an amazing pizza tour in Brooklyn. We saw some sights, learned about the city and ate some amazing pizza."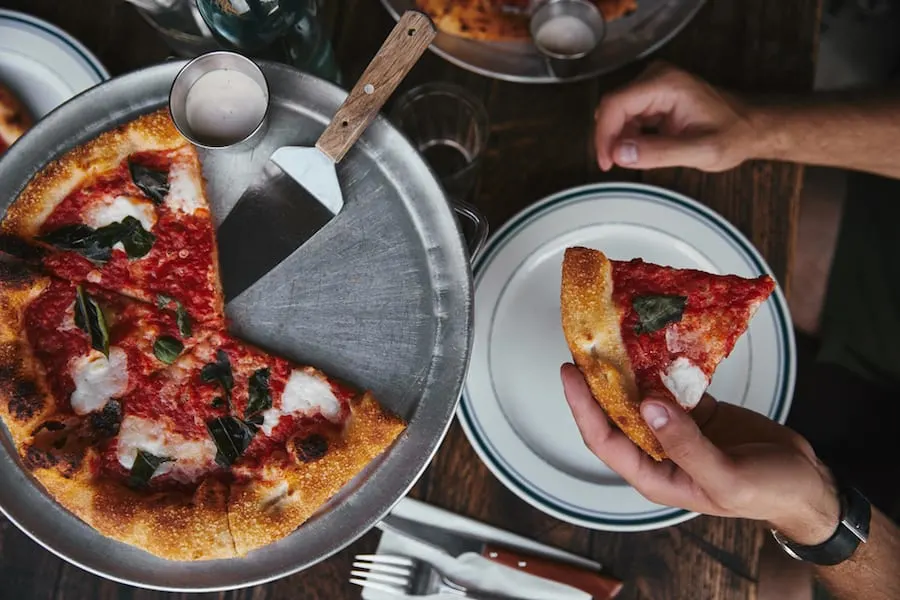 Ahoy! – New York City, NY Dangerous Business: Take a walk through Little Italy and Chinatown and do it while eating delicious foods. Next time you're in New York this is a tour to seek out.
Hiphost Tours Chocolate Tour – Boston, MA: Around the World "L" Boston isn't the first place that comes to mind when I think chocolate but Lillie proves me wrong and highly recommends this tour.
Boston Pizza Tour – Boston, MA: Travel Mindset Traci shares her family experience on Boston's North End pizza trail. How do you take your Paul Revere? Cheese, please!
Scott's Pizza Tour – New York, NY: Travel's with Carole Carole shares her experience with this tasty New York pizza based tour.
DC Metro Food Tours – Washington D.C. – The Capitol Hill Food Tour was the first food tour I ever took and it was an amazing start. I'd also recommend checking out the Little Ethiopia and Del Ray tours.
Savor Oakland – Oakland, CA: RTW Girl This tour brought together not only food but also highlighted a district in Oakland. I'd be going to get my paws on the pizza and cupcakes!
Local Taste of the City – San Francisco, CA: Ever in Transit New York's Little Italy may be famous but you can explore Italian immigrant culture and food in San Francisco too!
South Beach Miami Culinary Tours – Miami, FL: Calculated Traveler This was Mary's first food tour and it was a big success, the tour did a great job of introducing great food that was not typical tourist fare.
Chicago Chocolate Tours – Chicago, IL: Luxe Adventure Traveler I've been to Chicago more times than I can count but had no idea it had such a chocolate scene. Even the coldest winter day can be made brighter with chocolate!
TasteBud Food Tour – New Orleans, LA: Life with 4 Boys "We did a TasteBud Food Tour in New Orleans. Everything was incredible from the guide to the food. The guide was informative and told us so much history of the city and its food background, and we left stuffed." Looking for more tours in New Orleans?
Taste of Kilohana – Kauai, HI Travel the World: If you think a food tour in Hawaii is just pineapple and SPAM you'd be wrong. A visit to a plantation to sample unique produce, a delicious multi-course meal and plenty of other surprises make up this agricultural and eating extravaganza.
When Pigs Fry – Toronto, Canada: Dangerous Business: I probably won't take this pork-y tour anytime soon but for those visiting the pork capital of Canada (who knew?) and wanting to dig into some delicious pork consider this tour. Pulled Pork Poutine – enough said.
Du Tortillard Gourmand – Lanaudiere, Canada: Moi mes souliers These tours in Quebec are a slightly different twist on food tours, some are self-guided and while offered in French, English may be an option. Check for dates and times.
Flavours on the Main – Montreal, Canada: The Velvet Escape Eating through Montreal's Chinatown, sampling poutine, and multiple immigrant contributions to the Montreal food scene sounds like a dream come true.
Benazuza – Cancun, Mexico: Points and Travel Molecular gastronomy on a food tour? What a great way to try something new without a huge investment!
Make Your Own Tour! Becky from Kid World Citizen said, "I spent a summer in the Yucatan and made my own food tour- AMAZING. I found a woman through a contact who cooks and invited her to our rental to teach me and the kids different dishes from the Yucatan. It was SO good! She also would take us to the market and show us how to buy some of the more exotic ingredients. Yucatecan cuisine is very unique!"
South America
Know a great food tour in South America? Leave it in the comments so I can add it!
Europe
Copenhagen Food Tours – Copenhagen, Denmark, MarocMama In one of Europe's most expensive cities it can be a real challenge to find authentic food and not spend a fortune testing things out. This tour was a good mix of new and traditional with a lot of background too.
Devour Tours Barcelon, Spain and Devour Tours Seville, Spain – MarocMama This is our go-to company for food tours in Spain, and for good reason. Their ethos and quality of tours is second to none!
Eating London – London,England: Travel with Bender "I have to say I was so surprised by the Food Tour we did in London. When I thought of British food, I thought of bland flavours, plain dishes and an overall lack of excitement. I wasn't expecting much, but was pleasantly surprised. It was cultural, international and delicious. I did not leave hungry."
Eating Prague – Prague, Czech Republic: from Autumn, "I recommend checking out Eating Prague food tours – it's fun because people don't think of Prague as a "foodie" place, but there's a ton of great food (and beer!) here."
Eating Italy night tour- Rome, Italy: MarocMama "Italy is known for amazing food and so when we had an overnight layover we wandered the streets with this food tour to taste as much as we could in our short time. It was a great option to eat a variety of things with only a little time."

Eating Italy day tour – Rome, Italy: We 3 Travel "I absolutely loved the food tour we did in Rome this summer with Eating Italy."
It's pretty safe to say any of the Eating Europe food tours (of which London, Prague, and Rome belong to) are going to be a great bet!)
Streaty Tours – Palermo, Sicily: MarocMama Even if you think you know Sicilian food this tour really brings Palermo to life. The price is amazing for the amount of food you get and we really liked the guide too.
Paksi Sir – Pag Island, Croatia: Chasing the Donkey "This cheese tasting (with tour of factory) is cheap and offers loads of cheese and is very family friendly."
Spanish Tapas Madrid – Madrid, Spain: MarocMama This is the tour that jump started my idea to do food tours in Marrakech. The food was amazing and the time with Luis showed me exactly how I would want people to walk away from an experience.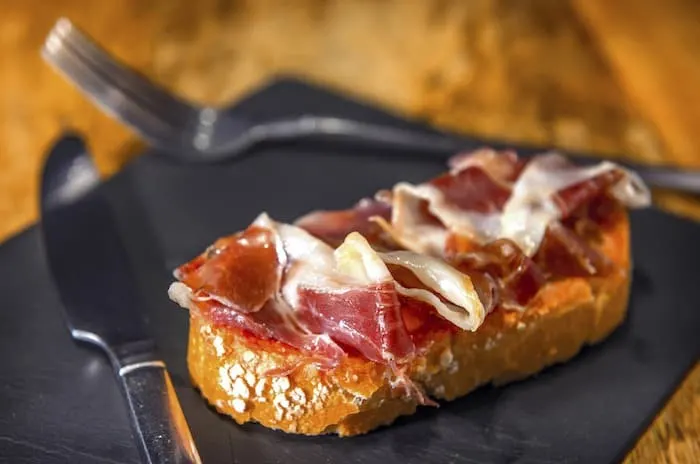 Walking Tours of Thessaloniki – Thessaloniki, Greece: My Travel Affairs "Thessaloniki Food and Flavors Tour was one of the best I have ever taken. I'm a big foodie so such activities always make me a happy person!"
We Hate Tourism Tours – Lisbon, Portugal: We did the Eat Dinner with us or Starve tour when we visited in May 2014. This is part food tour part glimpse into Lisbon at night. We even stopped at a super local fado bar after the eating was done.
Istanbul Eats – Istanbul, Turkey: A Taste of Travel With four different walking tours throughout the city there's something for everyone in Istanbul.
Savoring Athens – Athens, Greece: World Wide Writer Get to know Athens from a food level with this walking tour where you'll taste traditional Greek foods and some things you may not consider Greek at all.
Asia
UnTour Shanghai – Shanghai, China: Travel the World There aren't lot of breakfast food tours but this one looks downright amazing. Chinese street breakfast!
Beijing Food Tour with Intrepid Travel – Shanghai, China: Travel the World This tour is the ideal way to dip your toes into a very different type of food, especially when you have no idea where to start!
Chiang Mai Street Food Tour – Chiang Mai, Thailand: MarocMama. I did this street food tour with my oldest son and a friend and her daughter. It was great trying foods we wouldn't have known about and learning a bit of Thai along the way so we could order for ourselves at another time.
Colombo Tuk Tuk Safari – Colombo, Sri Lanka: MarocMama. Colombo is large and overwhelming- and we discovered Sri Lankan food can be difficult to really get a pulse on – this tour gave us a great mix of foods and was well worth the cost.
Africa
Addis Eats – Addis Ababa, Ethiopia: Want to get hands-on with Ethiopian food? This is the tour!
Bellies en Route – Cairo, Egypt: This is a great food tour if Cairo is intimidating (and it is!) to you. You'll eat some great street food that I'm sure you'd struggle to find on your own.
Marrakech Food Tours – Marrakech, Morocco: Sure this is a shameless plug but don't take it from me! Read some of the reviews from others that have taken our tour!