The first thing I do when we're going somewhere new is search "CITY NAME + FOOD TOUR" – yes I really am that single sighted. (Don't believe me, just check out this page that has all the food tours we've done!) We travel for food and it's a major part of our lives so it only makes sense to do this.
After our cruise to Norway we scheduled a few extra days in Copenhagen to "eat" the city. I decided to book a tour with Copenhagen Food Tours and opted for the four-hour tour. There was no problem at all accommodating our dietary preferences (no pork, no alcohol) and we didn't feel like we missed out. There is one-stop at a brewery so if this makes you uncomfortable it's worth noting that it does happen (you can book a private tour where I'm guessing this could be eliminated).
We weren't staying near the meeting point at Torvehallerne, Copenhagen's covered markets so we made our way early on the morning of our tour to start. Even if you don't end up taking this tour, you really should make it a point to walk through the market. It's a great place for lunch! There was just one other couple on the tour so it was a small group but the groups can be quite a bit larger.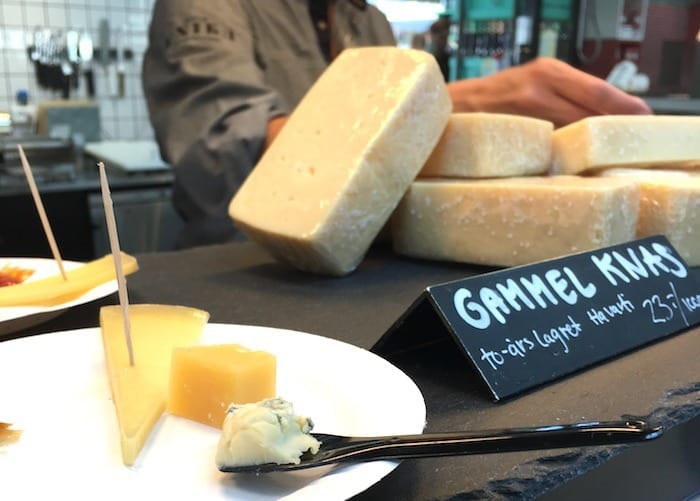 While we made eight stops during the tour, we had three favorite stops; for smørrebrød, a great sausage, and some delicious hard candies.
At the market we tasted a few local Danish specialties like cheeses and crackers and then set off on our way to find the other tour stops. Along the way we learned a little bit about life in Copenhagen and the history of the city. I always find this part interesting and it's one reason I love doing food tours. The other couple on our tour were Canadians who'd traveled quite a bit too so we had some stories to swap.
While the nibbles in the beginning were good I was looking forward to the "real" food!
My Favorite: Smørrebrød
Basically this is an open face sandwich. It was originally a country food. The word itself means buttered bread but when the dish came into the cities it got "dressed up." We tasted four of them and they were more fancy than I was expecting! The flavor combinations change with the season but here's what we had;
Salmon with radish and creme fraiche and pickled onions
Chicken salad with cress and crispy chicken skin
Steak tartare with capers and homemade chips
Blue cheese with jam and hazelnuts
No doubt in my mind the winner was the blue cheese but I also liked the chicken salad. Neither MarocBaba or I cared for the steak tartare – I was shocked even took a bite considering he usually only will eat meat if it's one step away from charcoal. What I learned from this? I love the concept and I want to do it more often!
After this we wandered a bit further afield, stopping at a brewery where we had some NA drinks while our compatriots tried a few different brews. The next big food stop was for a hot dog. I know I was confused too. Hot dogs, really? Turns out the Danes eat a lot of these but they were nothing like the American version I grew up with. We all got to choose the type we wanted which was great – there was a vegetarian and pork free option as well. They made MarocBaba's gluten free (sans bun). Basically I could eat these on a regular basis no problem!
One other stop we made was near the Copenhagen Botanical Gardens that I would have loved to come back and explore if we had had more time in the city. It was here we were introduced to the city beehives. Denmark has amazing social programs and one of them includes bees. All around the city there are beehives and people who have faced chronic unemployment issues can find work with the hives and honey. The hives are tended and honey harvested, packaged and sold to fund the program and provide financial support to the employees. Depending on which hive the honey comes from the taste of the honey varies. We tried two and I can confirm they did taste quite different.
What did we think?
We appreciated that the tour had the same start and endpoint, making it much easier to navigate our way to and from the tour. That being said we didn't really feel like there was enough food on the tour, though perhaps if we were also drinking the alcohol offered we might have been more full. Given that there was a lot of walking and the stops were spread out, we were ready to eat again an hour or two after the tour ended.
It's worth noting that this is an expensive food tour (It's just over $110 US per person) BUT as we very quickly discovered Copenhagen is a ridiculously expensive place to visit and eat. We were able to eat, see the city and get some context while on this tour. One more stop with a bit more substantial offerings would have been perfect.
Be a part of the MarocMama family!
Do you want access to all things MarocMama? Join our community of readers to get updates on new posts, inside information that won't go on the blog and so much more!
Sound good? Pop your email below and you're in!