[vc_row][vc_column][vc_column_text]
"Now we're going to get into the car to start the tour," our guide Deng told us after picking us up from the hotel lobby. He led us to believe the giant Hummer in the parking spot next to the Toyota was his, and then with a twinkle in his eye used the automatic unlock to reveal which car was really ours for the night. "Gotcha!"
We could already tell it would be a fun evening.
Thailand has a reputation for great food but how to navigate it was tough. Thankfully we booked a Chiang Mai food tour to learn the ropes. Booking a food tour on arrival in a new destination is a must on my list. Our first stop was a part of town we had ventured to previously but only during the day time. Night revealed a completely different story. There were a dozen, maybe more small food stalls that had sprung up on the strip of pavement with plastic tables and chairs everywhere. We were the only tourists in sight.
In the car Deng had given us some sheets of paper with the Thai words for different dishes as well as the phrases needed to order food. Most importantly (to us at least) there also was a description of exactly what was in typical northern Thai dishes. We practiced saying a few before he cut us loose to order on our own at the first stop. With plenty of encouragement and a patient cook at the register we succeeded. It's worth nothing that English is very common in Thailand. We had no problem communicating throughout our stay but as with anywhere using a bit of the local language goes a long way.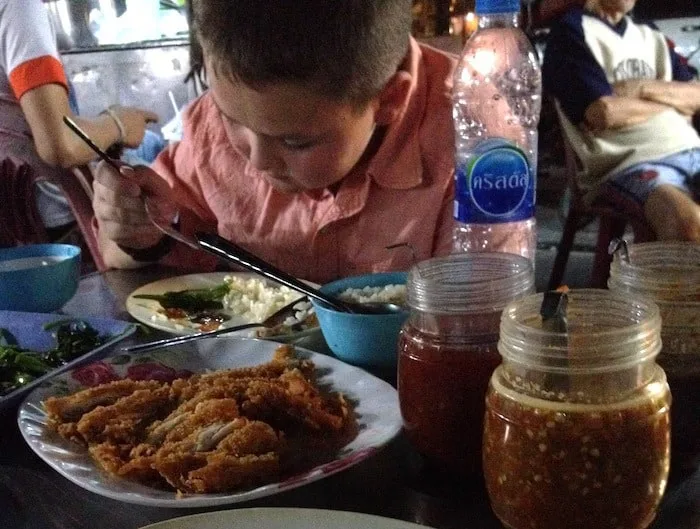 Before long we'd settled into our places and the food quickly arrived. The kids weren't quite up for the first dish, which was a fish dish with sticky rice called pad phet pla duk tod. They however did each get a giant bowl of ramen noodles and were happy as clams. It took me awhile to even attempt the dish but it quickly earned a spot as one of my favorite Thai foods.
While we ate we asked Deng about life in Thailand and about himself. While many Thai people are Buddhist, he was not. He had been raised Catholic, in a hill tribe near the border of Myanmar. He moved to Chiang Mai for work and was now guiding food tours. It was clear to me really quickly that it was a great fit for him. While he enthusiastically answered all of our questions he was really great with the kids. He talked to and engaged with them constantly, as well as finding foods that they would enjoy.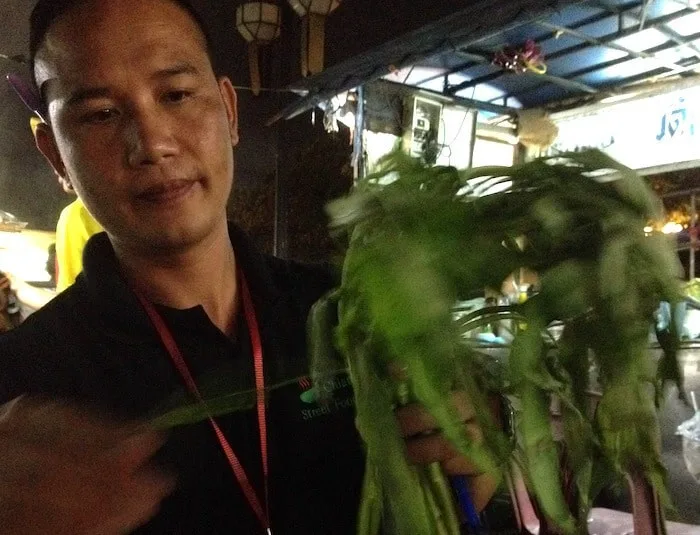 Our second stop had us eating fried chicken and morning glory (pad pak bung). Truth be told I don't love fried chicken in general and this wasn't for me but the other dish was excellent. M was happy with it as well and aside from the fish he tried everything else that was offered. We had seen morning glory on several menus and the only frame of reference I had for this was the flower and so assumed that was what this was. But as it turns out morning glory is a type of spinach (of sorts) that grows naturally in this part of Thailand. It was so good and we ate it whenever we saw it on the menu from then on.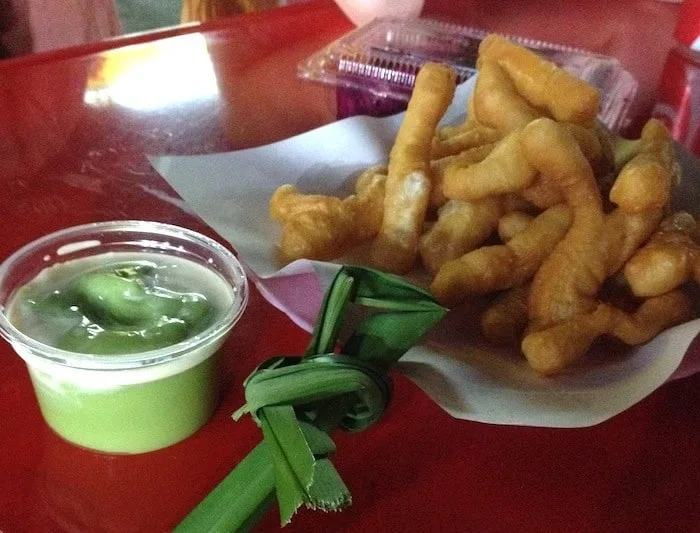 Further along the line it was time for something sweet. A doughnut of sorts that he told us to dip into a green container of sauce. I was skeptical. But it turned out the sauce was a type of custard made with local pandan leaf. Fried bread and custard couldn't be bad could it?
It wasn't! This was simply delicious and I should have had the good sense to pack up what was left over and take it with us for a snack later.
Our favorite stop may have been at the end when we were introduced to a Thai dessert called khanom krok. They looked like little dumplings but had a really creamy texture. You could order them plain (they are made with a coconut milk base), with corn or pumpkin. These combinations were not appealing to me and I was sure it was going to taste awful but in the end discovered they were so delicious. These were M's very favorite food and he's still talking about them months later.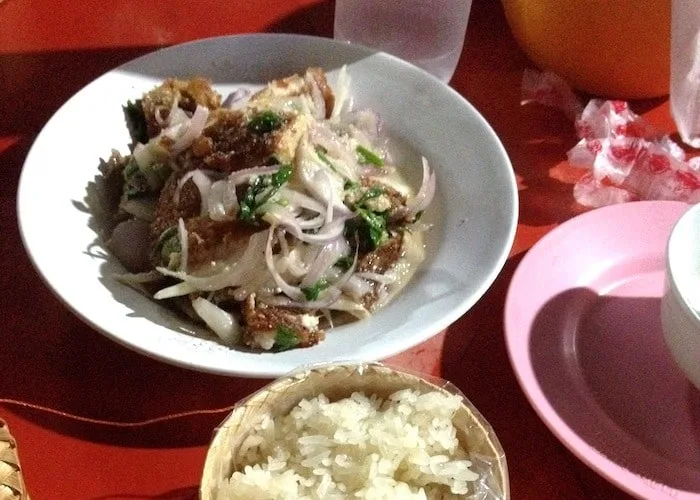 Unfortunately we had to cut our tour short as Julies' daughter began feeling ill and we didn't want to push her any further. It's no fun being around food when you're sick! Deng told us there would be one more stop but we were ok – and full!
Overall, this was one of the most fun food tours that we've done. I loved that it was private and we really were able to try a lot of things that we would not have found on our own. Deng was able to guide us through which foods were ok for us (no pork) and which weren't. Having the "cheat sheet" for the rest of our stay was also very helpful.
Finally the price was excellent. We paid 750 baht (about $20) for adults and 500 baht (about $14) for kids and paid directly to the guide. It included food and drinks as well as our hotel drop off and pick up. If you go to Chiang Mai and don't book this food tour you're crazy! I loved it so much that when we go back one day, I'll do it again. Note there is an afternoon and evening tour.
Want to go? Check out Chiang Mai Street Food Tours and get yours scheduled.
[/vc_column_text][/vc_column][/vc_row]