When you think of traditional Sicilian street food what comes to mind? The food found on the island has some similarities to mainland Italian cuisine however there are a lot of differences too. Thanks to conquerers from all over the world, the food of Sicily is really diverse. While we knew we could go out and try our hand at different dishes, we decided that a food tour might be a better way to taste the best foods. Streaty offers food tours of the city and we were able to connect with them for this glimpse into Sicilian cuisine.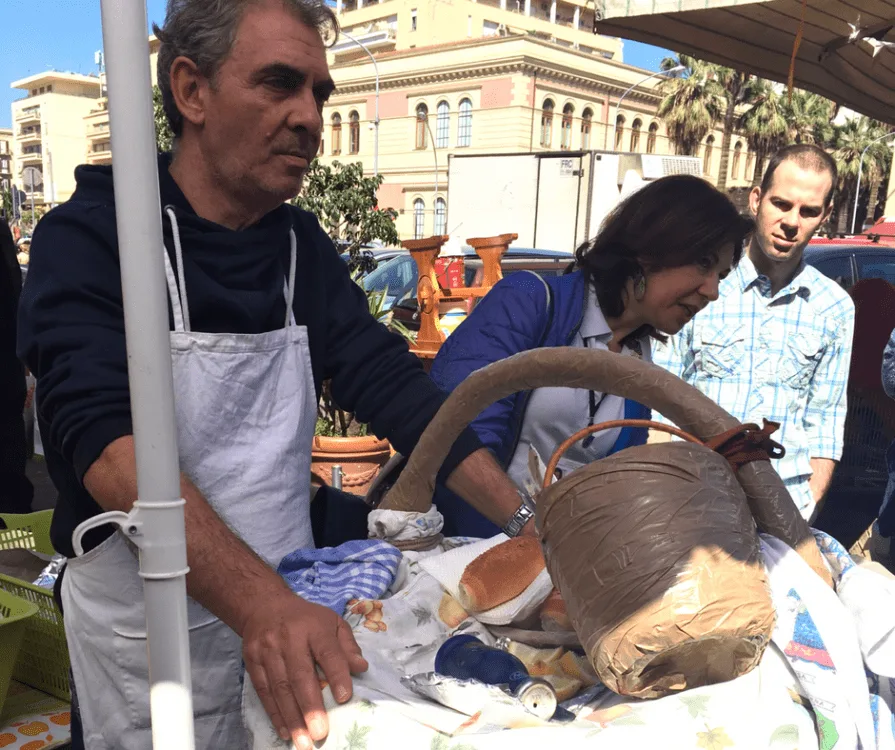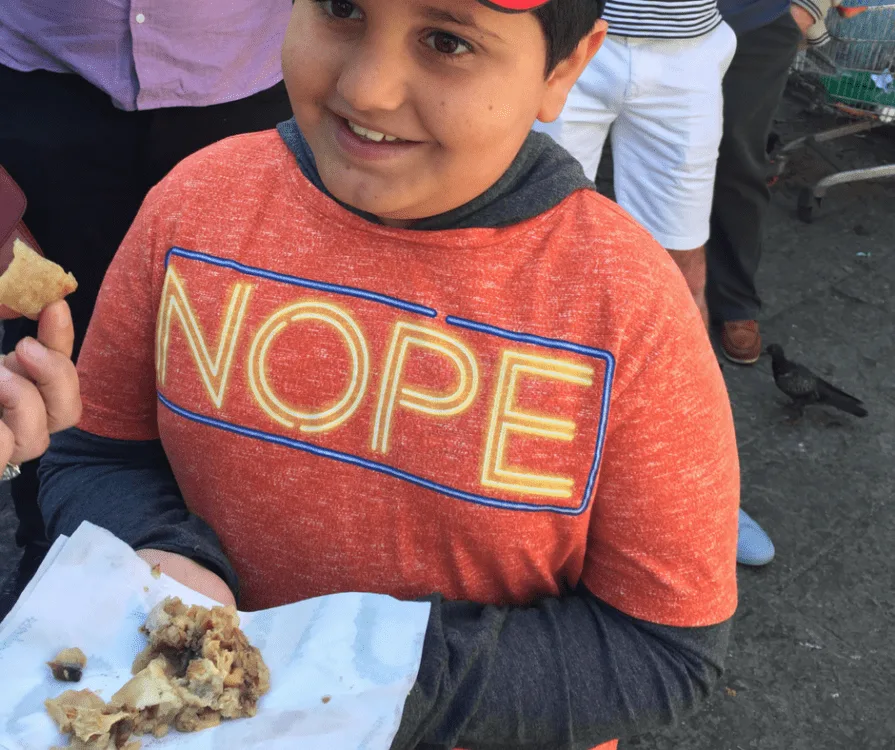 We met our guide Alessandra at the designated meeting point at 10am to begin our morning food tour. The kids were a little grouchy as it was early and we held off on breakfast. Over the next several hours we tasted so much food – some really lovely and some that wasn't for me. Our first food stop was for stigghiola, which is cooked veal intestines. K's shirt sums up my thoughts on this one. I knew immediately by the smell what it was but the kids were troopers and took a bite, even if they decided it wasn't for them.
This first stop was near a very busy market known as Mercato di Capo and it felt so comfortable – just like being home in Morocco! This of course makes total sense as Sicily was under Arab control for nearly 200 years. You can find any kind of food in this market and without a doubt it would be my go-to shopping spot if I lived here!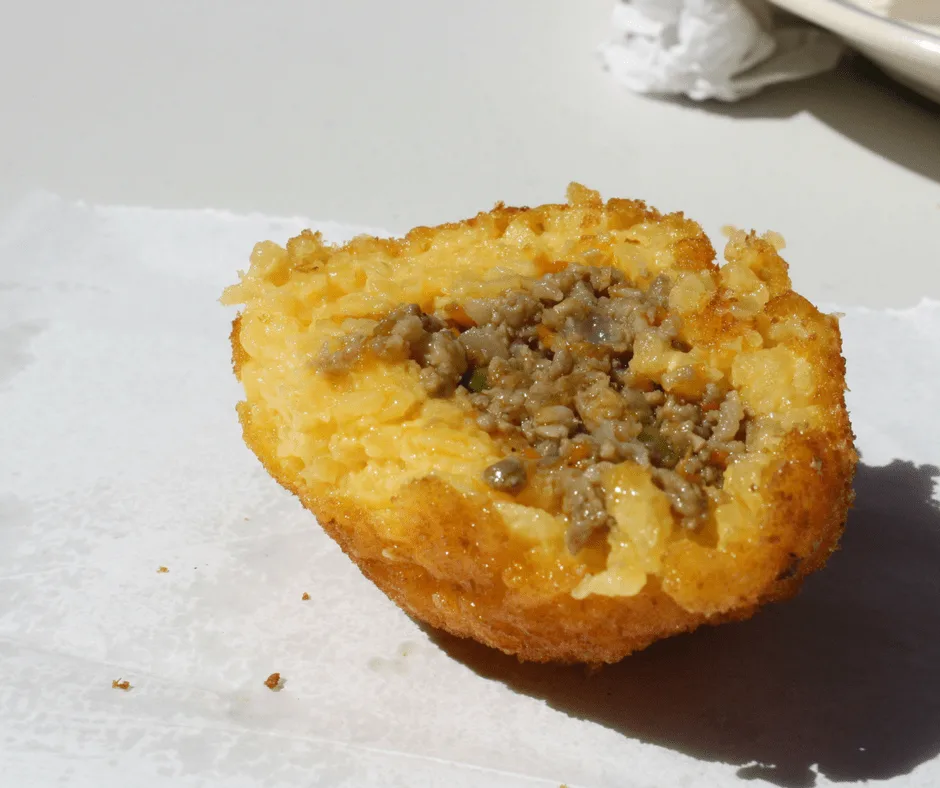 This little golden rice ball here is the one food item we fell the most in love with and miss from Sicily! Arancina are to die for, especially when they're made well. These were made with saffron, which is how it gets the golden color inside. Our kids ate these at every turn and you won't be able to escape them if you're seeking Sicilian street food. We even found a little shop next to a movie theatre that just sold varieties of arancina – there were over 25 on their menu! The traditional version is rice with saffron, ragu filling and cheese – and then fried. What's not to love?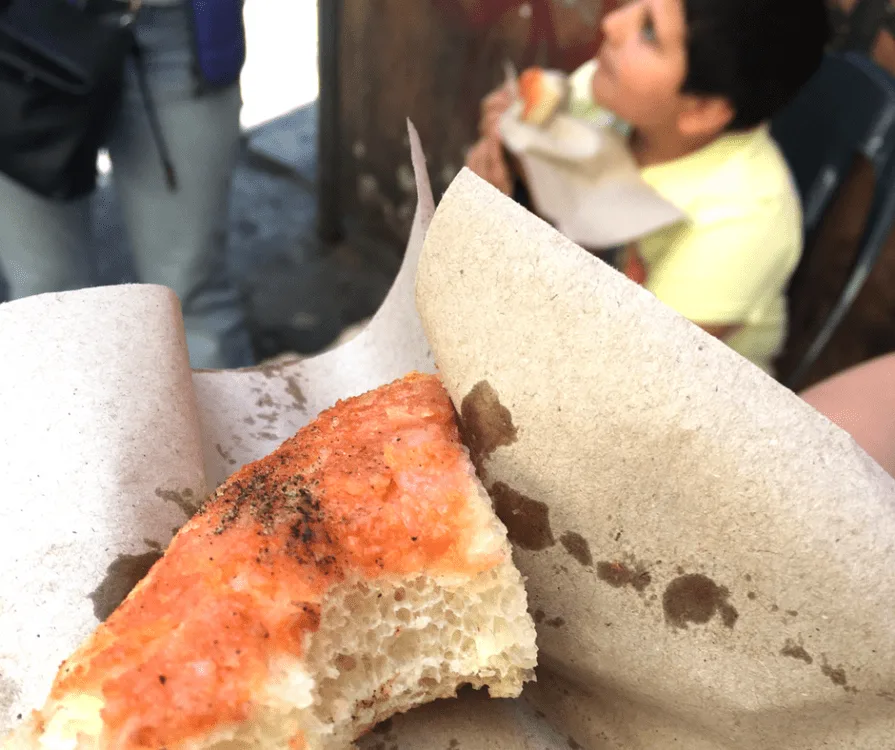 For the Sicilian version of "pizza" (but it's not really) we tasted sfincione, it's much better than what we eat as pizza thanks to the cooking technique. Each piece is heated in a grill/oven before serving and topped with herbs. There's no cheese on these just great crust, tomatoes, onions and herbs. So simple and so delicious. By this time in the tour I realized some of the best Sicilian dishes were very basic foods, made with great ingredients and cooked well. What more do you really need? A drink that's what!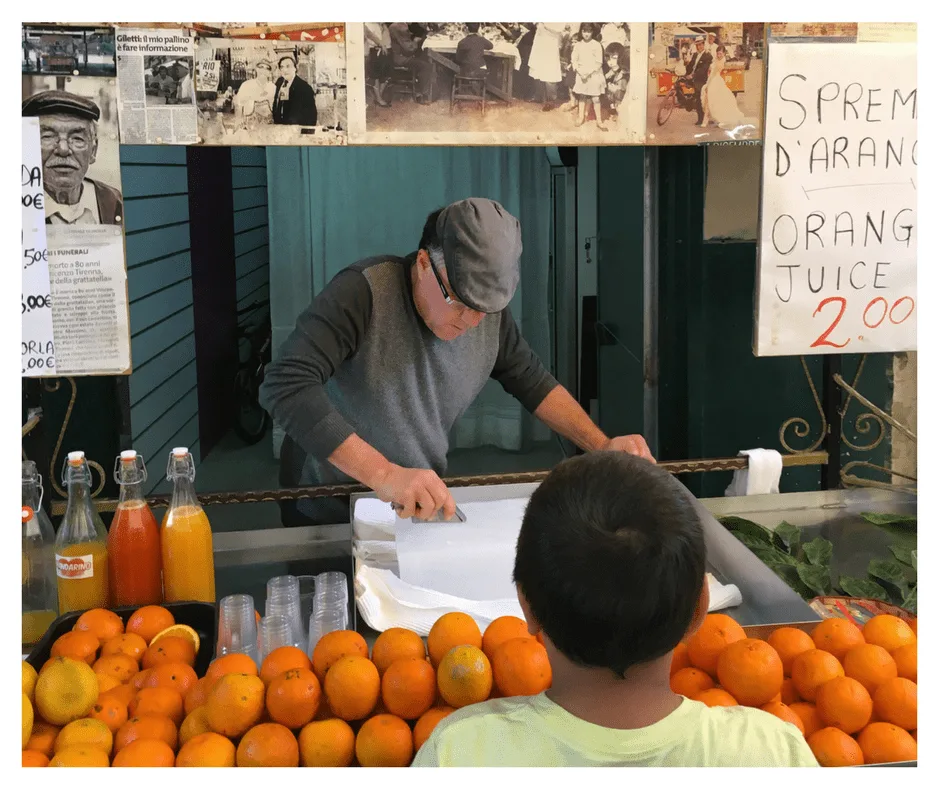 I had to try this juice for the pure novelty of it. This man uses a special tool to scrape ice off a literal ice block and add to fresh squeezed juice. It is amazing! We got two glasses of juice to split and the ice cold drink was really refreshing on a hot day.

Towards the end of the tour we stopped at a 24 hour bar (yes really!) where most of our group were able to try some Sicilian wines while we opted for soft drinks. Alessandra had been gathering ingredients along the way to prepare a schiticchio – similar to the idea of tapas in Spain this is the Sicilian version. Cheeses, bread, sun dried tomatoes and olives were all part of the offering. I held back only because I could have polished off all that cheese!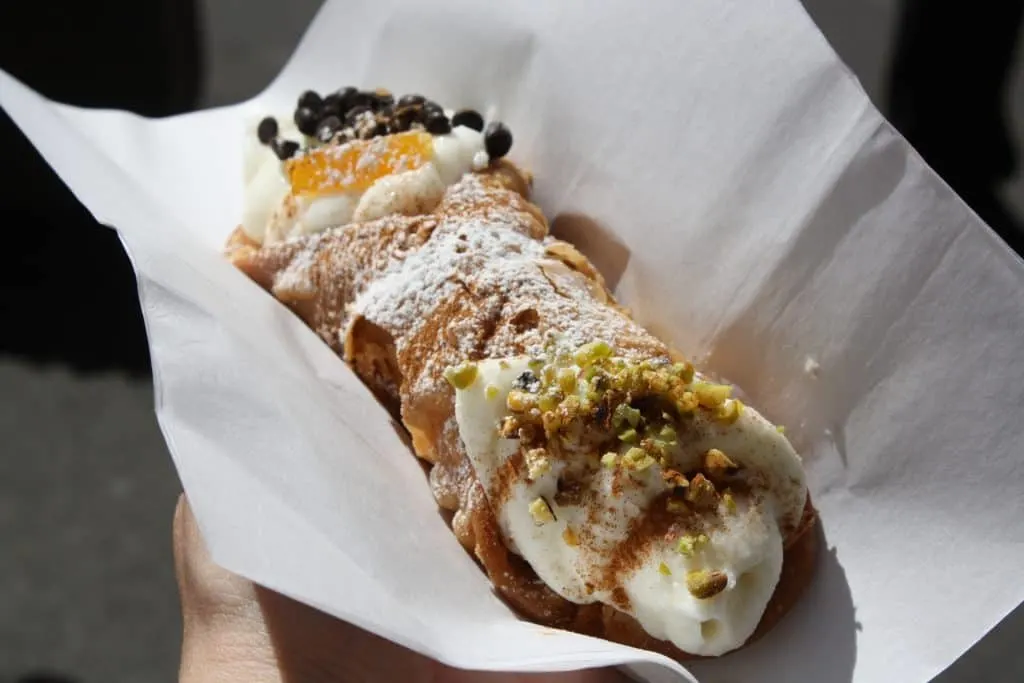 This is the highlight of Sicily for me and I am still mourning that I was just so full that I wasn't able to eat an entire cannoli. I grew up eating this but nothing compares to this one, which may be the best cannoli I've ever eaten. Cheese/cream stuffed in a crunchy shell, pistachios, candied oranges and cinnamon are all part of the package. Each one was made to order so they were as fresh as possible. Really, all I can tell you is make sure you have ample space remaining so that you can enjoy this! (Note: if you're joining in the summer, gelato is on offer instead of cannoli!)
Our thoughts on the tour
This was one of our favorite food tours we've taken. It was exactly what we seek; an opportunity to try and taste traditional, local foods in a way we would be unable to do alone. There was plenty of food, even if we opted out at a few stops. Our guide was knowledgeable and friendly. She was a complete sweetheart when it came to our kids and making sure they were participants too. Plus the price is exceptional, it's only 30€ per person – this really might be the best thing to do in Palermo.
The only two things that I would have liked would have been water earlier in the tour, by the time we got to the bar stop, all of us were very thirsty so bring along a bottle! The other small challenge was the group size. The maximum size is 12 but we felt like even that might be a bit too big for the crowded streets and small stops. If we go back to Palermo, I would book a private tour just to have a more intimate experience.
Find out more and book your tour in Palermo or Catania on the Streaty website.
Disclaimer: We were guests of Streaty tours in Palermo. All opinions however, are our own.