Home to sunny destinations, a fabulous gastronomic scene, architecture unique to this part of Spain, and tons of cities you can spend days exploring, Andalucia is one of the best regions in Europe to visit.
If you're currently planning a trip to southern Spain and wondering what the best cities in Andalucia to base yourself in, here's a list of the best cities in Andalucia to visit, both as destinations of their own or as places to base yourself to explore the rest of the region as day trips!
Planning travel to Spain and a visit to Morocco makes a lot of sense, especially in southern Spain. In addition to the ferries that run between the two countries, there are many low-cost flight options.
5 Best Cities in Andalucia to Visit
Seville
As the capital of the region and one of the biggest cities in Andalucia to visit, Seville is a place where you'll find something to suit just about any travel style, especially for those who love year-round sunny days and historical goodness.
Even though Seville may look like any large European city at first, once you're in, you'll be enveloped in a world of local wine, delicious food, striking Mudéjar architecture, and neighborhoods where time seems to have stood still.
A must during your visit to Seville is checking out its historic center, where you'll get to dive into a world of historical and architectural importance.
As you walk through the city, you'll stumble across examples of Roman, Gothic, Moorish, Mudéjar, Renaissance, Baroque, and plenty of other architectural styles reminiscent of cultures that have called Seville their home.
Some of the most important buildings and highlights to check out while in Seville include the Cathedral (the largest Gothic temple in the world), the Alcázar (a Mudéjar symbol), the Archivo de Indias (where you'll find files on the colonization of the Americas), and the Giralda.
Seville is one of our favorite places to include for a Morocco-Spain trip. Several weekly flights connect Seville and Marrakech, and it's only an hour flight.
Granada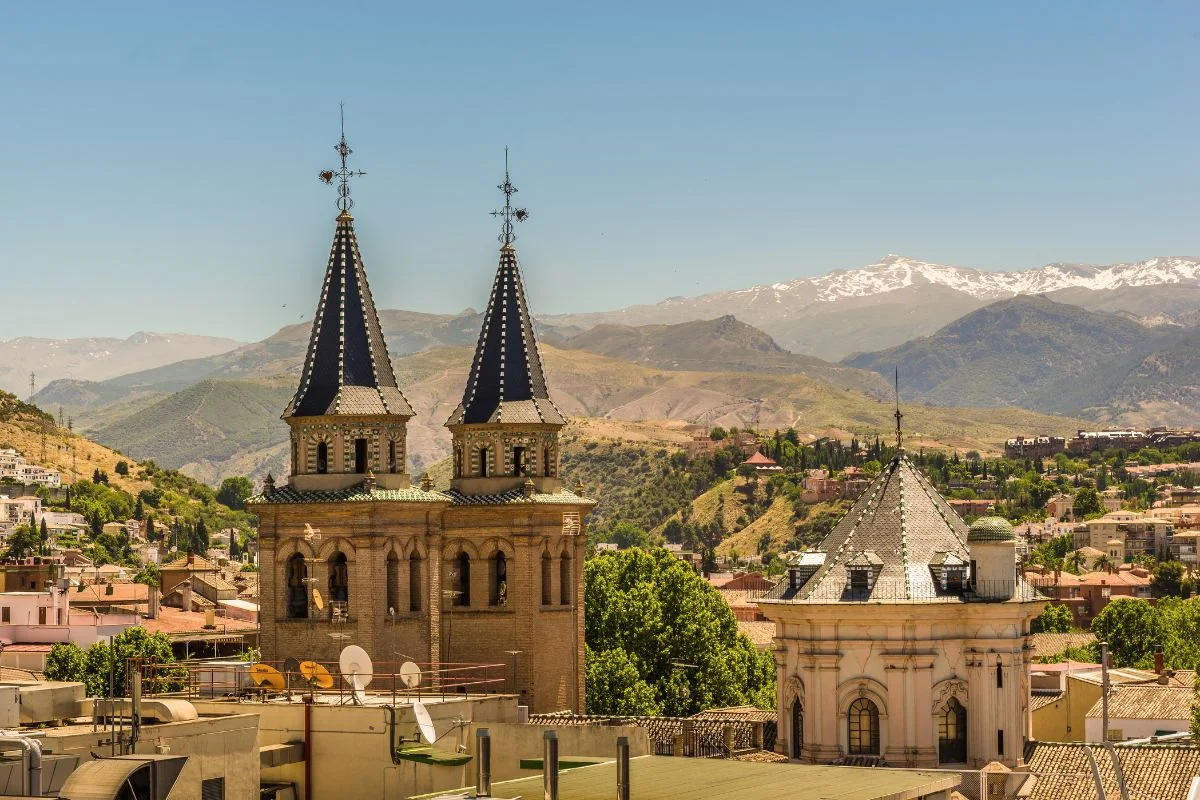 Perched at the base of the snow-capped Sierra Nevada mountains, Granada is a small city in Andalucia that acts as Spain's pinnacle of Moorish heritage, making it one of the most interesting places in Andalucia, Spain.
Think mosques instead of churches, coffee shops selling tea rather than sangria, and bathhouses spread all over the place.
The Alhambra is the main thing to see in Granada. This enormous complex towers over the city center, providing one of the most quintessential examples of Moorish architecture in Spain. You can explore this architectural masterwork from the inside, where you'll find exquisite patterns carved into the walls, lavish rooms decorated with Islamic ornaments, ensembles of pools, and dreamy gardens and courthouses.
This was the last stronghold of Moorish control in Spain and the presence can still be felt. Reaching Granada from Seville or Madrid is possible by train or bus. There are also limited in-country flight options.
Malaga
Set in the Costa del Sol (the Coast of the Sun), Malaga is a city where beach goodness, cosmopolitan vibes, and historical significance fuse together to create a destination that has a little to offer everyone regardless of their travel style.
Malaga remains sunny pretty much year-round, making it one of the best places in Andalucia Spain to visit regardless of the month. Aside from enjoying the city's great beach clubs, Malaga offers plenty more to visitors.
The city's center is made to be walked on, with most of its streets being pedestrianized. This means you can leisurely enjoy the city and its main sights without a worry in the world. While here, you can climb to the Gibralfaro Castle, from where you'll get to see fantastic panoramic views of the city, check out The Alcazaba, an authentic fortress from the Arab period, or visit a few of the dozens of museums that dot the streets.
There are flights from Marrakech to Malaga as well as a ferry that runs from Malaga to Tangier.
Cádiz
Said to be the oldest city in Europe and the oldest confirmed continually inhabited one in Spain, Cádiz is a place where history, archeology, and a wide cultural heritage reign supreme.
During your visit, you'll get to choose from a plethora of activities, be it lounging by the beach, trying out plenty of delicious seafood-based tapas, spending days on end browsing through local art galleries, or thriving on strolling the city's historic streets.
As you make your way through the city, you'll get glimpses of how different cultures lived in Cadiz, including the Moors, the Phoenicians, and more.
Cádiz is also host to one of Spain's biggest annual Carnivals, which lasts ten whole days. This is one of the biggest carnivals in Europe and is famous for its witty characters, satirical music, and mockery of society as a whole.
Cordoba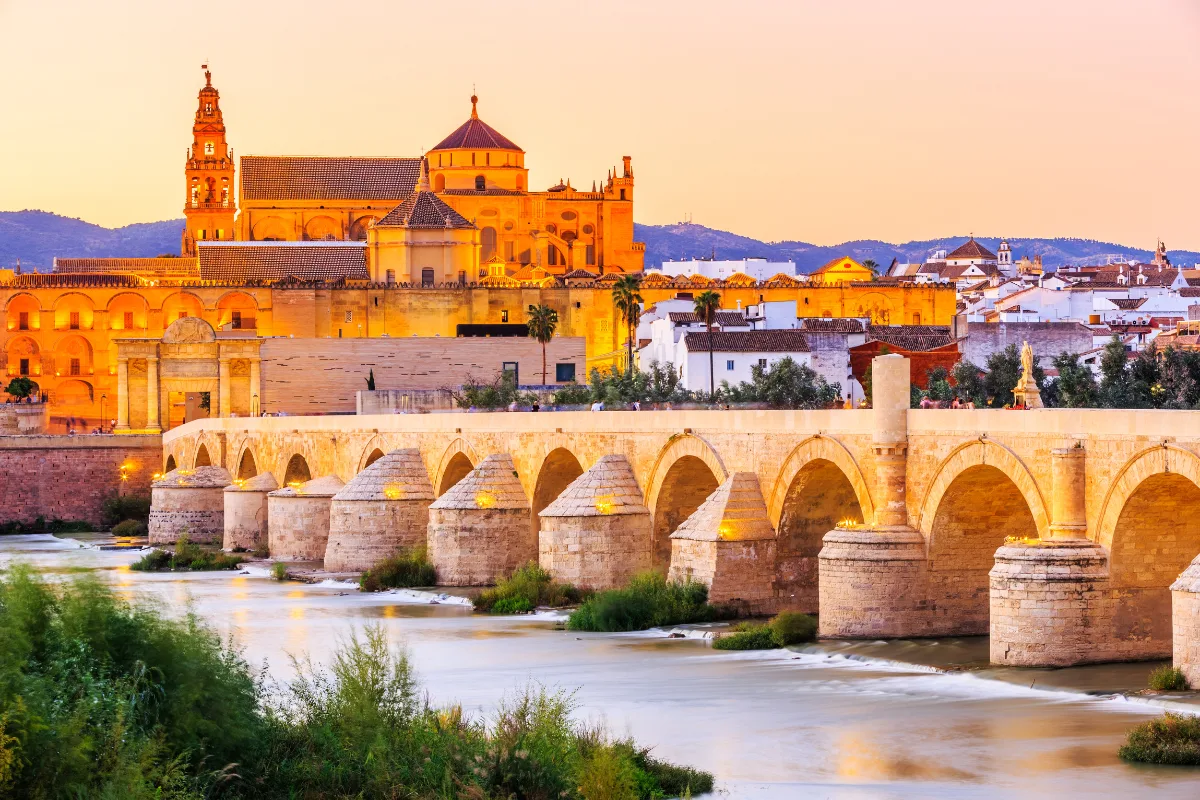 Located on the banks of the Guadalquivir river and the foothills of the striking Sierra Nevada mountains, Cordoba is one of the most fascinating cities in Andalucia to visit, especially for those on the lookout for unique architectural influences as well as history galore. There are many similarities between this city and cities across Morocco.
Cordoba houses the largest old town in Spain and it also happens to be the only city in the world to boast a total of four UNESCO World Heritage sites. Aside from that, Cordoba hosts plenty of culturally important events in Spain, has a thriving bar scene and a sunny climate pretty much every day of the year.
Most people head to Cordoba in order to check out its Moorish-Christian architecture. You'll be able to see it in full display at landmarks such as the Mosque-Cathedral, where you'll find a striking cathedral that was built during the 16th century in the center of a mosque! Another wonderful example of this type of architecture unique to Cordoba is the Alcazar de los Reyes Cristianos, which is a lavish palace built over the ruins of a Moorish fort.
Reaching Cordoba can be most easily done by train or bus from larger cities in the region such as Seville or Madrid.
How to Combine a Trip to Spain and Morocco
Andalucia is an easy choice to make when combining a trip to Spain and Morocco given it's close proximity and options for connections. Many travelers instantly think of taking the ferry between the two countries and this is one option. However, flight options often are much quicker, more affordable, and more accessible.
If you plan to spend only 2-3 days in Spain before or after visiting Morocco Seville makes a great base. You could add on a day trip to Granada or Cadiz if you wanted to go beyond Seville.
5-7 days you could include 3 or even 4 of these cities in your itinerary as Cadiz, Granada and Cordoba are not overly large cities. Even one day in Malaga has several options.
Any of these 5 locations make a fantastic addition to a trip to Morocco. They all have their own characteristics but you will easily be able to see the common threads of culture that unite them.
More Inspiration for Southern Spain Visits
2 Days in Seville Spain with Kids
5 Day Itinerary in Southern Spain
Be a part of the MarocMama family!
Do you want access to all things MarocMama? Join our community of readers to get updates on new posts, inside information that won't go on the blog and so much more!
Sound good? Pop your email below and you're in!