I am 100% a soft cookie kind of girl. I truly have never enjoyed the kind of cookies that need to be dunked or you need to use your back teeth to break. Cookies should be fun and easy to eat! It's not a huge surprise then that a lot of Moroccan cookies aren't my cup of tea. I've been playing around with a lot of quince fruit recipes lately and they inspired these cookies.
This past Eid we had some cookies on the table that I hadn't had before. They were like sandwich cookies but coated in coconut. I hate coconut so I avoided them. But then my 2 year old grabbed one and smushed it in my face so I was forced to taste it. I still don't love the coconut but I did like the taste of the rest of the cookie.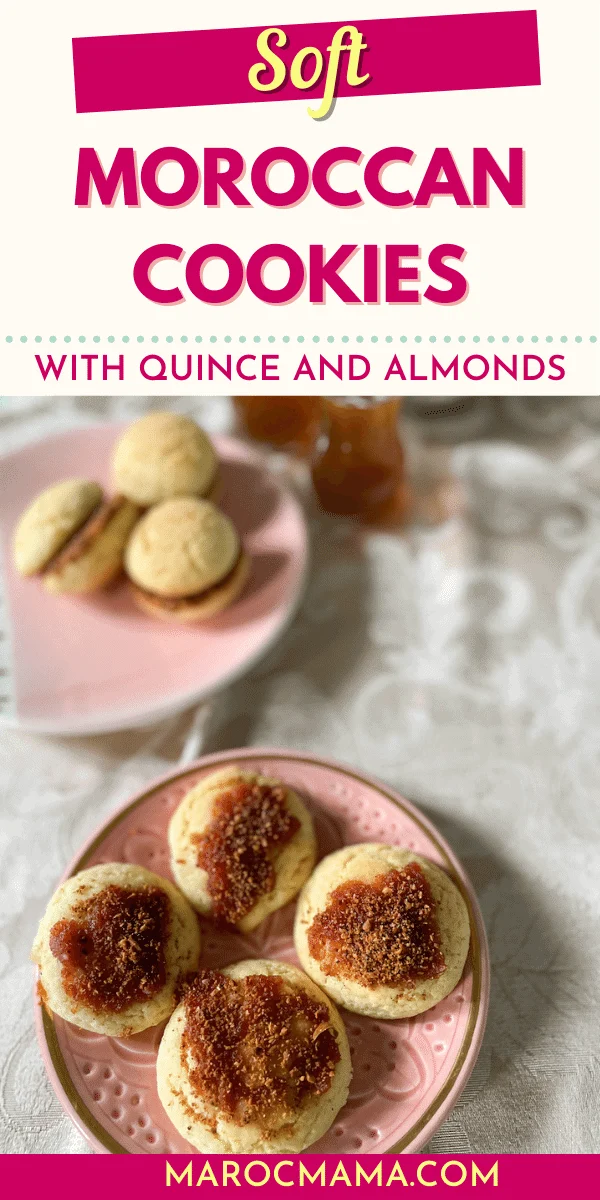 Snowball cookies are found in a ton of cultures – Morocco included – which may seem ironic to you but there is snow in Morocco. They are also sometimes called "Richbond" cookies; it's the name of a mattress manufacturer in Morocco. (You can find the traditional recipe here).
I changed quite a bit about this cookie and truthfully simplified it a lot. I adore the Moroccan women who will spend hours painstakingly creating cookies and pastries – I however am not someone who will do that.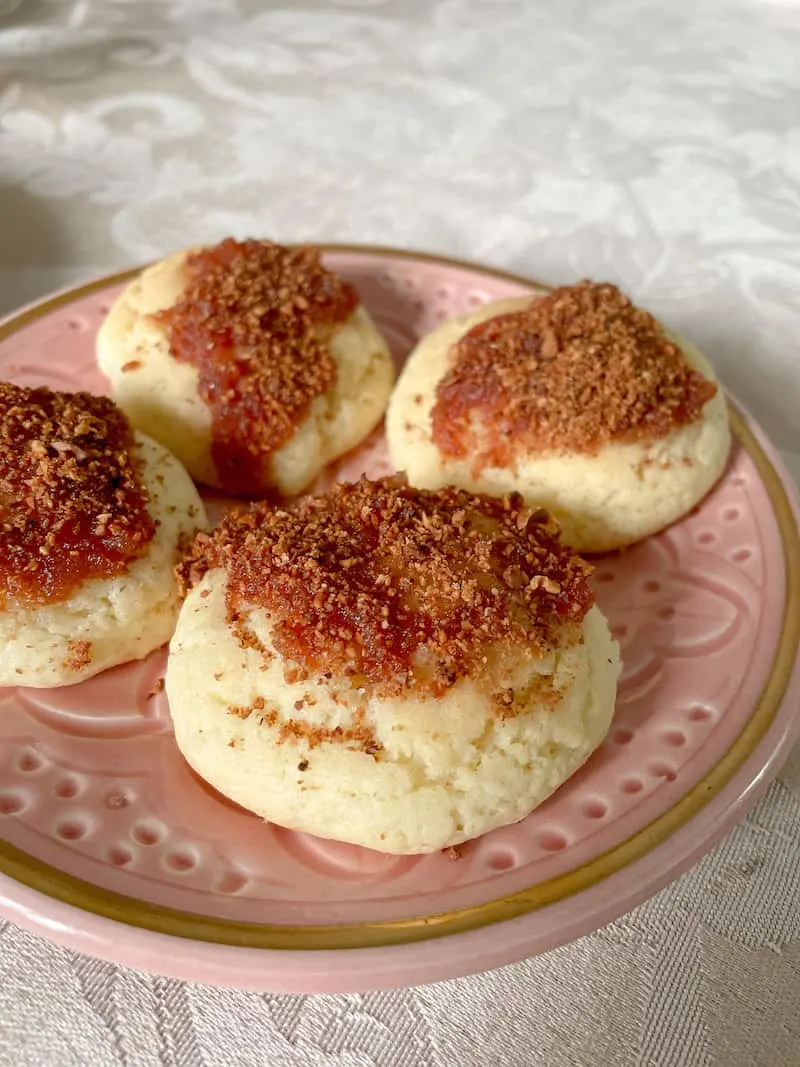 In this recipe I used 50/50 oil and butter. This is what makes them softer. Most Moroccan cookies don't use butter. I also attempted two different ways to finish them. The first is just by adding jam with almonds to the top – this is the super fast "I need a cookie now" method. The other is recreating the sandwiches. I did try to soak the cookies in the jam but given the softer texture of these they just ended up like a sponge and it wasn't great.
While these use quince jam you really could use any jam you like. Apricot or strawberry would be tasty too.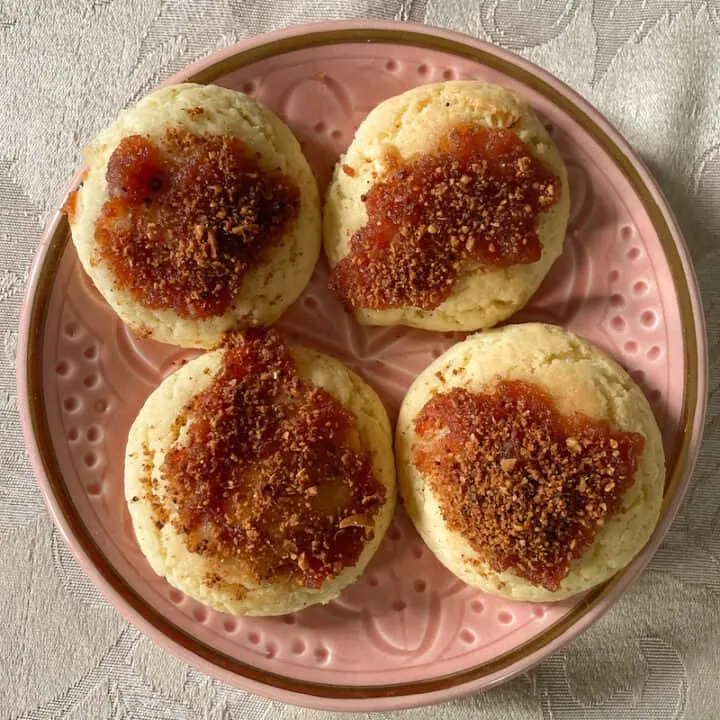 Yield:

24-36 cookies
Soft Moroccan Style Cookies with Quince and Almonds
A variation on Moroccan snowball ("Richbond") cookies made softer and with quince and almonds.
Ingredients
3 eggs
1/2 cup vegetable oil
1/2 cup melted butter
1 cup granulated sugar
1 teaspoon vanilla
3 cups flour (approx.)
2 teaspoons baking powder
2 1/2 cups/625 g quince jam
1 tablespoons water
1 cup finely crushed almonds
Instructions
Preheat your oven to 350 F
Line 2 cookie sheets with parchment paper.
In a large bowl, beat together the eggs, oil, sugar, and vanilla until smooth and thick. Add the flour, baking powder, and salt and stir or blend with your hands just long enough to form a soft dough that can be shaped into balls.
If you feel the dough is too soft and sticky, work in a little more flour, but do not over mix, you want the dough to remain soft.
You can shape the dough into any size ball you like. Go with a cherry size for smaller sandwich cookies or a walnut for larger single cookies. Place them on the baking sheet, allowing about an inch gap.
Bake the cookies in batches in the middle of the preheated oven for 10 to 12 minutes, or until lightly golden. Remove to a rack to cool briefly—about 5 minutes before decorating.
Glaze the Cookies
While the first batch of cookies is baking you can prepare the glaze.
Transfer the crushed almonds to a plate
If your quince jam has pieces of fruit in it, you have two choices. The first is to leave it as is but thin it down. The other is to blend it into a smooth consistency.
Place the quince jam in a small saucepan and add a little bit of water to thin it out. Heat over medium heat for a few minutes and it is ready to use.
For decorating you have two options. 1) Sandwich cookies. Dip the bottoms of the cookies in the glaze and then in the crushed almonds and sandwich together. 2) Topped cookies. Spoon a teaspoon of the jam to the top of the cookies and sprinkle with almonds.
Notes
You can use any type of nut in this recipe or shredded coconut.
Recommended Products
As an Amazon Associate and member of other affiliate programs, I earn from qualifying purchases.