At the beginning of every school year I have the best of intentions. I swear I'm going to make all homemade snacks for the kids to take to school. I'm going to stop working at 5pm and make a delicious dinner for the family. I'm going to have a hearty, healthy breakfast ready every morning. Yes, most of my resolutions revolve around food. Then by the time November rolls around I realize I've dropped the ball. If I get a really nice meal on the table 3 nights a week that's a victory. If the kids are happy with carrot sticks instead of a homemade granola bar, that's another victory because really, what was I thinking?!?
Instead of feeling like I've completely failed because a fancy dinner isn't on the table regularly, I've lowered my standards. How fancy or complicated the food is doesn't really matter. What matters is will everyone eat it and what's the shortest amount of time I can spend from start to finish.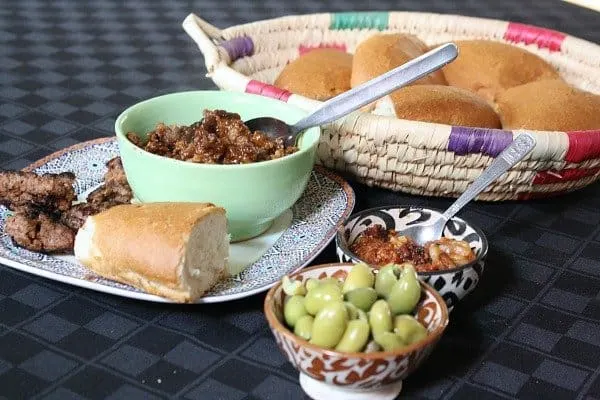 I'm also a huge fan of meals where everyone can assemble things how they want. This means fewer complaints of, "but you know I don't like that!" Our very simple lunch one night were these sandwiches with Saffron Road Moroccan Tagine simmer sauce
, onion and tomato jam, and green olives. Very simple and with endless combinations for toppings.
Moroccan Tagine Meat
Directions
In a bowl mix together all of the ingredients. If you want to make patties add bread crumbs. Shape and fry in a stove top skillet. If you want something closer to a sloppy joe than brown the ground beef and add the entire package of simmer sauce at the end.
Onion and Tomato Jam
1 onion sliced very thinly
2 medium sized tomatoes
2 Tbsp. butter
1 Tbsp vegetable oil
1/2 tsp salt
pinch of cayenne pepper (optional)
Directions
In a pan add the butter and oil until melted. Slice 1 onion very thinly and add to the pan. Cook on low heat while onions begin to soften and caramelize. While this is happening cut the tomatoes in half. Use a grater to grate the flesh inside the tomato as you would cheese. Do not grate the skin of the tomato, it's not used.
When the onions have softened, add the tomatoes and continue to cook on low heat. Mix in salt and the pepper if desired. Cook down the tomatoes until almost all of the water is gone and what's remaining is thick.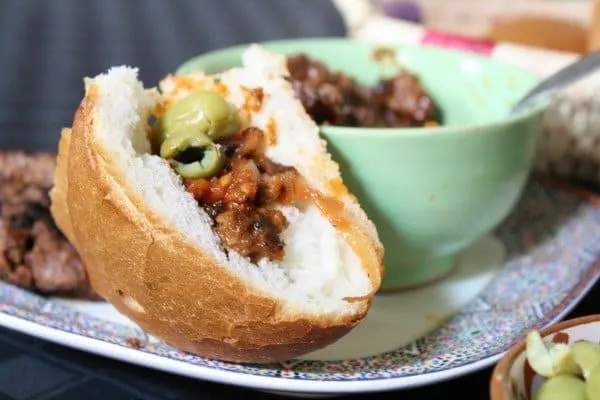 To Serve
Serve with any type of bread you have on hand but rolls or baguettes tend to hold up best. Add the meat and top with whatever toppings you desire. I like how the sweetness of the simmer sauce balances with the tanginess of the olives and a little bit of heat in the jam. The combinations are up to you!