If you're thinking about trekking in Morocco (or hiking in Morocco depending on where you're from) you've come to the right place to find information about how to make this happen. There are a wide range of trails and experiences available depending on your wants and experience level.
In order to create this post, I reached out to High Atlas Hiking to answer a few of the questions I knew readers had about taking in this experience. To be honest, I'm not a big outdoors person so I needed to get more insight from professionals to give the best answers possible.
In this post you'll find information on the types of hikes available, where some of the best trails are, how you should prepare, what to pack and what to expect if you're planning for this experience. (Please note I am using the terms hike and trek interchangeably to add some variety to the text).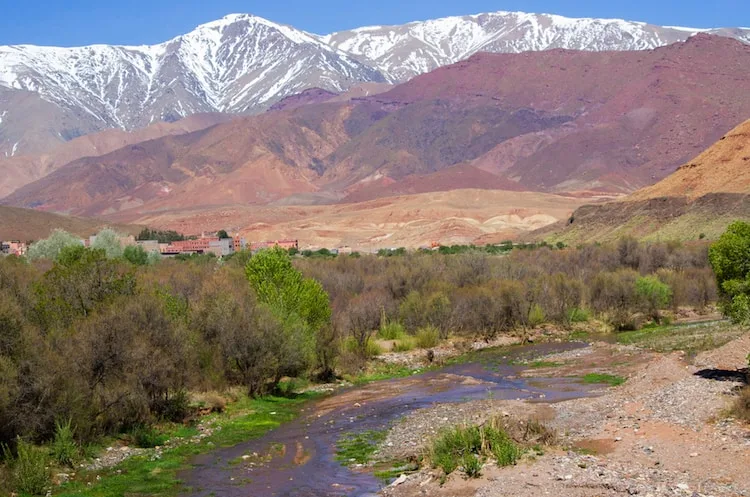 Do I have to have a guide with me if I want to hike in the mountains of Morocco (especially the High Atlas Mountains)?
I wanted to cover this question first because it's asked a lot. In my personal opinion, having seen way too many news stories of hikers gone missing or becoming injured when they venture off alone, I would advise you to hire a guide.
Some of the reasons why you should hire an official Moroccan mountain guide include;
Safety: he will help prevent you from getting lost, avoid dangerous trails, and will have a good eye for changing local weather.
Understanding: if you form a good relationship with your guide which is likely over the course of your trek, you'll benefit enormously from the chance to learn more about Berber life in the area as well as the natural environment.
Enjoyment: finding your own way through the mountains takes considerable effort, admittedly it is very challenging which appeals to some. However, if your guide is leading the way you are free to concentrate on enjoying your trek and to take in the countryside around you.
What are the qualifications a licensed Moroccan mountain guide has and why is it important?
If you're still on the fence and wondering what qualifications a mountain guide keep reading. Official Moroccan mountain guides must pass a demanding three-day selection test before even being accepted to the training course to become an official guide. Once accepted they are then given six months training at the Centre de Formation Aux Métiers de Montagne (CFAMM) just outside Tabant in the Ait Bougmez valley.
During this training they are prepared to handle first aid emergencies, navigation, survival skills and much more.
The mountain guides are identified by the personalized guide de montagne card which bears their name and photograph as well as by the set of documents they are given upon qualification. If you plan to hire a licensed guide they should be able to readily present this credential.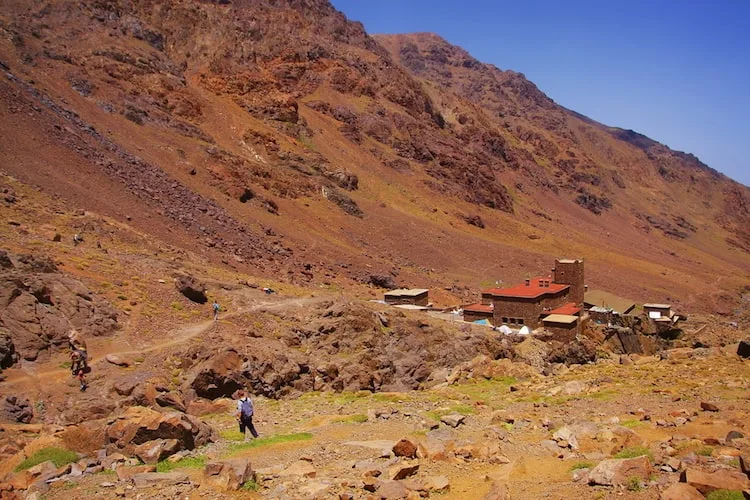 What types of hiking tours in Morocco are available?
Different companies may list the types of hikes they have available in different ways. In general however there are four different types of treks.
Gentle Treks
If you are able to walk just fine and are healthy enough to stroll around, then the gentle treks are the perfect treks for you. Your guide should discuss the different sections of the trek with you so that you can plan on how to enjoy and manage the complete trekking experience. For these hikes plan to spend 2-5 hours a day hiking.
Moderate Treks
The next level of trekking is categorized as moderate. To be able to enjoy these Morocco trekking adventures, you need to have a regular practice of walks. Having experience with long walks is even more helpful. During the experience, it is expected that you will come across some inclined terrains to walk over but your guide should always be with to assist in crossing any steep climbs or obstacles. Moderate treks typically feature 4-6 hrs walking per day.
Challenging Treks
If you are a regular enthusiast for hiking and are used to long adventures consisting of many days, then a challenging hike might be just what you're looking for. Due to the nature and length of these hikes you will experience different weather and may have only the basic facilities at some points of the hike. Being in your best physical form with good stamina will be important for such trekking adventures as he trekking height can more than 3000 feet. Treks in this category typically have 4-9 hrs walking per day with occasional longer days (10-12h).
Demanding Treks
This is the toughest category for trekking and to be able to go on such trips you should be a professional and have experience trekking on harsh terrains. Your best health status is a must and it's recommend you to be at the peak of your stamina in order to participate in such trekking adventures. Some treks at an altitude of more than three thousand feet. You can expect long days of 6 – 9 hrs walking with occasional longer days (10-12h) as well.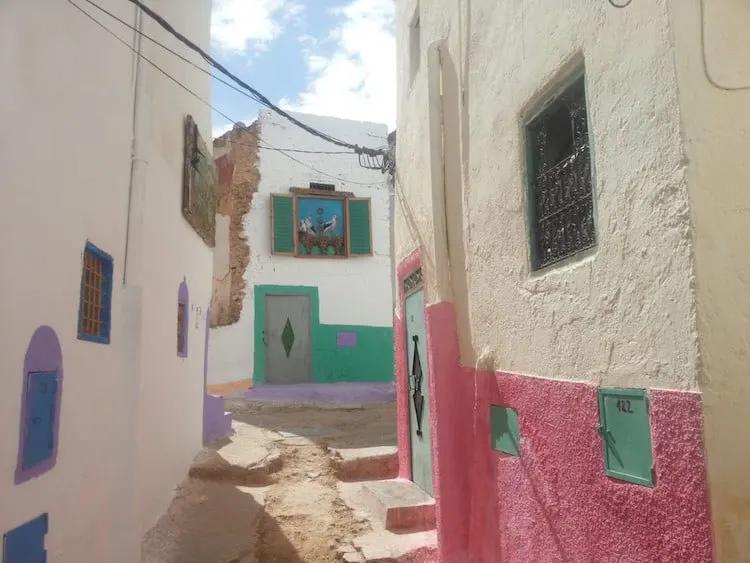 What you should know about the Middle Atlas Mountains
The Atlas mountain range makes up more than 100,000 sq kilometers across North Africa and the Middle Atlas is only a small portion of the range. It stretches across Morocco and into Algeria including the cities of Ifrane, Sefrou, Khemisset, and Beni Mellal.
This is a popular area for hikers due to the vast amount of biodiversity that can be found. Cedar forests and lakes are also a defining characteristic of this region. The Ouzoud waterfalls are part of this mountain range and are a nice spot for a day trip and hike or longer adventure.
Tazekka National Park near Taza is a popular spot for hiking. Recently the Barbary stag, once extinct in Morocco (and much of North Africa) was reintroduced to this park and they can be spotted if you're lucky. Other animals like wild boars, porcupines, foxes and the Algerian wolf call this park home as well.
In this part of Morocco you'll also find ancient ruins like those at Volubilis. While much more of a tourist site it is still a great chance to experience ancient history while taking in the natural beauty surrounding the once settlement.
Three good starting points for hikes in this region include;
Chefchaouan/Akchour – you can head to Akchour by foot or by vehicle and begin your hike either way. From Chefchaouan it is at least a 90 minute hike to Akchour. You can otherwise book a private transfer or take a grand taxi – just make sure to arrange for round trip transportation. For a local, affordable stay book in at Hotel Alkhalifa in Chefchaouan.
Moulay Idriss – This small town has a strong religious importance in Morocco but is also a good starting point for day or overnight hikes. Book your stay at Dar Zerhoune for a comfortable stay, great food and good advice on where to go.
Bhalil – Book a stay at Dar Kamal Chaoui a local guest house and owner Kamal can help you discover the hidden secrets in this region – like the nearby cave houses. You'll also want to wander this small town where they've brought the city to life with street art and embrace the local tradition of button making.
Depending on which hike you choose, spend some time before understanding the physical demands that will need to be met during the hike so you'll know if you're prepared.

What you should know about the Rif Mountains
The Rif Mountains are the northernmost mountains in Morocco. They are much smaller in comparison to the High Atlas both in size and altitude.
The Rif region receives more rainfall than any other region in Morocco, with some areas getting more than 70 inches a year. The western and central portions have the most rain while the eastern slopes are more dry. Cedar, oak, pine and fir trees are all found in the Rif mountains.
In the last century there has been a lot of deforestation in the area to grow cannabis for hashish production. This is a serious concern and having a guide along will help make sure you avoid areas where this happens.
One interesting thing you will likely encounter in this region are the barbary macaque; between 5-8 subgroups of this species call the region home.
A popular spot for hiking is around Akchour (near Chefchaouan). There aren't a lot of well worn paths in this region making it good for those that want an "off the beaten path" experience but, make sure to hire a mountain guide due to the off-the-grid nature of these hikes.
Another destination to consider for trekking is Talassemtane National Park. It begins just outside Chefchaouan and makes up 227 sq miles (589 sq km). There is a special type of fir tree located just within this park that are being preserved. You'll also see dozens of varieties of birds including the bearded vulture – a threatened species.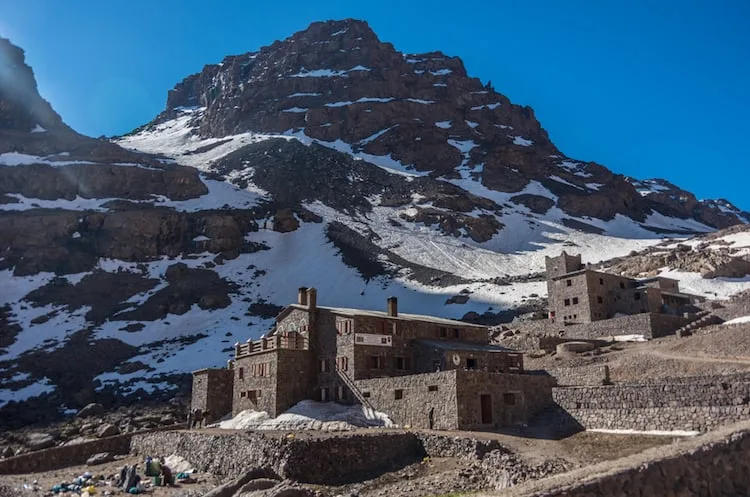 What you should know about hiking in the High Atlas Mountains
Make sure that you check in with your hiking guide before you leave home to be completely prepared depending on where in the country you will be hiking. As the High Atlas Mountains are the most typical area people choose to hike, this advice is tailored to hiking in this area.
The High Atlas begin at the Atlantic ocean and stretch across to Algeria. They are the highest mountain range in the country and home to the highest mountain in Morocco – Mt. Toubkal. This is a very popular climb for those who want a challenging hike. At 4,167 meters and snow covered much of the year it truly is a challenge.
These mountains are very important to Morocco as they are a major part of the river system that irrigates the country. Within the mountain range there are different temperate and agricultural zones so it's possible to have a wide variety of experiences depending on where you go.
Toubkal National Park is 70 kilometers from Marrakech and a good choice for a day hike or starting point for a longer hike. Atlas mountain trekking is a rewarding experience as you not only get to take in the natural diversity but with small villages throughout the mountain ranges you're able to easily interact with local people.
One surprising fact that most people don't realize is that there is Atlas mountain skiing available. Oukaimden is one of three ski hills in Morocco and the one that is the most reliable when it comes to winter skiing.
What kind of weather can I expect for hiking in the High Atlas?
It is possible to walk and climb in the High Atlas throughout the year. Despite the proximity to the Sahara the summer temperatures in the mountains are generally bearable, while it can reach 50°C at midday in Marrakech, up in the hills it may only be a pleasant 20s°C. Walking in the lower valleys can, however, be rather hot, at night is summer it rarely gets chilly except on the higher peaks.
The best time to visit is probably in spring. At this time the winter snows have not entirely melted, the visibility is better than in high summer, and daytime temperatures are pleasant. It is warm enough during the day to be in shirt sleeves, although at night a good sleeping bag is needed.
In autumn the weather becomes noticeably cooler, and toward the end of October snow showers can be expected on the higher peaks.
If you're wondering the weather in winter and particularly on Mount Toubkal; early winter is a time best avoided. It is cold, often wet and without the benefit of firm snow underfoot.
If I want to summit Mount Toubkal what should I know?
Despite what you may think, this climb is quite accessible to most people. Unless you're undertaking a particularly long or ambitions trek – or are here in winter condition – there are no technical problems to hold anyone back from climbing Mount Toubkal.
However, a Toubkal trek needs to be taken seriously. You must have decent footwear and clothing. It's possible to be caught out by storms in both the summer and winter months (this is where having a guide is very important).
It's important to keep a gentle pace until you are properly acclimatized as altitudes. At 3000-400m the demands on your body can be quite drastic, especially when combined with the midday heat and walking over long sections of rough boulders or loose scree.
Toubkal is usually under snow from November until June, and experienced mountaineers can enjoy some classic climbs, ski ascents and treks in winter, though be cautious of storms, which can last up to three days. Less experienced trekkers should only aim for the summit when the snow has gone.
Toubkal is the highest mountain in Morocco at 4167m above sea level so it's possible that you might get acute mountain sickness (AMS). Also known as altitude sickness. Aspirin can help, but just sucking on a hard, sweet candy or swallowing is often effective, as is resting.
Most people experience some symptoms of AMS but serious cases are rare. Hurrying is a major cause so it's important to pace your climb to allow your body time to acclimate. If you do develop more than slight breathlessness and really feel like vomiting, going down straight away is the best, and will lead to an almost immediate cure.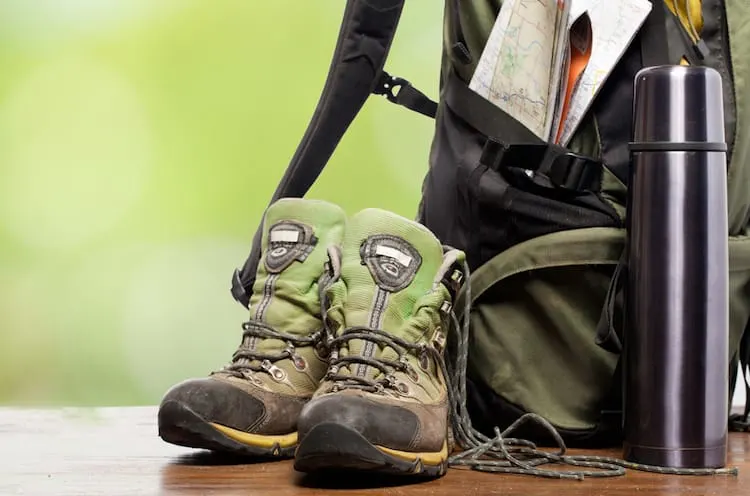 What to bring with you when walking/hiking in the mountains of Morocco:
It is a very normal thing to have sudden drops in temperature in the High Atlas. It is better to be prepared for such an encounter than not as your chances are very good that it will happen.
One of the most important aspects to consider is having proper footwear. The terrain you will encounter can be rough and tough. Boots are advised with a firm sole and a solid grip for both the ground and your ankle. Testing your boots by walking around in them for a while is important. Do not buy brand new boots and only wear them for the first time when you begin your hike. It most likely will lead to a regrettable experience.
The weather is never certain and you might have to deal with skin issues from the sun even in cold months like September, October, April and even May. Be prepared with a skin balm, shirts with long sleeves, long trousers, and sunglasses or a hat.
Last but not the least, be confident to have a little supply of food and water. It is essential to stay hydrated at all times and energy level needs to be up if you are exerting yourself. Remember to discuss the specifics needed before you head out.
Recommended items to bring with you;
Good sturdy footwear – hard soles and good grip are the most essential
3 to 4 season sleeping bag (winter) or light Sleeping bag (summer) if you'll be doing a multi-day trek
Water bottle or camel back
Sun protection – hat, sun cream, sun glasses etc.
Small personal medical kit – antiseptic wipes and cream, plasters, bandage, antihistamine for allergic reactions
Other equipment you may find useful:
Penknife (Pocket knife)
Whistle to attract attentionWhistle to attract attention
Camera
Toilet paper
Ear plugs if staying in a refuge
Soft, comfortable shoes and a change of clothes for the evening
If I want to do a hike for several days are there any routes you would suggest?
The Atlas Mountains from one of the world's great trekking ranges, beauty and adventure. Diversity and challenge are all to be found here. The route you choose, however, will depend upon a number of factors, these will include not only the season but also your level of fitness you should also think carefully about your reasons for visiting the Atlas.
For example, if you want to hike in remote areas consider a hike from the Ijoukak Valley to Amizmiz or to the Azzaden Valley.
If you are looking for a luxury trekking using only comfortable overnight accommodation with private ensuite rooms guaranteed, a hike from Imlil to Ouirigane Valley might be a good option.
No matter which type of experience you want there is something available – you just need to ask!
Both of these routes are easily accessible from Marrakech.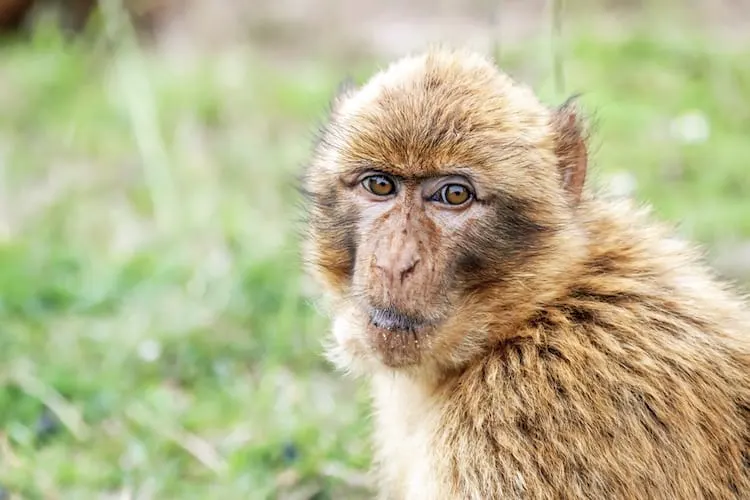 If I do a hike for several days do I have to carry all my own equipment and gear? Where do we sleep? Is there an option to have a porter and food/drink provided?
Depending on the company you choose to book with the answers to this question may vary. But this information from High Atlas Hikes let's you know what you can expect from them. It can give you a starting off point to discuss what you need/want.
Tents, mattresses, fully equipped kitchen, food and personal baggage are carried by mules. You carry only a day pack for your water, snacks, camera and some clothing.
Accommodation
During the trek is often in gites (with kitchens, sleeping areas and showers) or dome tents (depend on trek and season) or, since Morocco is one of the few areas of the world where warm temperatures combine with an absence of many insects, you have the option to sleep under the stars. Nothing can compare with a night under the brilliant starlight of North Africa.
Meals
Once you have embarked upon your trek, food will for the most part be simple fare, if you have booked you trek with a Tour operator like High Atlas Hiking you can, nonetheless, expect to eat well.
Meals will be largely Moroccan based but are likely to be infused with a little European influence.
Breakfast, for example, will normally consist of bread with jam, butter and processed cheese, with the option of olive oil, served with mint tea, coffee and milk. Tea will also be served with both lunch and evening meal. Some fruit and nuts will be provided as a mid-morning break.
Lunch might be a freshly prepared salad served with tinned fish, such as sardines or mackerel and bread or a kefta (meatball) tagine).
In the evening, with just a gas stove and a couple of pans, your highly skilled cook will rustle up a testy three-course meal. There will usually be a soup starter, the main course is likely to be tagine or couscous. Although increasingly staple foods such as rice and pasta are being included in the repertoire, this will be followed by fresh fruit.
If you have dietary requirements you should let the company or guide know as soon as possible (before your hike) so that you can discuss what options are available or if you will need to bring your own specialty items.
If I want to do a day hike are there any routes you suggest?
Not everyone is going to be interested in embarking on a multi-day hiking vacation. But that doesn't mean you can't still take in the mountain surroundings and enjoy a shorter experience. An Atlas mountains day trip is a good way to see this part of the country and enjoy a small trek.
One of the most popular day hikes is from Imlil to Tizi M'zik. We offer a day trip to the Ijoukak Valley via Marrakech Food Tours where you not only get to enjoy a great lunch with a local family but can take a hike from the family home to the Tinmel Mosque.
If you have more questions or are interested in hiking in the High Atlas you can reach out directly to High Atlas Hiking or email Said at [email protected] for help connecting you to a licensed mountain guide. If you decide to book a trek with them they've offered to give MarocMama readers a 5% discount – just let them know you found them here!